Abstract
The aging kidney undergoes structural and functional alterations which make it more susceptible to drug-induced acute kidney injury (AKI). Previous studies in our lab have shown that the expression of α(E)-catenin is decreased in aged kidney and loss of α(E)-catenin potentiates AKI-induced apoptosis, but not necrosis, in renal tubular epithelial cells (NRK-52E cells). However, the specific apoptotic pathway underlying the increased AKI-induced cell death is not yet understood. In this study, cells were challenged with nephrotoxicant cisplatin to induce AKI. A ~5.5-fold increase in Fas expression in C2 (stable α(E)-catenin knockdown) relative to NT3 (non-targeted control) cells was seen. Increased caspase-8 and -9 activation was induced by cisplatin in C2 as compared to NT3 cells. In addition, decreased Bcl-2 expression and increased BID cleavage and cytochrome C release were detected in C2 cells after cisplatin challenge. Treating the cells with cisplatin, in combination with a Bcl-2 inhibitor, decreased the viability of NT3 cells to the same level as C2 cells after cisplatin. Furthermore, caspase-3/-7 activation is blocked by Fas, caspase-8, caspase-9 and pan-caspase inhibitors. These inhibitors also completely abolished the difference in viability between NT3 and C2 cells in response to cisplatin. These results demonstrate a Fas-mediated apoptotic signaling pathway that is enhanced by the age-dependent loss of α(E)-catenin in renal tubule epithelial cells.
Access options
Buy single article
Instant access to the full article PDF.
US$ 39.95
Tax calculation will be finalised during checkout.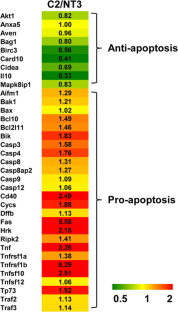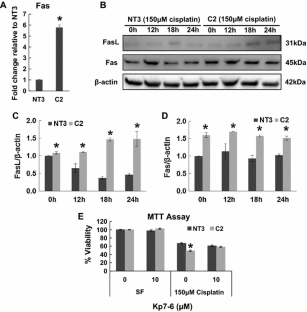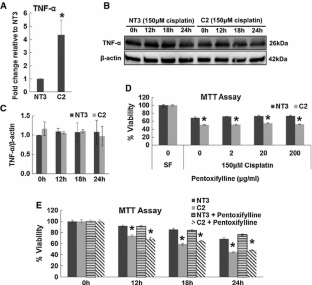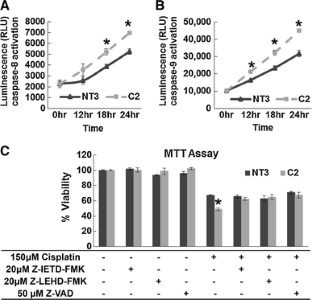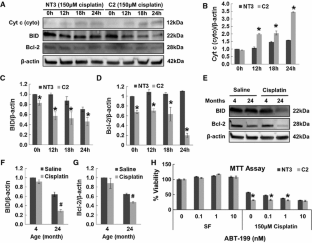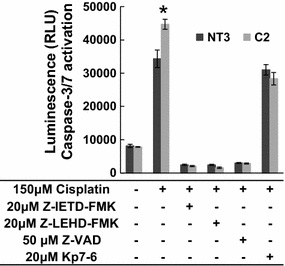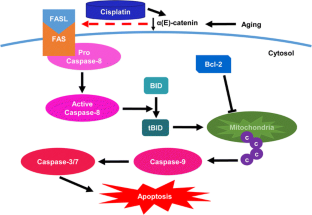 References
1.

Stevens PE, Lamb EJ, Levin A (2014) Integrating guidelines, CKD, multimorbidity, and older adults. Am J Kidney Dis. doi:10.1053/j.ajkd.2014.09.024

2.

(2014) WHO | Facts about ageing. In: WHO. http://www.who.int/ageing/about/facts/en/. Accessed 19 Feb 2015

3.

Wang X, Bonventre JV, Parrish AR (2014) The aging kidney: increased susceptibility to nephrotoxicity. Int J Mol Sci 15:15358–15376. doi:10.3390/ijms150915358

4.

Pascual J, Orofino L, Liaño F, Marcén R, Naya MT, Orte L, Ortuño J (1990) Incidence and prognosis of acute renal failure in older patients. J Am Geriatr Soc 38:25–30

5.

Peres LAB, da Cunha AD (2013) Acute nephrotoxicity of cisplatin: molecular mechanisms. J Bras Nefrol 35:332–340. doi:10.5935/0101-2800.20130052

6.

Marquez RT, Tsao BW, Faust NF, Xu L (2013) Drug resistance and molecular cancer therapy: apoptosis versus autophagy. In: Rudner J (ed) Apoptosis, chap 8. InTech

7.

Sun Y, Zhang J, Ma L (2014) α-Catenin. Cell Cycle Georget Tex 13:2334–2339. doi:10.4161/cc.29765

8.

Folmsbee SS, Morales-Nebreda L, Van Hengel J, Tyberghein K, Van Roy F, Budinger GR, Bryce PJ, Gottardi CJ (2015) The cardiac protein αT-catenin contributes to chemical-induced asthma. Am J Physiol Lung Cell Mol Physiol 308:L253–L258. doi:10.1152/ajplung.00331.2014

9.

Vasioukhin V, Bauer C, Degenstein L, Wise B, Fuchs E (2001) Hyperproliferation and defects in epithelial polarity upon conditional ablation of alpha-catenin in skin. Cell 104:605–617

10.

Herr KJ, Tsang YN, Ong JWE, Li Q, Yap LL, Yu W et al (2014) Loss of α-catenin elicits a cholestatic response and impairs liver regeneration. Sci Rep 4:6835. doi:10.1038/srep06835

11.

Li J, Gao E, Vite A, Yi R, Gomez L, Goossens S et al (2015) Alpha-catenins control cardiomyocyte proliferation by regulating yap activity. Circ Res 116:70–79. doi:10.1161/CIRCRESAHA.116.304472

12.

Jung K-Y, Dean D, Jiang J, Gaylor S, Griffith WH, Burghardt RC, Parrish AR (2004) Loss of N-cadherin and alpha-catenin in the proximal tubules of aging male Fischer 344 rats. Mech Ageing Dev 125:445–453. doi:10.1016/j.mad.2004.04.001

13.

Wang X, Grunz-Borgmann EA, Parrish AR (2014) Loss of α(E)-catenin potentiates cisplatin-induced nephrotoxicity via increasing apoptosis in renal tubular epithelial cells. Toxicol Sci 141:254–262. doi:10.1093/toxsci/kfu130

14.

Linkermann A, Chen G, Dong G, Kunzendorf U, Krautwald S, Dong Z (2014) Regulated cell death in AKI. J Am Soc Nephrol 25:2689–2701. doi:10.1681/ASN.2014030262

15.

Nichols LA, Grunz-Borgmann EA, Wang X, Parrish AR (2014) A role for the age-dependent loss of α(E)-catenin in regulation of N-cadherin expression and cell migration. Physiol Rep. doi:10.14814/phy2.12039

16.

Nichols LA, Slusarz A, Grunz-Borgmann EA, Parrish AR (2014) α(E)-catenin regulates BMP-7 expression and migration in renal epithelial cells. Am J Nephrol 39:409–417. doi:10.1159/000362250

17.

Beach JA, Nary LJ, Hovanessian R, Medh RD (2014) Correlation of glucocorticoid-mediated E4BP4 upregulation with altered expression of pro- and anti-apoptotic genes in CEM human lymphoblastic leukemia cells. Biochem Biophys Res Commun 451:382–388. doi:10.1016/j.bbrc.2014.07.103

18.

Kruidering M, Evan GI (2000) Caspase-8 in apoptosis: the beginning of "the end"? IUBMB Life 50:85–90. doi:10.1080/713803693

19.

Yano T (2013) Cellular and molecular mechanisms in drug-induced nephrotoxicity and its prevention. Nihon Yakurigaku Zasshi Folia Pharmacol Jpn 142:172–177

20.

Hassan M, Watari H, AbuAlmaaty A, Ohba Y, Sakuragi N (2014) Apoptosis and molecular targeting therapy in cancer. BioMed Res Int. doi:10.1155/2014/150845

21.

Pabla N, Dong Z (2008) Cisplatin nephrotoxicity: mechanisms and renoprotective strategies. Kidney Int 73:994–1007. doi:10.1038/sj.ki.5002786

22.

Maiden SL, Hardin J (2011) The secret life of α-catenin: moonlighting in morphogenesis. J Cell Biol 195:543–552. doi:10.1083/jcb.201103106

23.

Nakagawa S, Omura T, Yonezawa A, Yano I, Nakagawa T, Matsubara K (2014) Extracellular nucleotides from dying cells act as molecular signals to promote wound repair in renal tubular injury. Am J Physiol Renal Physiol 307:F1404–F1411. doi:10.1152/ajprenal.00196.2014

24.

Nemade RV, Bierie B, Nozawa M, Bry C, Smith GH, Vasioukhin V et al (2004) Biogenesis and function of mouse mammary epithelium depends on the presence of functional alpha-catenin. Mech Dev 121:91–99

25.

Nozawa N, Hashimoto S, Nakashima Y, Matsuo Y, Koga T, Sugio K et al (2006) Immunohistochemical alpha- and beta-catenin and E-cadherin expression and their clinicopathological significance in human lung adenocarcinoma. Pathol Res Pract 202:639–650. doi:10.1016/j.prp.2006.03.007

26.

Kobielak A, Fuchs E (2006) Links between alpha-catenin, NF-kappaB, and squamous cell carcinoma in skin. Proc Natl Acad Sci USA 103:2322–2327. doi:10.1073/pnas.0510422103

27.

Lu M, Marsters S, Ye X, Luis E, Gonzalez L, Ashkenazi A (2014) E-cadherin couples death receptors to the cytoskeleton to regulate apoptosis. Mol Cell 54:987–998. doi:10.1016/j.molcel.2014.04.029

28.

Benjamin JM, Nelson WJ (2008) Bench to bedside and back again: molecular mechanisms of alpha-catenin function and roles in tumorigenesis. Semin Cancer Biol 18:53–64. doi:10.1016/j.semcancer.2007.08.003

29.

Schleich K, Krammer PH, Lavrik IN (2013) The chains of death. Cell Cycle 12:193–194. doi:10.4161/cc.23464

30.

Krammer PH, Arnold R, Lavrik IN (2007) Life and death in peripheral T cells. Nat Rev Immunol 7:532–542. doi:10.1038/nri2115

31.

Maher S, Toomey D, Condron C, Bouchier-Hayes D (2002) Activation-induced cell death: the controversial role of Fas and Fas ligand in immune privilege and tumour counterattack. Immunol Cell Biol 80:131–137. doi:10.1046/j.1440-1711.2002.01068.x

32.

Ashkenazi A, Dixit VM (1998) Death receptors: signaling and modulation. Science 281:1305–1308

33.

Gao Z, Liu G, Hu Z, Li X, Yang X, Jiang B, Li X (2014) Grape seed proanthocyanidin extract protects from cisplatin-induced nephrotoxicity by inhibiting endoplasmic reticulum stress-induced apoptosis. Mol Med Rep 9:801–807. doi:10.3892/mmr.2014.1883

34.

Fouqué A, Debure L, Legembre P (2014) The CD95/CD95L signaling pathway: a role in carcinogenesis. Biochim Biophys Acta 1846:130–141. doi:10.1016/j.bbcan.2014.04.007

35.

Krammer PH (2000) CD95's deadly mission in the immune system. Nature 407:789–795. doi:10.1038/35037728

36.

Lorz C, Ortiz A, Justo P, González-Cuadrado S, Duque N, Gómez-Guerrero C, Egido J (2000) Proapoptotic Fas ligand is expressed by normal kidney tubular epithelium and injured glomeruli. J Am Soc Nephrol 11:1266–1277

37.

Linkermann A, Himmerkus N, Rölver L, Keyser KA, Steen P, Bräsen JH et al (2011) Renal tubular Fas ligand mediates fratricide in cisplatin-induced acute kidney failure. Kidney Int 79:169–178. doi:10.1038/ki.2010.317

38.

Yang F, Long W, Xuechuan H, Xueqin L, Hongyun M, Yonghui D (2015) Upregulation of Fas in epithelial ovarian cancer reverses the development of resistance to Cisplatin. BMB Rep 48:30–35

39.

Zou P, Song J, Jiang B, Pei F, Chen B, Yang X, Liu G, Hu Z (2014) Epigallocatechin-3-gallate protects against cisplatin nephrotoxicity by inhibiting the apoptosis in mouse. Int J Clin Exp Pathol 7:4607–4616

40.

Guo Y, Liu Y, Xu L, Guo M (2006) Protective effect of amifostine on cisplatin-induced nephrotoxicity and its mechanism. Zhonghua Zhong Liu Za Zhi 28:8–12

41.

Park GB, Kim D, Yoon HS, Kim YS, Lee HK, Kim KT et al (2014) Antibody ligation of CM1 on cisplatin-exposed HeLa cells induces apoptosis through reactive oxygen species-dependent Fas ligand expression. Int J Oncol 44:2016–2024. doi:10.3892/ijo.2014.2361
Acknowledgments
The authors contributed the following to the work: experiments (Xinhui Wang), manuscript preparation (Xinhui Wang, Alan R. Parrish). Research reported in this publication was supported by the National Institute of Aging of the National Institutes of Health under award number RO1AG034154. The content is solely the responsibility of the authors and does not necessarily represent the official views of the National Institutes of Health.
Funding
This study was funded by the National Institute of Aging of the National Institutes of Health under award number RO1AG034154.
Conflict of Interest
The authors declare that they have no conflicts of interest.
Human and Animal Rights and Informed Consent
All animal experiments and care were approved by the University of Missouri Animal Care and Use Committee in accordance with the National Institutes of Health (NIH). This article does not contain studies with human participants.
About this article
Cite this article
Wang, X., Parrish, A.R. Loss of α(E)-catenin promotes Fas mediated apoptosis in tubular epithelial cells. Apoptosis 20, 921–929 (2015). https://doi.org/10.1007/s10495-015-1129-x
Keywords
Aging

AKI

α(E)-catenin

Apoptosis

Fas