Abstract
Pancreatic cancer is one of the most common invasive malignancies and the fourth leading cause of cancer related mortality in U.S., thus developing new strategies to control pancreatic cancer is an important mission. We investigated the mechanism of capsaicin, the major pungent ingredient of red-chili pepper, in inducing apoptosis in pancreatic cancer cells. Treatment of AsPC-1 and BxPC-3 cells with capsaicin resulted in a dose-dependent inhibition of cell-viability and induction of apoptosis which was associated with the generation of ROS and persistent disruption of mitochondrial membrane potential. These effects were significantly blocked when the cells were pretreated with a general antioxidant N-acetyl cysteine (NAC). Exposure of AsPC-1 and BxPC-3 cells to capsaicin was also associated with increased expression of Bax, down-regulation of bcl-2, survivin and significant release of cytochrome c and AIF in the cytosol. On the contrary, above-mentioned effects were not observed in the normal acinar cells in response to capsaicin-treatment. Capsaicin-treatment resulted in the activation of JNK and JNK inhibitor SP600125 afforded protection against capsaicin-induced apoptosis. Furthermore, capsaicin when given orally markedly suppressed the growth of AsPC-1 pancreatic tumor xenografts in athymic nude mice, without side effects. Tumors from capsaicin treated mice demonstrated increased apoptosis, which was related to the activation of JNK and increased cytosolic protein expression of Bax, cytochrome c, AIF and cleaved caspase-3, as compared with controls. Taken together, these results show that capsaicin is an effective inhibitor of in vitro and in vivo growth of pancreatic cancer cells. These findings provide the rationale for further clinical investigation of capsaicin against pancreatic cancer.
Access options
Buy single article
Instant access to the full article PDF.
USD 39.95
Price includes VAT (USA)
Tax calculation will be finalised during checkout.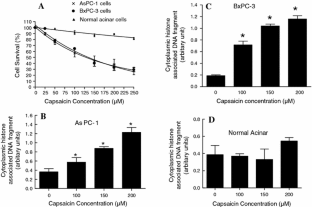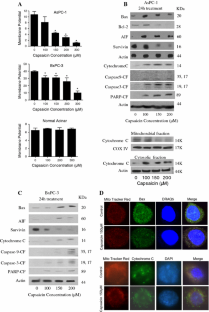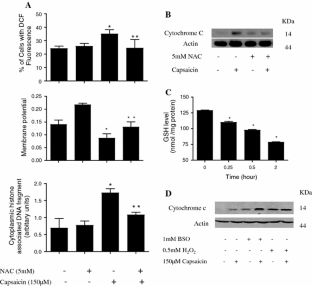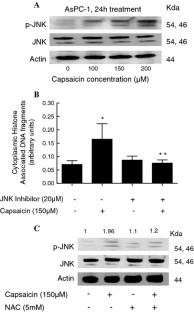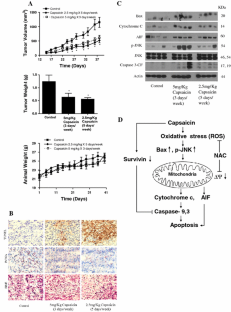 References
1.

Polednak AP (1994) Projected numbers of cancers diagnosed in the US elderly population, 1990 through 2030. Am J Public Health 84:1313–1316

2.

Niederhuber JE, Brennan MF, Menck HR (1995) The National Cancer Data Base Report on pancreatic cancer. Cancer 76:1617–1677. doi:10.1002/1097-0142(19951101)76:9<1671::AID-CNCR2820760926>3.0.CO;2-R

3.

DiMagno EP, Reber HA, Tempero MA (1999) AGA technical review on the epidemiology, diagnosis and treatment of pancreatic ductal adenocarcinoma: American Gastroenterological Association. Gastroenterology 117:1464–1484. doi:10.1016/S0016-5085(99)70298-2

4.

Li D (2001) Molecular epidemiology of pancreatic cancer. Cancer J 7:259–265

5.

Ghaneh P, Kawesha A, Evans JD, Neoptolemos JP (2002) Molecular prognostic markers in pancreatic cancer. J Hepatobiliary Pancreat Surg 9:1–11. doi:10.1007/s005340200000

6.

DiGiuseppe JA, Yeo CJ, Hruban RH (1996) Molecular biology and the diagnosis and treatment of adenocarcinoma of the pancreas. Adv Anat Pathol 3:139–155

7.

Schmid RM (2002) Acinar-to-ductal metaplasia in pancreatic cancer development. J Clin Invest 109:1403–1404

8.

Banerjee S, Zhang Y, Wang Z, Che M, Chiao PJ, Abbruzzese JL, Sarkar FH (2007) In vitro and in vivo molecular evidence of genistein action in augmenting the efficacy of cisplatin in pancreatic cancer. Int J Cancer 120:906–917. doi:10.1002/ijc.22332

9.

Tyagi A, Agarwal R, Agarwal C (2003) Grape seed extract inhibits EGF-induced and constitutively activated mitogenic signaling but activates JNK in human prostate carcinoma DU145 cells: possible role in antiproliferation and apoptosis. Oncogene 22:1302–1316. doi:10.1038/sj.onc.1206265

10.

Shukla S, Mishra A, Fu P, MacLennan GT, Resnick MI, Gupta S (2005) Up-regulation of insulin-like growth factor binding protein-3 by apigenin leads to growth inhibition and apoptosis of 22Rv1 xenograft in athymic nude mice. FASEB J 19:2042–2044

11.

Rao CV, Reddy BS, Steele VE, Wang C, Liu X, Ouyang N (2006) Nitric oxide releasing aspirin and indomethacin are potent inhibitors against colon cancer in azoxymethane-treated rats: effects on molecular targets. Mol Can Therap 5:1530–1538. doi:10.1158/1535-7163.MCT-06-0061

12.

Block G, Patterson B, Subar A (1992) Fruit, vegetables and cancer prevention: a review of the epidemiological evidence. Nutr Cancer 17:1–29

13.

Aggarwal BB, Shishodia S (2006) Molecular targets of dietary agents for prevention and therapy of cancer. Biochem Pharmacol 71:1397–1421. doi:10.1016/j.bcp.2006.02.009

14.

Surh YJ, Lee E, Lee JM (1998) Chemoprotective properties of some pungent ingredients present in red pepper and ginger. Mutat Res 402:259–267. doi:10.1016/S0027-5107(97)00305-9

15.

Buiatti E, Palli D, Decarli A (1989) A case–control study of gastric cancer and diet in Italy. Int J Cancer 444:611–616. doi:10.1002/ijc.2910440409

16.

Mozsik G, Szolcsanyi J, Racz I (2005) Gastroprotection induced by capsaicin in healthy subjects. World J Gastroenterol 11:5180–5184

17.

Kang JY, Yeoh KG, Chia HP, Lee HP, Chia YW, Guan R (1995) Chilli protective factor against peptic ulcer. Dig Dis Sci 40:576–579. doi:10.1007/BF02064373

18.

Satyanarayana MN (2006) Capsaicin and gastric ulcers. Crit Rev Food Sci Nutr 29:435–473

19.

Suzuki T, Iwai K (1994) Constitution of red pepper species: chemistry, biochemistry, pharmacology, and food science of the pungent principle of capsicum species. In: Brosi A (ed) The Alkaloids. Academeic press, New York, pp 227–299

20.

Cordell GA, Araujo OE (1993) Capsaicin: identification, nomenclature, and pharmacotherapy. Ann Pharmacother 27:330–336

21.

Parrish M (1996) Liquid chromatographic method of determining capsaicinoids in capsicums and their extractives: Collaborative study. J Assoc Anal Chem Intern 79:738–745

22.

Busch SH, Burks TF (1983) Hot new pharmacological tool. Trends Pharmacol Sci 4:84–87. doi:10.1016/0165-6147(83)90297-3

23.

Taik-koo Y (1999) Update from Asia: Asian studies on cancer chemoprevention. Ann NY Acad Sci 889:157–192. doi:10.1111/j.1749-6632.1999.tb08734.x

24.

Govindarajan VS, Sathyanarayana MN (1991) Capsicum-production, technology, chemistry, and quality. Part V. Impact on physiology, pharmacology, nutrition and metabolism; structure, pungency, pain and desensitization sequences. Crit Rev Food Sci Nutr 29:435–473

25.

Monsereenusorn Y (1983) Subchronic toxicity studies of capsaicin and capsicum in rats. Res Commun Chem Pathol Pharmacol 41:95–110

26.

Lopez-Carrillo L, Avila HM, Dubrow R (1994) Chili pepper consumption and gastric cancer in Mexico: A case control study. Am J Epidemiol 139:263–271

27.

Matucci CM, McCarthy G, Lombardi A, Pignone A, Partsch G (1995) Neurogenic influences in arthritis: potential modification by capsaicin. J Rheumatol 22:1447–1449

28.

Sicuteri F, Fusco BM, Marabini S (1989) Beneficial effect of capsaicin application to the nasal mucosa in cluster headache. Clin J Pain 5:49–53. doi:10.1097/00002508-198903000-00010

29.

Watson CP, Evans RJ, Watt VR (1988) Post herpetic neuralgia and topical capsaicin. Pain 33:333–340. doi:10.1016/0304-3959(88)90292-8

30.

Holzer P (1991) Capsaicin: cellular targets, mechanisms of action, and selectivity for thin sensory neurons. Pharmacol Rev 43:143–201

31.

Gunthorpe MJ, Szallasi A (2008) Peripheral TRPV1 receptors as targets for drug development: new approaches and mechanisms. Curr Pharm Des 14:32–41. doi:10.2174/138161208783330754

32.

Raisinghani M, Pabbidi RB, Premkumar LS (2005) Activation of transient receptor potential vanilloid 1 (TRPV1) by resiniferatoxin. J Phisiol 567:771–786. doi:10.1113/jphysiol.2005.087874

33.

Mori A, Lehmann S, O'Kelly J, Kumagai T, Desmond JC, Pervan M et al (2006) Capsaicin a component of red peppers inhibits the growth of andogen independent, p53 mutant prostate cancer cells. Cancer Res 66:3222–3229. doi:10.1158/0008-5472.CAN-05-0087

34.

Jang JJ, Kim SH, Yun TK (1989) Inhibitory effect of capsaicin on mouse lung development. In Vivo 3:49–53

35.

Modly CE, Das M, Don PC, Marcelo CL, Mukhtar H, Bickers DR (1986) Capsaicin as in vitro inhibitor of benzo(a)pyrene metabolism and its DNA binding in human and murine keratinocytes. Drug Metab Dispos 14:413–416

36.

Yoshitani SI, Tanaka T, Kohno H, Takashima S (2001) Chemoprevention of azoxymethane-induced rat colon carcinogenesis by dietary capsaicin and rotenone. Int J Oncol 19:929–939

37.

Surh YJ, Lee SS (1995) Capsaicin, a double-edged sword: toxicity, metabolism, and chemopreventive potential. Life Sci 56:1845–1855. doi:10.1016/0024-3205(95)00159-4

38.

Teel RW (1991) Effects of capsaicin on rat liver S9-mediated metabolism and DNA binding of aflatoxin. Nutr Cancer 15:27–32

39.

Sanchez AM, Sanchez MG, Malagarie-Cazenave S, Olea N, Diaz-Laviada I (2006) Induction of apoptosis in prostate tumor PC-3 cells and inhibition of xenograft prostate tumor growth by the vanilloid capsaicin. Apoptosis 11:89–99. doi:10.1007/s10495-005-3275-z

40.

Sanchez AM, Malagarie-Cazenave S, Olea N, Vara D, Chiloeches A, Diaz-Laviada I (2007) Apoptosis induced by capsaicin in prostate PC-3 cells involves ceramide accumulation, neutral sphingomyelinase, and JNK activation. Apoptosis 12:2013–2024. doi:10.1007/s10495-007-0119-z

41.

Hail N, Lotan R (2002) Examining the role of mitochondrial respiration in vanilloid-induced apoptosis. J Natl Cancer Inst 94:1281–1292

42.

Ito K, Nakazato T, Yamato K, Miyakawa Y, Yamada T, Hozumi N et al (2004) Induction of apoptosis in leukemic cells by homovanillic acid derivative capsaicin through oxidative stress implication of phosphorylation of p53 at Ser-15 residue by reactive oxygen species. Cancer Res 64:1071–1078. doi:10.1158/0008-5472.CAN-03-1670

43.

Kang HJ, Soh Y, Kim MS, Lee EJ, Surh YJ, Kim HC et al (2003) Roles of JNK-1 and p38 in selective induction of apoptosis by capsaicin in ras-transformed human breast epithelial cells. Int J Cancer 103:475–482. doi:10.1002/ijc.10855

44.

Lee YS, Kang YS, Lee JS, Nicolova SS, Kim JE (2004) Involvement of NADPH oxidase-mediated generation of reactive oxygen species in the apoptotic cell death by capsaicin in HepG2 human hepatoma cells. Free Radic Res 38:405–412. doi:10.1080/10715760410001665262

45.

Min JK, Han KY, Kim EC, Kim YM, Lee SW, Kim OH et al (2004) Capsaicin inhibits in vitro and in vivo angiogenesis. Cancer Res 64:644–651. doi:10.1158/0008-5472.CAN-03-3250

46.

Surh YJ (2002) More than spice: capsaicin in hot chili pepper makes tumor cells commit suicide. J Natl Cancer Inst 94:1263–1265

47.

Srivastava SK, Singh SV (2004) Cell cycle arrest and apoptosis-induced by benzyl isothiocyanate are associated with inhibition of nuclear factor kappa B activation in human pancreatic cancer cells. Carcinogenesis 25:1701–1709. doi:10.1093/carcin/bgh179

48.

Zhang R, Loganathan S, Humphreys I, Srivastava SK (2006) Benzyl isothiocyanate induced DNA damage causes G2/M cell cycle arrest and apoptosis in human pancreatic cancer cells. J Nutr 136:2728–2734

49.

Shi Y, Sahu RP, Srivastava SK (2008) Triphala inhibits both in vitro and in vivo xenograft growth of pancreatic tumor cells by inducing apoptosis. BMC Cancer 8:294. doi:10.1186/1471-2407-8-294

50.

Srivastava SK, Xiao D, Lew KL, Hershberger P, Kokkinakis DM, Johnson CS et al (2003) Allyl isothiocyanate, a natural constituent of cruciferous vegetables inhibits growth of PC-3 human prostate cancer xenografts in vivo in association with down-regulation of Bcl-2. Carcinogenesis 24:665–670. doi:10.1093/carcin/bgg123

51.

Singh SV, Srivastava SK, Choi S, Lew KL, Antosiewitz J, Xiao D et al (2005) Sulphoraphane-induced cell death in human prostate cancer cells is initiated by reative oxygen species. J Biol Chem 280:19911–19924. doi:10.1074/jbc.M412443200

52.

Shen H, Liu Z (2006) JNK signaling pathway is a key modulator in cell death mediated by reactive oxygen and nitrogen species. Free Radic Biol Med 40:928–939. doi:10.1016/j.freeradbiomed.2005.10.056

53.

Council of Europe (2001) Committee of experts on flavoring substances. Datasheet on capsaicin, 612
Acknowledgements
This investigation was supported in part by USPHS RO1 grant CA106953 (to SKS) awarded by the National Cancer Institute. Funds from Texas Tech University Health Sciences Center, School of Pharmacy and Hillman Foundation (to SKS) are also acknowledged. The authors thank Dr. Massimo Trucco, University of Pittsburgh for providing acinar cells isolated from normal human pancreas and Shephalie Lahiri for technical assistance.
Additional information
Ruifen Zhang and Ian Humphreys contributed equally to this work.
About this article
Cite this article
Zhang, R., Humphreys, I., Sahu, R.P. et al. In vitro and in vivo induction of apoptosis by capsaicin in pancreatic cancer cells is mediated through ROS generation and mitochondrial death pathway. Apoptosis 13, 1465–1478 (2008). https://doi.org/10.1007/s10495-008-0278-6
Keywords
Capsaicin

Pancreatic cancer

ROS

Bax

Cytochrome c

Nude mice

Xenograft