Abstract
Apoptosis and autophagy are genetically-regulated, evolutionarily-conserved processes that regulate cell fate. Both apoptosis and autophagy are important in development and normal physiology and in a wide range of diseases. Recent studies show that despite the marked differences between these two processes, their regulation is intimately connected and the same regulators can sometimes control both apoptosis and autophagy. In this review, I discuss some of these findings, which provide possible molecular mechanisms for crosstalk between apoptosis and autophagy and suggest that it may be useful to think of these processes as different facets of the same cell death continuum rather than completely separate processes.
Access options
Buy single article
Instant access to the full article PDF.
USD 39.95
Price excludes VAT (USA)
Tax calculation will be finalised during checkout.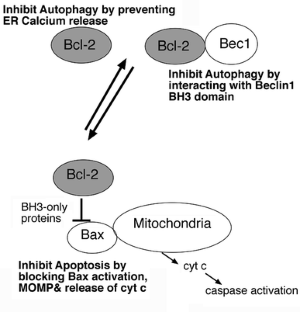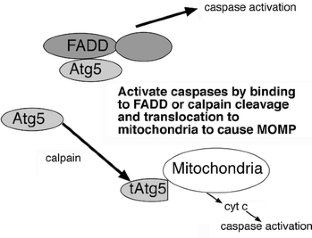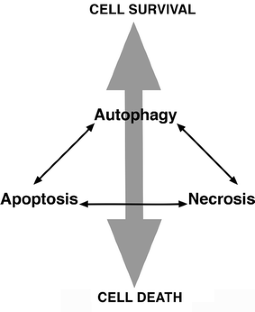 References
Klionsky DJ (2007) Autophagy: from phenomenology to molecular understanding in less than a decade. Nat Rev Mol Cell Biol 8:931–937

Levine B, Klionsky DJ (2004) Development by self-digestion: molecular mechanisms and biological functions of autophagy. Dev Cell 6:463–477

Levine B (2005) Eating oneself and uninvited guests: autophagy-related pathways in cellular defense. Cell 120:159–162

Lum JJ, DeBerardinis RJ, Thompson CB (2005) Autophagy in metazoans: cell survival in the land of plenty. Nat Rev Mol Cell Biol 6:439–448

Cuervo AM (2004) Autophagy: in sickness and in health. Trends Cell Biol 14:70–77

Hara T, Nakamura K, Matsui M et al (2006) Suppression of basal autophagy in neural cells causes neurodegenerative disease in mice. Nature 441:885–889

Komatsu M, Waguri S, Chiba T et al (2006) Loss of autophagy in the central nervous system causes neurodegeneration in mice. Nature 441:880–884

Ogawa M, Yoshimori T, Suzuki T, Sagara H, Mizushima N, Sasakawa C (2005) Escape of intracellular Shigella from autophagy. Science 307:727–731

Kirkegaard K, Taylor MP, Jackson WT (2004) Cellular autophagy: surrender, avoidance and subversion by microorganisms. Nat Rev Microbiol 2:301–314

Liang XH, Jackson S, Seaman M et al (1999) Induction of autophagy and inhibition of tumorigenesis by beclin 1. Nature 402:672–676

Liang XH, Yu J, Brown K, Levine B (2001) Beclin 1 contains a leucine-rich nuclear export signal that is required for its autophagy and tumor suppressor function. Cancer Res 61:3443–3449

Yue Z, Jin S, Yang C, Levine AJ, Heintz N (2003) Beclin 1, an autophagy gene essential for early embryonic development, is a haploinsufficient tumor suppressor. Proc Natl Acad Sci USA 100:15077–15082

Qu X, Yu J, Bhagat G et al (2003) Promotion of tumorigenesis by heterozygous disruption of the beclin 1 autophagy gene. J Clin Invest 112:1809–1820

Mathew R, Kongara S, Beaudoin B et al (2007) Autophagy suppresses tumor progression by limiting chromosomal instability. Genes Dev 21:1367–1381

Karantza-Wadsworth V, Patel S, Kravchuk O et al (2007) Autophagy mitigates metabolic stress and genome damage in mammary tumorigenesis. Genes Dev 21:1621–1635

Boya P, Gonzalez-Polo RA, Casares N et al (2005) Inhibition of macroautophagy triggers apoptosis. Mol Cell Biol 25:1025–1040

Lum JJ, Bauer DE, Kong M et al (2005) Growth factor regulation of autophagy and cell survival in the absence of apoptosis. Cell 120:237–248

Ravikumar B, Berger Z, Vacher C, O'Kane CJ, Rubinsztein DC (2006) Rapamycin pre-treatment protects against apoptosis. Hum Mol Genet 15:1209–1216

Colell A, Ricci JE, Tait S et al (2007) GAPDH and autophagy preserve survival after apoptotic cytochrome c release in the absence of caspase activation. Cell 129:983–997

Gozuacik D, Kimchi A (2004) Autophagy as a cell death and tumor suppressor mechanism. Oncogene 23:2891–2906

Tsujimoto Y, Shimizu S (2005) Another way to die: autophagic programmed cell death. Cell Death Differ 12(Suppl 2):1528–1534

Levine B, Yuan J (2005) Autophagy in cell death: an innocent convict? J Clin Invest 115:2679–2688

Yu L, Wan F, Dutta S et al (2006) Autophagic programmed cell death by selective catalase degradation. Proc Natl Acad Sci USA 103:4952–4957

Luthi AU, Martin SJ (2007) The CASBAH: a searchable database of caspase substrates. Cell Death Differ 14:641–650

Shimizu S, Kanaseki T, Mizushima N et al (2004) Role of Bcl-2 family proteins in a non-apoptotic programmed cell death dependent on autophagy genes. Nat Cell Biol 6:1221–1228

Yu L, Alva A, Su H et al (2004) Regulation of an ATG7-beclin 1 program of autophagic cell death by caspase-8. Science 304:1500–1502

Galluzzi L, Maiuri MC, Vitale I et al (2007) Cell death modalities: classification and pathophysiological implications. Cell Death Differ 14:1237–1243

Yorimitsu T, Klionsky DJ (2005) Autophagy: molecular machinery for self-eating. Cell Death Differ 12(Suppl 2):1542–1552

Meijer AJ, Codogno P (2004) Regulation and role of autophagy in mammalian cells. Int J Biochem Cell Biol 36:2445–2462

Sarkar S, Davies JE, Huang Z, Tunnacliffe A, Rubinsztein DC (2007) Trehalose, a novel mTOR-independent autophagy enhancer, accelerates the clearance of mutant huntingtin and alpha-synuclein. J Biol Chem 282:5641–5652

Scott RC, Juhasz G, Neufeld TP (2007) Direct induction of autophagy by Atg1 inhibits cell growth and induces apoptotic cell death. Curr Biol 17:1–11

Chan EY, Kir S, Tooze SA (2007) siRNA screening of the kinome identifies ULK1 as a multi-domain modulator of autophagy. J Biol Chem 282:25464–25474

Furuya N, Yu J, Byfield M, Pattingre S, Levine B (2005) The evolutionarily conserved domain of Beclin 1 is required for Vps34 binding, autophagy and tumor suppressor function. Autophagy 1:46–52

Liang C, Feng P, Ku B et al (2006) Autophagic and tumour suppressor activity of a novel Beclin1-binding protein UVRAG. Nat Cell Biol 8:688–698

Maria Fimia G, Stoykova A, Romagnoli A et al (2007) Ambra1 regulates autophagy and development of the nervous system. Nature 447:1121–1125

Takahashi Y, Coppola D, Matsushita N et al (2007) Bif-1 interacts with Beclin 1 through UVRAG and regulates autophagy and tumorigenesis. Nat Cell Biol 9:1142–1151

Ohsumi Y, Mizushima N (2004) Two ubiquitin-like conjugation systems essential for autophagy. Semin Cell Dev Biol 15:231–236

Klionsky DJ, Cuervo AM, Seglen PO (2007) Methods for monitoring autophagy from yeast to human. Autophagy 3:181–206

Gutierrez MG, Munafo DB, Beron W, Colombo MI (2004) Rab7 is required for the normal progression of the autophagic pathway in mammalian cells. J Cell Sci 117:2687–2697

Jager S, Bucci C, Tanida I et al (2004) Role for Rab7 in maturation of late autophagic vacuoles. J Cell Sci 117:4837–4848

Gonzalez-Polo RA, Boya P, Pauleau AL et al (2005) The apoptosis/autophagy paradox: autophagic vacuolization before apoptotic death. J Cell Sci 118:3091–3102

Kanzawa T, Germano IM, Komata T, Ito H, Kondo Y, Kondo S (2004) Role of autophagy in temozolomide-induced cytotoxicity for malignant glioma cells. Cell Death Differ 11:448–457

Klionsky DJ (2005) The molecular machinery of autophagy: unanswered questions. J Cell Sci 118:7–18

Adams JM (2003) Ways of dying: multiple pathways to apoptosis. Genes Dev 17:2481–2495

Wang X (2001) The expanding role of mitochondria in apoptosis. Genes Dev 15:2922–2933

Green DR, Kroemer G (2004) The pathophysiology of mitochondrial cell death. Science 305:626–629

Cory S, Adams JM (2002) The Bcl2 family: regulators of the cellular life-or-death switch. Nat Rev Cancer 2:647–656

Youle RJ (2007) Cell biology. Cellular demolition and the rules of engagement. Science 315:776–777

Hacker G, Weber A (2007) BH3-only proteins trigger cytochrome c release, but how? Arch Biochem Biophys 462:150–155

Green DR (2006) At the gates of death. Cancer Cell 9:328–330

Li P, Nijhawan D, Budihardjo I et al (1997) Cytochrome c and dATP-dependent formation of Apaf-1/caspase-9 complex initiates an apoptotic protease cascade. Cell 91:479–489

Du C, Fang M, Li Y, Li L, Wang X (2000) Smac, a mitochondrial protein that promotes cytochrome c-dependent caspase activation by eliminating IAP inhibition. Cell 102:33–42

Verhagen AM, Ekert PG, Pakusch M et al (2000) Identification of DIABLO, a mammalian protein that promotes apoptosis by binding to and antagonizing IAP proteins. Cell 102:43–53

Ashkenazi A, Dixit VM (1998) Death receptors: signaling and modulation. Science 281:1305–1308

Thorburn A (2004) Death receptor-induced cell killing. Cell Signal 16:139–144

Chinnaiyan AM, O'Rourke K, Tewari M, Dixit VM (1995) FADD, a novel death domain-containing protein, interacts with the death domain of Fas and initiates apoptosis. Cell 81:505–512

Thomas LR, Henson A, Reed JC, Salsbury FR, Thorburn A (2004) Direct binding of FADD to the TRAIL receptor DR5 is regulated by the death effector domain of FADD. J Biol Chem 279:32780–32785

Thomas LR, Johnson RL, Reed JC, Thorburn A (2004) The C-terminal tails of tumor necrosis factor-related apoptosis-inducing ligand (TRAIL) and Fas receptors have opposing functions in Fas associated death domain (FADD) recruitment and can regulate agonist-specific mechanisms of receptor activation. J Biol Chem 279:52479–52486

Boatright KM, Renatus M, Scott FL et al (2003) A unified model for apical caspase activation. Mol Cell 11:529–541

Luo X, Budihardjo I, Zou H, Slaughter C, Wang X (1998) Bid, a Bcl2 interacting protein, mediates cytochrome c release from mitochondria in response to activation of cell surface death receptors. Cell 94:481–490

Boyce M, Yuan J (2006) Cellular response to endoplasmic reticulum stress: a matter of life or death. Cell Death Differ 13:363–373

Zong WX, Li C, Hatzivassiliou G et al (2003) Bax and Bak can localize to the endoplasmic reticulum to initiate apoptosis. J Cell Biol 162:59–69

Boya P, Cohen I, Zamzami N, Vieira HL, Kroemer G (2002) Endoplasmic reticulum stress-induced cell death requires mitochondrial membrane permeabilization. Cell Death Differ 9:465–467

Boya P, Gonzalez-Polo RA, Poncet D et al (2003) Mitochondrial membrane permeabilization is a critical step of lysosome-initiated apoptosis induced by hydroxychloroquine. Oncogene 22:3927–3936

Kroemer G, Jaattela M (2005) Lysosomes and autophagy in cell death control. Nat Rev Cancer 5:886–897

Wang L, Yu C, Lu Y et al (2007) TMEM166, a novel transmembrane protein, regulates cell autophagy and apoptosis. Apoptosis 12:1489–1502

Crighton D, Wilkinson S, O'Prey J et al (2006) DRAM, a p53-Induced Modulator of Autophagy, Is Critical for Apoptosis. Cell 126:121–134

Arico S, Petiot A, Bauvy C et al (2001) The tumor suppressor PTEN positively regulates macroautophagy by inhibiting the phosphatidylinositol 3-kinase/protein kinase B pathway. J Biol Chem 276:35243–35246

Pattingre S, Tassa A, Qu X et al (2005) Bcl-2 antiapoptotic proteins inhibit beclin 1-dependent autophagy. Cell 122:927–939

Zhu W, Cowie A, Wasfy GW, Penn LZ, Leber B, Andrews DW (1996) Bcl-2 mutants with restricted subcellular location reveal spatially distinct pathways for apoptosis in different cell types. Embo J 15:4130–4141

Maiuri MC, Le Toumelin G, Criollo A et al (2007) Functional and physical interaction between Bcl-X(L) and a BH3-like domain in Beclin-1. Embo J 26:2527–2539

Oberstein A, Jeffrey PD, Shi Y (2007) Crystal structure of the Bcl-XL-Beclin 1 peptide complex: Beclin 1 is a novel BH3-only protein. J Biol Chem 282:13123–13132

Erlich S, Mizrachy L, Segev O et al (2007) Differential Interactions Between Beclin 1 and Bcl-2 Family Members. Autophagy 3:561–568

Feng W, Huang S, Wu H, Zhang M (2007) Molecular basis of Bcl-xL's target recognition versatility revealed by the structure of Bcl-xL in complex with the BH3 domain of Beclin-1. J Mol Biol 372:223–235

Hoyer-Hansen M, Bastholm L, Szyniarowski P et al (2007) Control of macroautophagy by calcium, calmodulin-dependent kinase kinase-beta, and Bcl-2. Mol Cell 25:193–205

Thorburn J, Moore F, Rao A et al (2005) Selective inactivation of a FADD-dependent apoptosis and autophagy pathway in immortal epithelial cells. Mol Biol Cell 16:1189–1199

Park KJ, Lee SH, Kim TI et al (2007) A human scFv antibody against TRAIL receptor 2 induces autophagic cell death in both TRAIL-sensitive and TRAIL-resistant cancer cells. Cancer Res 67:7327–7334

Pyo JO, Jang MH, Kwon YK et al (2005) Essential roles of Atg5 and FADD in autophagic cell death: dissection of autophagic cell death into vacuole formation and cell death. J Biol Chem 280:20722–20729

Yousefi S, Perozzo R, Schmid I et al (2006) Calpain-mediated cleavage of Atg5 switches autophagy to apoptosis. Nat Cell Biol 8:1124–1132

Demarchi F, Bertoli C, Copetti T et al (2006) Calpain is required for macroautophagy in mammalian cells. J Cell Biol 175:595–605

Maiuri MC, Zalckvar E, Kimchi A, Kroemer G (2007) Self-eating and self-killing: crosstalk between autophagy and apoptosis. Nat Rev Mol Cell Biol 8:741–752

Hippert MM, O'Toole PS, Thorburn A (2006) Autophagy and cancer: good bad or both? Cancer Res 66:9349–9351

Baehrecke EH (2003) Autophagic programmed cell death in Drosophila. Cell Death Differ 10:940–945

Lee CY, Cooksey BA, Baehrecke EH (2002) Steroid regulation of midgut cell death during Drosophila development. Dev Biol 250:101–111

Martin DN, Baehrecke EH (2004) Caspases function in autophagic programmed cell death in Drosophila. Development 131:275–284

Green DR, Evan GI (2002) A matter of life and death. Cancer Cell 1:19–30

Amaravadi RK, Yu D, Lum JJ et al (2007) Autophagy inhibition enhances therapy-induced apoptosis in a Myc-induced model of lymphoma. J Clin Invest 117:326–336

Degenhardt K, Mathew R, Beaudoin B et al (2006) Autophagy promotes tumor cell survival and restricts necrosis, inflammation, and tumorigenesis. Cancer Cell 10:51–64

Scaffidi P, Misteli T, Bianchi ME (2002) Release of chromatin protein HMGB1 by necrotic cells triggers inflammation. Nature 418:191–195

Casares N, Pequignot MO, Tesniere A et al (2005) Caspase-dependent immunogenicity of doxorubicin-induced tumor cell death. J Exp Med 202:1691–1701

Obeid M, Tesniere A, Ghiringhelli F et al (2007) Calreticulin exposure dictates the immunogenicity of cancer cell death. Nat Med 13:54–61

Vakkila J, Lotze MT (2004) Inflammation and necrosis promote tumour growth. Nat Rev Immunol 4:641–648

Lake RA, van der Most RG (2006) A better way for a cancer cell to die. N Engl J Med 354:2503–2504
Acknowledgements
Research in my laboratory is supported by grants from the NCI. I thank David Virshup for helpful comments on the manuscript.