Abstract
A triterpenediol (TPD) comprising of isomeric mixture of 3α, 24-dihydroxyurs-12-ene and 3α, 24-dihydroxyolean-12-ene from Boswellia serrata induces apoptosis in cancer cells. An attempt was made in this study to investigate the mechanism of cell death by TPD in human leukemia HL-60 cells. It inhibited cell proliferation with IC50 ∼ 12 μg/ml and produced apoptosis as measured by various biological end points e.g. increased sub-G0 DNA fraction, DNA ladder formation, enhanced AnnexinV-FITC binding of the cells. Further, initial events involved massive reactive oxygen species (ROS) and nitric oxide (NO) formation, which were significantly inhibited by their respective inhibitors. Persistent high levels of NO and ROS caused Bcl-2 cleavage and translocation of Bax to mitochondria, which lead to loss of mitochondrial membrane potential (Δψm) and release of cytochrome c, AIF, Smac/DIABLO to the cytosol. These events were associated with decreased expression of survivin and ICAD with attendant activation of caspases leading to PARP cleavage. Furthermore, TPD up regulated the expression of cell death receptors DR4 and TNF-R1 level, leading to caspase-8 activation. These studies thus demonstrate that TPD produces oxidative stress in cancer cells that triggers self-demise by ROS and NO regulated activation of both the intrinsic and extrinsic signaling cascades.
Access options
Buy single article
Instant access to the full article PDF.
US$ 39.95
Tax calculation will be finalised during checkout.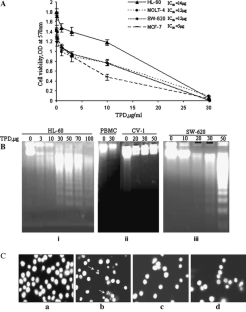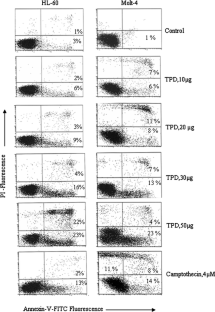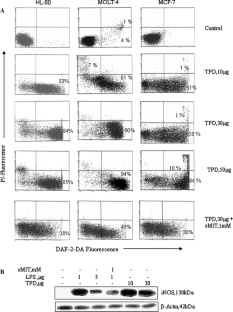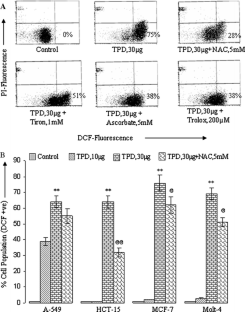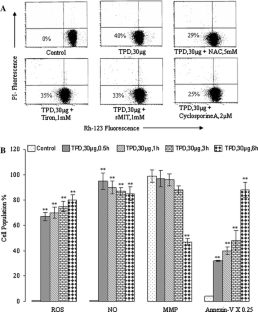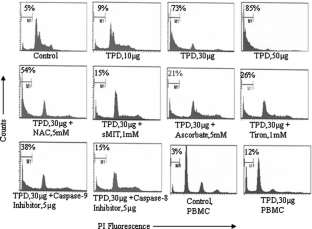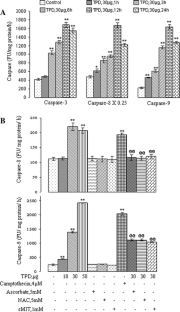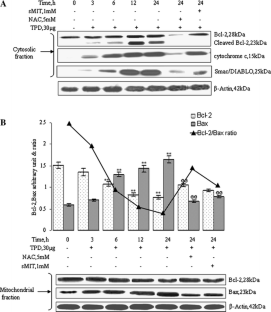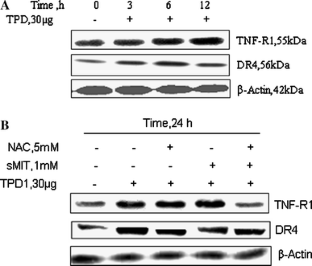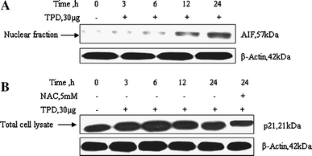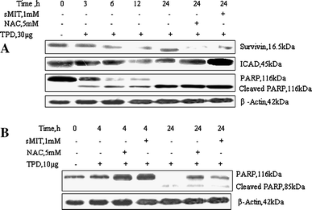 Abbreviations
DAF-2-DA:

Diaminofluoresceine-2-diacetate

DCFH-DA:

2,7-Dichlorofluoresceine diacetate

LPS:

Lipopolysaccharide

Δψm :

Mitochondrial membrane potential

MTT:

3-(4,5-Dimethylthiazole-2-yl)-2,5-diphenyltetrazolium bromide

PBMC:

Peripheral blood mononuclear cell

NAC:

N-acetyl-cysteine

iNOS:

Inducible nitric oxide synthase

PI:

Propidium iodide

PTP:

Mitochondrial permeability transition pore

NO:

Nitric oxide

Rh-123:

Rhodamine-123

sMIT:

s-Methylisothiourea

AIF:

Apoptosis inducing factor

PMSF:

Phenylmethanesulfonyl fluoride

ICAD:

Inhibitor of caspase activating DNAse
References
1.

Lee KH (1999) Anticancer drug design based on plant-derived natural products. J Biomed Sci 6:236–250

2.

Han R (1994) Highlight on the studies of anticancer drugs derived from plants in China. Stem Cells 12:53–63

3.

Safayhi H, Mack T, Sabieraj J, Anazodo MI, Subramanian LR, Ammon HP (1992) Boswellic acids: novel, specific, non-redox inhibitors of 5-lipoxygenase. J Pharmacol Exp Ther 26:1143–1146

4.

Hoernlein RF, Orlikowsky TH, Zehrer C et al. (1999) Acetyl-11-keto-beta-boswellic acid induce apoptosis in HL-60 and CCRF-CEM cells and inhibit topoisomerase-I. J Pharmacol Exp Ther 288:613–619

5.

Mahajan B, Taneja SC, Sethi VK, Dhar KL (1995) Two triterpenoids from Boswellia serrata gum resin. Phytochemistry 39:453–455

6.

Allan GG (1968) The Stereochemistry of the Boswellic Acids. Phytochemistry 7:963–973

7.

Debatin KM (2000) Activation of apoptosis pathways by anti-cancer treatment. Toxicol Lett 112/113:41–48

8.

Wilson MR (1998) Apoptotic signal transduction: emerging pathways. Biochem Cell Biol 76:573–582

9.

Sun XM, MacFarlane M, Zhuang J, Wolf BB, Green DR, Cohen GM (1999) Distinct caspase cascades are initiated in receptor-mediated and chemical induced apoptosis. J Biol Chem 274:5053–5060

10.

Pelicano H, Carney D, Huang P (2004) ROS stress in cancer cells and therapeutic implication. Drug Resistance Updates 7:97–110

11.

Ghafourifar P, Brimgold U, Klein SD, Richter C (2001) Mitochondrial nitric oxide synthase, oxidative stress and apoptosis. Biol Signals Recept 10:57–65

12.

Chun-Qi L, Wogan GN (2005) Nitric oxide as modulator of apoptosis. Cancer Letters 226:1–15

13.

Kellner C, Zunin SJ (2004) Nitric oxide is synthesized in acute leukemia cell, after exposure to phenolic antioxidants and initially protects against mitochondrial membrane depolarization. Cancer Lett 215:43–52

14.

Szewczyk A, Wojtczak L (2002) Mitochondria as a pharmacological target. Pharmacol Rev 54:101–127

15.

Ferlini C, Scambia G, Marone M et al. (1999) Tamoxifen induces oxidative stress and apoptosis in oestrogen receptor negative human cancer cell lines. Br J Cancer 79:257–263

16.

English D, Andersen BR (1974) Single-step separation of red blood cells, granulocytes and mononuclear leukocyte on discontinuous density gradient of ficoll-hypaque. J Immunol Method 5:249–252

17.

Malik F, Singh J, Khajuria A et al (2007) A standardized root extract of Withania somnifera and its major constituent withanolide-A solicit humoral and cell-mediated immune responses by up regulation of Th1-dominant polarization in BALB/c mice. Life Sci 80:1525–1538

18.

Bhushan S, Singh J, Rao MJ, Saxena AK, Qazi GN (2006) A novel lignan composition from Cedrus deodara induces apoptosis and early nitric oxide generation in human leukemia Molt -4 and HL-60 cells. Nitric oxide 14:72–88

19.

Vermes I, Haanen C, Steffen-Nakken H, Reutellingsperger C (1995) A novel assay for apoptosis, Flow cytometric detection of phosphatidylserine expression on early apoptotic cells using fluorescein labeled AnnexinV. J Immunol Meth 184:39–51

20.

Kojima H, Sakurai K, Kikuchi K et al (1998) Development of a fluorescent indicator for the nitric oxide based on the fluorescein chromophore. Chem Pharm Bull 46:373–375

21.

Rothe G, Valet G (1996) Flow cytometric analysis of respiratory burst activity in phagocytes with hydroethidine and 2′, 7′-dichlorofluorescein. J Leukocy Biol 47:440–448

22.

Royall JA, Ischiropoulos H (1993) Evaluation of 2′, 7′-dichlorofluorescein and dihydrorhodamine-123 as fluorescent probes for intracellular H2O2 in cultured endothelial cells. Arch Biochem Biophys 302:348–355

23.

Yu Z, Li W (2006) Induction of apoptosis by puerarin in colon cancer HT-29 cells. Cancer Lett 238:53–60

24.

Findley HW, Gu L, Yeager AM, Zhou M (1997) Expression and regulation of Bcl-2, Bcl-xl, and Bax correlate with p53 status and sensitivity to apoptosis in childhood acute lymphoblastic leukemia. Blood 89:2986–2993

25.

Wang Z, Wang S, Dai Y, Grant S (2002) Bryostatin 1 increases 1-D- arabinofuranosylcytosine-induced cytochrome c release and apoptosis in human leukemia cells ectopically expressing Bcl-xL. J Pharmacol Exp Ther 301:568–577

26.

Shina TY, Kimb SH, Sukb K et al (2005) Anti-allergic effects of Lycopus lucidus on mast cell-mediated allergy model. Toxicol Appl Pharmacol 209:255–262

27.

Lin HI, Lee YJ, Chen BF et al (2005) Involvement of Bcl-2 family, cytochrome c in caspase 3 in induction of apoptosis by beauvericin in human non-small cell lung cancer cells. Cancer Lett 230:248–259

28.

Coers W, Timens W, Kempinga C, Klok PA, Moshage H (1998) Specificity of antibodies to nitric oxide synthase isoforms in human, guinea pig, rat, and mouse tissues. J Histochem Cytochem 46:1385–1391

29.

Borutaite V, Brown GC (2003) Nitric oxide induces apoptosis via hydrogen peroxide but necrosis via energy and thiol depletion. Free Radic Biol Med 35:1457–1468

30.

Broekemeier KM, Dempsey M, Pfeiffer DR (1989) Cyclosporin A is a potent inhibitor of the inner membrane permeability transition in liver mitochondria. J Biol Chem 264:7826–7830

31.

Cory. S, Adams JM (2002) Bcl-2 family: regulation of the cellular life or death switch. NatRevCancer 2:647–656

32.

Cheng EH, Kirsh DG, Clem RJ, Ravi RR, Kastan MB, Bedi A (1997) Conversion of Bcl-2 to a Bax-like death effector by caspases. Science 278:1966–1968

33.

Wan CK, Wang C, Cheung HY, Yang M, Fong WF (2005) Triptolide induces Bcl-2 cleavage and mitochondria dependant apoptosis in p53-deficient HL-60 cells. Cancer Lett 241:31–41

34.

Ghanem L, Steinman R (2005) A proapoptotic function of p21 in differentiating granulocytes. Leukemia Res 29:1315–1323

35.

Macip S, Igarashi M, Fang L et al. (2002) Inhibition of p21-mediated ROS accumulation can rescue p21-induced senescence. The EMBO J 21:2180–2188

36.

Sakahira H, Enari M, Nagata S (1999) Functional differences of two forms of the inhibitor of caspase-activated DNase, ICAD-L, and ICAD-S. J Bio Chem 274:15740–15744

37.

Yingchang M, Thomas SD, Xiaohua X, Casson LK, Miller DM, Bates PJ (2003) Apoptosis in leukemia cell is accompanied by alterations in the level and localization of nucleolin. J Bio Chem 278:8572–8579

38.

Secchiero P, Gonelli A, Celeghini C et al. (2001) Activation of the nitric oxide synthase pathway represents a key component of tumor necrosis factor-related apoptosis-inducing ligand mediated cytotoxicity on hematologic malignancies. Blood 98:2220–2228

39.

Richter LC, Vollgraf U (1998) Mode of cell injury and death after hydrogen peroxide exposure in cultured oligodedendroglia cells. Exp Cell Res 244:218–229

40.

Wink DA, Mitchell JB (1998) Chemical biology of nitric oxide: insights into regulatory, cytotoxic, and cytoprotective mechanisms of nitric oxide. Free Radic Biol Med 25:434–456

41.

Radi R, Cassina A, Hodara R, Quijano C, Castro L (2002) Peroxynitrite reactions and formation in mitochondria. Free Radic Biol Med 33:1451–1464

42.

Nagata S, Golstein P (1995) The Fas death factor. Science 267:1449–1456

43.

Cheng EH, Kirsch DG, Clem RJ, Ravi R, Kastan MB, Bedi A, Ueno K, Hardwick JM (1997) Conversion of Bcl-2 to a Bax-like death effector by caspases. Science 278:1966–1968

44.

Bello BD, Valentini MA, Zunino F, Comporti M., Maellaro E (2001) Cleavage of Bcl-2 in oxidant and cisplatin -induced apoptosis of human melanoma cells. Oncogene 20:4591–4595

45.

Fujita N, Tsuruo T (1998) Involvement of Bcl-2 Cleavage in the Acceleration of VP-16 Induced U937 Cell Apoptosis. Biochemical Biophysical Res Comun 246:484–488

46.

Dumont C, Durrbach A, Bidere N et al (2000) Caspase-independent commitment phase to apoptosis in activated blood T lymphocytes: reversibility at low apoptotic insult. Blood 96:1030–1038

47.

Apostolova N, Cervera AM, Victor VM et al (2006) Loss of apoptosis-inducing factor leads to an increase in reactive oxygen species, and an impairment of respiration that can be reversed by antioxidants. Cell Death Differ 13:354–357

48.

Srinivasula SM, Datta P, Fan XJ, Fernandes-Alnemri T, Huang Z, Alnemri ES (2000) Molecular determinants of the caspase-promoting activity of Smac/DIABLO and its role in the death receptor pathway. J Bio Chem 275:36152–36157

49.

Sah NK, Khan Z, Khan GJ, Bisen PS (2006) Structural, functional and therapeutic biology of survivin. Cancer Lett 244:164–171
Acknowledgements
We are highly thankful to Dr. Sarang Bani and Sheikh Fayaz (SRF, CSIR) for their help in the use of Flow Cytometery.
About this article
Cite this article
Bhushan, S., Kumar, A., Malik, F. et al. A triterpenediol from Boswellia serrata induces apoptosis through both the intrinsic and extrinsic apoptotic pathways in human leukemia HL-60 cells. Apoptosis 12, 1911–1926 (2007). https://doi.org/10.1007/s10495-007-0105-5
Keywords
Boswellia serrata

Triterpenediol

Apoptosis

HL-60 cells

RNOS

cytochrome c