Abstract
Bacteria belonging to the family Anaplasmataceae cause infections in humans and domestic animals. The consequences of infection can be significant economic losses for farmers. To better understand the epidemiology of tick-borne Anaplasmataceae in Corsica, we used molecular methods to detect and characterize Anaplasmataceae in ixodid ticks collected from cattle. Anaplasmataceae were detected by using a real-time polymerase chain reaction (PCR) targeting the 23S rRNA gene. Partial sequencing of rpoB and groEL allowed identifying species and conducting phylogenetic analyses. Infection rates were calculated using maximum likelihood estimation (MLE) with 95% confidence intervals (CIs). In total, 597 Rhipicephalus bursa, 216 Hyalomma marginatum, and seven Ixodes ricinus were collected from cattle during July–August 2017 and July–December 2018. Overall, Anaplasmataceae DNA was detected in 15 of 255 tick pools (MLE = 1.7%; 95% CI 0.9–2.7%). The molecular analysis revealed two species within the genus Anaplasma: A. marginale and A. phagocytophilum. We also detected bacteria within the genus Ehrlichia: we confirmed the detection of E. minasensis DNA in H. marginatum and R. bursa tick pools collected from cattle in Corsica and detected, for the first time to our knowledge, Candidatus E. urmitei in Corsican R. bursa ticks and a potential new species, Candidatus E. corsicanum. Further studies are needed to ascertain the pathogenesis and zoonotic potential of the strains and their importance for animals and public health.
This is a preview of subscription content, log in to check access.
Access options
Buy single article
Instant access to the full article PDF.
US$ 39.95
Tax calculation will be finalised during checkout.
Subscribe to journal
Immediate online access to all issues from 2019. Subscription will auto renew annually.
US$ 199
Tax calculation will be finalised during checkout.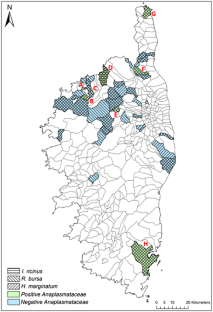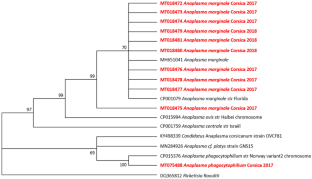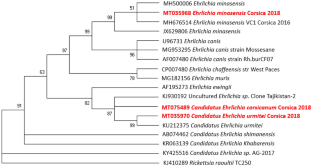 Data availability
The GenBank accession Nos. obtained in this study were MT075488 and MT018472-81 for rpoB (n = 11) and MT035968-70 and MT075489 for groEL (n = 4), MT065823 and MT012311-13 for the 23S rRNA gene (n = 4), and MT065824 (n = 1) for the 16S rRNA gene. All other relevant data are included in the article.
References
Adelabu OA, Iweriebor BC, Okoh AI, Obi LC (2019) Phylogenetic profiling for zoonotic Ehrlichia spp. from ixodid ticks in the Eastern Cape, South Africa. Transbound Emerg Dis. https://doi.org/10.1111/tbed.13460

Aktas M, Ozubek S (2015) Bovine anaplasmosis in Turkey: first laboratory confirmed clinical cases caused by Anaplasma phagocytophilum. Vet Microbiol 178(3–4):246–251

Altschul SF, Madden TL, Schaffer AA, Zhang J, Zhang Z, Miller W, Lipman DJ (1997) Gapped BLAST and PSI-BLAST: a new generation of protein database search programs. Nucleic Acids Res 25(17):3389–3402

Aubry P, Geale DW (2011) A review of bovine anaplasmosis. Transbound Emerg Dis 58(1):1–30

Battilani M, De Arcangeli S, Balboni A, Dondi F (2017) Genetic diversity and molecular epidemiology of Anaplasma. Infect Genet Evol 49:195–211

Biggerstaff B (2005) PooledInfRate software. Vector Borne Zoonotic Dis 5(4):420–421

Black WCT, Piesman J (1994) Phylogeny of hard- and soft-tick taxa (Acari: Ixodida) based on mitochondrial 16S rDNA sequences. Proc Natl Acad Sci U S A 91(21):10034–10038

Cabezas-Cruz A, Zweygarth E, Vancova M, Broniszewska M, Grubhoffer L, Passos LMF, Ribeiro MFB, Alberdi P, de la Fuente J (2016) Ehrlichia minasensis sp. nov., isolated from the tick Rhipicephalus microplus. Int J Syst Evol Microbiol 66(3):1426–1430

Cabezas-Cruz A, Zweygarth E, Aguiar DM (2019) Ehrlichia minasensis, an old demon with a new name. Ticks Tick Borne Dis 10(4):828–829

Chisu V, Zobba R, Lecis R, Sotgiu F, Masala G, Foxi C, Pisu D, Alberti A (2018) GroEL typing and phylogeny of Anaplasma species in ticks from domestic and wild vertebrates. Ticks Tick Borne Dis 9(1):31–36

Cicculli V, de Lamballerie X, Charrel R, Falchi A (2019a) First molecular detection of Rickettsia africae in a tropical bont tick, Amblyomma variegatum, collected in Corsica, France. Exp Appl Acarol 77(2):207–214

Cicculli V, Masse S, Capai L, de Lamballerie X, Charrel R, Falchi A (2019b) First detection of Ehrlichia minasensis in Hyalomma marginatum ticks collected from cattle in Corsica, France. Vet Med Sci 5(2):243–248

Cicculli V, Oscar M, Casabianca F, Villechenaud N, Charrel R, de Lamballerie X, Falchi A (2019c) Molecular detection of spotted-fever group rickettsiae in ticks collected from domestic and wild animals in Corsica, France. Pathogens 8(3):138

Corse DD (2018) Chiffres clés de l'agriculture corse 36.

Cruz AC, Zweygarth E, Ribeiro MF, da Silveira JA, de la Fuente J, Grubhoffer L, Valdes JJ, Passos LM (2012) New species of Ehrlichia isolated from Rhipicephalus (Boophilus) microplus shows an ortholog of the E. canis major immunogenic glycoprotein gp36 with a new sequence of tandem repeats. Parasit Vectors 5:291

Dahmani M, Davoust B, Rousseau F, Raoult D, Fenollar F, Mediannikov O (2017a) Natural Anaplasmataceae infection in Rhipicephalus bursa ticks collected from sheep in the French Basque Country. Ticks Tick Borne Dis 8(1):18–24

Dahmani M, Davoust B, Tahir D, Raoult D, Fenollar F, Mediannikov O (2017b) Molecular investigation and phylogeny of Anaplasmataceae species infecting domestic animals and ticks in Corsica, France. Parasit Vectors 10(1):302

de Aguiar DM, Pessoa-Araujo-Junior J, Nakazato L, Bard E, Aguilar-Bultet L, Vorimore F, Leonidovich Popov V, Moleta Colodel E, Cabezas-Cruz A (2019) Isolation and characterization of a novel pathogenic strain of Ehrlichia minasensis. Microorganisms 7(11):528

De La Fuente J, Naranjo V, Ruiz-Fons F, Hofle U, Fernandez De Mera IG, Villanua D, Almazan C, Torina A, Caracappa S, Kocan KM, Gortazar C (2005) Potential vertebrate reservoir hosts and invertebrate vectors of Anaplasma marginale and A. phagocytophilum in central Spain. Vector Borne Zoonotic Dis 5(4):390–401

Diarra AZ, Almeras L, Laroche M, Berenger JM, Kone AK, Bocoum Z, Dabo A, Doumbo O, Raoult D, Parola P (2017) Molecular and MALDI-TOF identification of ticks and tick-associated bacteria in Mali. PLoS Negl Trop Dis 11(7):e0005762

Dumler JS, Barbet AF, Bekker CP, Dasch GA, Palmer GH, Ray SC, Rikihisa Y, Rurangirwa FR (2001) Reorganization of genera in the families Rickettsiaceae and Anaplasmataceae in the order Rickettsiales: unification of some species of Ehrlichia with Anaplasma, Cowdria with Ehrlichia and Ehrlichia with Neorickettsia, descriptions of six new species combinations and designation of Ehrlichia equi and 'HGE agent' as subjective synonyms of Ehrlichia phagocytophila. Int J Syst Evol Microbiol 51(Pt 6):2145–2165

Ehounoud CB, Yao KP, Dahmani M, Achi YL, Amanzougaghene N, Kacou N'Douba A, N'Guessan JD, Raoult D, Fenollar F, Mediannikov O (2016) Multiple pathogens including potential new species in tick vectors in cote d'Ivoire. PLoS Negl Trop Dis 10(1):e0004367

Elhamiani Khatat S, Sahibi H, Hing M, Alaoui Moustain I, El Amri H, Benajiba M, Kachani M, Duchateau L, Daminet S (2016) Human exposure to Anaplasma phagocytophilum in two cities of northwestern morocco. PLoS ONE 11(8):e0160880

Estrada-Pena A, Bouattour A, Camicas JL, Walker AR (2004) Ticks of veterinary and medical importance: the Mediterranean basin. A guide of identification of specie. University of Zaragoza Press, Zaragoza

Gajadhar AA, Lobanov V, Scandrett WB, Campbell J, Al-Adhami B (2010) A novel Ehrlichia genotype detected in naturally infected cattle in North America. Vet Parasitol 173(3–4):324–329

Grech-Angelini S, Stachurski F, Vayssier-Taussat M, Devillers E, Casabianca F, Lancelot R, Uilenberg G, Moutailler S (2019) Tick-borne pathogens in ticks (Acari: Ixodidae) collected from various domestic and wild hosts in Corsica (France), a Mediterranean island environment. Transbound Emerg Dis. https://doi.org/10.1111/tbed.13393

Hailemariam Z, Krucken J, Baumann M, Ahmed JS, Clausen PH, Nijhof AM (2017) Molecular detection of tick-borne pathogens in cattle from Southwestern Ethiopia. PLoS ONE 12(11):e0188248

Heyman P, Cochez C, Hofhuis A, van der Giessen J, Sprong H, Porter SR, Losson B, Saegerman C, Donoso-Mantke O, Niedrig M, Papa A (2010) A clear and present danger: tick-borne diseases in Europe. Expert Rev Anti Infect Ther 8(1):33–50

Iweriebor BC, Mmbaga EJ, Adegborioye A, Igwaran A, Obi LC, Okoh AI (2017) Genetic profiling for Anaplasma and Ehrlichia species in ticks collected in the Eastern Cape Province of South Africa. BMC Microbiol 17(1):45

Kocan KM, de la Fuente J, Guglielmone AA, Melendez RD (2003) Antigens and alternatives for control of Anaplasma marginale infection in cattle. Clin Microbiol Rev 16(4):698–712

Kocan KM, de la Fuente J, Blouin EF, Coetzee JF, Ewing SA (2010) The natural history of Anaplasma marginale. Vet Parasitol 167(2–4):95–107

Koh FX, Kho KL, Kisomi MG, Wong LP, Bulgiba A, Tan PE, Lim YAL, Nizam QNH, Panchadcharam C, Tay ST (2018) Ehrlichia and Anaplasma infections: serological evidence and tick surveillance in peninsular Malaysia. J Med Entomol 55(2):269–276

Kumar S, Stecher G, Li M, Knyaz C, Tamura K (2018) MEGA X: molecular evolutionary genetics analysis across computing platforms. Mol Biol Evol 35(6):1547–1549

Parola P, Inokuma H, Camicas JL, Brouqui P, Raoult D (2001) Detection and identification of spotted fever group Rickettsiae and Ehrlichiae in African ticks. Emerg Infect Dis 7(6):1014–1017

Rar V, Golovljova I (2011) Anaplasma, Ehrlichia, and "Candidatus neoehrlichia" bacteria: pathogenicity, biodiversity, and molecular genetic characteristics, a review. Infect Genet Evol 11(8):1842–1861

Rehman A, Conraths FJ, Sauter-Louis C, Krucken J, Nijhof AM (2019) Epidemiology of tick-borne pathogens in the semi-arid and the arid agro-ecological zones of Punjab province, Pakistan. Transbound Emerg Dis 66(1):526–536

Thomson K, Yaaran T, Belshaw A, Curson L, Tisi L, Maurice S, Kiddle G (2018) A new TaqMan method for the reliable diagnosis of Ehrlichia spp. in canine whole blood. Parasit Vectors 11(1):350

Torina A, Alongi A, Naranjo V, Estrada-Pena A, Vicente J, Scimeca S, Marino AM, Salina F, Caracappa S, de la Fuente J (2008) Prevalence and genotypes of Anaplasma species and habitat suitability for ticks in a Mediterranean ecosystem. Appl Environ Microbiol 74(24):7578–7584

Torina A, Alongi A, Scimeca S, Vicente J, Caracappa S, de la Fuente J (2010) Prevalence of tick-borne pathogens in ticks in Sicily. Transbound Emerg Dis 57(1–2):46–48

Woldehiwet Z (2010) The natural history of Anaplasma phagocytophilum. Vet Parasitol 167(2–4):108–122

Zhang L, Cui F, Wang L, Zhang L, Zhang J, Wang S, Yang S (2011) Investigation of anaplasmosis in Yiyuan County, Shandong Province, China. Asian Pac J Trop Med 4(7):568–572

Zobba R, Anfossi AG, Pinna Parpaglia ML, Dore GM, Chessa B, Spezzigu A, Rocca S, Visco S, Pittau M, Alberti A (2014) Molecular investigation and phylogeny of Anaplasma spp. in Mediterranean ruminants reveal the presence of neutrophil-tropic strains closely related to A. platys. Appl Environ Microbiol 80(1):271–280
Acknowledgements
We are grateful to the staff of the slaughterhouse at Ponte-Leccia for their help in collecting ticks from cattle.
Funding
This work was supported by the Corsican Territorial Collectivity and the University of Corsica.
Ethics declarations
Conflicts of interest
The authors declare that they have no conflict of interest.
Ethics approval and consent to participate
The cattle inspected were slaughtered for human consumption.
Additional information
Publisher's Note
Springer Nature remains neutral with regard to jurisdictional claims in published maps and institutional affiliations.
About this article
Cite this article
Cicculli, V., DeCarreaux, D., Ayhan, N. et al. Molecular screening of Anaplasmataceae in ticks collected from cattle in Corsica, France. Exp Appl Acarol 81, 561–574 (2020). https://doi.org/10.1007/s10493-020-00527-w
Received:

Accepted:

Published:

Issue Date:
Keywords
Anaplasmataceae

Cattle

Ticks

Corsica

Ehrlichia
Anaplasma