Abstract
Blacklegged ticks (Ixodes scapularis) are the principal vector for Borrelia burgdorferi, among other infectious agents, in the northeastern, mid-Atlantic, and upper midwestern USA. White-footed mice (Peromyscus leucopus) are the primary and most competent reservoir host of B. burgdorferi in the Northeast. Live reservoir-targeted vaccines (RTVs) to limit enzootic transmission of B. burgdorferi were previously developed and successfully evaluated in laboratory and controlled field trials. A novel, inactivated RTV was developed to minimize regulatory and market challenges facing previous RTVs based on live bacterial or viral vehicles. Thirty-two residential properties in Redding, Connecticut, participated in a field trial of an orally delivered, inactivated RTV efficacy study (2015–2016). During the two-year vaccination period, a significant decrease in the percentage of B. burgdorferi-infected I. scapularis larvae parasitizing P. leucopus was observed, as was a significant reduction in the percentage of infected P. leucopus on RTV-treated properties when compared to control properties. This novel inactivated RTV was effective in reducing numbers of B. burgdorferi-infected I. scapularis and B. burgdorferi-infected P. leucopus on properties where it was distributed.
Access options
Buy single article
Instant access to the full article PDF.
US$ 39.95
Tax calculation will be finalised during checkout.
Subscribe to journal
Immediate online access to all issues from 2019. Subscription will auto renew annually.
US$ 119
Tax calculation will be finalised during checkout.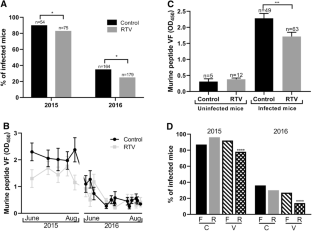 References
Bensaci M, Bhattacharya D, Clark R, Hu LT (2012) Oral vaccination with vaccinia virus expressing the tick antigen subolesin inhibits tick feeding and transmission of Borrelia burgdorferi. Vaccine 30:6040–6046

Bhattacharya D, Bensaci M, Luker KE, Luker G, Wisdom S, Telford SR, Hu LT (2011) Development of a baited oral vaccine for use in reservoir-targeted strategies against Lyme disease. Vaccine 29:7818–7825

Brunner JL, LoGiudice K, Ostfeld RS (2008) Estimating reservoir competence of Borrelia burgdorferi hosts: prevalence and infectivity, sensitivity, and specificity. J Med Entomol 45:139–147

Bunikis J, Tsao J, Luke CJ, Luna MG, Fish D, Barbour AG (2004) Borrelia burgdorferi infection in a natural population of Peromyscus leucopus mice: a longitudinal study in an area where Lyme borreliosis is highly endemic. J Infect Dis 189:1515–1523

Connecticut Department of Health (2019) Lyme disease annual statistics. https://portal.ct.gov/DPH/Epidemiology-and-Emerging-Infections/Lyme-Disease-Statistics. Accessed 4 Dec 2019

Core Team R (2017) R: A language and environment for statistical computing. R Foundation for Statistical Computing, Vienna

Crowder CD, Rounds MA, Phillipson CA, Picuri JM, Matthews HE, Halverson J, Schutzer SE, Ecker DJ, Eshoo MW (2010) Extraction of total nucleic acids from ticks for the detection of bacterial and viral pathogens. J Med Entomol 47:89–94

Dato V, Moose C, Rea N, Fraser G, Seiders J, Rittle C, Urdaneta V, Ostroff S, Encarnacion C, Reynolds M, Damon I, Karem K, Li Y, Davidson W, Wilkins K, McDowell E, Rupprecht CE, Orciari L, Niezgoda M, Smith S, Roess A (2009) Human vaccinia infection after contact with a raccoon rabies vaccine bait—Pennsylvania, 2009. Morb Mortal Wkly Rep 58:1204–1207

Eisen RJ, Eisen L (2018) The blacklegged tick, Ixodes scapularis: an increasing public health concern. Trends Parasitol 34:295–309

Eisen RJ, Eisen L, Beard CB (2016) County-scale distribution of Ixodes scapularis and Ixodes pacificus (acari: Ixodidae) in the continental United States. J Med Entomol 53:349–386

Eisen RJ, Kugeler KJ, Eisen L, Beard CB, Paddock CD (2017) Tick-borne zoonoses in the United States: persistent and emerging threats to human health. Inst Lab Anim Res J 23:1–17

Fikrig E, Barthold SW, Kantor FS, Flavell RA (1990) Protection of mice against the Lyme disease agent by immunizing with recombinant OspA. Science 250:553–556

Fuente J, Kocan KM (2014) Development of vaccines for control of tick infestations and interruption of pathogen transmission. In: Sonenshine DE, Roe RM (eds) Biology of ticks, vol 2. Oxford University Press, Oxford, pp 333–352

Gomes-Solecki M (2014) Blocking pathogen transmission at the source: reservoir targeted OspA-based vaccines against Borrelia burgdorferi. Front Cell Infect Microbiol 4:136

Gomes-Solecki MJC, Brisson DR, Dattwyler RJ (2006) Oral vaccine that breaks the transmission cycle of the Lyme disease spirochete can be delivered via bait. Vaccine 24:4440–4449

Hersh MH, Tibbetts M, Strauss M, Ostfeld RS, Keesing F (2012) Reservoir competence of wildlife host species for Babesia microti. Emerg Infect Dis 18:1951–1957

Johnson TL, Graham CB, Hojgaard A, Breuner NE, Maes SE, Boegler KA, Repogle AJ, Kingry LC, Petersen JM, Eisen L, Eisen RJ (2017) Isolation of the Lyme disease spirochete Borrelia mayonii from naturally infected rodents in Minnesota. J Med Entomol 54:1088–1092

Keesing F, Hersh MH, Tibbetts M, McHenry DJ, Duerr S, Brunner J, Killilea M, LoGiudice K, Schmidt KA, Ostfeld RS (2012) Reservoir competence of vertebrate hosts for Anaplasma phagocytophilum. Emerg Infect Dis 18:2013–2016

Lager M, Faller M, Wilhelmsson P, Kjelland V, Andreassen Å, Dargis R, Quarsten H, Dessau R, Fingerle V, Margos G, Noraas S, Ornstein K, Petersson AC, Matussek A, Lindgren PE, Henningsson AJ (2017) Molecular detection of Borrelia burgdorferi sensu lato—an analytical comparison of real-time PCR protocols from five different Scandinavian laboratories. PLoS ONE 12:e0185434

Lantos PM, Tsao JI, Nigrovic LE, Auwaerter PG, Fowler VG, Ruffin F, Foster E, Hickling G (2017) Geographic expansion of Lyme disease in Michigan, 2000–2014. Open Forum Infect Dis 4:ofw269

Linske MA, Williams SC, Stafford KC III, Ortega IM (2018) Ixodes scapularis (Acari: Ixodidae) reservoir host diversity and abundance impacts on dilution of Borrelia burgdorferi (Spirochaetales: Spirochaetaceae) in residential and woodland habitats in Connecticut, United States. J Med Entomol 55:681–690

Mather TN, Wilson ML, Moore SI, Ribeiro JMC, Spielman A (1989) Comparing the relative potential of rodents as reservoirs of the Lyme disease spirochete (Borrelia burgdorferi). Am J Epidemiol 130:143–150

Mlera L, Meade-White K, Saturday G, Scott DW, Bloom ME (2017) Modeling Powassan virus infection in Peromyscus leucopus, a natural host. PLoS Negl Trop Dis 11:e0005346

Nayak S, Sridhara A, Melo R, Richer L, Chee NH, Kim J, Linder V, Steinmiller D, Sia SK, Gomes-Solecki M (2016) Microfluidics-based point-of-care test for serodiagnosis of Lyme disease. Sci Rep 6:35069

Pesko KN, Torres-Perez F, Hjelle BL, Ebel GD (2010) Molecular epidemiology of Powassan virus in North America. J Gen Virol 91:2698–2705

Richer LM, Aroso M, Contente-Cuomo T, Ivanova L, Gomes-Solecki M (2011) Reservoir targeted vaccine for Lyme borreliosis induces a yearlong, neutralizing antibody response to OspA in white-footed mice. Clin Vaccine Immunol 18:1809–1816

Richer LM, Brisson D, Melo R, Ostfeld RS, Zeidner N, Gomes-Solecki M (2014) Reservoir targeted vaccine against Borrelia burgdorferi: A new strategy to prevent Lyme disease transmission. J Infect Dis 209:1972–1980

Rupprecht CE, Blass L, Smith K, Orciari LA, Niezgoda M, Whitfield SG, Gibbons RV, Guerra M, Hanlon CA (2001) Human infection due to recombinant vaccinia-rabies glycoprotein virus. N Engl J Med 345:582–586

Scheckelhoff MR, Telford SR, Hu LT (2006) Protective efficacy of an oral vaccine to reduce carriage of Borrelia burgdorferi (strain N4O) in mouse and tick reservoirs. Vaccine 24:1949–1957

Sikes RS (2016) 2016 Guidelines of the American Society of Mammalogists for the use of wild mammals in research and education. J Mamm 97:663–688

Stafford KC III (2007) Tick management handbook: an integrated guide for homeowners, pest control operators, and public health officials for the prevention of tick-associated disease, 2nd edn. The Connecticut Agricultural Experiment Station, New Haven. Bulletin Number 1010

Stafford KC III, Massung RF, Magnarelli LA, IJdo JW, Anderson JF (1999) Infection with agents of human granulocytic ehrlichiosis, Lyme disease, and babesiosis in wild white-footed mice (Peromyscus leucopus) in Connecticut. J Clin Microbiol 37:2887–2892

Stafford KC III, Williams SC, Molaei G (2017) Integrated pest management in controlling ticks and tick-associated diseases. J Integr Pest Manag 28:pmx018

Tsao JI, Wootton JT, Bunikis J, Luna MG, Fish D, Barbour AG (2004) An ecological approach to preventing human infection: Vaccinating wild mouse reservoirs intervenes in the Lyme disease cycle. Proc Natl Acad Sci USA 101:18159–18164

Voordouw MJ, Tupper H, Önder Ö, Devevey G, Graves CJ, Kemps BD, Brisson D (2013) Reductions in human Lyme disease risk due to the effects of oral vaccination on tick-to-mouse and mouse-to-tick transmission. Vector Borne Zoonotic Dis 13:203–214

Wickham H (2016) Ggplot2: Elegant Graphics for Data Analysis. Springer-Verlag, New York

Williams SC, Stafford KC III, Molaei G, Linske MA (2018) Integrated control of nymphal Ixodes scapularis: Effectiveness of white-tailed deer reduction, the entomopathogenic fungus Metarhizium anisopliae, and fipronil-based rodent bait boxes. Vector Borne Zoonotic Dis 18:55–64

Wodecka B (2011) flaB gene as a molecular marker for distinct identification of Borrelia species in environmental samples by the PCR-restriction fragment length polymorphism method. Appl Environ Microbiol 77:7088–7092

Wolff JO (1986) The effects of food on midsummer demography of white-footed mice, Peromyscus leucopus. Can J Zool 64:855–858
Acknowledgements
We are grateful to Redding Town Staff and elected officials, specifically Natalie Ketchum, Julia Pemberton, and Doug Hartline for their support and assistance as well as all the collaborating homeowners for allowing us access to their properties. We thank CAES staff Michael Short, Heidi Stuber, Laura Hayes, and Saryn Kunajukr for their technical assistance as well as seasonal research assistants Mark Morris, Benjamin DeMasi-Sumner, Stephanie Shea, Heather Whiles, Adam Misiorski, Kelsey Schwenk, Jarrod Bridge, Pronoma Srivastava, Magalí Bazzano, and Alex Diaz. The authors gratefully acknowledge Lars Eisen for a review of a draft of the manuscript and R. John Brooke for review of the statistical analyses. This research was supported, in part, by U.S. Biologic, Inc., Hatch Act funds, and the Centers for Disease Control and Prevention (CK000182-03).
Ethics declarations
Conflict of interest
SZ, JGvO, CP, and LR are employed by US Biologic, Inc and SKW is a consultant. The authors declare that this affiliation did not influence them and that laboratory analyses they were responsible for were blind-coded by CAES.
Additional information
Publisher's Note
Springer Nature remains neutral with regard to jurisdictional claims in published maps and institutional affiliations.
About this article
Cite this article
Stafford, K.C., Williams, S.C., van Oosterwijk, J.G. et al. Field evaluation of a novel oral reservoir-targeted vaccine against Borrelia burgdorferi utilizing an inactivated whole-cell bacterial antigen expression vehicle. Exp Appl Acarol 80, 257–268 (2020). https://doi.org/10.1007/s10493-019-00458-1
Received:

Accepted:

Published:

Issue Date:
Keywords
Borrelia burgdorferi

Inactivated expression vehicle

Ixodes scapularis
Peromyscus leucopus

Reservoir-targeted vaccine