Abstract
Ornithodoros marinkellei was described from larvae collected on Pteronotus spp. bats in Colombia and Panama. More recently, this tick was reported in the Brazilian Amazon. Because some morphometric differences were observed between O. marinkellei larvae from Colombia and Brazil, it was proposed that further investigations were needed to assess whether the differences could be attributed to intra- or inter-specific polymorphism. Herein, we collected O. marinkellei specimens in the type locality of Colombia, in Brazil, and in a new locality in Nicaragua, expanding the distribution of the species to Nicaragua. Morphometric analysis of larvae and adults, corroborated by a principal component analysis (PCA), indicated that the Brazilian specimens were larger than specimens from Colombia and Nicaragua. Phylogenetic analysis inferred from the mitochondrial 16S rRNA gene showed ticks from Colombia and Nicaragua more genetically related than any of them with ticks from Brazil, although ticks from the three countries grouped in a clade sister to a major clade containing sequences of various Neotropical Ornithodoros species. We concluded that ticks identified as O. marinkellei from Colombia, Nicaragua, and Brazil represent the same taxon, and that the genetic and morphological differences between them are likely to have a geographical bias. We redescribed the nymph of O. marinkellei, which has a vestigial hypostome, probably incompatible with blood feeding. We also report human infestation by O. marinkellei adults. As all reports of O. marinkellei adults have been from hot caves (temperature > 35 °C), this abiotic condition could be a limiting factor for the occurrence of this tick species.
Access options
Buy single article
Instant access to the full article PDF.
US$ 39.95
Tax calculation will be finalised during checkout.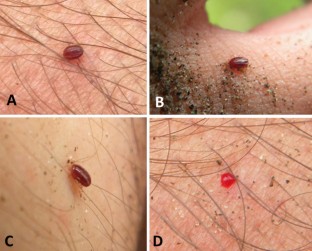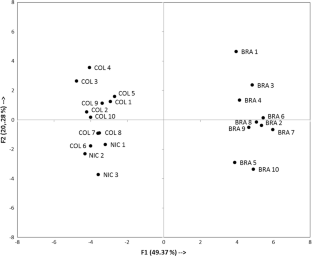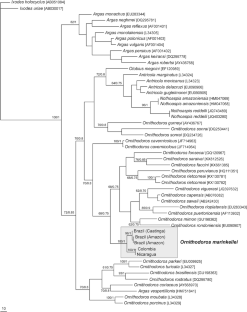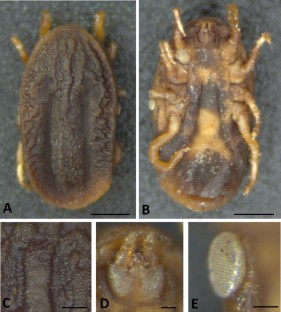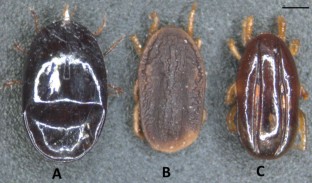 References
de la Cruz J (1992) Bioecología de las grutas de calor. Mundos Subterr 3:7–21

Emmons H, Feer F (1997) Neotropical rainforest mammals. A field guide, 2nd edn. University of Chicago Press, Chicago

Guglielmone AA, Estrada-Peña A, Keirans JE, Robbins RG (2003) Ticks (Acari: Ixodida) of the neotropical zoogeographic region. International Consortium on Ticks and Tickborne Diseases, Atalanta

Henrique-Simões M, Bernardi LFO, Ogrzewalska M, Labruna MB, Fereira RL (2012) New records of rare Ornithodoros (Acari: Argasidae) species in caves of the Brazilian Amazon. Persian J Acarol 1:127–135

Huelsenbeck JP, Ronquist F (2001) MRBAYES: Bayesian inference of phylogenetic trees. Bioinformatics 17:754–755

Jones EK, Clifford CM, Keirans JE, Kohls GM (1972) The ticks of Venezuela (Acarina: Ixodoidea) with a key to the species of Amblyomma in the Western hemisphere. Brigham Young Univ Sci Bull Biol Ser 17:1–40

Kohls GM, Clifford CM, Jones EK (1969) The systematics of the subfamily Ornithodorinae (Acarina: Argasidae). IV. Eight new species of Ornithodoros from the Western Hemisphere. Ann Entomol Soc Am 62:1035–1043

Labruna MB, Nava S, Terassini FA, Onofrio VC, Barros-Battesti DM, Camargo LMA, Venzal JM (2011) Description of adults and nymph, and redescription of the larva, of Ornithodoros marinkellei (Acari: Argasidae), with data on its phylogenetic position. J Parasitol 97:207–217

Labruna MB, Nava S, Marcili A, Barbieri ARM, Nunes PH, Horta MC, Venzal JM (2016) A new argasid tick species (Acari: Argasidae) associated with the rock cavy, Kerodon rupestris Wied-Neuwied (Rodentia: Caviidae), in a semiarid region of Brazil. Parasit Vectors 9:511

Lindquist EE, Galloway TD, Artsob H, Lindsay LR, Drebot M, Wood H, Robbins RG (2016) A handbook to the ticks of Canada (Ixodida: Ixodidae, Argasidae). Monograph series. Biological Survey of Canada, Ottawa

Luz HR, Muñoz-Leal S, Almeida JC, Faccini JL, Labruna MB (2016) Ticks parasitizing bats (Mammalia: Chiroptera) in the Caatinga Biome, Brazil. Rev Bras Parasitol Vet 25:484–491

Mangold AJ, Bargues MD, Mas-Coma S (1998) Mitochondrial 16S rDNA sequences and phylogenetic relationships of species of Rhipicephalus and other tick genera among Metastriata (Acari: Ixodidae). Parasitol Res 84:478–484

Nava S, Venzal JM, Terassini FA, Mangold AJ, Camargo LMA, Labruna MB (2010) Description of a new argasid tick (Acari: Ixodida) from bat caves in Brazilian Amazon. J Parasitol 96:1089–1101

Nicholas KB, Nicholas HB, Deerfield D (1997) GeneDoc: analysis and visualization of genetic variation. Embnew News 4:14

Sangioni LA, Horta MC, Vianna MCB, Gennari SM, Soares RM, Galvão MAM, Schumaker TTS, Ferreira F, Vidotto O, Labruna MB (2005) Rickettsial infection in animals and Brazilian spotted fever endemicity. Emerg Infect Dis 11:265–270

Swofford DL (2002) PAUP*: phylogenetic analysis using parsimony (* and other methods), version 4.0 Beta. Sinauer Associates, Sunderland

Thompson JD, Gibson TJ, Plewniak F, Jeanmougin F, Higgins DG (1997) The CLUSTAL_X windows interface: flexible strategies for multiple sequence alignment aided by quality analysis tools. Nucleic Acids Res 25:4876–4882

Venzal JM, Onofrio VC, Barros-Battesti DM, Arzua M (2006) Família Argasidae: características gerais, comentários e chave para gênero e espécies. In: Barros-Battesti DM, Arzua M, Bechara GH (eds) Carrapatos de importância medicoveterinária na região Neotropical. Vox/ICTTD-3/Butantan, São Paulo, pp 13–27

Venzal JM, Nava S, Terassini FA, Ogrzewalska M, Camargo LM, Labruna MB (2013) Ornithodoros peropteryx (Acari: Argasidae) in Bolivia: an argasid tick with a single nymphal stage. Exp Appl Acarol 61:231–241
Acknowledgements
We thank José Rodrígues "Pilo" (Ministerio de Agricultura y Ganaderia de Nicaragua) for his valuable support during field work in Nicaragua. We are grateful to Jean-Michel Berenger and Philipe Parola (Marseille, France) for donating the O. marinkellei specimen from French Guiana to the CNC tick collection. This work has been facilitated through the "Programa Iberoamericano de Ciencias y Tecnología para el Desarrollo" (CYTED) to "Red Iberoamericana para la Investigación y Control de las Enfermedades Rickettsiales" (RIICER).
Electronic supplementary material
Below is the link to the electronic supplementary material.
About this article
Cite this article
Venzal, J.M., Nava, S., Hernández, L.V. et al. A morphological and phylogenetic analysis of Ornithodoros marinkellei (Acari: Argasidae), with additional notes on habitat and host usage. Exp Appl Acarol 76, 249–261 (2018). https://doi.org/10.1007/s10493-018-0307-2
Received:

Accepted:

Published:

Issue Date:
Keywords
Ticks

Bats

Pteronotus

Human parasitism

Hot cave