Abstract
This study was performed to determine the tick species that infest cattle and humans throughout an altitudinal gradient in the Yungas Biogeographic Province of Argentina. The presence of tick-borne bacteria of the genera Rickettsia, Ehrlichia and Borrelia in the collected ticks was also evaluated. Samples of ticks parasitizing cattle and humans were carried out in different seasons. Questing ticks (adults and nymphs) were collected from vegetation and analyzed to detect the presence of Rickettsia, Ehrlichia and Borrelia by a battery of different PCRs. Five species of hard ticks were found parasitizing cattle: Amblyomma sculptum, Amblyomma tonelliae, Amblyomma hadanii, Haemaphysalis juxtakochi and Ixodes pararicinus. Amblyomma sculptum (immature and adults), A. tonelliae (immature and adults), A. hadanii (larvae) and one nymph of I. pararicinus were found attached to humans. Rickettsia amblyommatis was detected in one nymph of A. hadanii. DNA of a Borrelia genospecies belonging to the B. burgdorferi s.l. complex (phylogenetically related to haplotypes previously reported in Ixodes aragaoi from Uruguay and I. pararicinus from Argentina) was detected in adults of I. pararicinus. Amblyomma sculptum and I. pararicinus appear to be the tick species more frequent on cattle in the YBP from Argentina, and A. sculptum and A. tonelliae, were the main ticks found attached to humans. The medical importance of the bacteria of the genus Rickettsia and Borrelia detected in this work remains unknown.
Access options
Buy single article
Instant access to the full article PDF.
USD 39.95
Price excludes VAT (USA)
Tax calculation will be finalised during checkout.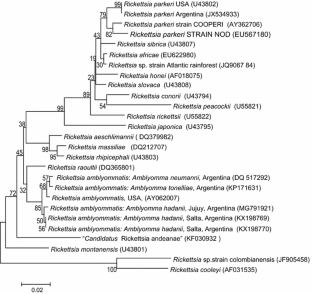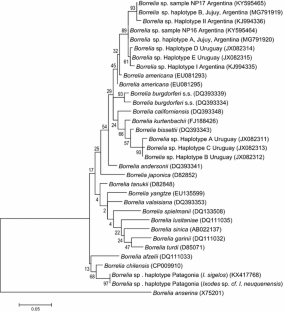 References
Apperson CS, Engber B, Nicholson WL, Mead DG, Engel J, Yabsley MJ, Dail K, Johnson J, Watson DW (2008) Tick-borne diseases in North Carolina: is "Rickettsia amblyommii" a possible cause of rickettsiosis reported as rocky mountain spotted fever. Vector Borne Zoonotic Dis 8:1–9

Barbieri AM, Venzal JM, Marcili A, Almeida AP, González EM, Labruna MB (2013) Borrelia burgdorferi sensu lato infecting ticks of the Ixodes ricinus complex in Uruguay: first report for the southern hemisphere. Vector Borne Zoonotic Dis 13:147–153

Barbour AG, Maupin GO, Teltow GJ, Carter CJ, Piesman J (1996) Identification of an uncultivable Borrelia species in the hard tick Amblyomma americanum: possible agent of a Lyme disease-like illness. J Infect Dis 173:403–409

Bianchi A, Yañez C (1992) Las precipitaciones en el noroeste de Argentina, Segunda edición edn. Ediciones INTA, Salta

Brown AD, Grau HR, Malizia LR, Grau A (2001) Argentina. In: Kappelle M, Brown AD (eds) Bosques nublados del Neotrópico. INBIO, Santo Domingo de Heredia, pp 623–658

Doyle CK, Labruna MB, Breitschwerdt EB, Tang YW, Corstvet RE, Hegarty BC, Bloch KC, Li P, Walker DH, McBride JW (2005) Detection of medically important Ehrlichia by quantitative multicolor TaqMan real-time polymerase chain reaction of the dsb gene. J Mol Diagn 7:504–510

Guedes E, Leite RC, Prata MCA, Pacheco RC, Walker DH, Labruna MB (2005) Detection of Rickettsia rickettsii in the tick Amblyomma cajennense in a new Brazilian spotted fever-endemic area in the state of Minas Gerais. Mem Inst Oswaldo Cruz 100:841–845

Guglielmone AA, Nava S (2013) Epidemiología y control de las garrapatas de los bovinos en la Argentina. In: Nari A, Fiel C (eds) Enfermedades parasitarias con importancia clínica y productiva en rumiantes: fundamentos epidemiológicos para su diagnóstico y control. Editorial Hemisferio Sur, Buenos Aires, pp 441–456

Guglielmone AA, Mangold AJ, Aguirre DH, Gaido AB (1990) Ecological aspects of four species of ticks found on cattle, in Salta, Northwest Argentina. Vet Parasitol 35:93–101

Guglielmone AA, Mangold AJ, Aufranc CR (1992) Haemaphysalis juxtakochi, Ixodes pararicinus (Acari: Ixodidae) and Otobius megnini (Argasidae) in relation to the phytogeography of Argentina. Ann Parasitol Hum Comp 67:91–93

Guglielmone AA, Beati L, Barros-Battesti DM, Labruna MB, Nava S, Venzal JM, Mangold AJ, Szabó MJP, Martins JR, González Acuña D, Estrada-Peña A (2006) Ticks (ixodidae) on humans in South America. Exp Appl Acarol 40:83–100

Hunzinger H (1997) Hydrology of montane forests in the Sierra de San Javier, Tucumán, Argentina. Mt Res Dev 17:299–308

Jongejan F, Uilenberg G (2004) The global importance of ticks. Parasitology 129:S1–S12

Kelly DW, Paterson RA, Townsend CR, Poulin R, Tompkins DM (2009) Parasite spillback: a neglected concept in invasion ecology? Ecology 90:2047–2056

Labruna MB, Whitworth T, Horta MC, Bouyer DH, McBride JW, Pinter A, Popov V, Gennari SM, Walker DH (2004) Rickettsia species infecting Amblyomma cooperi ticks from an area in the state of Sao Paulo, Brazil, where Brazilian spotted fever is endemic. J Clin Microbiol 42:90–98

Labruna MB, Santos FCP, Ogrezewalska M, Nascimento EMM, Colombo S, Marcili A, Angerami RN (2014) Genetic identification of rickettsial isoaltes from fatal cases of Brazilian spotted fever and comparison with Rickettsia ricktettsii isolates from the American continents. J Clin Microbiol 52:3788–3791

Mangold AJ, Bargues MD, Mas-Coma S (1998) Mitochondrial 16S rRNA sequences and phylogenetic relationships of Rhipicephalus and other tick genera among Metastriata (Acari: Ixodidae). Parasitol Res 84:478–484

Mastitsky SE, Veres JK (2010) Field evidence for a parasite spillback caused by exotic mollusc Dreissena polymorpha in an invaded lake. Parasitol Res 106:667–675

Mastropaolo M, Tarragona EL, Silaghi C, Pfister K, Thiel C, Nava S (2016) High prevalence of "Candidatus Rickettsia amblyommii" in Amblyomma ticks from a spotted fever endemic region in north Argentina. Comp Immunol Microbiol Infect Dis 46:73–76

Morrone JJ (2006) Biogeographic areas and transition zones of Latin American and the Caribbean islands based on panbiogeographic and cladistic analyses of the entomofauna. Annu Rev Entomol 51:467–494

Nava S, Guglielmone AA (2013) A meta-analysis of host specificity in Neotropical hard ticks (Acari: Ixodidae). Bull Entomol Res 103:216–224

Nava S, Barbieri AM, Maya L, Colina R, Mangold AJ, Labruna MB, Venzal JM (2014a) Borrelia infection in Ixodes pararicinus ticks (Acari: Ixodidae) from northwestern Argentina. Acta Trop 139:1–4

Nava S, Beati L, Labruna MB, Cáceres AG, Mangold AJ, Guglielmone AA (2014b) Reassessment of the taxonomic status of Amblyomma cajennense (Fabricius, 1787) with the description of three new species, Amblyomma tonelliae n. sp., Amblyomma interandinum n. sp. and Amblyomma patinoi n. sp., and reinstatement of Amblyomma mixtum Koch, 1844 and Amblyomma sculptum Berlese, 1888 (Ixodida: Ixodidae). Ticks Tick Borne Dis 5:252–276

Nava S, Mastropaolo M, Mangold AJ, Martins TF, Venzal JM, Guglielmone AA (2014c) Amblyomma hadanii n. sp. (Acari: Ixodidae), a tick from northwestern Argentina previously confused with Amblyomma coelebs Neumann, 1899. Syst Parasitol 88:261–272

Nava S, Venzal JM, González-Acuña D, Martins TF, Guglielmone AA (2017) Ticks of the southern cone of America: diagnosis, distribution and hosts with taxonomy, ecology and sanitary importance. Elsevier, London

Paddock CD, Fernández S, Echenique GA, Summer JW, Reeves WK, Zaki SR, Remondegui CE (2008) Rocky Mountain spotted fever in Argentina. Am J Trop Med Hyg 78:687–692

Parola P, Paddock CD, Scolovschi C, Labruna MB, Mediannokov O, Kernif T, Abdad MY, Stenos J, Bitam I, Fournier PE, Raoult D (2013) Update on tick-borne rickettsioses around the world: a geographic approach. Clin Microbiol Rev 26:657–702

Regnery RL, Spruill CL, Plikaytis BD (1991) Genotypic identification of Rickettsiae and estimation of intraspecies sequence divergence for portions of two rickettsial genes. J Bacteriol 173:1576–1589

Saracho-Bottero MN, Sebastian PS, Carvalho LA, Claps LG, Mangold AJ, Venzal JM, Nava S (2017) Presence of Borrelia in different populations of Ixodes pararicinus from northwestern Argentina. Ticks Tick Borne Dis 8:488–493

Soares JF, Soares HS, Barbieri AM, Cabruna MB (2012) Experimental infection of the tick Amblyomma cajennense, Cayenne tick, with Rickettsia rickettsii, the agent of Rocky Mountain spotted fever. Med Vet Entomol 26:139–151

Sonenshine DE, Mather TN (1994) Ecological dynamics of tick-borne zoonoses. Oxford University Press, New York

Tamura K, Peterson D, Peterson N, Stecher G, Nei M, Kumar S (2011) MEGA5: molecular evolutionary genetics analysis using maximum likelihood, evolutionary distance, and maximum parsimony methods. Mol Biol Evol 28:2731–2739

Tarragona EL, Mangold AJ, Mastropaolo M, Guglielmone AA, Nava S (2015) Ecology and genetic variation of Amblyomma tonelliae in Argentina. Med Vet Entomol 29:297–304

Tarragona EL, Soares JF, Costa FB, Labruna MB, Nava S (2016) Vectorial competence of Amblyomma tonelliae to transmit Rickettsia rickettsii. Med Vet Entomol 30:410–415

Tompkins DM, Dunn AM, Smith MJ, Telfer S (2011) Wildlife diseases: from individuals to ecosystems. J Anim Ecol 80:19–38
Acknowledgements
We acknowledge the financial support of INTA, Asociación Cooperadora INTA Rafaela, CONICET and FONCyT (PICT 1298 and 526) to MNSB, ELT, AJM, AAG and SN, and Project ANII FMV-2-2011-1-6555 (Uruguay) to JMV. We also thank Oscar Warnke, Mario Wuattier and Carlos Cuñado Strelkov for their help during the field work.
About this article
Cite this article
Saracho-Bottero, M.N., Tarragona, E.L., Sebastian, P.S. et al. Ticks infesting cattle and humans in the Yungas Biogeographic Province of Argentina, with notes on the presence of tick-borne bacteria. Exp Appl Acarol 74, 107–116 (2018). https://doi.org/10.1007/s10493-018-0208-4
Received:

Accepted:

Published:

Issue Date:

DOI: https://doi.org/10.1007/s10493-018-0208-4
Keywords
Ixodidae

Cattle

Humans

Bacteria

Yungas

Argentina