Abstract
We examined morphological and genetic differences among Aceria spp. inhabiting six Brassicaceae species in Serbia. Five of them have been already mentioned in the literature as original or alternate hosts of Aceria spp. (Berteroa incana (L.) DC., Capsella bursa-pastoris (L.) Medik., Cardamine hirsuta L., Lepidium draba L. and Sisymbrium orientale L.), whereas Aurinia petraea (Ard.) Schur was registered here for the first time as a host for Aceria sp. Results of morphometric analyses indicated clear differentiation of Aceria spp. from B. incana, L. draba, A. petraea and S. orientale, whereas the other two entities were less diverse and clustered together. Molecular analyses indicated that the average mean divergence over all sequence pairs was 18.3% (11.8–25.9%) and disclosed that the observed mtCOI distances between the six host-associated Aceria entities are large enough to represent differences between species. The Aceria sp. hosted by B. incana was morphologically and genetically most distinctive, whereas discrepancy between phenetic and phylogenetic relationships was found in the position of Aceria sp. hosted by L. draba when compared with those inhabiting C. hirsuta, S. orientale and C. bursa-pastoris.
This is a preview of subscription content, log in to check access.
Access options
Buy single article
Instant access to the full article PDF.
US$ 39.95
Price includes VAT for USA
Subscribe to journal
Immediate online access to all issues from 2019. Subscription will auto renew annually.
US$ 199
This is the net price. Taxes to be calculated in checkout.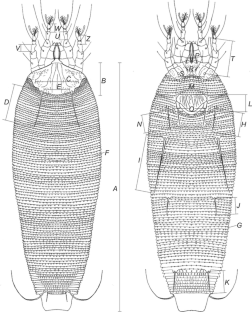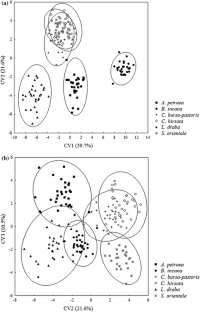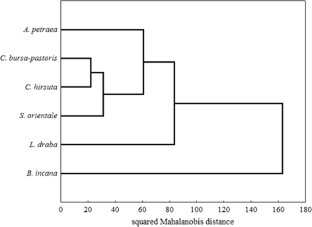 References
Amrine JW, Manson DCM (1996) Preparation, mounting and descriptive study of Eriophyoid mites. In: Lindquist EE, Sabelis MW, Bruin J (eds) Eriophyoid mites. Their biology, natural enemies and control. Elsevier Science BV, Amsterdam, pp 383–396

Amrine JW Jr, Stasny TAH (1994) Catalog of the Eriophyoidea (Acarina, Prostigmata) of the world. Indira Publ. House, West Bloomfield, p 531

Chetverikov PE (2011) Phytoptus atherodes n. sp. (Acari: Eriophyoidea: Phytoptidae) and a supplementary description of Phytoptus hirtae Roivainen 1950 from sedges (Cyperaceae). Zootaxa 3045:26–44

Chetverikov PE (2015) Evolutionary placticity of highly specialized organisms: evolution of eriophyoid mites (Acariformes: Eriophyoidea) on plants. Acta Entomol Serb 20(1):151–161

Chetverikov PE, Cvrković T, Makunin A, Sukhareva S, Vidović B, Petanović R (2015) Basal divergence of Eriophyoidea (Acariformes, Eupodina) inferred from combined partia COI and 28S gene sequences and CLSM genital anatomy. Exp Appl Acarol 67:219–245

Cotte HJ (1912) Recherches sur les galles de provence. Paris Bull Soc Philomatique Ser 10 4(3):123–362

Cotte J (1924) Les cecidies des Alpes Maritimes et leurs producteurs. Mem de la Soc Linneenne de Provence Marseille 3:1–56

Couvreur TL, Franzke A, Al-Shehbaz IA, Bakker FT, Koch MA, Mummenhoff K (2010) Molecular phylogenetics, temporal diversification, and principles of evolution in the mustard family (Brassicaceae). Mol Biol Evol 27(1):55–71

Cvrković T, Chetverikov P, Vidović B, Petanović R (2016) Cryptic speciation within Phytoptus avellanae s.l. (Eriophyoidea: Phytoptidae) revealed by molecular data and observations on molting "Tegonotus-like" nymphs. Exp Appl Acarol 68:83–96

Davis R, Flechtmann CHW, Boczek JH, Barké HE (1982) Catalogue of eriophyid mites (Acari: Eriophyoidea). Warsaw Agricultural University Press, Warsaw, p 254

De Lillo E (2004) Fauna Europaea: Eriophyoidea. In: Magowski W (ed) Fauna Europaea: Acariformes. Fauna Europaea version 1.1, http://www.faunaeur.org

Folmer O, Black M, Hoeh W, Lutz R, Vrijenhoek R (1994) DNA primers for amplification of mitochondrial cytochrome c oxidase subunit I from diverse metazoan invertebrates. Mol Mar Biol Biotechnol 3:294–299

Hinz HL, Diaconu A, Talmaciu M, Nastasa V, Grecu M (2008) Testing the efficacy of specialist herbivores to control Lepidium draba in combination with different management practices. In: Proceedings of the XII international symposium on biological control of weeds. CAB International Wallingford. 278–282

Keifer HH (1975) Eriophyoidea Nalepa. Injurious eriophyoid mites. In: Jeppson LR, Keifer HH, Baker EW (eds) Mites injurious to economic plants. University of California Press, Berkeley, California, pp 327–533

Larson L, Kiemnec G, Smergut T (2000) Hoary cress reproduction in a sagebrush ecosystem. J Range Manag 53(5):556–559

Lewandowski M, Skoracka A, Szydło W, Kozak M, Druciarek T, Griffiths DA (2014) Genetic and morphological diversity of Trisetacus species (Eriophyoidea: Phytoptidae) associated with coniferous trees in Poland: phylogeny, barcoding, host and habitat specialization. Exp Appl Acarol 63:497–520

Lindquist EE (1996) External anatomy and notation of structures. In: Lindquist EE, Sabelis MW, Bruin J (eds) World crop pests, vol 6., Eriophyoid mites—their biology, natural enemies and controlElsevier, Amsterdam, pp 3–31

Lipa JJ (1978) Preliminary studies on the species Aceria drabae (Nal.) (Acarina, Eriophyiidae) and its potential for the biological control of the weed Cardaria draba L. (Cruciferae). Prace Naukowe Inst Ochrony Rosl 20(1):139–155

Liro JI (1940) Neue Eriophyiden aus Finland. Ann Zool Soc Zool Bot Fenn Venamo 8(1):1–68

Monfreda R, De Lillo E (2012) Eriophyoid mites (Acari: Eriophyoidea) on Brassicaceae: a new species of Metaculus from Turkey and remarks on other species associated with brassicaceous plants. Zootaxa 3154:47–60

Monfreda R, Nuzzaci G, De Lillo E (2007) Detection, extraction, and collection of Eriophyoid mites. Zootaxa 1662:35–43

Nalepa A (1890a) Über neue Gallmilben. Anz der Kais Akad Wiss Math naturwissenschaftliche Klasse Wien 27(1):2

Nalepa A (1890b) Zur Systematik der Gallmilben. Sitzungsberichte der Kaiserlichen Akademie der Wissenschaften. Math Naturwissenschaftliche Klasse Wien 99(2):40–69

Nalepa A (1891) Neue Gallmilben. Nova acta. Kaiserlich Leopoldinisch-Carolinische Deutsche Akademie der Naturforscher 55(6):363–395

Nalepa, A (1898) Acarina. Eriophyidae (Phytoptidae). Das Tierreich. Eine Zusammenstellung und Kennzeichnung de rezenten Tierformen. Walter de Gruyter & Co., Berlin. 4. Lief., pp ix + 74

Nalepa A (1929) Neuer Katalog der bisher Beschriebenen Gallmilben, ihrer Gallen und Wirtspflanzen. Marcellia 25(1–4):67–183

Navajas M, Ochoa R (2013) Integrating ecology and genetics to address Acari. Exp Appl Acarol 59:1–10

Navia D, Ferreira CBS, Reis AC, Gondim MG Jr (2015) Traditional and geometric morphometrics supporting the differentiation of two new Retracrus (Phytoptidae) species associated with heliconias. Exp Appl Acarol 67:87–121

Oldfield GN (1996) Diversity and host plant specificity. In: Lindquist EE, Sabelis MW, Bruin J (eds) Eriophyoid mites—their biology, natural enemies and control. Elsevier, Amsterdam, pp 199–216

Oldfield G (2005) Biology of Gall-inducing Acari. In: Raman A, Schaefer CW, Withers TM (eds) Biology, ecology and evolution of gall-inducing arthropods. Science Publishers Inc, Enfield, pp 35–57

Posada D, Crandall KA (1998) Modeltest: testing the model of DNA substitution. Bioinformatics 14:817–818

Roivainen H (1950) Eriophyid news from Sweden. Acta Entomol Fenn 7:1–51

Skoracka A, Dabert M (2010) The cereal rust mite Abacarus hystrix (Acari: Eriophyoidea) is a complex of species: evidence from mitochondrial and nuclear DNA sequences. Bull Entomol Res 100:263–272

Skoracka A, Kucynski L, Magowski W (2002) Morphological variation in different host populations of Abacarus hystrix (Acari: Prostigmata: Eriophyoidea). Exp Appl Acarol 26:187–193

Skoracka A, Smith L, Oldfield G, Cristofaro M, Amrine JW Jr (2010) Host-plant specificity and specialization in eriophyoid mites and their importance for the use of eriophyoid mites as biocontrol agents of weeds. Exp Appl Acarol 51:93–113

Skoracka A, Kuczynski L, Santos de Mendonca R, Dabert M, Szydło W, Knihinicki D, Truol G, Navia D (2012) Cryptic species within the wheat curl mite Aceria tosichella (Keifer) (Acari: Eriophyoidea), revealed by mitochondrial, nuclear and morphometric data. Invertebr Syst 26:417–433

Skoracka A, Kuczyński L, Szydło W, Rector B (2013) The wheat curl mite Aceria tosichella (Acari: Eriophyoidea) is a complex of cryptic lineages with divergent host ranges: evidence from molecular and plant bioassay data. Biol J Linn Soc 109(1):165–180

Smith L, De Lillo E, Amrine JW (2010) Effectiveness of eriophyid mites for biological control of weedy plants and challenges for future research. Exp Appl Acarol 51(1–3):115–149

StatSoft, Inc. (2001) STATISTICA (data analysis software), version 6. http//www.statsoft.com

Tamura K, Peterson D, Peterson N, Stecher G, Nei M, Kumar S (2011) MEGA5: molecular evolutionary genetics analysis using maximum likelihood, evolutionary distance and maximum parsimony methods. Mol Biol Evol 28:2731–2739

The Plant List Database (2016). A working list of all plant species. http://www.theplantlist.org. Accessed 29 Jan 2016

Vidović B, Stanisavljević LJ, Petanović R (2010) Phenotypic variabilility in five Aceria spp. (Acari: Eriophyoidea) inhabiting Cirsium species (Asteraceae) in Serbia. Exp Appl Acarol 52:169–181

Vidović B, Cvrković T, Marić I, Chetverikov PE, Cristofaro M, Rector BG, Petanović R (2015) A new Metaculus species (Acari: Eriophyoidea) on Diplotaxis tenuifolia (Brassicaceae) from Serbia: a combined description using morphology and DNA barcode data. Ann Entomol Soc Am 108(5):922–931

Warwick SI, Francis A, Al-Shehbaz IA (2006) Brassicaceae: species checklist and database on CD-Rom. Plant Syst Evol 259(2–4):249–258
Acknowledgements
This work was partly supported by research Grants from the Ministry of Education, Science and Technological Development of Serbia (Grant Nos. III 43001 and 173003).
About this article
Cite this article
Živković, Z., Vidović, B., Jojić, V. et al. Phenetic and phylogenetic relationships among Aceria spp. (Acari: Eriophyoidea) inhabiting species within the family Brassicaceae in Serbia. Exp Appl Acarol 71, 329–343 (2017). https://doi.org/10.1007/s10493-017-0128-8
Received:

Accepted:

Published:

Issue Date:
Keywords
Eriophyidae

Aceria spp.
Aurinia petraea

Eriophyoid mites

mtDNA COI

Traditional morphometrics