Abstract
The choice of the partner an individual will mate with is expected to strongly impact its fitness. Hence, natural selection has favoured the evolution of cues to distinguish among mates that will provide different fitness benefits to the individual that is choosing. In species with first-male sperm precedence, this is particularly important for males, as mating with mated females will result in no offspring. In the spider mite Tetranychus urticae only the first mating is effective, except if the interval between first and second copulations is shorter than 24 h. In line with this, males prefer to mate with virgin over mated females. They do not, however, choose between females that have mated at different time intervals. Here, we tested which type of cues males use to distinguish between females with different mating status (virgin versus mated). To do so, we firstly confirmed that males prefer virgins over mated females and that they do not select females on the basis of their age or mating interval. Next, we tested whether contact and volatile compounds or chemical trails affected male discrimination between mated and virgin females, by systematically varying the exposure of males to these cues. We found that volatile compounds and chemical trails were sufficient to induce discrimination between virgin and mated females in males. Direct contact with females, however, does not seem to play a role in this discrimination. The composition of such chemical cues (trails and volatiles) remains to be identified.
Access options
Buy single article
Instant access to the full article PDF.
USD 39.95
Price excludes VAT (USA)
Tax calculation will be finalised during checkout.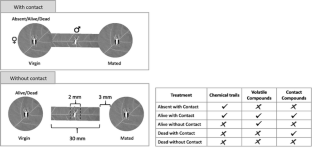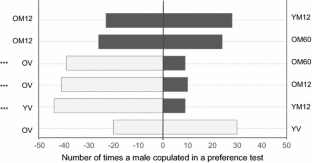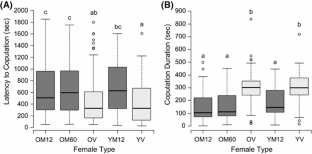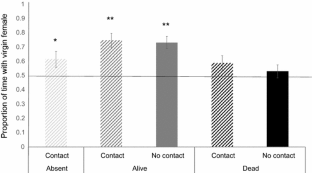 References
Bro-Jørgensen J (2010) Dynamics of multiple signalling systems: animal communication in a world in flux. Trends Ecol Evol 25:292–300

Candolin U (2003) The use of multiple cues in mate choice. Biol Rev 78:575–595

Carazo P, Sanchez E, Font E, Desfilis E (2004) Chemosensory cues allow male Tenebrio molitor beetles to assess the reproductive status of potential mates. Anim Behav 68:123–129

Chapman T, Liddle F, Kalb JM, Wolfner MF, Partridge L (1995) Cost of mating in Drosophila melanogaster females is mediated by male accessory-gland products. Nature 373:241–244

Clemente SH, Rodrigues LR, Ponce R, Varela SAM, Magalhães S (2016) Incomplete species recognition entails few costs in spider mites, despite first-male precedence. Behav Ecol Sociobiol 70:1161–1170

Danielsson I (1998) Mechanisms of sperm competition in insects. Ann Zool Fenn 35:241–257

Delisle J, Royer L (1994) Changes in pheromone titer of oblique-banded leafroller, Choristoneura rosaceana, virgin females as a function of time of day, age, and temperature. J Chem Ecol 20:45–69

Engqvist L, Reinhold K (2006) Theoretical influence of female mating status and remating propensity on male sperm allocation patterns. J Evol Biol 19:1448–1458

Friberg U (2006) Male perception of female mating status: its effect on copulation duration, sperm defence and female fitness. Anim Behav 72:1259–1268

Helle W (1967) Fertilization in the two-spotted spider mite (Tetranychus urticae: Acari). Entomol Exp Appl 10:103–110

Johansson BG, Jones TM (2007) The role of chemical communication in mate choice. Biol Rev 82:265–289

Krainacker DA, Carey JR (1990) Effect of age at first mating on primary sex-ratio of the two-spotted spider mite. Exp Appl Acarol 9:169–175

Li J, Margolies DC (1993) Effects of mite age, mite density and host quality on aerial dispersal behavior in the two-spotted spider-mite. Entomol Exp Appl 68:79–86

Macke E, Magalhaes S, Khanh HDT, Frantz A, Facon B, Olivieri I (2012) Mating modifies female life history in a haplodiploid spider mite. Am Nat 179:147–162

Oku K (2008) Is only the first mating effective for females in the Kanzawa spider mite, Tetranychus kanzawai (Acari: Tetranychidae)? Exp Appl Acarol 45:53–57

Oku K (2010) Males of the two-spotted spider mite attempt to copulate with mated females: effects of double mating on fitness of either sex. Exp Appl Acarol 50:107–113

Oku K (2013) Does female mating history affect mate choice of males in the two-spotted spider mite Tetranychus urticae? Acarologia 53:217–220

Pallini A, Janssen A, Sabelis MW (1997) Odour-mediated responses of phytophagous mites to conspecific and heterospecific competitors. Oecologia 110:179–185

Penman DR, Cone WW (1972) Behavior of male twospotted spider mites in response to quiescent female deutonymphs and to web. Ann Entomol Soc Am 65:1289–1293

Penman DR, Cone WW (1974) Role of web, tactile stimuli, and female sex pheromone in attraction of male twospotted spider mites to quiescent female deutonymphs. Ann Entomol Soc Am 67:179–182

Potter DA, Wrensch DL, Johnston DE (1976) Guarding, aggressive behavior and mating success in male two-spotted spider mites (Acari-Tetranychidae). Ann Entomol Soc Am 69:707–711

R Development Core Team (2014) R: a language and environment for statistical computing. R Foundation for Statistical Computing, Vienna. ISBN 3-900051-07-0. http://www.R-project.org

Rasmy AH, Hussein HE (1994) Effect of age and mating on release of female sex pheromones and male response in the two-spotted spider mite. J Appl Entomol 117:109–111

Ridley M (1989a) The incidence of sperm displacement in insects: four conjectures, one corroboration. Biol J Linn Soc 38:349–367

Ridley M (1989b) The timing and frequency of mating in insects. Anim Behav 37:535–545

Riechert SE, Singer FD (1995) Investigation of potential male mate choice in a monogamous spider. Anim Behav 49:715–723

Royalty RN, Phelan PL, Hall FR (1992) Arrestment of male twospotted spider mite caused by female sex pheromone. J Chem Ecol 18:137–153

Satoh Y, Yano S, Takafuji A (2001) Mating strategy of spider mite, Tetranychus urticae (Acari: Tetranychidae) males: postcopulatory guarding to assure paternity. Appl Entomol Zool 36:41–45

Stoltz JA, McNeil JN, Andrade MCB (2007) Males assess chemical signals to discriminate just-mated females from virgins in redback spiders. Anim Behav 74:1669–1674

Thomas M (2011) detection of female mating status using chemical signals and cues. Biol Rev 86:1–13

Xue HJ, Wei JN, Magalhães S, Zhang B, Song KQ, Liu J, Li WZ, Yang XK (2016) Contact pheromones of 2 sympatric beetles are modified by the host plant and affect mate choice. Behav Ecol 27:895–902

Yasui Y (1994) Adaptive control of copulation duration by males under sperm competition in the mite, Macrocheles muscaedomesticae. Exp Appl Acacarol 18:543–554
Acknowledgements
The authors wish to thank Fabien Bach and Inês Santos for help with the maintenance of mite cultures at ISEM and cE3c, respectively; David Carbonnel for the culture of plants at ISEM; and Cassandra Marinosci and Emilie Macke for helpful insights. These experiments were funded by Portuguese (FCT, Fundação para a Ciência e Tecnologia) and French (ANR, Agence Nationale de la Recherche) Funds through an FCT-ANR project (FCT-ANR//BIA-EVF/0013/2012) to SM and IO. LRR had a Ph.D. Grant (SFRH/BD/87628/2012) and SAMV had a Post-Doc Grant (SFRH/BPD/66042/2009), both funded by FCT.
About this article
Cite this article
Rodrigues, L.R., Figueiredo, A.R.T., Varela, S.A.M. et al. Male spider mites use chemical cues, but not the female mating interval, to choose between mates. Exp Appl Acarol 71, 1–13 (2017). https://doi.org/10.1007/s10493-016-0103-9
Received:

Accepted:

Published:

Issue Date:

DOI: https://doi.org/10.1007/s10493-016-0103-9
Keywords
First-male sperm precedence

Mating interval

Mating behaviour

Chemical cues

Tetranychus urticae