Abstract
Anaplasma phagocytophilum is the causative agent of an emerging tick-borne disease, human granulocytic anaplasmosis. While the bacterium has been reported from questing ticks in neighboring Sweden, Norway and Russia, the few surveys regarding questing ticks in Finland have thus far been negative. In the current study, the prevalence of A. phagocytophilum in Ixodes ricinus populations was evaluated in several study localities around southwestern Finland during 2013–2014. Some of these populations were previously screened and found negative for A. phagocytophilum in 2000. A total of 3158 I. ricinus collected by blanket dragging were screened for Anaplasma spp. using qPCR. Anaplasma were detected in 9.2% of adult ticks (n = 87) and 3.1% of nymphs (n = 979). All larval samples were negative for infection. All Anaplasma-positive samples were identified as A. phagocytophilum by sequencing. This is, to the best of our knowledge, the first report of the pathogen from questing ticks in Finland. Furthermore, the pathogen was detected from several localities found negative during the previous screening 13 years earlier.
Access options
Buy single article
Instant access to the full article PDF.
US$ 39.95
Tax calculation will be finalised during checkout.
Subscribe to journal
Immediate online access to all issues from 2019. Subscription will auto renew annually.
US$ 119
Tax calculation will be finalised during checkout.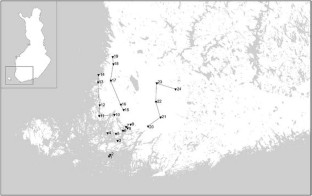 References
Alekseev A, Dubinina H, Jääskeläinen A, Vapalahti O, Vaheri A (2007) First report on tick-borne pathogens and exoskeletal anomalies in Ixodes persulcatus Schulze (Acari: Ixodidae) collected in Kokkola coastal region, Finland. Int J Acarol 33:253–258

Brouqui P, Dumler J, Lienhard R, Brossard M, Raoult D (1995) Human granulocytic ehrlichiosis in Europe. Lancet 346:782–783

Burri C, Dupasquier C, Bastic V, Gern L (2011) Pathogens of emerging tick-borne diseases, Anaplasma phagocytophilum, Rickettsia spp., and Babesia spp., in Ixodes ticks collected from rodents at four sites in Switzerland (Canton of Bern). Vector Borne Zoonotic Dis 11:939–944

Chen SM, Dumler JS, Bakken JS, Walker DH (1994) Identification of a granulocytotropic Ehrlichia species as the etiologic agent of human disease. J Clin Microbiol 32:589–595

Doudier B, Olano J, Parola P, Brouqui P (2010) Factors contributing to emergence of Ehrlichia and Anaplasma spp. as human pathogens. Vet Parasitol 167:149–154

Drummond AJ, Ashton B, Buxton S, Cheung M, Cooper A, Duran C, Field M, Heled J, Kearse M, Markowitz S, Moir R, Stones-Havas S, Sturrock S, Thierer T, Wilson A (2011) Geneious vR6. http://www.geneious.com/

Dumler JS, Barbet A, Bekker C, Dasch G, Palmer G, Ray S, Rikihisa Y, Rurangirwa F (2001) Reorganization of genera in the families Rickettsiaceae and Anaplasmataceae in the order Rickettsiales: unification of some species of Ehrlichia with Anaplasma, Cowdria with Ehrlichia and Ehrlichia with Neorickettsia, descriptions of six new species combinations and designation of Ehrlichia equi and 'HGE agent' as subjective synonyms of Ehrlichia phagocytophila. Int J Syst Evol Microbiol 51:2145–2165

Dumler JS, Choi K-S, Garcia-Garcia JC, Barat NS, Scorpio DG, Garyu JW, Grab DJ, Bakken JS (2005) Human granulocytic anaplasmosis and Anaplasma phagocytophilum. Emerg Infect Dis 11:1828–1834

Edouard S, Koebel C, Goehringer F, Socolovschi C, Jaulhac B, Raoult D, Brouqui P (2012) Emergence of human granulocytic anaplasmosis in France. Ticks Tick Borne Dis 3:403–405

Gayle A, Ringdahl E (2001) Tick-borne diseases. Am Fam Physician 64:461–466

Han X, Aho M, Vene S, Peltomaa M, Vaheri A, Vapalahti O (2001) Prevalence of tick-borne encephalitis virus in Ixodes ricinus ticks in Finland. J Med Virol 64:21–28

Heikkilä HM, Bondarenko A, Mihalkov A, Pfister K, Spillmann T (2010) Anaplasma phagocytophilum infection in a domestic cat in Finland: case report. Acta Vet Scand 52:1–5

Henningsson AJ, Wilhelmsson P, Gyllemark P, Kozak M, Matussek A, Nyman D, Ekerfelt C, Lindgren P-E, Forsberg P (2015) Low risk of seroconversion or clinical disease in humans after a bite by an Anaplasma phagocytophilum-infected tick. Ticks Tick Borne Dis 6:787–792

Hildebrandt A, Krämer A, Sachse S, Straube E (2010) Detection of Rickettsia spp. and Anaplasma phagocytophilum in Ixodes ricinus ticks in a region of Middle Germany (Thuringia). Ticks Tick Borne Dis 1:52–56

Hubálek Z, Halouzka J (1997) Distribution of Borrelia burgdorferi sensu lato genomic groups in Europe, a review. Eur J Epidemol 13:951–957

Kallio ER, Begon M, Birtles RJ, Bown KJ, Koskela E, Mappes T, Watts PC (2014) First report of Anaplasma phagocytophilum and Babesia microti in rodents in Finland. Vector Borne Zoonotic Dis 14:389–393

Katargina O, Geller J, Alekseev A, Dubinina H, Efremova G, Mishaeva N, Vasilenko V, Kuznetsova T, Järvekülg L, Vene S, Lundkvist Å, Golovljova I (2012) Identification of Anaplasma phagocytophilum in tick populations in Estonia, the European part of Russia and Belarus. Clin Microbiol Infect 18:40–46

Kearse M, Moir R, Wilson A, Stones-Havas S, Cheung M, Sturrock S, Buxton S, Cooper A, Markowitz S, Duran C, Thierer T, Ashton B, Meintjes P, Drummond A (2012) Geneious basic: an integrated and extendable desktop software platform for the organization and analysis of sequence data. Bioinformatics 28:1647–1649

Mäkinen J, Vuorinen I, Oksi J, Peltomaa M, He Q, Marjamäki M, Viljanen MK (2003) Prevalence of granulocytic Ehrlichia and Borrelia burgdorferi sensu lato in Ixodes ricinus ticks collected from Southwestern Finland and from Vormsi Island in Estonia. Acta Pathol Microbiol Immunol Scand 111:355–362

Mansfield KL, Johnson N, Phipps LP, Stepheson JR, Fooks AR, Solomon T (2009) Tick-borne encephalitis virus—a review of an emerging zoonosis. J Gen Virol 90:1781–1794

Massung RF, Priestley RA, Miller NJ, Mather TN, Levin ML (2003) Inability of a variant strain of Anaplasma phagocytophilum to infect mice. J Infect Dis 188:1757–1763

Masuzawa T, Kharitonenkov I, Okamoto Y, Fukui T, Ohashi N (2008) Prevalence of Anaplasma phagocytophilum and its coinfection with Borrelia afzelii in Ixodes ricinus and Ixodes persulcatus ticks inhabiting Tver Province (Russia)—a sympatric region for both tick species. J Med Microbiol 57:986–991

Parola P, Raoult D (2001) Tick-borne bacterial diseases emerging in Europe. Clin Microbiol Infect 7:80–83

Paulauskas A, Radzijevskaja J, Rosef O (2012) Molecular detection and characterization of Anaplasma phagocytophilum strains. Comp Immunol Microbiol Infect Dis 35:187–195

Piccolin G, Benedetti G, Doglioni C, Lorenzato C, Mancuso S, Papa N, Pitton L, Ramon MC, Zasio C, Bertiato G (2006) A study of the presence of B. burgdorferi, Anaplasma (previously Ehrlichia) phagocytophilum, Rickettsia, and Babesia in Ixodes ricinus collected within the territory of Belluno, Italy. Vector Borne Zoonotic Dis 6:24–31

Portillo A, Pérez-Martínez L, Santibáñez S, Santibáñez P, Palomar AM, Oteo JA (2010) Anaplasma spp. in wild mammals and Ixodes ricinus from the North of Spain. Vector Borne Zoonotic Dis 11:3–8

Rosef O, Paulauskas A, Radzijevskaja J (2009) Prevalence of Borrelia burgdorferi sensu lato and Anaplasma phagocytophilum in questing Ixodes ricinus ticks in relation to the density of wild cervids. Acta Vet Scand 51:1–8

Rymaszewska A, Grenda S (2008) Bacteria of the genus Anaplasma—characteristics of Anaplasma and their vectors: a review. Vet Med 53:573–584

Schorn S, Pfister K, Reulen H, Mahling M, Silaghi C (2011) Occurrence of Babesia spp., Rickettsia spp. and Bartonella spp. in Ixodes ricinus in Bavarian public parks, Germany. Parasit Vectors 4:1

Severinsson K, Jaenson TG, Pettersson J, Falk K, Nilsson K (2010) Detection and prevalence of Anaplasma phagocytophilum and Rickettsia helvetica in Ixodes ricinus ticks in seven study areas in Sweden. Parasit Vectors 3:66

Silaghi C, Woll D, Hamel D, Pfister K, Mahling M, Pfeffer M (2012) Babesia spp. and Anaplasma phagocytophilum in questing ticks, ticks parasitizing rodents and the parasitized rodents—analyzing the host–pathogen–vector interface in a metropolitan area. Parasit Vectors 5:1–14

Sonenshine DE, Roe MR (2014) Biology of ticks. Oxford University Press, New York

Sormunen JJ, Klemola T, Vesterinen EJ, Vuorinen I, Hytönen J, Hänninen J, Ruohomäki K, Sääksjärvi IE, Tonteri E, Penttinen R (2016a) Assessing the abundance, seasonal questing activity, and Borrelia and tick-borne encephalitis virus (TBEV) prevalence of Ixodes ricinus ticks in a lyme borreliosis endemic area in Southwest Finland. Ticks Tick Borne Dis 7:208–215

Sormunen JJ, Penttinen R, Klemola T, Hänninen J, Vuorinen I, Laaksonen M, Sääksjärvi IE, Ruohomäki K, Vesterinen EJ (2016b) Tick-borne bacterial pathogens in southwestern Finland. Parasit Vectors 9:1–10

Strle F (2004) Human granulocytic ehrlichiosis in Europe. Int J Med Microbiol 37(Suppl 293):27–35

Stuen S (2007) Anaplasma phagocytophilum—the most widespread tick-borne infection in animals in Europe. Vet Res Commun 31:79–84

Tuomi J (1966) Studies in epidemiology of bovine tick-borne fever in Finland and a clinical description of field cases. Ann Med Exp Biol Fenn 44:1–62

Valkjärvi L, Karikoski N, Mykkänen A, Tulamo R (2010) Case report: anaplasma phagocytophilum infection in a horse. Finn Vet J 116:619–623

Vera CP, Kapiainen S, Junnikkala S, Aaltonen K, Spillmann T, Vapalahti O (2014) Survey of selected tick-borne diseases in dogs in Finland. Parasit Vectors 7:285

Wallménius K, Pettersson JHO, Jaenson TGT, Nilsson K (2012) Prevalence of Rickettsia spp., Anaplasma phagocytophilum, and Coxiella burnetii in adult Ixodes ricinus ticks from 29 study areas in central and southern Sweden. Ticks Tick Borne Dis 3:100–106

Wilhelmsson P, Lindblom P, Fryland L, Ernerudh J, Forsberg P, Lindgren P-E (2013) Prevalence, diversity, and load of Borrelia species in ticks that have fed on humans in regions of Sweden and Åland Islands, Finland with different lyme borreliosis incidences. PLoS ONE 8(11):e81433
Acknowledgements
Eva R. Kallio (University of Jyväskylä) is thanked for providing A. phagocytophilum samples to be used as positive controls in the analyses. This study was supported by Maj and Tor Nessling Foundation, Jenny and Antti Wihuri Foundation, the University of Turku Foundation and Emil Aaltonen Foundation. Special thanks go to MD–PhD Sakari Alhopuro for his financial support. Finally, Toni Hytönen and Omar Badawieh are thanked for their help with field surveys.
Electronic supplementary material
Below is the link to the electronic supplementary material.
About this article
Cite this article
Sormunen, J.J., Penttinen, R., Klemola, T. et al. Anaplasma phagocytophilum in questing Ixodes ricinus ticks in southwestern Finland. Exp Appl Acarol 70, 491–500 (2016). https://doi.org/10.1007/s10493-016-0093-7
Received:

Accepted:

Published:

Issue Date:
Keywords
Anaplasma phagocytophilum
Ixodes ricinus

Finland

Questing tick

DNA

qPCR