Abstract
Our aim was to reveal morphological features of first-generation Ixodes persulcatus and I. ricinus hybrids (nymphs and adults) obtained under laboratory conditions for further study of natural populations of these species in sympatry foci. In 65 nymphs of three groups I. ricinus (23 specimens), I. persulcatus (21 specimens), and hybrids (21 specimens), 16 parameters were evaluated (length/width of the scutum and capitulum, length of the hypostome, palp, tarsus I, coxa I, sternal setae, and various scutal and alloscutal setae) and discrimination analysis was performed allowing differentiation of hybrid nymphs from original species. General effectiveness of classification of I. ricinus, I. persulcatus, and hybrids was >95 %. Discriminant functions are presented allowing classification of I. persulcatus, I. ricinus, and hybrid nymphs. For description of morphology, 27 adult hybrids (13 males and 14 females) were examined under a stereo microscope at 14–28× (without preparation of permanent mounts). The following morphological distinctions of hybrids from original species were described: posterior marginal groove is not clear (as in I. ricinus) and absence of syncoxa on coxa I (as in I persulcatus). In hybrid males, simultaneous absence of syncoxa on coxa I (as in I. persulcatus) and a long internal spur on coxa I (as in I. ricinus) can be used as a diagnostic feature. Based on the detected characteristics, 10 of 157 ticks collected in Karelia in I. ricinus and I. persulcatus sympatry area were classified as hybrids.
Access options
Buy single article
Instant access to the full article PDF.
USD 39.95
Price excludes VAT (USA)
Tax calculation will be finalised during checkout.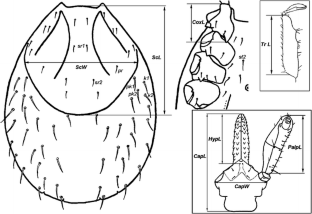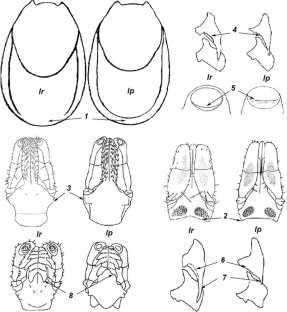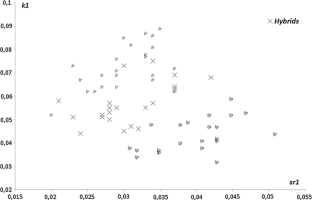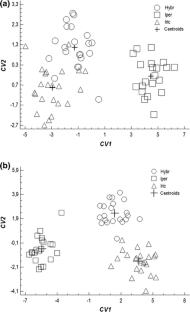 References
Araya-Anchetta A, Scoles GA, Giles J, Busch JD, Wagner DM (2013) Hybridization in natural sympatric populations of Dermacentor ticks in northwestern North America. Ecol Evol 3:714–724. doi:10.1002/ece3.496

Balashov YS, Grigoreva LA, Oliver JH Jr (1998) Reproductive isolation and interspecific hybridization of ixodid ticks of the Ixodes ricinus—I. persulcatus group (Acarina Ixodidae). Entomol Rev 78:500–508

Bugmyrin SV, Bespyatova LA, Korotkov YS, Burenkova LA, Belova OA, Romanova LIu, Kozlovskaya LI, Karganova GG, Ieshko EP (2013) Distribution of Ixodes ricinus and I. persulcatus ticks in southern Karelia (Russia). Ticks Tick Borne Dis 4:57–62. doi:10.1016/j.ttbdis.2012.07.004

Bugmyrin SV, Belova OA, Ieshko EP, Bespyatova LA, Karganova GG (2015) Morphological differentiation of Ixodes persulcatus and I. ricinus hybrid larvae in experiment and under natural conditions. Ticks Tick Borne Dis 6:129–133. doi:10.1016/j.ttbdis.2014.11.001

Dubinina EV, Volzit OV, Alekseev AN (2007) Simplified method for in vivo differences between the two tick species of the genus Ixodes in sympatric foci of mixed infections. Pest Manag 3:24–27 (in Russian)

Filippova NA (1977) Ixodid ticks of the Subfamily Ixodinae. Fauna of the USSR: Arachnoides, vol 4(4). Nauka, Leningrad (in Russian)

Filippova NA (1985) The range of species and its position in the system. In: Filippova NA (ed) Taiga tick Ixodes persulcatus Schulze (Acarina, Ixodidae). Morphology, systematics, ecology, medical importance. Nauka, Leningrad, pp 97–173 (in Russian)

Filippova NA (2001) Morphological barrier in mechanisms of reproductive isolation acting in areas of sympatry of closely related species Ixodes persulcatus–I. pavlovskyi and I. persulcatus–I. ricinus (Ixodidae). Parazitologiia 36:457–468 (in Russian)

Filippova NA (2002) Forms of sympatry and possible ways of microevolution of closely related species of the group Ixodes ricinus–persulcatus (Ixodidae). Acta Zool Lituan 12:215–227

Huang S, Molaei G, Andreadis TG (2011) Reexamination of Culex pipiens hybridization zone in the Eastern United States by ribosomal DNA-based single nucleotide polymorphism markers. Am J Trop Med Hyg 85:434–441. doi:10.4269/ajtmh.2011.10-0679

Hutcheson HJ, Oliver JH Jr (1996) Multivariate morphometrics of larvae of the blacklegged tick (Ixodes scapularis) with notes on nomenclature. J Parasitol 62:916–925

Hutcheson HJ, Oliver JH Jr, Houck MA, Strauss RE (1995) Multivariate morphometric discrimination of nymphal and adult forms of the blacklegged tick (Acari: Ixodidae), a principal vector of the agent of Lyme disease in eastern North America. J Med Entomol 32:827–842

Kol-Maimon H, Ghanim M, Franco JC, Mendel Z (2014) Evidence for gene flow between two sympatric mealybug species (Insecta; Coccoidea; Pseudococcidae). PLoS ONE 9:e88433. doi:10.1371/journal.pone.0088433

Kovalev SY, Mikhaylishcheva MS, Mukhacheva TA (2015) Natural hybridization of the ticks Ixodes persulcatus and Ixodes pavlovskyi in their sympatric populations in Western Siberia. Infect Genet Evol 32:388–395. doi:10.1016/j.meegid.2015.04.003

Kovalev SY, Golovljova IV, Mukhacheva TA (2016) Natural hybridization between Ixodes ricinus and Ixodes persulcatus ticks evidenced by molecular genetics methods. Ticks Tick Borne Dis 7:113–118. doi:10.1016/j.ttbdis.2015.09.005

Mallet J, Beltrán M, Neukirchen W, Linares M (2007) Natural hybridization in heliconiine butterflies: the species boundary as a continuum. BMC Evol Biol 7:28. doi:10.1186/1471-2148-7-28

Oliver JH Jr, Wilkinson PR, Kohls GM (1972) Observations on hybridization of three species of North American Dermacentor ticks. J Parasitol 58:380–384

Oliver JH Jr, Owsley MR, Hutcheson HJ, James AM, Chen C, Irby WS, Dotson EM, McLain DK (1993) Conspecificity of the ticks Ixodes scapularis and I. dammini (Acari: Ixodidae). J Med Entomol 30:54–63

Pomerantsev BI (1950) Fauna USSR. Arachnida vol 4(2). Ticks (Ixodidae). Academy of Sciences of the USSR, Moscow (in Russian)

Rees DJ, Dioli M, Kirkendall LR (2003) Molecules and morphology: evidence for cryptic hybridization in African Hyalomma (Acari: Ixodidae). Mol Phylogenet Evol 27:131–142. doi:10.1016/S1055-7903(02)00374-3

Stuart-Fox D, Godinho R, Gouy de Bellocq J, Irwin NR, Brito JC, Moussalli A, Siroky P, Hugall AF, Baird SJE (2009) Variation in phenotype, parasite load and male competitive ability across a cryptic hybrid zone. PLoS ONE 4:e5677. doi:10.1371/journal.pone.0005677

Volzit OV (1986) Sexual dimorphism in larvae and nymphs of Ixodes persulcatus. Parasitologiia 20:409–412 (in Russian)

Zahler M, Gothe R (1997) Evidence for the reproductive isolation of Dermacentor marginatus and Dermacentor reticulatus (Acari: Ixodidae) ticks based on cross-breeding, morphology and molecular studies. Exp Appl Acarol 21:685–696
Acknowledgments
The authors are grateful to Prof. A.V. Korosov, Department of Zoology and Ecology, Petrozavodsk State University, for consultations and helpful discussion of the results. The study was supported by the federal budget for implementation of state tasks (Project No/51.4, registration No. 01201358738). The research was supported by the Russian Foundation for Basic Research (15-34-50175 mol_nr).
Electronic supplementary material
Below is the link to the electronic supplementary material.
About this article
Cite this article
Bugmyrin, S.V., Belova, O.A., Bespyatova, L.A. et al. Morphological features of Ixodes persulcatus and I. ricinus hybrids: nymphs and adults. Exp Appl Acarol 69, 359–369 (2016). https://doi.org/10.1007/s10493-016-0036-3
Received:

Accepted:

Published:

Issue Date:

DOI: https://doi.org/10.1007/s10493-016-0036-3
Keywords
Tick

Ixodes persulcatus
Ixodes ricinus

Hybrids

Morphology