Abstract
Integrated pest management in Australian winter grain crops is challenging, partly because the timing and severity of pest outbreaks cannot currently be predicted, and this often results in prophylactic applications of broad spectrum pesticides. We developed a simple model to predict the median emergence in autumn of pest populations of the redlegged earth mite, Halotydeus destructor, a major field crop and pasture pest in southern Australia. Previous data and observations suggest that rainfall and temperature are critical for post-diapause egg hatch. We evaluated seven models that combined rainfall and temperature thresholds derived using three approaches against previously recorded hatch dates and 2013 field records. The performance of the models varied between Western Australia and south-eastern Australian States. In Western Australia, the key attributes of the best fitting model were more than 5 mm rain followed by mean day temperatures of below 20.5 °C for 10 days. In south-eastern Australia, the most effective model involved a temperature threshold reduced to 16 °C. These regional differences may reflect adaptation of H. destructor in south-eastern Australia to varied and uncertain temperature and rainfall regimes of late summer and autumn, relative to the hot and dry Mediterranean-type climate in Western Australia. Field sampling in 2013 revealed a spread of early hatch dates in isolated patches of habitat, ahead of predicted paddock scale hatchings. These regional models should assist in monitoring and subsequent management of H. destructor at the paddock scale.
Access options
Buy single article
Instant access to the full article PDF.
USD 39.95
Price includes VAT (USA)
Tax calculation will be finalised during checkout.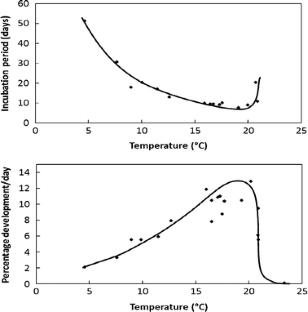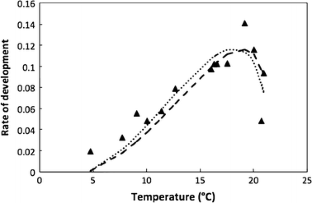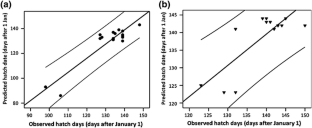 References
Akaike H (1973) Information theory and an extension of the maximum likelihood principle. In: Petrov B, Csake F (eds) Second international symposium on information theory. Akademiai Kiado, Budapest, pp 267–281

Aragón P, Coca-Abia MM, Llorente V, Lobo JM (2013) Estimation of climatic favourable areas for locust outbreaks in Spain: integrating species' presence records and spatial information on outbreaks. J App Entomol 137:610–623. doi:10.1111/jen.12022

Bozdogan H (1987) Model selection and Akaike's Information Criterion (AIC): the general theory and its analytical extensions. Psychometrika 52:345–370

Briére JF, Pracros P, Le Roux AY, Pierre JS (1999) A novel rate model of temperature-dependent development for arthropods. Environ Entomol 28:22–29

Bureau of Meteorology (2014) Maps of average conditions. In: Commonwealth of Australia. http://www.bom.gov.au/climate/averages/maps.shtml 2014

Cook Sloane, King PL (1988) The economic impact of pasture weeds, pests and diseases on the australian wool industry. Australian Wool Corporation, Melbourne

Davidson J, Swan DC (1943) The incubation period of the eggs of Halotydeus destructor Tucker (Acarina) at different temperatures. Aust J Exp Biol Med Sci 21:107–110. doi:10.1038/icb.1943.12

Doddala PRC, Trewick SA, Rogers DJ, Minor MA (2013) Predictive modelling of adult emergence in a polyphagous Eucolaspis (Chrysomelidae: Eumolpinae) leaf beetle. J Econ Entomol 106:899–904. doi:10.1603/ec12363

Gu H, Fitt GP, Baker GH (2007) Invertebrate pests of canola and their management in Australia: a review. Aust J Entomol 46:231–243. doi:10.1111/j.1440-6055.2007.00594.x

Hill MP, Hoffmann AA, Macfadyen S, Umina PA, Elith J (2012) Understanding niche shifts: using current and historical data to model the invasive redlegged earth mite, Halotydeus destructor. Divers Distrib 18:191–203. doi:10.1111/j.1472-4642.2011.00844.x

Hill MP, Chown SL, Hoffmann AA (2013) A predicted niche shift corresponds with increased thermal resistance in an invasive mite, Halotydeus destructor. Glob Ecol Biogeogr 22:942–951. doi:10.1111/Geb.12059

Hopper KR (1999) Risk-spreading and bet-hedging in insect population biology. Ann Rev Entomol 44:535–560

Macfadyen S, Kriticos DJ (2012) Modelling the geographic range of a species with variable life-history. PLoS One 7:e40313. doi:10.1371/journal.pone.0040313

Mangano P, Bellati J, Henry K, Umina P, Severson D (2005) PestFax and PestFacts-newsletters successfully facilitating interactive communication on invertebrate pest and disease control in broadscale crops and pastures in southern Australia. Ext Farming Syst J 5:169–174

Micic S, Hoffmann AA, Strickland G, Weeks AR, Bellati J, Henry K, Nash MA, Umina PA (2008) Pests of germinating grain crops in southern Australia: an overview of their biology and management options. Aust J Exp Agric 48:1560–1573. doi:10.1071/Ea08153

Miles M, McDonald G (1999) Insect pests of canola. In: Salisbury P, Potter T, Mcdonald G, Green A (eds) Canola in Australia—the first thirty years. Produced for the 10th International Rapeseed Congress, Canberra, pp 53–58

Murray DaH, Clarke MB, Ronning DA (2013) Estimating invertebrate pest losses in six major Australian grain crops. Aust J Entomol 52:227–241. doi:10.1111/aen.12017

Nash MA, Hoffmann AA (2012) Effective invertebrate pest management in dryland cropping in southern Australia: the challenge of marginality. Crop Prot 42:289–304. doi:10.1016/j.cropro.2012.06.017

Norris KR (1950) The aestivating eggs of the red-legged earth mite, Halotydeus destructor (Tucker). Bull Commonw Sci Ind Res Org 253:1–26

Phung NTM, Brown PR, Leung LKP (2013) Use of computer simulation models to encourage farmers to adopt best rodent management practices in lowland irrigated rice systems in An Giang Province, the Mekong Delta, Vietnam. Agric Syst 116:69–76. doi:10.1016/j.agsy.2012.11.003

Raupach MR, Briggs PR, Haverd V, King EA, Paget M, Trudinger CM (2012) Australian water availability project. CSIRO Marine and Atmospheric Research, Canberra

Régnière J, Powell J, Bentz B, Nealis V (2012) Effects of temperature on development, survival and reproduction of insects: experimental design, data analysis and modeling. J Insect Physiol 58:634–647

Ridsdill-Smith TJ (1997) Biology and control of Halotydeus destructor (Tucker) (Acarina: Penthaleidae): a review. Exp Appl Acarol 21:195–224

Ridsdill-Smith TJ, Annells AJ (1997) Seasonal occurrence and abundance of redlegged earth mite Halotydeus destructor (Acari: Penthaleidae) in annual pastures of southwestern Australia. B Entomol Res 87:413–423

Ridsdill-Smith J, Pavri C, De Boer E, Kriticos D (2005) Predictions of summer diapause in the redlegged earth mite, Halotydeus destructor (Acari : Penthaleidae), in Australia. J Insect Physiol 51:717–726. doi:10.1016/j.jinsphys.2005.04.014

Ridsdill-Smith T, Smith H, Read J, Pavri C (2013) Population ecology of Halotydeus destructor in pastures. Integr Control Plant-Feed Mites IOBC-WPRS Bull 93:91–101

Samietz J, Hohn H, Razavi E, Schaub L, Graf B (2013) Decision support for sustainable management of the main orchard pests with the Swiss forecasting system SOPRA. IOBC/WPRS Bull 91:243–251

Shi PJ, Ge F (2010) A comparison of different thermal performance functions describing temperature-dependent development rates. J Therm Biol 35:225–231. doi:10.1016/j.jtherbio.2010.05.005

Stern H, De Hoedt G, Ernst J (2000) Objective classification of Australian climates. Aust Meteorol Mag 49:87–96

Swan DC (1934) The red-legged earth mite Halotydeus destructor (Tucker) in South Australia: with remarks upon Penthaleus major (Duge`s). J Dep Agric S Aust 38:353–367

Szucs M, Schaffner U, Price WJ, Schwarzlaender M (2012) Post-introduction evolution in the biological control agent Longitarsus jacobaeae (Coleoptera: Chrysomelidae). Evol Appl 5:858–868. doi:10.1111/j.1752-4571.2012.00264.x

Tucker RWE (1925) The black sand mite: Penthaleus destructor n. sp. Entomol Mem Dep Agric Tech Serv Repub S Afr 3:21–36

Umina PA, Hoffmann AA (2004) Plant host associations of Penthaleus species and Halotydeus destructor (Acari: Penthaleidae) and implications for integrated pest management. Exp Appl Acarol 33:1–20

Urbanski J, Mogi M, O'donnell D, Decotiis M, Toma T, Armbruster P (2012) Rapid adaptive evolution of photoperiodic response during invasion and range expansion across a climatic gradient. Am Nat 179:490–500. doi:10.1086/664709

Wallace MMH (1970a) Diapause in the aestivating egg of Halotydeus destructor (Acari : Eupodidae). Aust J Zool 18:295–313. doi:10.1071/ZO9700295

Wallace MMH (1970b) The influence of temperature on the post-diapausal development and survival in the aestivating eggs of Halotydeus destructor (Acari: Eupodidae). Aust J Zool 18:315–329. doi:10.1071/ZO9700315

Wallace MMH, Mahon JA (1971) The distribution of Halotydeus destructor and Penthaleus major (Acari: Eupodidae) in Australia in relation to climate and land use. Aust J Zool 19:65–76. doi:10.1071/ZO9710065

Walton JC, Martinez-Gonzalez F, Worthington R (2005) Desert vegetation and timing of solar radiation. J Arid Environ 60:697–707. doi:10.1016/j.jaridenv.2004.07.016

Weeks AR, Hoffmann AA (2000) Competitive interactions between two pest species of earth mites, Halotydeus destructor and Penthaleus major (Acarina: Penthaleidae). J Econ Entomol 93:1183–1191

Weeks AR, Fripp YJ, Hoffmann AA (1995) Genetic structure of Halotydeus destructor and Penthaleus major populations in Victoria (Acari: Penthaleidae). Exp Appl Acarol 19:633–646

Zalucki MP, Adamson D, Furlong MJ (2009) The future of IPM: whither or wither? Aust J Entomol 48:85–96. doi:10.1111/j.1440-6055.2009.00690.x

Zinyengere N, Mhizha T, Mashonjowa E, Chipindu B, Geerts S, Raes D (2011) Using seasonal climate forecasts to improve maize production decision support in Zimbabwe. Agric For Meteorol 151:1792–1799. doi:10.1016/j.agrformet.2011.07.015
Acknowledgments
We wish to thank the many Victorian and New South Wales agronomists who willingly assisted in sampling and reporting mite hatch dates in local paddocks, Alan Lord, Tony Dore and Svetlana Micic, WA Department of Agriculture and Food, for their assistance in mite sampling providing data from in WA, Michael Kearney, the University of Melbourne, for his assistance in accessing historic gridded rainfall and temperature data across southern Australia, and James Ridsdill-Smith, School of Animal Biology, University of Western Australia, and Richard Lewellyn, CSIRO Australia for their expert suggestions on the manuscript. Two reviewers made very helpful suggestions for improving the clarity and rigour of the manuscript. Funding for the project was provided by the Grains Research and Development Corporation through the National Invertebrate Pest Initiative.
About this article
Cite this article
McDonald, G., Umina, P.A., Macfadyen, S. et al. Predicting the timing of first generation egg hatch for the pest redlegged earth mite Halotydeus destructor (Acari: Penthaleidae). Exp Appl Acarol 65, 259–276 (2015). https://doi.org/10.1007/s10493-014-9876-x
Received:

Accepted:

Published:

Issue Date:
Keywords
Integrated pest management

Phenology models

Pest outbreaks

Sustainable agriculture

Grain crops

Pasture

Adaptation