Abstract
Natural infestation of Amblyomma dubitatum in relation to individual specific attributes of Hydrochoerus hydrochaeris such as sex, body mass and body condition was analyzed. The anatomical distribution of A. dubitatum on H. hyrochaeris was also evaluated. Prevalence of adults and nymphs were significantly higher than prevalence of larvae. Non-significant differences in the infestation levels were found among host sex. Multiple regression analysis did not show any statistically significant association among the level of infestation with ticks and body mass and body condition of the host. All parasitic tick stages were collected in all five anatomical areas of the host, but they exhibited significant differences in feeding site preference. Factors associated to the host which determine the high levels of infestation with A. dubitatum could be assigned to a combination of population-level properties of the host as abundance, ubiquity and aggregation, rather than individual specific attributes related to body condition, body mass or sex.
Access options
Buy single article
Instant access to the full article PDF.
US$ 39.95
Tax calculation will be finalised during checkout.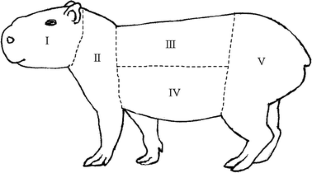 References
Aléssio FM, Dantas-Torres F, Siqueira DB, Lizée MH, Marvulo MFV, Martins TF, Labruna MB, Silva JCR, Mauffrey JF (2012) Ecological implications on the aggregation of Amblyomma fuscum (Acari: Ixodidae) on Trichomys laurentius (Rodentia: Echimyidae), in northeastern Brazil. Exp Appl Acarol 57:83–90

Almeida ATS, Daemon E, Faccini JLH (2001) Life cycle of female ticks of Amblyomma cooperi Nuttal & Warburton, 1908 (Acari: Ixodidae) under laboratory conditions. Arq Bras Med Vet Zootech 53:316–320

Beldoménico PM, Lareschi M, Nava S, Mangold AJ, Guglielmone AA (2005) The parasitism of immature stages of Ixodes loricatus (Acari: Ixodida) on wild rodents in Argentina. Exp Appl Acarol 36:139–148

Brunner JL, Ostfeld RS (2008) Multiple causes of variable tick burdens on small-mammal hosts. Ecology 89:2259–2272

Chacón SC, Freitas LH, Barbieri FDS, Faccini JLH (2004) Relacao entre peso e número de ovos, larvas e ninfas ingurgitadas de Amblyomma cooperi Nuttal e Warburton, 1908 (Acari: Ixodidae) a partir de infestacoes experimentais em coelhos domésticos. Rev Bras Parasitol Vet 13:6–12

Corriale MJ, Orozco MM, Perez IJ (2013) Parámetros poblacionales y estado sanitario de carpinchos (Hydrochoerus hydrochaeris) en lagunas artificiales de los Esteros del Iberá. Mastozool Neotr 20:31–45

Daniels TJ, Fish D (1990) Spatial distribution and dispersal of unfed larval Ixodes dammini (Acari: Ixodidae) in Southern New York. Environ Entomol 19:1029–1033

Dantas-Torres F, Siqueira DB, Rameh-de-Albuquerque LC, Da Silva e Souza D, Zanotti AP, Ferreira DRA, Martins TF, De Senna MB, Wagner PGC, Da Silva MA, Marvulo MFV, Labruna MB (2010) Ticks infesting wildlife species in Northeastern Brazil with new host and locality records. J Med Entomol 47:1243–1246

Debárbora VN, Nava S, Cirignoli S, Guglielmone AA, Poi ASG (2012) Ticks (Acari: Ixodidae) parasitizing endemic and exotic wild mammals in the Esteros del Iberá wetlands, Argentina. Syst Appl Acarol 17:243–250

Debárbora VN, Mangold AJ, Oscherov EB, Guglielmone AA, Nava S (2014) Study of the life cycle of Amblyomma dubitatum (Acari: Ixodidae) based on field and laboratory data. Exp Appl Acarol. doi:10.1007/s10493-014-9767-1

Devevey G, Brisson D (2012) The effect of spatial heterogenity on the aggregation of ticks on white-footed mice. Parasitology 139:915–925

Eberhardt AT, Costa SA, Marini MR, Racca A, Baldi CJ, Robles MR, Moreno PG, Beldomenico PM (2013) Parasitism and physiological trade-offs in stressed capybaras. PLoS ONE 8:e70382

Guglielmone AA, Viñabal AE (1994) Claves morfológicas dicotómicas e información ecológica para la identificación de garrapatas del género Amblyomma Koch, 1844 de la Argentina. Rev Invest Agrop 25:39–67

Hughes VL, Randolph SE (2001) Testosterone depresses innate and acquired resistance to ticks in natural rodent hosts: a force for aggregated distributions of parasites. J Parasitol 87:49–54

Hugot JP (2006) Coevolution of macroparasites and their small mammalian hosts: cophylogeny and coadaptation. In: Morand S, Krasnov BR, Poulin R (eds) Micromammals and macroparasites: from evolutionary ecology to management. Springer, Tokyo, pp 257–276

Joan T (1930) El amblyomma (sic) de Cooper y demás garrapatas de los carpinchos. 5ª Reunión de la Sociedad Argentina de Patología Regional Norte, Jujuy, Argentina 2:1168–1179

Jokela J, Schmid-Hempel P, Rigby MC (2000) Dr. Pangloss restrained by the Red Quenn—steps towards a unified defence theory. Oikos 89:267–274

Kiffner C, Lodige C, Alings M, Vor T, Ruhe F (2011) Attachment site selection of ticks on roe deer, Capreolus capreolus. Exp Appl Acarol 53:79–94

Klein SL (2004) Hormonal and immunological mechanism mediating sex differences in parasite infection. Parasite Inmunol 26:247–264

Krasnov BR, Shenbrot GI, Khokhlova IS, Degen AA (2004) Flea species richness and parameters of host body, host geography and host "milieu". J Anim Ecol 73:1121–1128

Krasnov BR, Morand S, Hawlena H, Khokhlova IS, Shenbrot GI (2005) Sex-biased parasitism, seasonality and sexual size dimorphism in desert rodents. Oecologia 146:209–217

Krasnov BR, Stanko M, Morand S (2007) Host community structure and infestation by ixodid ticks: repeatability, dilution effect and ecological specialization. Oecologia 154:185–194

Krebs CJ (1999) Ecological methodology. Wesley Longman, New York

Krist AC, Jokela J, Wiehn J, Lively CM (2004) Effects of host conditions on susceptibility to infection, parasite developmental rate, and parasite transmission in a snail-trematode interactions. J Evol Biol 17:33–40

Labruna MB, Pinter A, Texeira RHF (2004) Life cycle of Amblyomma cooperi (Acari: Ixodidae) using capybaras (Hydrochaeris hydrochaeris) as hosts. Exp Appl Acarol 32:79–88

Lutermann H, Medger K, Horak IG (2012) Effects of life-history traits on parasitism in a monogamous mammal, the eastern rock sengi (Elephantulus myurus). Naturwissenschaften 99:103–110

Martins TF, Onofrio VC, Barros-Battesti DM, Labruna MB (2010) Nymphs of the genus Amblyomma (Acari: Ixodidae) of Brazil: descriptions, redescriptions, and identification key. Ticks Tick-borne Dis 1:75–99

Moore SL, Wilson K (2002) Parasites as a viability cost of sexual selection in natural populations of mammals. Science 297:2015–2018

Mooring MS, McKenzie AA, Hart BL (1996) Role of sex and breeding status in grooming and total tick load impala. Behav Ecol Sociobiol 39:259–266

Nava S, Venzal JM, Labruna MB, Mastropaolo M, González EM, Mangold AJ, Guglielmone AA (2010) Hosts, distribution and genetic divergence (16S rDNA) of Amblyomma dubitatum. Exp Appl Acarol 51:335–351

Neiff JJ, Poi de Neiff ASG (2006) Situación ambiental en la ecorregión Iberá. In: Brown A, Martinez Ortiz U, Acerbi M, Corcuera J (eds) La situación ambiental Argentina. Fundación Vida Silvestre, Buenos Aires, pp 177–184

Pacala SW, Dobson AP (1988) The relation between the number of parasites/host and host age: population dynamics causes and maximum likelihood estimation. Parasitology 96:197–210

Patterson BD, Dick CW, Dittmar K (2008) Parasitism by bat flies (Diptera: Streblidae) on neotropical bats: effects of host body size, distribution, and abundance. Parasitol Res 103:1091–1100

Perkins SE, Cattadori IM, Tagliapietra V, Rizzoli AP, Hudson PJ (2003) Empirical evidence for key hosts in persistence of a tick-borne disease. Int J Parasitol 33:909–917

Pilosof S, Lareschi M, Krasnov BR (2012) Host body microcosm and ectoparasite infracommunities: arthropod ectoparasites are not spatially segregated. Parasitology 139:1739–1748

Poulin R (1993) The disparity between observed and uniform distributions: a new look at parasite aggregation. Int J Parasitol 23:937–944

Poulin R (2007) Evolutionary ecology of parasites. Princenton University Press, New Jersey

Poulin R, George-Nascimento M (2007) The scaling of total biomass with host body mass. Int J Parasitol 37:359–364

Randolph SE, Steele GM (1985) An experimental evaluation of conventional control measures against the sheep tick, Ixodes ricinus (L.) (Acari: Ixodidae). II. The dynamics of the tick-host interaction. Bull Ent Res 75:501–518

Rosá R, Rizzoli A, Ferrari N, Pugliese A (2006) Models for host-macroparasite interactions in micromammals. In: Morand S, Krasnov BR, Poulin R (eds) Micromammals and Macroparasites: from evolutionary ecology to management. Springer, Tokyo, pp 319–348

Rózsa L, Reiczigel J, Majoros G (2000) Quantifying parasites in samples of hosts. J Parasitol 86:228–232

Shaw DJ, Grenfell BT, Dobson AP (1998) Patterns of macroparasite aggregation in wildlife host populations. Parasitology 117:597–610

Wilson K, Grenfell BT, Shaw DJ (1996) Analysis of aggregated parasite distributions: a comparison of methods. Funct Ecol 10:592–601

Zar JH (1999) Biostatistical analysis. Prentice-Hall, New Jersey
Acknowledgments
We are grateful to INTA, Asociación Cooperadora INTA Rafaela, and CONICET for providing financial support. Fieldwork was conducted with the support of The Conservation Land Trust Argentina. We thank Sebastián Cirignoli and Oscar Warnke for assisting with fieldwork.
About this article
Cite this article
Debárbora, V.N., Mangold, A.J., Eberhardt, A. et al. Natural infestation of Hydrochoerus hydrochaeris by Amblyomma dubitatum ticks. Exp Appl Acarol 63, 285–294 (2014). https://doi.org/10.1007/s10493-014-9768-0
Received:

Accepted:

Published:

Issue Date:
Keywords
Amblyomma dubitatum
Hydrochoerus hydrochaeris

Host-parasite relationship