Abstract
The plant-based repellent TT-4302 (5 % geraniol) was compared to deet (15 %) in laboratory two-choice bioassays against the ticks Amblyomma americanum, Dermacentor variabilis, Ixodes scapularis, and Rhipicephalus sanguineus. At 2.5 and 3.5 h after treatment of filter paper with TT-4302, 100 % repellency was observed for all species at both time points with the exception of I. scapularis at the 3.5 h evaluation where repellency was 95.8 %. Deet was 100 % repellent at both time points for D. variabilis and R. sanguineus and was 100 % repellent at the 2.5 h evaluation for I. scapularis. Repellency of deet to A. americanum was 88.9 and 95.8 % at 2.5 and 3.5 h, respectively which was not significantly different than that of TT-4302. No significant difference against I. scapularis was observed between TT-4302 and deet at 3.5 h after treatment where deet was 87.5 % repellent. A variant of TT-4302, TT-4228 was tested in the laboratory against A. americanum and was compared to deet (15 %) in field trials against wild populations of ticks in North Carolina, USA. In the laboratory, TT-4228 was 94.4 and 87.5 % repellent at 2.5 and 3.5 h after treatment, respectively. In the field where the predominant tick species was A. americanum, significantly fewer ticks were collected from socks worn by human volunteers that were treated with TT-4228 compared to those treated with deet 2.5 or 3.5 h after treatment. Significantly fewer ticks were recovered from socks treated with TT-4228 than their paired untreated controls 2.5 or 3.5 h after treatment and repellencies were 90 and 70 %, respectively. Fewer ticks were collected from deet-treated compared to their paired untreated socks 2.5 h after application; however, no significant difference was found in the number of ticks collected from deet-and untreated socks 3.5 h after treatment.
This is a preview of subscription content, log in to check access.
Access options
Buy single article
Instant access to the full article PDF.
US$ 39.95
Price includes VAT for USA
Subscribe to journal
Immediate online access to all issues from 2019. Subscription will auto renew annually.
US$ 199
This is the net price. Taxes to be calculated in checkout.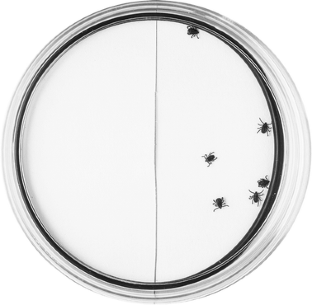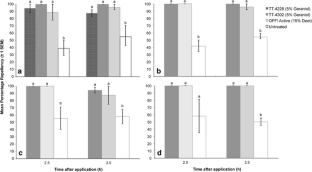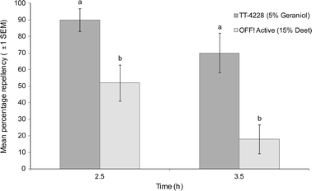 References
Aquino M, Fyfe M, MacDougall L, Remple V (2004) West Nile virus in British Columbia. Emerg Infect Dis 10:1499–1501

Arctander S (2003) Perfume and flavor chemicals (aroma chemicals), vol 1. Allured Publishing Corporation, Illinois

Bissinger BW, Roe RM (2010) Tick repellents: past, present, and future. Pestic Biochem Physiol 96:63–79

Bissinger BW, Apperson CS, Sonenshine DE, Watson DW, Roe RM (2009) Efficacy of the new repellent BioUD® against three species of ixodid ticks. Exp Appl Acarol 48:239–250

Bissinger BW, Apperson CS, Watson DW, Arellano C, Sonenshine DE, Roe RM (2011) Novel field assays and the comparative repellency of BioUD®, deet, and permethrin against Amblyomma americanum. Med Vet Entomol 25:217–226

Carroll JF, Solberg VB, Klun JA, Kramer M, Debboun M (2004) Comparative activity of deet and AI3-37220 repellents against the ticks Ixodes scapularis and Amblyomma americanum (Acari: Ixodidae) in laboratory bioassays. J Med Entomol 41:249–254

Carroll JF, Benante JP, Klun JA, White CE, Debboun M, Pound JM, Dheranetra W (2008) Twelve-hour duration testing of cream formulations of three repellents against Amblyomma americanum. Med Vet Entomol 22:144–151

Carroll JF, Paluch G, Coats J, Kramer M (2010) Elemol and amyris oil repel the ticks Ixodes scapularis and Amblyomma americanum (Acari: Ixodidae) in laboratory bioassays. Exp Appl Acarol 51:383–392

Draper NR, Smith H (1981) Applied regression analysis. Wiley, New York

Garboui SS, Borg-Karlson A-K, Pållson K (2009) Tick repellent properties of three Libyan plants. J Med Entomol 46:1415–1419

Jaenson TGT, Garboui S, Pållson K (2006) Repellency of oils of lemon eucalyptus, geranium, and lavender and the mosquito repellent MyggA Natural to Ixodes ricinus (Acari: Ixodidae) in the laboratory and field. J Med Entomol 43:731–736

Jordan RA, Schulze TL, Dolan MC (2012) Efficacy of plant-derived and synthetic compounds on clothing as repellents against Ixodes scapularis and Amblyomma americanum (Acari: Ixodidae). J Med Entomol 49:101–106

Khallaayoune K, Biron JM, Chaoui A, Duvallet G (2009) Efficacy of 1 % geraniol (Fulltec) as a tick repellent. Parasite 16:223–226

Kimps NW, Bissinger BW, Apperson CS, Sonenshine DE, Roe RM (2011) First report of the repellency of 2-tridecanone against ticks. Med Vet Entomol 25:202–208

Masters E, Grigery CN, Masters RW (2008) STARI or masters disease: lone star tick-vectored Lyme-like illness. Infect Dis Clin N Am 22:361–376

McMullen LK, Folk SM, Kelly AJ, MacNeil A, Goldsmith CS, Metcalfe MG, Batten BC, Albariño CG, Zaki SR, Rollin PE, Nicholson WL, Nichol ST (2012) A new Phlebovirus associated with severe febrile illness in Missouri. N Engl J Med 367:834–841

Merten HA, Durden LA (2000) A state-by-state survey of ticks recorded from humans in the United States. J Vector Ecol 25:102–113

Mkolo MN, Magano MR (2007) Repellent effects of the essential oil of Lavendula angustifolia against adults of Hyalomma marginatum rufipes. JS Afr Vet Assoc 78:149–152

Moore SJ, Lenglet A, Hill N (2007) Plant-based insect repellents. In: Debboun M, Frances S, Strickman D (eds) Insect repellents: principles, methods, and uses. CRC Press, Boca Raton, pp 305–310

Nicholson WL, Sonenshine DE, Lane RS, Uilenberg G (2009) Ticks (Ixodida). In: Mullen GR, Durden LA (eds) Medical and veterinary entomology. Academic Press, Burlington, pp 493–542

Salafsky B, He Y-X, Li J, Shibuya T, Ramaswamy K (2000) Study on the efficacy of a new long-acting formulation of N,N-diethyl-m-toluamide (DEET) for the prevention of tick attachment. J Trop Med Hyg 62:169–172

SAS Institute (2000–2004) SAS 9.1.3 help and documentation. SAS Institute, Cary, NC, USA

Schreck CE, Fish D, McGovern TP (1995) Activity of repellents applied to skin for protection against Amblyomma americanum and Ixodes scapularis ticks (Acari: Ixodidae). JAMA 11:136–140

Schulze TL, Jordan RA, White JC, Roegner V, Healy SP (2011) Geographical distribution and prevalence of selected Borrelia, Ehrlichia, and Rickettsia infections in Amblyomma americanum (Acari: Ixodidae) in New Jersey. J Mosq Control Assoc 27:236–244

Sonenshine DE (1993) Biology of ticks, vol 2. Oxford University Press, New York

Thorsell W, Mikiver A, Tunón H (2006) Repelling properties of some plant materials on the tick Ixodes ricinus L. Phytomedicine 13:132–134

Tunón H, Thorsell W, Mikiver A, Malander I (2006) Arthropod repellency, especially tick (Ixodes ricinus), exerted by extract from Artemisia abrotanum and essential oil from the flowers of Dianthus caryophyllum. Fitoterapia 77:257–261

United States Centers for Disease Control and Prevention (2012) DEET, showers, and tick checks can stop ticks. http://www.cdc.gov/Features/StopTicks/. Accessed 19 July 2012

Weldon PJ, Carroll JF, Kramer M, Bedoukian RH, Coleman RE, Bernier UR (2011) Anointing chemicals and hematophagous arthropods: responses by ticks and mosquitoes to citrus (Rutaceae) peel exudates and monoterpene components. J Chem Ecol 37:348–359
Acknowledgments
The authors are grateful to Bryan LeBlanc (TyraTech) for technical assistance and Daniel Sonenshine (Department of Biological Sciences, Old Dominion University) for providing D. variabilis. Funding for this project was provided by TyraTech.
About this article
Cite this article
Bissinger, B.W., Schmidt, J.P., Owens, J.J. et al. Activity of the plant-based repellent, TT-4302 against the ticks Amblyomma americanum, Dermacentor variabilis, Ixodes scapularis and Rhipicephalus sanguineus (Acari: Ixodidae). Exp Appl Acarol 62, 105–113 (2014). https://doi.org/10.1007/s10493-013-9719-1
Received:

Accepted:

Published:

Issue Date:
Keywords
Deet

Essential oil

Geraniol