Abstract
After insects, mites are the major arthropod pests that inhabit stored agricultural products worldwide. To determine the acarofauna that infests cowpea, maize, paddy rice and sorghum in Benin (West Africa), surveys were conducted in some principal markets (Dantokpa, Glazoue and Parakou) of this country. A total of 555 samples of grains and debris were collected in May and September 2011. More than 56 species belonging to 24 mite families were recorded in the four products. These mite species included predators, parasites, fungivorous, phytophagous and other groups whose feeding habits are not well known. The family Cheyletidae was the most prevalent and the most diverse predatory mite family encountered, in which Cheyletus malaccensis Oudemans was the most abundant species. Several families of mite pests and mites responsible for allergies (Acaridae, Glycyphagidae, Pyroglyphidae, Pyemotidae and Saproglyphidae) were also detected. The three most dominant and frequent species were C. malaccensis, Suidasia nesbitti (Hughes) and Suidasia sp. Statistical analysis showed that densities of these three mite species were higher in Parakou than in Glazoue and Dantokpa, on one hand, and higher in debris than in grains, on the other hand. The densities of S. nesbitti and Suidasia sp. decreased significantly during the dry season, whereas C. malaccensis remained stable throughout the two samplings. Of all grains, sorghum was the least infested with mites. This study shows that in Benin mites are present in stored agricultural products to which they cause serious damage, and may cause various allergies to people.
Access options
Buy single article
Instant access to the full article PDF.
USD 39.95
Price includes VAT (USA)
Tax calculation will be finalised during checkout.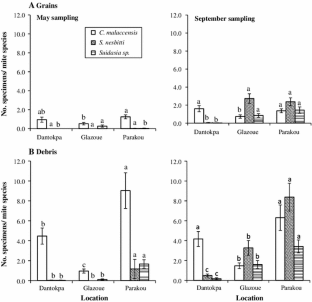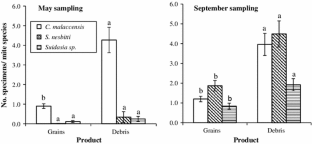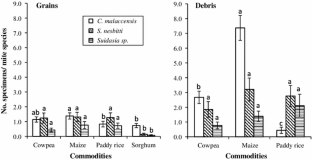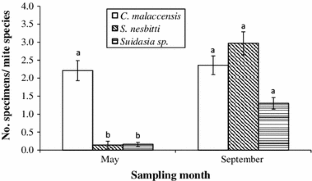 References
Abate T, van Huis A, Ampofo JKO (2000) Pest management in traditional agriculture: an African perspective. Ann Rev Entomol 45:631–659

Aspaly G, Stejskal V, Pekár S, Hubert J (2007) Temperature-dependent population growth of three species of stored product mites (Acari: Acaridida). Exp Appl Acarol 42:37–46

Bagheri M, Mohajer SS, Saboori A, Asadeh G, Ueckermann EA (2011) Storchia yazdaniani n. sp., a new species of the genus Storchia oudemans, 1923 (acari: prostigmata: stigmaeidae) from northern Iran. Acarologia 51(1):87–91

Broce AB, Zurek L, Kalisch JA, Brown R, Keith DL, Gordon D, Goedeke J, Welbourn C, Moser J, Ochoa R, Azziz-Baumgartner E, Yip F, Weber J (2006) Pyemotes herfsi (Acari: Pyemotidae), a mite new to North America as the cause of bite outbreaks. J Med Entomol 43(2):610–613

Collins DA (2012) A review on the factors affecting mite growth in stored grain commodities. Exp Appl Acarol 56:191–208

Colloff MJ (1998) Taxonomy and identification of dust mites. Allergy 53(48):7–12

Colloff MJ (2009) Dust mites. CSIRO Publishing, Australia 600 pp

Curp JG (2008) The influence of stored-product mites on the function of skin microvascular endothelial cells. A thesis submitted in partial fulfillment of the requirements for the degree of Master of Science Wright State University, 13 pp

Danielsen C, Stengard L, Nachman G, Herling C (2003) The influence of temperature and relative humidity on the development of Lepidoglyphus destructor (Acari: Glycyphagidae) and its production of allergens: a laboratory experiment. Exp Appl Acarol 32:151–170

Fan Q-H, Zhang Z-Q (2004) Revision of Rhizoglyphus Claparède (Acari: Acaridae) of Australasia and Oceania. Systematic & Applied Acarology Society, London, 374 pp

Fleurat-Lessard F (1988) Insects. In: Multon JL (ed) Preservation and storage of grains, seeds and their byproducts; Cereals, Oilseeds, Pulses and Animal feed. Lavoisiser Publishing Incorporated, New York, pp 267–408

Franz JT, Masuch G, Müsken H, Bergmann KC (1997) Mite fauna of German farms. Allergy 52:1233–1237

Franzolin MR, Gambale W, Cuero RG, Correa B (1999) Interaction between toxigenic Aspergillus flavus Link and mites (Tyrophagus putrescentiae Schrank) on maize grains: effects on fungal growth and aflatoxin production. J Stored Prod Res 35:215–224

Gorham JR (1991) Insect and mite pests in food; An illustrated key. U.S. Department of Agriculture, Agriculture Handbook Number, pp 3–43

Hubert J, Stejskal V, Kubátová A, Münzbergová Z, Váňová M, Žďárková E (2003) Mites as selective fungal carriers in stored grain habitats. Exp Appl Acarol 29:69–87

Hubert J, Münzbergová Z, Kučerová Z, Stejskal V (2006) Comparison of communities of stored product mites in grain mass and grain residues in the Czech Republic. Exp Appl Acarol 39:149–158

Konishi E, Uehara K (1995) Distribution of Dermatophagoides mite (Acari: Pyroglyphidae) antigens in homes of allergic patients in Japan. Exp Appl Acarol 19:275–286

Kossou KD, Aho N (1993) Stockage et conservation des grains alimentaires tropicaux. Cotonou Bénin: Les Editions du Flamboyant 50 pp

Krantz GW (1978) A manual of acarology, 2nd edn. Oregon State University, Covalis 509 pp

Mahmood SU, Bashir MH, Afzal M, Ashfaq M (2012) Evaluation of Germination Losses Caused by Mites in Seeds of Maize and Mung From Farmers's Holdings in Tehsil Toba Tek Singh. Pakistan J Zool 44(1):117–121

Mercado D, Puerta L, Caraballo L (2001) Life-cycle of Suidasia medanensis (= pontifica) (Acari: Suidasiidae) under laboratory conditions in a tropical environment. Exp Appl Acarol 25:751–755

Nayak MK (2006) Management of mould mite Tyrophagus putrescentiae (Schrank) (Acarina: Acaridae): a case study in stored animal feed. Int Pest Control 48:128–130

Nukenine NE (2010) Stored product protection in Africa: past, present and future. 10th International working conference on stored product protection. doi:10.5073/jka.2010.425.177

Palyvos NE, Emmanouel NG (2004) A preliminary study on the predation by Cheyletus malaccensis Oudemans (Acarina: Cheyletidae) on Tyrophagus putrescentiae (Schrank) (Acarina: Acaridae) and eggs of Ephestia kuehniella Zeller (Lepidoptera: Pyralidae). In: Biocontrol of arthropod pests in stored products. Proceedings, 4th meeting of COST action 842 WG4, May 24–25, 2004, Athens, pp 46–47

Palyvos NE, Emmanouel NG (2011) Reproduction, survival, and life table parameters of predatory mite Cheyletus malaccensis (Acari: Cheyletidae) at various constant temperatures. Exp Appl Acarol 54:139–150

Palyvos NE, Emmanouel NG, Saitanis CJ (2008) Mites associated with stored products in Greece. Exp Appl Acarol 44:213–226

Pulpán J, Verner PH (1965) Control of Tyroglyphoid mites in stored grain by the predatory mite Cheyletus eruditus (Schrank). Can J Zool 45:417–432

Rajashekar Y, Bakthavatsalam N., Shivanandappa T (2012) Review article on botanicals as grain protectants. doi:10.1155/2012/646740

Reichmuth C, Hansen LS, Wildey K, Hamel D, Pelz H-J, Camon T, Kroos G, Pérez GH (2008) Health risks and safety hazards related to insects and mites in stored products. Guidelines for risk assessment, prevention and management. Council of Europe Public Health Committee. Council of Europe Publishing. Strasbourg Cedex, France. 190 pp. ISBN-13: 978-92-871-6362-2

Sanchez-Ramos I, Alavarez-Alfageme F, Castanera P (2007) Development and survival of the cheese mites, Acarus farris and Tyrophagus neiswanderi (Acari: Acaridae), at constant temperatures and 90% relative humidity. J Stored Prod 43(64–72):22

SAS Institute (2008) Software Version 9.2 (TSMO) Cary, North Carolina, USA

Stejskal V, Hubert J (2008) Risk of occupational allergy to stored grain Arthropods and false pest-risk perception in Czech grain stores. Ann Agric Environ Med 15:29–35

Stejskal V, Hubert J, Kučerová Z, Műnzbergová Z, Lukáš J, Žďárková E (2003) The influence of the type of storage on pest infestation of stored grain in the Czech Republic. Plant Soil Environ 49:55–62

Szilman P, Szilman E, Szilman M, Meszyñska EB, Maniurka H, Solarz K, Sieroñ A (2006) Occupational exposure to allergenic mites among workers of the Silesian Zoo. Biol Lett 43(2):375–380

Yaninek JS, Moraes GJ, Markham RH (1989) Handbook on the Cassava Green Mite (Mononychellus tanajoa) in Africa. A guide to its biology and procedures for implementing classical biological control. International Institute of Tropical agriculture, Ibadan, Nigeria, 140 pp

Žďárková E (1998) Mite fauna of stored grain in the Czech Republic. Plant Prot Sci 34(2):49–52
Acknowledgments
To A. Onzo (International Institute of Tropical Agriculture; University of Parakou), for his valuable suggestions and comments, B. Bovis (International Institute of Tropical Agriculture) for his valuable help in the accomplishment of this study and International Institute of Tropical Agriculture for providing facilities for this study.
About this article
Cite this article
Zannou, I.D., Adebo, H.O., Zannou, E. et al. Mites associated with stored grain commodities in Benin, West Africa. Exp Appl Acarol 61, 449–470 (2013). https://doi.org/10.1007/s10493-013-9714-6
Received:

Accepted:

Published:

Issue Date:
Keywords
Maize

Cowpea

Sorghum

Paddy rice

Grain debris

Mites