Abstract
By the end of the 1960s, the argasid tick Ornithodoros peropteryx was described from larval specimens collected from the bat Peropteryx macrotis in Colombia. Since its original description, no additional record of O. peropteryx has been reported, and its post-larval stages have remained unknown. During July 2010, 18 larvae were collected from 9 bats (Centronycteris maximiliani), resulting in a mean infestation of 2.0 ± 2.2 ticks per bat (range 1–8). These bats were captured in a farm in northeastern Bolivia close to Guaporé River in the border with Brazil. Morphological examinations of the larvae revealed them to represent the species O. peropteryx. One engorged larva that was kept alive in the laboratory moulted to a nymph after 9 days. Fourteen days after the larval moulting, the nymph moulted to an adult female without taking any blood meal during the nymphal period. This adult female was used for a morphological description of the female stage of O. peropteryx. In addition, the larvae were used for a morphological redescription of this stage. One larva and two legs extirpated from the adult female were submitted to DNA extraction and PCR targeting a fragment of the mitochondrial 16S rDNA gene, which yielded DNA sequences at least 11 % divergent from any available argasid sequence in Genbank. We show that O. peropteryx ontogeny is characterized by a single, non-feeding, nymphal stage. This condition has never been reported for ticks.
Access options
Buy single article
Instant access to the full article PDF.
US$ 39.95
Tax calculation will be finalised during checkout.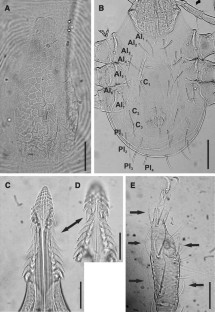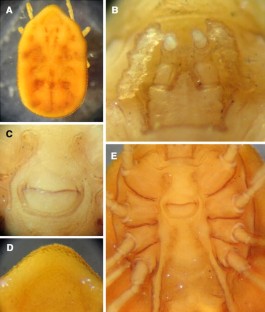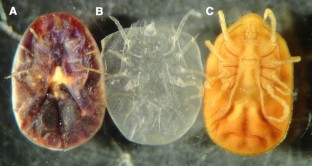 References
Bacha WJ Jr (1957) The life history of Otobius lagophilus. J Parasitol 43:560–565

Balashov YS (1972) Bloodsucking ticks (Ixodoidea)—vectors of diseases of man and animals. Misc publ Entomol Soc Am 8:160–376

Camicas JL, Hervy JP, Adam F, Morel PC (1998) Les tiques du monde. Éditions de I'Orstom, Institut Français de Recherche Scientifique pour le Développement en Coopération, Paris, p 233

Cooley RA, Kohls GM (1940) Two new species of Argasidae (Acarina: Ixodoidea). Publ Health Rep 55:925–933

Cooley RA, Kohls GM (1944) The Argasidae of North America, Central America and Cuba. Am Midl Nat Monogr 1:1–152

Guglielmone AA, Estrada-Peña A, Keirans JE, Robbins RG (2003) Ticks (Acari: Ixodida) of the neotropical zoogeographic region. International Consortium on Ticks and Tickborne Diseases, Atalanta, Houten, The Netherlands, 173 pp

Guglielmone AA, Robbins RG, Apanaskevich DA, Petney TA, Estrada-Peña A, Horak IG, Shao R, Barker SC (2010) The Argasidae, Ixodidae and Nuttalliellidae (Acari: Ixodida) of the world: a list of valid names. Zootaxa 2528:1–28

Jones EK, Clifford CM (1972) The systematics of the subfamily Ornithodorinae (Acarina: Argasidae).V. A revised key to larval Argasidae of the western hemisphere and description of seven new species of Ornithodoros. Ann Entomol Soc Am 65:730–740

Kohls GM, Sonenshine DE, Clifford CM (1965) The systematics of the subfamily Ornithodorinae (Acarina: Argasidae). II. Identification of the larvae of the Western hemisphere and description of three new species. Ann Entomol Soc Am 58:331–364

Kohls GM, Clifford CM, Jones EK (1969) The systematics of the subfamily Ornithodorinae (Acarina: Argasidae). IV. Eight new species of Ornithodoros from the Western hemisphere. Ann Entomol Soc Am 62:1035–1043

Mangold AJ, Bargues MD, Mas-Coma S (1998) Mitochondrial 16S rDNA sequences and phylogenetic relationships of species of Rhipicephalus and other tick genera among Metastriata (Acari: Ixodidae). Parasitol Res 84:478–484

Sangioni LA, Horta MC, Vianna MCB, Gennari SM, Soares RM, Galvão MAM, Schumaker TTS, Ferreira F, Vidotto O, Labruna MB (2005) Rickettsial infection in animals and Brazilian spotted fever endemicity. Emerg Infect Dis 11:265–270

Sonenshine DE (1991) Biology of ticks, vol 1. Oxford University Press, New York, p 345

Wanchinga DM, Barker RW (1986) Colonization and laboratory development of Otobius megnini (Acari: Argasidae). J Econ Entomol 79:999–1002
Acknowledgments
We thank Lorenza Beati (United States National Tick Collection, Statesboro, USA) for her efforts in searching for type specimens O. peropteryx, and Alberto Guglielmone (INTA, Argentina) for his comments on an earlier version of this manuscript. This work was supported by Fundação de Amparo à Pesquisa do Estado de São Paulo, (FAPESP), Conselho Nacional de Desenvolvimento Científico e Tecnológico (CNPq), and Coordenação de Aperfeiçoamento de Pessoal de Nível Superior (CAPES) from Brazil, and INTA and Asociación Cooperadora INTA Rafaela from Argentina.
About this article
Cite this article
Venzal, J.M., Nava, S., Terassini, F.A. et al. Ornithodoros peropteryx (Acari: Argasidae) in Bolivia: an argasid tick with a single nymphal stage. Exp Appl Acarol 61, 231–241 (2013). https://doi.org/10.1007/s10493-013-9689-3
Received:

Accepted:

Published:

Issue Date:
Keywords
Argasidae

Ornithodoros

Morphology

Bolivia