Abstract
The distribution of the meadow tick, Dermacentor reticulatus (Fabricius) is divided into two separate areas—Western Europe and Eastern (Russian). The break in distribution of this species falls in Poland, as well as other sites. The populations of D. reticulatus in Poland, which have been confirmed by collecting ticks from vegetation, are located in the north-eastern and western parts of the country, although there are also reports of D. reticulatus occurring on hosts in several parts of Poland which have not been confirmed by collecting ticks from vegetation. Until this research was carried out, the view was that this species does not occur in the western part of Poland in the area between the Vistula and Oder rivers. In the site surveys conducted in the Lubuskie Province (western part of Poland around the city of Zielona Góra, about 55 km from the Polish-German border), during the springtime activity peak for adult stages looking for hosts, seven natural implantations of D. reticulatus were discovered where 208 tick specimens were collected by flagging. These were exclusively adult stages, including 127 females and 81 males. Because of the distance (around 350 km) from the nearest focus in Mazuria in North-eastern Poland, the populations discovered have been named the D. reticulatus "Lubuskie Focus". The research proves for the first time that D. reticulatus occurs in Western Poland. The research indicates that D. reticulatus is the second most important tick in Poland, after Ixodes ricinus (L.), which is epidemiologically very important, especially as a parasite on dogs and cattle. The proliferation of the meadow tick in Central Europe is inseparably linked with the expansion of canine babesiosis.
Access options
Buy single article
Instant access to the full article PDF.
USD 39.95
Price includes VAT (USA)
Tax calculation will be finalised during checkout.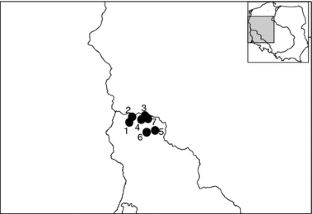 References
Biaduń W, Chybowski J, Najda N (2007) Nowe stanowiska kleszcza łąkowego Dermacentor reticulatus (Fabricius, 1794) na Lubelszczyźnie (New standings of Dermacentor reticulatus (Fabricius, 1794) in Lublin Province). Wiad Parazytol 53:29–32

Bogdaszewska Z (2004) Występowanie i ekologia kleszcza łąkowego Dermacentor reticulatus (Fabricius, 1794) w ognisku mazurskim. I. Określenie obecnego zasięgu występowania (Range and ecology of Dermacentor reticulatus (Fabricius, 1794) in Mazuria focus. I. Defining current range). Wiad Parazytol 50:727–730

Bogdaszewska Z (2005) Występowanie i ekologia kleszcza łąkowego Dermacentor reticulatus (Fabricius, 1794) w ognisku mazurskim. IV. Wyniki badań nad określeniem specyficzności żywicielskiej (Range and ecology of Dermacentor reticulatus (Fabricius, 1794) in Mazuria Focus. IV. Host specificity). Wiad Parazytol 51:39–42

Bullová E, Lukáń M, Stanko M, Pet'ko B (2009) Spatial distribution of Dermacentor reticulatus tick in Slovakia in the beginning of the 21st century. Vet Parasitol 165:357–360

Chmielewski T, Podsiadły E, Karbowiak G, Tylewska–Wierzbanowska S (2009) Rickettsia spp. in ticks, Poland. Emerg Infect Dis 15:486–488

Daugschies A (2001) Import von Parasiten durch Tourismus und Tierhandel. Dtsch Tierarztl Wochenschr 108:348–352

Dautel H, Dippel C, Oehme R, Hartelt K, Schettler E (2006) Evidence for an increased geographical distribution of Dermacentor reticulatus in Germany and detection of Rickettsia sp. RpA4. Int J Med Microbiol 296(Suppl. 40):149–156

Filippova NA, Panova IV (1989) Reviziya roda Dermacentor Koch fauny SSSR sopredelnykh territorij (Ixodoidea, Ixodidae). Parazitol Sb 35:49–95

Gray JS, Dautel H, Estrada-Peña A, Kahl O, Lindgren E (2009) Effects of climate change on ticks and tick-borne diseases in Europe. Interdiscip Perspect Infect Dis, article ID 593232. doi:10.1155/2009/593232

Heile C, Heydorn AO, Schein E (2006) Dermacentor reticulatus (Fabricius, 1794)—distribution, biology and vector for Babesia canis in Germany. Berl Münch Tierärztl Wochenschr 119:330–334

Immler RM (1973) Untersuchungen zur Biologie und Ökologie der Zecke Dermacentor reticulatus (Fabricius, 1794) (Ixodidae) in einem endemischen Vorkommensgebiet. Mitt Schweiz Ent Ges 46:2–70

Kadulski S, Izdebska JN (2009) New data on distribution of Dermacentor reticulatus (Fabr.) (Acari, Ixodidae) in Poland. In: Buczek A, Błaszak Cz (eds) Arthropods Invasion and their control. Liber, Lublin, pp 53–58

Karbowiak G (2009) Kleszcz łąkowy Dermacentor reticulatus—występowanie, biologia i rola jako wektora chorób odkleszczowych. (Dermacentor reticulatus—distribution, biology and role as a vector of numerous tick borne diseases pathogens.) Postdoctoral degree. Instytut Parazytologii im W. Stefańskiego Polska Akademia Nauk, Warszawa

Karbowiak G, Bullová E, Majláthová V, Pet'ko B, Stanko M, Wita I, Hapunik J, Czaplińska U (2008) The distribution and expansion of ornate dog tick Dermacentor reticulatus. Prirodne ohniskové nákazy, Kośice, 3–5 November, p 21

Kolonin GW (1984) Mirowoje rasprostranienije iksodowych kleszczej. Rody Dermacentor, Anocentor, Cosmiomma, Dermacentonomma, Nosomma, Rhipicentor, Rhipicephalus, Boophilus, Margaropus Anomalohimalaya. Nauka, Moskwa

Siuda K (1993) Kleszcze Polski (Acari: Ixodida). Systematyka i Rozmieszczenie część II. (Ticks (Acari: Ixodida) of Poland. Part II Taxonomy and Distribution) Polskie Towarzystwo Parazytologiczne, Warszawa

Siuda K, Zięba P, Bogdaszewska Z, Stańczak J, Sebesta R (1998) Review of data on the distribution of the tick Dermacentor reticulatus (Fabricius, 1794) (Acari, Ixodida, Ixodidae) in Poland. Zesz Nauk Akad Tech Rol Bydg 214: 55–160

Stańczak J (2006) Detection of spotted fever group (SFG) rickettsiae in Dermacentor reticulatus (Acari: Ixodidae) in Poland. Int J Med Microbiol 296(Suppl. 40):144–148

Szczurek B (2001) Pasożytnicze Acari daniela (Dama dama) z Pojezierza Pomorskiego. (Acari Parasitic of Dama Dama from Pomerian lake district). Wiad Parazytol 47(Suppl. 2):54

Szymański S (1986) Distribution of the tick Dermacentor reticulatus (Fabricius, 1794) (Ixodidae) in Poland. Acta Parasitol Pol 31:143–154

Welc-Falęciak R, Bajer A, Behnke JM, Siński E (2008) Effect of host diversity and the community composition of hard tick (Ixodidae) on Babesia microti infection. Int J Med Microbiol 298:235–242

Zivkovic Z, Nijhof AM, de la Fuente J, Kocan KM, Jongejan F (2007) Experimental transmission of Anaplasma marginale by male Dermacentor reticulatus. BMC Vet Res 3:32. doi:10.1186/1746-6148-3-32

Zygner W, Górski P, Wędrychowicz H (2009) New localities of Dermacentor reticulatus tick (vector of Babesia canis canis) in central and eastern Poland. Pol J Vet Sci 12:549–555
About this article
Cite this article
Nowak, M. Discovery of Dermacentor reticulatus (Acari: Amblyommidae) populations in the Lubuskie Province (Western Poland). Exp Appl Acarol 54, 191–197 (2011). https://doi.org/10.1007/s10493-010-9422-4
Received:

Accepted:

Published:

Issue Date:
Keywords
Dermacentor reticulatus

Fauna of Poland

Ixodida

Geographical distribution