Abstract
Diseases transmitted by ticks are causing increasing concern in Europe and all around the world. Repellents are an effective measure for reducing the risk of tick bite; products based on natural compounds represent an interesting alternative to common synthetic repellents. In this study the repellency of sweet basil (Ocimum basilicum L.) was tested against the tick Ixodes ricinus L., by using a laboratory bioassay. A bioassay-assisted fractionation allowed the identification of a compound involved in the biological activity. Eugenol appeared to be as repellent as DEET at two tested doses. Linalool, which was identified in the active fraction too, failed to give any response. Repellency of eugenol was proved also in the presence of human skin odour using a convenient and practical bioassay.
Access options
Buy single article
Instant access to the full article PDF.
USD 39.95
Price excludes VAT (USA)
Tax calculation will be finalised during checkout.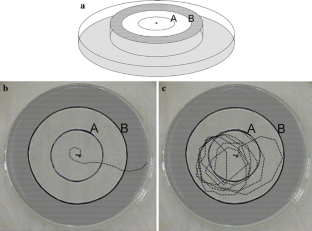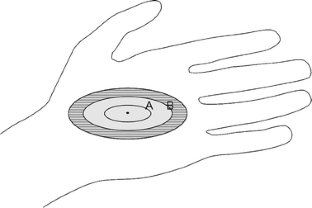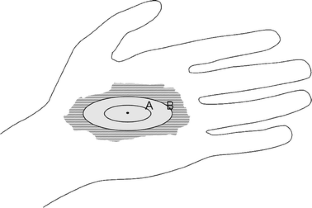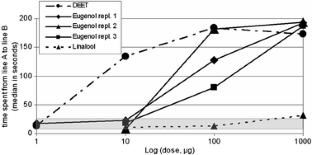 References
Abdel-Rahman A, Shetty AK, Abou-Donia MB (2001) Subchronic dermal application of N,N-diethyl m-toluamide (DEET) and permethrin to adult rats, alone or in combination, causes diffuse neuronal cell death and cytoskeletal abnormalities in the cerebral cortex and the hippocampus, and purkinje neuron loss in the cerebellum. Exp Neurol 172:153–171. doi:10.1006/exnr.2001.7807

Bindra RL, Singh AK, Gupta R, Shukla YN, Kumar S (2000) Use of essential oils containing preparation for human protection against mosquitoes. J Med Aromat Plant Sci 22:707–709

Chapman RF, Bernays EA, Simpson SJ (1981) Attraction and repulsion of the aphid, Cavariella aegopodii, by plant odors. J Chem Ecol 7:881–888. doi:10.1007/BF00992385

D'Alessandro M, Turlings TCJ (2006) Advances and challenges in the identification of volatiles that mediate interactions among plants and arthropods. Analyst (Lond) 131:24–32. doi:10.1039/b507589k

Dautel H (2004) Test systems for tick repellents. Int J Med Microbiol 293:182–188

Dobrotvorskii AK, Tkachev AV, Demenkova LI (1989) Study of the repellent activity of some plants extracts against Ixodes persulcatus. Izvestiya Sibirskogo Otdeleniya Akademii Nauk SSSR. Ser Biologicheskikh Nauk 2:62–66

Erler F, Ulug I, Yalcinkaya B (2006) Repellent activity of five essential oils against Culex pipiens. Fitoterapia 77:491–494. doi:10.1016/j.fitote.2006.05.028

Garboui SS, Jaenson TGT, Pålsson K (2006) Repellency of MyggA® Natural spray (para-menthane-3,8-diol) and RB86 (neem oil) against the tick Ixodes ricinus (Acari: Ixodidae) in the field in east-central Sweden. Exp Appl Acarol 40:271–277. doi:10.1007/s10493-006-9031-4

Gardulf A, Wohlfart I, Gustafson R (2004) A prospective cross-over field trial shows protection of lemon eucalyptus extract against tick bites. J Med Entomol 41:1064–1067

Gbolade AA, Oyedele AO, Sosan MB, Adewoyin FB, Soyelu OL (2000) Mosquito repellent activities of essential oils from two Nigerian Ocimum species. J Trop Med Plants 1:146–148

Groggel DJ, Skillings JH (1986) Distribution-free tests for main effects in multifactor designs. Am Stat 40:99–102. doi:10.2307/2684864

Hasegawa Y, Tajima K, Toi N, Sugimura Y (1997) Characteristic components found in the essential oil of Ocimum basilicum L. Flavour Frag J 12:195–200. doi :10.1002/(SICI)1099-1026(199705)12:3<195::AID-FFJ632>3.0.CO;2-O

Hwang YS, Wu KH, Kumamoto J, Axelrod H, Mulla MS (1985) Isolation and identification of mosquito repellents in Artemisia vulgaris. J Chem Ecol 11:1297–1306. doi:10.1007/BF01024117

Inazuka SI (1983) Monoterpenoids as repellents against the German cockroach (Blattella germanica L.). J Pestic Sci 8:293–299

Isman MB (2000) Plant essential oils for pest and disease management. Crop Prot 19:603–608. doi:10.1016/S0261-2194(00)00079-X

Jaenson TGT, Pålsson K, Borg-Karlson A-K (2005) Evaluation of extracts and oils of tick-repellent plants from Sweden. Med Vet Entomol 19:345–352. doi:10.1111/j.1365-2915.2005.00578.x

Jaenson TGT, Garboui S, Pålsson K (2006) Repellency of oils of lemon eucalyptus, geranium, and lavender and the mosquito repellent MyggA natural to Ixodes ricinus (Acari: Ixodidae) in the laboratory and field. J Med Entomol 43:731–736. doi:10.1603/0022-2585(2006)43[731:ROOOLE]2.0.CO;2

Katz TM, Miller JH, Hebert AA (2008) Insect repellents: historical perspectives and new developments. J Am Acad Dermatol 58:865–871. doi:10.1016/j.jaad.2007.10.005

Klun JA, Strickman D, Rowton E, Williams J, Kramer M, Roberts D et al (2004) Comparative resistance of Anopheles albimanus and Aedes aegypti to N,N-diethyl-3-methylbenzamide (Deet) and 2-methylpiperidinyl-3-cyclohexen-1-carboxamide (AI3-37220) in laboratory human-volunteer repellent assays. J Med Entomol 41:418–422

Mack GA, Skillings JH (1980) A Friedman-type rank test for main effects in a two-factor ANOVA. J Am Stat Assoc 75:947–951. doi:10.2307/2287186

Mehlhorn H, Schmahl G, Schmidt J (2005) Extract of the seeds of the plant Vitex agnus castus proven to be highly efficacious as a repellent against ticks, fleas, mosquitoes and biting flies. Parasitol Res 95:363–365. doi:10.1007/s00436-004-1297-z

Murugan K, Murugan P, Noortheen A (2007) Larvicidal and repellent potential of Albizzia amara Boivin and Ocimum basilicum Linn against dengue vector, Aedes aegypti (Insecta: Diptera: Culicidae). Bioresour Technol 98:198–201. doi:10.1016/j.biortech.2005.12.009

Mwangi EN, Hassanali A, Essuman S, Myandat E, Moreka L, Kimondo M (1995) Repellent and acaricidal properties of Ocimum suave against Rhipicephalus appendiculatus ticks. Exp Appl Acarol 19:11–18. doi:10.1007/BF00051933

Nazzi F, Milani N, Saccon I (in press) A bioassay to assess the activity of repellent substances on Ixodes ricinus nymphs. In: Proceedings "XIIth International Congress of Acarology", Amsterdam, The Netherlands, 21–26 August 2006

Prajapati V, Tripathi AK, Aggarwal KK, Khanuja SPS (2005) Insecticidal, repellent and oviposition-deterrent activity of selected essential oils against Anopheles stephensi, Aedes aegypti and Culex quinquefasciatus. Bioresour Technol 96:1749–1757. doi:10.1016/j.biortech.2005.01.007

Randolph S (2006) EDEN—emerging diseases in a changing European environment: tick-borne diseases. Int J Med Microbiol 296S1:84–86

Ruberto G, Spadaro A, Piattelli M, Piozzi F, Passannanti S (1991) Volatile flavour components of Ocimum basilicum var. hispidum (Lam.) Chiov. Flavour Frag J 6:225–227. doi:10.1002/ffj.2730060312

Schnuch A, Uter W, Geier J, Lessmann H, Frosch PJ (2007) Sensitization to 26 fragrances to be labelled according to current European regulation Results of the IVDK and review of the literature. Contact Derm 57:1–10. doi:10.1111/j.1600-0536.2007.01088.x

Schreck CE (1977) Techniques for the evaluation of insect repellents: a critical review. Annu Rev Entomol 22:101–119. doi:10.1146/annurev.en.22.010177.000533

Seyoum A, Pålsson K, Kung'a S, Kabiru EW, Lwande W, Killeen GF, Hassanali A, Knols BGJ (2002) Traditional use of mosquito-repellent plants in western Kenya and their evaluation in semi-field experimental huts against Anopheles gambiae: ethnobotanical studies and application by thermal expulsion and direct burning. Trans R Soc Trop Med Hyg 96:225–231. doi:10.1016/S0035-9203(02)90084-2

Suppakul P, Miltz J, Sonneveld K, Bigger SW (2003) Antimicrobial properties of basil and its possible application in food packaging. J Agric Food Chem 51:3197–3207. doi:10.1021/jf021038t

Thorsell W, Mikiver A, Tunón H (2006) Repelling properties of some plant materials on the tick Ixodes ricinus L. Phytomedicine 13:132–134. doi:10.1016/j.phymed.2004.04.008

Trigg JK, Hill N (1996) Laboratory evaluation of a eucalyptus-based repellent against four biting arthropods. Phytother Res 10:313–316. doi :10.1002/(SICI)1099-1573(199606)10:4<313::AID-PTR854>3.0.CO;2-O

Tunón H, Thorsell W, Mikiver A, Malander I (2006) Arthropod repellency, especially tick (Ixodes ricinus), exerted by extract from Artemisia abrotanum and essential oil from flowers of Dianthus caryophyllum. Fitoterapia 77:257–261. doi:10.1016/j.fitote.2006.02.009

Vorou RM, Papavassiliou VG, Tsiodras S (2007) Emerging zoonoses and vector-borne infections affecting humans in Europe. Epidemiol Infect 135:1231–1247. doi:10.1017/S0950268807008527
Acknowledgements
We are grateful to Dr. Iris Bernardinelli who assisted in the collection of ticks, Prof. Corrado Lagazio for his support in the statistical analysis, the "Azienda Agricola Achille Ermacora" (Pavia di Udine, UD, Italy) for providing the basil plants used in this study.
About this article
Cite this article
Del Fabbro, S., Nazzi, F. Repellent effect of sweet basil compounds on Ixodes ricinus ticks. Exp Appl Acarol 45, 219–228 (2008). https://doi.org/10.1007/s10493-008-9182-6
Received:

Accepted:

Published:

Issue Date:

DOI: https://doi.org/10.1007/s10493-008-9182-6
Keywords
Basil

Eugenol

Ixodes ricinus

Linalool

Ocimum basilicum

Tick repellents