Abstract
Greenhouse and field experiments were conducted from 2005 to 2007 to determine the effectiveness of different release times with the predatory mite, Neoseiulus californicus (McGregor), for control of the twospotted spider mite (TSSM), Tetranychus urticae Koch, in strawberries (Fragaria x ananassa Duchesne). The effect of N. californicus releases over time and on development of TSSM populations during a growing season were evaluated. Our hypothesis was that repeated applications of N. californicus, which is currently recommended by biological control companies, might be unnecessary to attain season-long control of TSSM. In greenhouse trials, three treatments consisting of releases of N. californicus at five-day intervals: day 0, day 5, and day 10, and an untreated control were evaluated. The treatment releases significantly reduced TSSM below the control within five days of each release. Neoseiulus californicus significantly reduced TSSM in treatments with high densities (leaflets with ≥ 40 TSSM) below that of treatments with lower densities (leaflets with ≤ 10 TSSM) demonstrating that if released at a predator: prey ratio of 1:10, timing of release does not alter the effectiveness of N. californicus in controlling TSSM. However, we found that if the ratio of predator: prey remains adequate, N. californicus is a more efficient predator at high TSSM densities. Field studies included three treatments consisting of releases of N. californicus at one-month intervals. All treatments significantly reduced TSSM compared with the control plots (no releases). Releases applied early in the season sustained TSSM significantly below those in the control plots for the whole season. Our results indicate that one release of N. californicus is able to sustained control of TSSM in strawberry throughout a growing season if released when TSSM populations are low early in the season in the southeastern United States.
Access options
Buy single article
Instant access to the full article PDF.
USD 39.95
Price excludes VAT (USA)
Tax calculation will be finalised during checkout.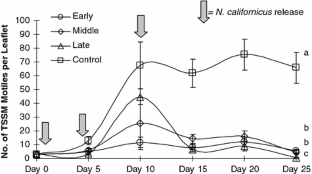 References
Cloyd RA, Galle CL, Keith SR (2006) Compatibility of three miticides with predatory mites Neoseiulus californicus McGregor and Phytoseiulus persimilis Athias-Henriot (Acari: Phytoseiidae). Hort Sci 41:707–710

Croft BA, Coop LB (1998) Heat units, release rate, prey density, and plant age effects on dispersal by Neoseiulus fallacis (Acari:Phytoseiidae) after inoculation into strawberries. J Econ Entomol 91:94–100

Croft BA, Monetti LN, Pratt PD (1998) Comparative life histories and predation types: are Neoseiulus californicus and N. fallacis (Acari: Phytoseiidae) similar type II selective predators of spider mites? Environ Entomol 27:531–538

Cross JV, Easterbrook MA, Crook AM, Crook D, Fitzgerald JD, Innocenzi PJ, Jay CN, Solomon MG (2001) Review: Natural Enemies and Biocontrol of Pests of Strawberry in North and Central Europe. Biocontrol Sc Tech 11:165–216

Dicke M, Sabelis MW (1988) How plants obtain predatory mites as bodyguards. Neth J Zool 38(2-4):148–165

Easterbrook MA (1992) The possibility for control of two-spotted spider mite Tetranychus urticae on strawberries in the UK. Biocontrol Sci Tech 2:235–245

Easterbrook MA, Fizgerald JD, Solomon MG (2004) Biological control of strawberry tarsonemid mite Phytonemus pallidus and two-spotted spider mite, Tetranychus uritcae on strawberry in the UK using species of Neoseiulus (Amblyseius) (Acari: Phytoseiidae). Exp Appl Acarol 25:25–36

Escudero LA, Farragut F (2005) Life-history of predatory mites Neoseiulus californicus and Phytoseiulus persimilis (Acari: Phytoseiidae) on four spider mites species as prey, with special reference to Tetranychus evansi (Acari: Tetranychidae). Biol Control 32:378–384

Greco NM, Tetzlaff GT, Liljesthrom GG (2004) Presence-absence sampling for Tetranychus urticae and its predator Neoseiulus californicus (Acari: Tetranychidae;Phytoseiidae) on strawberries. Int J Pest Manage 50:23–27

Greco NM, Sanchez NE, Liljesthrom GG (2005) Neoseiulus californicus (Acari:Phytoseiid) as a potential control agent of Tetranychus urticae (Acari: Tetranychidae): effect of pest/predator ratio on pest abundance on strawberry. Exp Appl Acarol 37:57–66

Hart AJ, Bale JS, Tullett AG, Worland MR, Walters KFA (2002) Effects of temperature on the establishment potential for the predatory mite Amblyseius californicus McGregor (Acari: Phytoseiid) in the UK. J Insect Physiol 48:593–599

Hassel MP, Lawton JH, Beddington JH (1976) The components of arthropod predation: the prey death rate. J Anim Ecol 45:135–164

Huffaker CB, Van De Vrie M, McMurtry JA (1969) The ecology of Tetranychid mites and their natural control. Annu Rev Entomol 14:125–174

Liburd OE, Seferina GG, Dinkins DA (2003) Suppression of twospotted spider mites. University of Florida. Insititute for Food and Agricultural Sciences. Ext Newsl Berry/Vegetable Times 3:3–4

Liburd OE, White JC, Rhodes ER, Browdy AA (2007) The residual and direct effects of reduced-risk and conventional miticides on twospotted spider mites, Tetranychus urticae (Acari: Tetranychidae) and predatory mites (Acari: Phytoseiidae). Florida Entomol 90:249–257

McMurtry JA, Croft BA (1997) Life-styles of phytoseiid mites and their roles in biological control. Annu Rev Entomol 42:291–321

Oatman ER, Badgley ME, Platner GR (1985) Predators of the two-spotted spider mite on strawberry. Calif Agri 39(1–2):9–12

Oatman ER, McMurtry JA, Gilstrap FE, Voth V (1977) Effect of releases of Amblyseius californicus on the twospotted spider mite on strawberry in Southern California. J Econ Entomol 70:638–640

Rhodes EM, Liburd OE (2005) Predatory mite, Neoseiulus californicus (McGregor) (Arachnida:Acari:Phytoseiidae). IFAS Extension. IN639. University of Florida, Gainesville, FL

Rhodes EM, Liburd OE, Kelts C, Rondon SI, Francis RR (2006) Comparison of single and combination treatments of Phytoseiulus persimilis, Neoseiulus californicus, and Acramite (bifenazate) for control of twospotted spider mites in strawberries. Exp Appl Acarol 39:213–225

Sabelis MW, Janssen A (1994) Evolution and life-history patterns in the Phytoseiidae. In: Houck MA (ed) Mites:ecological and evolutionary analysis of life history patterns. Chapman and Hall, New York, NY

Sato ME, Miyata T, Da Silva M, Raga A, De Souza Filho MF (2004) Selections for fenpyroximate resistance and susceptibility, and inheritance, cross-resistance and stability of fenpyroximate resistance in Tetranychus urticae Koch (Acari: Tetranychidae). Appl Entomol zoo 39(2):293–302

Sances FV, Wyman JA, Ting IP (1979) Morphological responses of strawberry leaves to infestations of twospotted spider mite. J Econ Entomol 72:710–713

Sances F, Wyman J, Ting I, Van Steenwyk R, Oatman E (1981) Spider mite interaction with photosynthesis, transpiration and productivity of strawberry. Environ Entomol 10:442–448

SAS Institute Inc. (2002) SAS System 9.0 for Windows. SAS Institute Inc. Cary, NC

Stonneveld T, Wainwright H, Labuschagne L (1996) Development of twospotted spider mite (Acari:Tetranychidae) populations on strawberry and raspberry cultivars. Ann Appl Biol 129:405–413

Stumpf N, Nauen N (2001) Cross-resistance, inheritance, and biochemistry of mitochondrial electron transport inhibitor-acaricide resistance in Tetranychus urticae (Acari: Tetranychidae). J Econ Entomol 94:1577–1583

Walsh DB, Zalom FG, Shaw DV, Larson KD (2002) Yield reduction caused by twospotted spider mite feeding in an advanced-cycle strawberry breeding population. J Am Soc Hort Sci 127:230–237

Wyman JA, Oatman ER, Voth V (1979) Effects of varying twospotted spider mite infestation levels on strawberry yield. J Econ Entomol 72:747–753
Acknowledgments
We thank Robert McSorley for editing earlier drafts of this manuscript. We thank Buck Nelson and the staff at the Plant Science Research and Education Unit located outside Citra, FL for assistance in managing the research plots. We would also like to thank the staff of the University of Florida Small Fruit and Vegetable Integrated Pest Management Laboratory in Gainesville, FL for assistance with field work.
About this article
Cite this article
Fraulo, A.B., Liburd, O.E. Biological control of twospotted spider mite, Tetranychus urticae, with predatory mite, Neoseiulus californicus, in strawberries. Exp Appl Acarol 43, 109–119 (2007). https://doi.org/10.1007/s10493-007-9109-7
Received:

Accepted:

Published:

Issue Date:

DOI: https://doi.org/10.1007/s10493-007-9109-7
Keywords