Abstract
This paper is a theory development to Amit, Brander, and Zott (1998, Journal of Business Venturing, 13: 441-466) on the nature of venture capital firms. In their paper, the authors argue that venture capital firms exist because they fill a market niche by developing the ability to overcome extreme information asymmetry embedded in high-risk entrepreneurial firms. However, this theory encounters difficulties in explaining a variety of organizational and behavioral divides among venture capitalists in different contexts and over time. In this paper, we apply the institution-based view to reveal the nature of venture capital. We argue that it is the venture capitalists' capability to capture economic rents from the institutional environment that distinguish them from other financial intermediaries. We show the connection of our perspective with the conventional view as well as the usefulness of this theory in explaining the development of the venture capital industry in China.
Access options
Buy single article
Instant access to the full article PDF.
USD 39.95
Price includes VAT (USA)
Tax calculation will be finalised during checkout.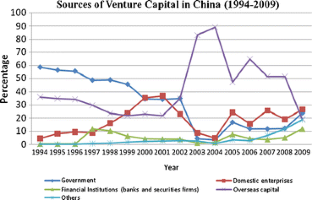 Notes
1.

By a simple example, Zider (1998) showed that only 10–20% of portfolio companies need to be winners in order to achieve the targeted rate of return. The larger the pool of funds managed by venture capitalists, the less time they can spend on each investee. In fact, the best and the worst performers require minimal time. Venture capitalists spend most of their time on the middle portfolio companies.

2.

The concept of "economic rents" has been heavily used in economics and related disciplines since its development by Ricardo in the 1800s. While its precise meaning differs across authors, the term "economic rents" has been employed widely to mean above-normal economic returns in the market (Khan, 2000; Rumelt, 1984).

3.

Note China did not have a stock market until 1990, did not have a Company Law until 1994, and did not have Contract Law and Securities Law until 1999. The launching of the Shanghai and Shenzhen stock markets in the 1990s were designed to finance the restructuring process of large and medium sized state-owned enterprises (SOEs) rather than to finance the high-tech and high-growth ventures.

4.

In the past, most foreign VC adopt a "two-head-out" strategy (also known as the "red chip" route) to invest in China. Namely, the initial investment as well as the final exit ("two heads") both took place outside China. In practice, Chinese private enterprises sought overseas listing followed an established model to set up an offshore special purpose vehicle (SPV). The SPV set up a wholly foreign-owned enterprise in China to acquire the domestic business. The SPV then applied for overseas listing thereby effectively evading any China-related government approvals.

5.

6.

The various requirements include, among other things, that the business of the investee must be in line with the government's industry development plan, the investee must have its core technology or innovative business model, and have high growth potential. Trust companies are also required to report the detailed investment plan and risk control mechanism to the CBRC. See Notice of China Banking Regulatory Commission on Issuing the Guidelines for Trust Companies to Operate the Trust Private Equity Investment Business (Promulgated by China Banking Regulatory Commission, June 25, 2008, effective on June 25, 2008, http://www.lawinfochina.com/NetLaw/display.aspx?db=law&sen=rLdDdW4drhdDdWcdrLdydW4drDdGdWfd9DdxdWdd/LdTdWudrDdxdWfd9ddYdWhd9hdYdWud&Id=7069&).
References
Amit, R., Brander, J., & Zott, C. 1998. Why do venture capital firms exist? Theory and Canadian evidence. Journal of Business Venturing, 13: 441–466.

Armour, J. 2004. The legal road to replicating Silicon Valley. Working paper no. 281, ESRC Centre for Business Research, University of Cambridge, Cambridge, UK.

AVCJ Database 2011. Asia Venture Capital Journal. http://www.asianfn.com/Research_Database.aspx.

Barney, J. 1991. Firm resources and sustained competitive advantage. Journal of Management, 17(1): 99–120.

Boisot, M. H., & Child, J. 1996. From fiefs to clans and network capitalism: Explaining China's emerging economic order. Administrative Science Quarterly, 41: 600–628.

Bottazzi, L., & Rin, M. 2002. Venture capital in Europe and the financing of innovative companies. Economic Policy, 17(34): 229.

Bruton, G. D., Ahlstrom, D., & Singh, K. 2002. The impact of the institutional environment on the venture capital industry in Singapore. Venture Capital, 4(3): 197–218.

Busenitz, L. W., Fiet, J. O., & Moesel, D. D. 2004. Reconsidering the venture capitalists' "value added" proposition: An interorganizational learning perspective. Journal of Business Venturing, 19(6): 787–807.

Chen, G. M., Firth, M., & Kim, J. 2004. IPO underpricing in China's new stock markets. Journal of Multinational Financial Management, 14(3): 283–302.

Cumming, D., & Johan, S. 2008. Information asymmetries, agency costs and venture capital exit outcomes. Venture Capital, 10(3): 197–231.

Cyert, R. M., Kumar, P., & Williams, J. R. 1993. Information, market imperfections and strategy. Strategic Management Journal, 14: 47–58.

Derrien, F., & Kent, L. W. 2003. Auctions vs. bookbuilding and the control of underpricing in hot IPO markets. Review of Financial Studies, 6(1): 31–61.

EVCA (European Venture Capital Association). 2006. EVCA Barometer June 2006, available at: http://euproject.v-ces.com/uploads/media/tmpl_27_art_43_att_1000.pdf.

Gans, J. S., & Stern, S. 2003. The product market and the market for "ideas": Commercialization strategies for technology entrepreneurs. Research Policy, 32(2): 333–350.

Guth, W., & Ginsberg, A. 1990. Guest editors' introduction: Corporate entrepreneurship. Strategic Management Journal, 11: 297–308.

Hoskisson, R. E., Eden, L., Lau, C. M., & Wright, M. 2010. Strategy in emerging economies. Academy of Management Journal, 43(3): 249–267.

Jeng, L. A., & Wells, P. C. 2000. The determinants of venture capital funding: Evidence across countries. Journal of Corporate Finance, 6: 241–289.

Khan, M. H. 2000. Rent-seeking as process. In M. H. Khan & J. K. Sundaram (Eds.). Rents, rent-seeking and economic development: Theory and evidence in Asia. Cambridge: Cambridge University Press.

Leeds, R., & Sunderland, J. 2003. Private equity investing in emerging markets. Journal of Applied Corporate Finance, 15(4): 111–119.

Li, H. B., Meng, L. S., Wang, Q., & Zhou, L. A. 2008. Political connections, financing and firm performance: Evidence from chinese private firms. Journal of Development Economics, 87(2): 283–299.

Manigart, S., De Waele, K., Wright, M., Robbie, K., Desbrieres, P., Sapienza, H., & Beekman, A. 2000. Venture capitalists, investment appraisal and accounting information: A comparative study of the USA, UK, France, Belgium and Holland. European Financial Management, 6(3): 389–403.

Mayer, C., Schoors, K., & Yafeh, Y. 2005. Sources of funds and investment activities of venture capital funds: Evidence from Germany, Israel, Japan and the United Kingdom. Journal of Corporate Finance, 11(3): 586–608.

Milhaupt, C. J. 1997. The market for innovation in the United States and Japan: Venture capital and the comparative corporate governance debate. Northwest University Law Review, 91: 865.

Narayanan, V. K., & Fahey, L. 2005. The relevance of the institutional underpinnings of Porter's five forces framework to emerging economies: An epistemological analysis. Journal of Management Studies, 42(1): 207–223.

Naqi, S. A., & Hettihewa, S. 2007. Venture capital or private equity?. Asian Experience Business Horizons, 50(4): 335–344.

Oliver, C. 1997. Sustainable competitive advantage: Combining institutional and resource-based views. Strategic Management Journal, 18: 697–713.

Peltzman, S. 1976. Toward a more general theory of regulation. Journal of Law and Economics, 19(2): 211–240.

Peng, M. W. 2002. Towards an institutional-based view of business strategy. Asia Pacific Journal of Management, 19(2/3): 251–267.

Peng, M. W. 2003. Institutional transitions and strategic choices. Academy of Management Review, 28(2): 275–296.

Peng, M. W., & Heath, P. S. 1996. The growth of the firm in planned economies in transition: Institutions, organizations, and strategic choice. Academy of Management Review, 21(2): 492–528.

Peng, M. W., Sun, S. L., Pinkham, B., & Chen, H. 2009. The institution-based view as a third leg for a strategy tripod. Academy of Management Perspectives, 23(3): 63–81.

Peng, M., Wang, D., & Jiang, Y. 2008. An institution-based view of international business strategy: A focus on emerging economies. Journal of International Business Studies, 39(5): 920–936.

Porter, M. 1980. Competitive strategy. New York: Free Press.

Priem, R. L., & Butler, J. E. 2001. Is the resource-based theory a useful perspective for strategic management research?. Academy of Management Review, 26(1): 22–40.

Pruthi, S., Wright, M., & Lockett, A. 2003. Do foreign and domestic venture capital firms differ in their monitoring of investees?. Asia Pacific Journal of Management, 20(2): 175–204.

Robinson, R. B. 1987. Emerging strategies in the venture capital industry. Journal of Business Venturing, 2: 53–77.

Rumelt, R. P. 1984. Toward a strategic theory of the firm. In R. Lamb (Ed.). Competitive strategic management: 556–570. Englewood Cliffs, NJ: Prentice-Hall.

Sapienza, H. J., Manigart, S., & Vermeir, W. 1996. Venture capitalist governance and value added in four countries. Journal of Business Venturing, 11(6): 439–469.

Schoemaker, P. H. 1990. Strategy, complexity, and economic rent. Management Science, 36(10): 1178–1192.

Shenkar, O., & von Glinow, M. A. 1994. Paradoxes of organizational theory and research: Using the case of China to illustrate national contingency. Management Science, 40(1): 56–71.

Sorenson, O., & Stuart, T. 2001. Syndication networks and the spatial distribution of venture capital investments. American Journal of Sociology, 106(6): 1546–1588.

Su, D., & Fleisher, B. M. 1999. An empirical investigation of underpricing in chinese IPOs. Pacific-Basin Finance Journal, 7: 173–202.

White, S., Gao, J., & Zhang, W. 2005. Financing new ventures in China: System antecedents and institutionalization. Research Policy, 34(6): 894–913.

Wright, M., & Robbie, K. 1998. Venture capital and private equity: A review and synthesis. Journal of Business, Finance, and Accounting, 25(5): 521–570.

Zacharakis, A., & Shepherd, D. 2001. The nature of information and overconfidence on venture capitalists' decision making. Journal of Business Venturing, 16(4): 311–332.

Zero2IPO. 2010. Zero2IPO financial database, available at: http://www.zero2ipogroup.com/research/database.aspx.

Zider, B. 1998. How venture capital works. Harvard Business Review, 76(6): 131–139.
Additional information
The authors wish to thank Dr. Seung-Hyun Lee and the two anonymous reviewers for their insightful comments and extensive inputs to this article. This research has received the grant from the Hong Kong RGC Direct Allocation (A-PB0Y) and the National Nature Science Foundation of China (70903046 and "NETWORK SYNDICATION AND INVESTMENT PERFORMANCE OF VENTURE CAPITAL IN CHINA").
About this article
Cite this article
Lu, H., Tan, Y. & Huang, H. Why do venture capital firms exist: An institution-based rent-seeking perspective and Chinese evidence. Asia Pac J Manag 30, 921–936 (2013). https://doi.org/10.1007/s10490-011-9262-8
Keywords
Venture capital

Institutions

Rent-seeking

Strategy

China