Abstract
Despite continuous improvement in the range and quality of machine learning techniques, accurately predicting stock prices still remains as elusive as ever. We approach this problem using a modern autoregressive neural network architecture and incorporate sentiment predictors, which are becoming increasingly available due to advances in text mining techniques. We find that the inclusion of predictors based on counts of the number of news articles and twitter posts can significantly improve the quality of stock price predictions.
This is a preview of subscription content, log in to check access.
Access options
Buy single article
Instant access to the full article PDF.
US$ 39.95
Price includes VAT for USA
Subscribe to journal
Immediate online access to all issues from 2019. Subscription will auto renew annually.
US$ 99
This is the net price. Taxes to be calculated in checkout.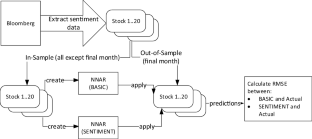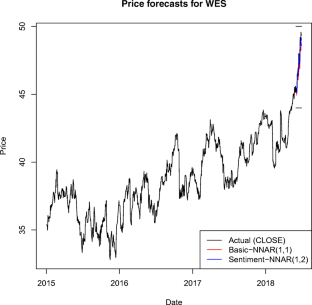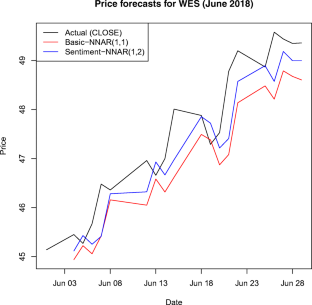 References
1.

Atsalakis GS, Valavanis KP (2009) Surveying stock market forecasting techniques – part II: soft computing methods. Expert Syst Appl 36:5932–5941

2.

Fama E (1965) The behaviour of stock market prices. J Bus 34–105

3.

Hyndman RJ, Athanasopoulos G (2013) Forecasting: principles and practice. OTexts, Melbourne

4.

Long JBD, Shleifer A, Summers LH, Waldmann RJ (1990) Noise trader risk in financial markets. J Polit Econ 98:703–738

5.

Rapach DE, Zhou G (2013) Forecasting stock returns. Handb Econ Forecasting 2:328–383

6.

Tetlock PC (2007) Giving content to investor sentiment: the role of Media in the Stock Market. J Financ LXII:1139–1168

7.

Vanstone BJ, Gepp A, Harris G (2018) The effect of sentiment on stock price prediction. In: Mouhoub M, Sadaoui S, Mahamed OA, Ali M (eds) Recent trends and future technology in applied intelligence. Springer, Cham, pp 551–559

8.

Yen G, Lee C-f (2008) Efficient market hypothesis (EMH): past, present and future. Rev Pac Basin Financ Mark Policies 11:305–329
Additional information
Publisher's note
Springer Nature remains neutral with regard to jurisdictional claims in published maps and institutional affiliations.
About this article
Cite this article
Vanstone, B.J., Gepp, A. & Harris, G. Do news and sentiment play a role in stock price prediction?. Appl Intell 49, 3815–3820 (2019). https://doi.org/10.1007/s10489-019-01458-9
Keywords
Stock prices

Sentiment

Auto regressive neural networks

News

Twitter