Abstract
Regional governments are looking for ways to address public concerns more efficiently by utilizing eGovernment systems. The complex environment presents problems for situational awareness and cooperation in public spheres. Current solutions are either lacking in structuring the information or do not support collaboration or discovery. We addressed the problem by developing an open innovation process based web platform for gathering public issues, forming public goals, and for structuring concrete subgoals as goal trees to facilitate participation. We use SOCIA ontology to structure goal information as linked open data. We calculate similarity between a pair of goals by utilizing the tree like structured goal relations. We implemented a negotiation user interface on a video conferencing platform to facilitate interorganizational cooperation and conflict resolution. We are arranging workshops and using the system in various hackathon events to evaluate and analyze the system in real life situations and to gather real life data. We provide the implemented system as a free to use tool.
Access options
Buy single article
Instant access to the full article PDF.
US$ 39.95
Tax calculation will be finalised during checkout.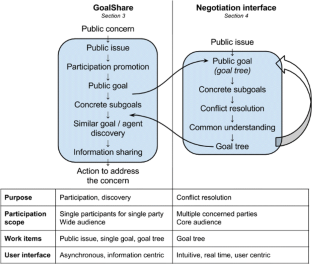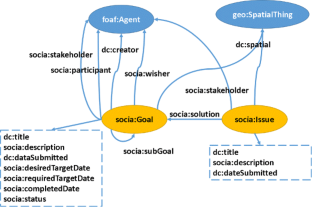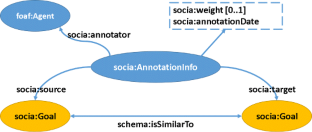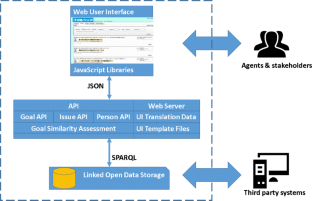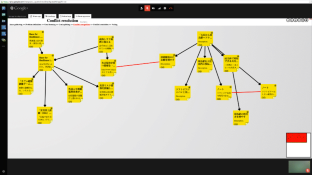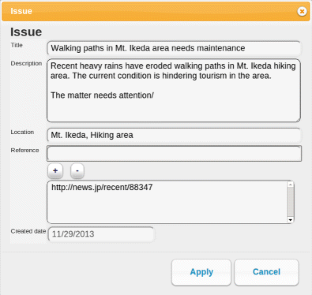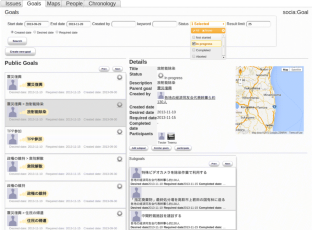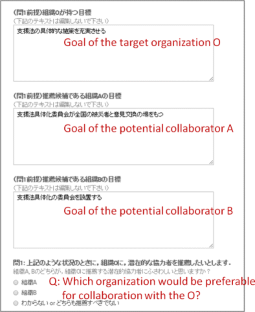 Notes
1.

2.

3.

4.

5.

6.

7.

8.

9.

10.

11.

12.

13.

14.
References
1.

IAP2: IAP2 spectrum of public participation. http://www.iap2.org/associations/4748/files/Kettering_FINALPreliminaryFindingsReport.pdf (2013)

2.

The World Bank: age dependency ratio, old (% of working-age population). http://data.worldbank.org/indicator/SP.POP.DPND.OL/countries (2013)

3.

Tossavainen T, Shiramatsu S, Ozono T, Shintani T (2013) Implementing a system enabling open innovation by sharing public goals based on linked open data. In: Modern advances in applied intelligence. 27th international conference on industrial engineering and other applications of applied intelligent systems, IEA/AIE 2014, Kaohsiung, Taiwan, June 3-6, 2014, Proceedings, Part II. Volume 8482 of lecture notes in computer science. Springer, pp 98–108

4.

Shiramatsu S, Tossavainen T, Ozono T, Shintani T (2014) A goal matching service for facilitating public collaboration using linked open data. In: Electronic participation. Proceedings of the 6th IFIP WG 8.5 International conference, ePart 2014. Volume 8654 of lecture notes in computer science. Springer, pp 114–127

5.

Sb, Rose J, Flak S (2008) The shape of eparticipation: characterizing an emerging research area. Govern Inf Q 25(3):400–428

6.

Dong W, Fu W (2012) One piece at a time: why video-based communication is better for negotiation and conflict resolution. In: CSCW '12 proceedings of the ACM 2012 conference on computer, pp 167–176

7.

AGI Goldratt Institute: The theory of constraints and its thinking processes - a brief introduction to toc. http://www.goldratt.com/pdfs/toctpwp.pdf (2009)

8.

(2008). Project Management Institute: a guide to the project management body of knowledge, 4th edn. Project Management Institute

9.

Cheng J, Shigekawa K, Meguro K, Yamazaki F, Nakagawa I, Hayashi H, Tamura K (2009) Applying the toc logistic process to clarify the problem schemes of near-field earthquake in tokyo metropolitan area. J Social Safety Sci 11:225–233. (in Japanese)

10.

Ohara M, Kondo S, Kou T, Numada M, Meguro K (2011) Overview of social issues after the Great East-Japan earthquake disaster - part 3 of activity reports of 3.11net Tokyo. SEISAN KENKYU 63(6):749–754. (in Japanese)

11.

Shiramatsu S, Ozono T, Shintani T (2013) Approaches to assessing public concerns: building linked data for public goals and criteria extracted from textual content. In: Electronic participation. Proceedings of the 5th IFIP WG 8.5 international conference, ePart 2013. Volume 8075 of lecture notes in computer science. Springer, pp 109–121

12.

King SF, Brown P (2007) Fix my street or else: using the internet to voice local public service concerns. In: Proceedings of the 1st international conference on theory and practice of electronic governance, pp 72–80

13.

Roth AE, Sotomayor MAO (1990) Two-sided matching: a study in game-theoretic modeling and analysis. Number 18 in econometric society monographs. Cambridge University Press

14.

Shiramatsu S, Ozono T, Shintani T (2015) Linked open data of context behind local concerns for supporting public participation. Int J Adv Comput Sci Appl 6(2):268–277

15.

Blei DM, Ng AY, Jordan MI (2003) Latent dirichlet allocation. J Mach Learn Res 3:993–1022
Acknowledgments
This work was supported by the Grant-in-Aid for Young Scientists (B) (No. 25870321) from Japan Society for the Promotion of Science. We appreciate the Code for Nagoya and the Ogaki office of CCL Inc. for giving us chance to conduct a public workshop for testing our system.
About this article
Cite this article
Tossavainen, T., Shiramatsu, S., Ozono, T. et al. A linked open data based system utilizing structured open innovation process for addressing collaboratively public concerns in regional societies. Appl Intell 44, 196–207 (2016). https://doi.org/10.1007/s10489-015-0704-8
Keywords
Linked open data

Public collaboration

Conflict resolution

Goal matching service