Abstract
Clubhouses are recovery centers that help persons with serious mental illness obtain and maintain community-based employment, education, housing, social integration, and other services. Key informants from U.S. clubhouses were interviewed to create a conceptual framework for clubhouse sustainability. Survival analyses tested this model for 261 clubhouses. Clubhouses stayed open significantly longer if they had received full accreditation, had more administrative autonomy, and received funding from multiple rather than sole sources. Cox regression analyses showed that freestanding clubhouses which were accredited endured the longest. Budget size, clubhouse size, and access to managed care did not contribute significantly to sustainability.
This is a preview of subscription content, log in to check access.
Access options
Buy single article
Instant access to the full article PDF.
US$ 39.95
Price includes VAT for USA
Subscribe to journal
Immediate online access to all issues from 2019. Subscription will auto renew annually.
US$ 99
This is the net price. Taxes to be calculated in checkout.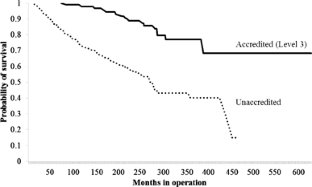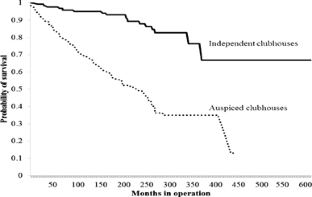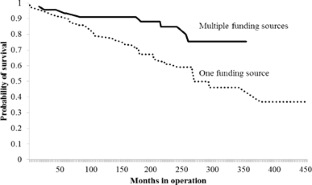 References
Aquila, R., Santos, G., Malamud, T. J., & McCrory, D. (1999). The rehabilitation alliance in practice: The clubhouse connection. Psychiatric Rehabilitation Journal, 23, 19–24. doi:10.1037/h0095199.

Auerbach, C., & Silverstein, L. B. (2003). Qualitative data: An introduction to coding and analysis. New York: New York University Press.

Bagdonavicus, V., Kruopis, J., & Nikulin, M. (2013). Nonparametric tests for censored data. Hoboken, NJ: John Wiley & Sons.

Bamberger, M., & Cheema, S. (1990). Case studies of project sustainability: Implications for policy and operations from Asian experience. Washington, DC: Economic Development Institute, World Bank.

Banerjee, M., Capozzoli, M., McSweeney, L., & Sinha, D. (1999). Beyond kappa: A review of interrater agreement measures. Canadian Journal of Statistics, 27(1), 3–23.

Bellera, C. A., MacGrogan, G., Debled, M., de Lara, C. T., Brouste, V., & Mathoulin-Pélissier, S. (2010). Variables with time-varying effects and the Cox model: Some statistical concepts illustrated with a prognostic factor study in breast cancer. BMC Medical Research Methodology, 10, 20. doi:10.1186/1471-2288-10-20.

Bond, G. R., Peterson, A. E., Becker, D. R., & Drake, R. E. (2012). Validation of the revised individual placement and support fidelity scale (IPS-25). Psychiatric Services, 63(8), 758–763. 10.1176/appi.ps.201100476.

Brod, M., Tesler, L. E., & Christensen, T. L. (2009). Qualitative research and content validity: Developing best practices based on science and experience. Quality of Life Research, 18, 1263–1278. doi:10.1007/s11136-009-9540-9.

Bureau of Labor Statistics. (2014). CPI inflation calculator. Retrieved from http://www.bls.gov/data/inflation_calculator.htm.

Clubhouse International. (2013). Clubhouse Profile Questionnaire (CPQ). Retrieved from CPQ database.

Clubhouse International (2014). International directory. Retrieved from http://www.iccd.org/clubhouseDirectory.php.

Clubhouse International. (2015a). About us. Retrieved from http://www.iccd.org/about.html.

Clubhouse International. (2015b). Training base clubhouses. Retrieved form http://www.iccd.org/training_base.html.

Clubhouse International. (2015c). Accreditation. Retrieved from http://www.iccd.org/certification.html.

Cohen, J. (1960). A coefficient of agreement for nominal scales. Educational and Psychological Measurement, 20, 37–46. doi:10.1177/001316446002000104.

Collett, D. (2003). Modeling survival data in medical research (Vol. 57). Boca Raton, FL: CRC Press.

Crittenden, W. F. (2000). Spinning straw into gold: The tenuous strategy, funding, and financial performance linkage. Nonprofit and Voluntary Sector Quarterly, 29(Supplement 1), 164–182. doi:10.1177/089976400773746382.

Glickman, M. (1992). The voluntary nature of the clubhouse. Psychosocial Rehabilitation Journal, 16, 39–40. doi:10.1037/h0095708.

Gorman, J. A. (2012). Cost-benefit and cost-effectiveness analysis of employment services offered by the clubhouse model (Master's Thesis). Retrieved from http://aladinrc.wrlc.org/bitstream/handle/1961/14036/Gorman_american_0008N_10341display.pdf?sequence=1.

Hruschka, D. J., Schwartz, D., John, D. C. S., Picone-Decaro, E., Jenkins, R. A., & Carey, J. W. (2004). Reliability in coding open-ended data: Lessons learned from HIV behavioral research. Field Methods, 16, 307–331. doi:10.1177/1525822X04266540.

IBM Corp. Released. (2013). IBM SPSS statistics for Windows, Version 20.0. Armonk, NY: IBM Corp.

Johnson, R. B., & Onwuegbuzie, A. J. (2004). Mixed methods research: A research paradigm whose time has come. Educational Researcher, 33, 14–26. Available from http://www.jstor.org/stable/3700093.

Kaplan, E. L., & Meier, P. (1958). Nonparametric estimation from incomplete observations. Journal of the American Statistical Association, 53, 457–481. doi:10.1080/01621459.1958.10501452.

Kleinbaum, D. G., & Klein, M. (2012). Survival analysis (3rd ed.). New York: Springer.

Leidy, N. K., & Vernon, M. (2008). Perspectives on patient-reported outcomes: Content validity and qualitative research in a changing clinical trial environment. PharmacoEconomics, 26, 363–370. doi:10.2165/00019053-200826050-00002.

Levin, A. (2012). Clubhouse members check mental illness at the door. Psychiatric News. Retrieved Oct 10, 2012, from http://psychnews.psychiatryonline.org/doi/full/10.1176%2Fpn.47.10.psychnews_47_10_6-a.

Macias, C., Barreira, P., Alden, M., & Boyd, J. (2001). The ICCD benchmarks for clubhouses: A practical approach to quality improvement in psychiatric rehabilitation. Psychiatric Services, 52, 207–213. doi:10.1176/appi.ps.52.2.207.

Macias, C., Harding, C., Alden, M., Geertsen, D., & Barreira, P. (1999). The value of program certification for performance contracting. Administration and Policy in Mental Health and Mental Health Services Research, 26, 345–360. doi:10.1023/A:1021231217821.

Macias, C., Propst, R. N., Rodican, C., & Boyd, J. (2001). Strategic planning for ICCD clubhouse implementation: Development of the clubhouse research and evaluation screening survey (CRESS). Mental Health Services Research, 3, 155–167.

MacQueen, K. M., McLellan, E., Kay, K., & Milstein, B. (1998). Codebook development for team-based qualitative analysis. Cultural Anthropology Methods, 10(2), 31–36. Available from http://www.sagepub.com/journals/Journal200810.

Mantel, N. (1966). Evaluation of survival data and two new rank order statistics arising in its consideration. Cancer Chemotherapy Reports. Part 1, 50(3), 163–170.

McKay, C. E., Johnsen, M., & Stein, R. (2005). Employment outcomes in Massachusetts Clubhouses. Psychiatric Rehabilitation Journal, 29(1), 25. doi:10.2975/29.2005.25.33.

McKay, C. E., Yates, B. T., & Johnsen, M. (2007). Costs of clubhouses: An international perspective. Administration and Policy in Mental Health and Mental Health Services Research, 34, 62–72. doi:10.1007/s10488-005-0008-0.

Meyer, J. W., & Rowan, B. (1977). Institutionalized organizations: Formal structure as myth and ceremony. American Journal of Sociology, 83, 340–363. Available from http://www.jstor.org/stable/2778293.

Miles, M. B., & Huberman, A. M. (1994). Qualitative data analysis: An expanded sourcebook. Thousand Oaks, CA: Sage Publications.

Mills, M. (2011). Introducing survival and event history analysis. Thousand Oaks, CA: Sage Publications.

Mowbray, C. T., Lewandowski, L., Holter, M., & Bybee, D. (2006). The clubhouse as an empowering setting. Health & Social Work, 31, 167–179. doi:10.1093/hsw/31.3.167.

NVivo Qualitative Analysis Software. (2010). (Version 9) [Computer software]. Burlington, MA: QSR International.

Pluye, P., Potvin, L., & Denis, J. L. (2004). Making public health programs last: Conceptualizing sustainability. Evaluation and Program Planning, 27, 121–133. doi:10.1016/j.evalprogplan.2004.01.001.

Rich, J. T., Neely, J. G., Paniello, R. C., Voelker, C. C., Nussenbaum, B., & Wang, E. W. (2010). A practical guide to understanding Kaplan–Meier curves. Otolaryngology-Head and Neck Surgery, 143(3), 331–336. Available from http://www.sciencedirect.com/science/article/pii/S0194599810007102.

Savaya, R., & Spiro, S. E. (2012). Predictors of sustainability of social programs. American Journal of Evaluation, 33, 26–43. doi:10.1177/1098214011408066.

Scheirer, M. A. (2005). Is sustainability possible? A review and commentary on empirical studies of program sustainability. American Journal of Evaluation, 26, 320–347. doi:10.1177/1098214005278752.

Scheirer, M. A., & Dearing, J. W. (2011). An agenda for research on the sustainability of public health programs. American Journal of Public Health, 101(11), 2059.

Swain, K., Whitley, R., McHugo, G. J., & Drake, R. E. (2010). The sustainability of evidence-based practices in routine mental health agencies. Community Mental Health Journal, 46, 119–129.

U.S. Department of Health and Human Services, Substance Abuse and Mental Health Services Administration. (2015). ICCD clubhouse model. Retrieved from http://nrepp.samhsa.gov/ViewIntervention.aspx?id=189.

Wang, Q., Macias, C., & Jackson, R. (1999). First step in the development of a clubhouse fidelity instrument: Content analysis of clubhouse certification reports. Psychiatric Rehabilitation Journal, 22, 294–301.

Wholey, J. S., Hatry, H. P., & Newcomer, K. E. (2010). Handbook of practical program evaluation (3rd ed.). San Francisco, CA: Jossey-Bass.

Wright, R. E. (2000). Survival analysis. In L. G. Grimm & P. R. Yarnold (Eds.), Reading and understanding more multivariate statistics (pp. 363–407). Washington, DC: American Psychological Association.

Yin, R. K., & Quick, S. K. (1979). Changing urban bureaucracies: How new practices become routinized. Lexington, MA: Lexington Books.
Acknowledgments
We thank Kathleen Calcerano for her research assistance in the qualitative study, Clubhouse Faculty for their participation in interviews, and all U.S. clubhouses for their contributions to the CPQ.
Electronic supplementary material
Below is the link to the electronic supplementary material.
About this article
Cite this article
Gorman, J.A., McKay, C.E., Yates, B.T. et al. Keeping Clubhouses Open: Toward a Roadmap for Sustainability. Adm Policy Ment Health 45, 81–90 (2018). https://doi.org/10.1007/s10488-016-0766-x
Keywords
Clubhouse

Psychiatric rehabilitation

Sustainability

Survival