Abstract
Collapsed or slouching posture has been associated with negative health outcomes such as pain, depression, and overall stress ratings as well as declines in general health, emotional well-being, and energy/fatigue levels. Currently, wearable devices and accompanying smartphone applications (apps) can provide feedback about shifting posture (e.g., erect vs. collapsed or slouching positions), as well as provide suggestions that support positive posture awareness. This study investigates the effect of a wearable 'UpRight' posture-feedback device on self-reports of pain, mood, and performance in comparison to a non-treatment control group. 56 Student participants filled out the SF-36 RAND Health Survey at the beginning and end of the 4-week study. The treatment group (n = 13) used a wearable device for at least 15 min per day, for 4 weeks, while a matched comparison group (n = 13) participated without the device over the same period. Evaluations before and after the 4 weeks included the SF-36, as well as qualitative descriptions of their experiences. The treatment group significantly improved on the SF-36 measures of physical functioning, emotions, energy/fatigue, confidence and overall stress ratings, as well as on subjective ratings of neck and back posture as compared to the control group. The wearable biofeedback device positively influenced awareness of neck and back posture, as well as key measures on the RAND SF-36 Health Survey. This study provides preliminary support that a wearable posture feedback device is a useful tool to teach posture awareness and improve well-being.
Access options
Buy single article
Instant access to the full article PDF.
US$ 39.95
Tax calculation will be finalised during checkout.
Subscribe to journal
Immediate online access to all issues from 2019. Subscription will auto renew annually.
US$ 79
Tax calculation will be finalised during checkout.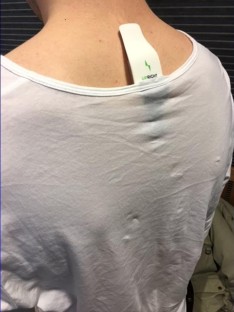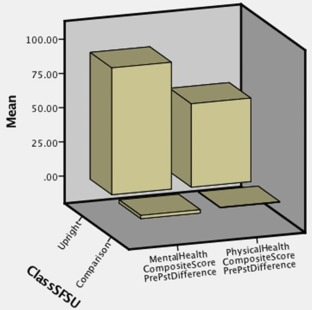 References
Alexander, F. M. (2001). The use of self. London: Orion Publishing Group.

Austin, P. C. (2011). An introduction to propensity score methods for reducing the effects of confounding in observational studies. Multivariate Behavioral Research,46(3), 399–424. https://doi.org/10.1080/00273171.2011.568786.

Bongers, P. M., Ijmker, S., van den Heuvel, S., & Blatter, B. M. (2006). Epidemiology of work related neck and upper limb problems: Psychosocial and personal risk factors (Part I) and effective interventions from a bio behavioural perspective (Part II). Journal of Occupational Rehabilitation,16, 272–295.

Briñol, P., Petty, R. E., & Wagner, B. (2009). Body posture effects on self-evaluation: A self-validation approach. European Journal of Social Psychology,39, 1053–1064. https://doi.org/10.1002/ejsp.607.

Caliendo, M., & Kopeinig, S. (2008). Some practical guidance for the implementation of propensity score matching. Journal of Economic Surveys,22(1), 31–72. https://doi.org/10.1111/j.1467-6419.2007.00527.x.

Canales, J. Z., Cordas, T. A., Fiquer, J. T., Cavalcante, A. F., & Moreno, R. A. (2010). Posture and body image in individuals with major depressive disorder: A controlled study. Revista Brasileira de Psiquiatria,32(4), 375–380. https://doi.org/10.1590/S1516-44462010000400010.

Cappelleri, J. C., Bushmakin, A. G., McDermott, A. M., Sadosky, A. B., Petrie, C. D., & Martin, S. (2009). Psychometric properties of a single-item scale to assess sleep quality among individuals with fibromyalgia. Health and Quality of Life Outcomes,7(1), 54. https://doi.org/10.1186/1477-7525-7-54.

Carifio, J., & Perla, R. (2007). Ten common misunderstandings, misconceptions, persistent myths and urban legends about Likert scales and Likert response formats and their antidotes. Journal of Social Sciences, 2, 106–116. https://www.scipub.org/fulltext/jss/jss33106-116.pdf.

Carney, D. R., Cuddy, A. J., & Yap, A. J. (2010). Power posing: brief nonverbal displays affect neuroendocrine levels and risk tolerance. Psychological Science,10, 1363–1868. https://doi.org/10.1177/0956797610383437.

Cuddy, A. (2012). Your body language shapes who you are. Technology, Entertainment, and Design (TED) Talk. www.ted.com/talks/amy_cuddy_your_body_language_shapes_who_you_are.

De Boer, A. G. E. M., Van Lanschot, J. J. B., Stalmeier, P. F. M., Van Sandick, J. W., Hulscher, J. B., De Haes, J. C. J. M., et al. (2004). Is a single-item visual analogue scale as valid, reliable and responsive as multi-item scales in measuring quality of life? Quality of Life Research,13(2), 311–320.

Elo, A. L., Leppänen, A., & Jahkola, A. (2003). Validity of a single-item measure of stress symptoms. Scandinavian Journal of Work, Environment and Health,29, 444–451.

Fuchs, C., & Diamantopoulos, A. (2009). Using single-item measures for construct measurement in management research: Conceptual issues and application guidelines. Die Betriebswirtschaft,69(2), 195.

Gallese, V., & Sinigaglia, C. (2011). What is so special about embodied simulation? Trends in Cognitive Sciences,15(11), 512–519. https://doi.org/10.1016/j.tics.2011.09.003.

Gardner, D. G., Cummings, L. L., Dunham, R. B., & Pierce, J. L. (1998). Single-item versus multiple-item measurement scales: An empirical comparison. Educational and Psychological Measurement,58(6), 898–915.

Gelb, M. (2005). Body learning: An introduction to the Alexander technique. London: Aurum.

Glass, G. V., Peckham, P. D., & Sanders, J. R. (1972). Consequences of failure to meet assumptions underlying the fixed effects analyses of variance and covariance. Review of Educational Research,42(3), 237–288.

Imai, K., King, G., & Stuart, E. A. (2008). Misunderstandings among experimentalists and observationalists in causal inference. Journal of the Royal Statistical Society Series A,171(2), 481–502.

Jamieson, S. (2004). Likert scales: How to (ab)use them. Medical Education,38, 1212–1218.

Jenkinson, C., Coulter, A., & Wright, L. (1993). Short form 36 (SF36) health survey questionnaire: Normative data for adults of working age. British Medical Journal,306, 1437–1440.

Jones, F. P. (1997). Freedom to change. London: Moritz Press.

Kimberlin, C. L., & Winterstein, A. G. (2008). Validity and reliability of measurement instruments used in research. American Journal of Health-System Pharmacy,65(23), 2276–2284.

Lee, C., & Bobko, P. (1994). Self-efficacy beliefs: Comparison of five measures. Journal of Applied Psychology,79(3), 364.

Lins, L., & Carvalho, F. M. (2016). SF-36 total score as a single measure of health-related quality of life: Scoping review. SAGE Open Medicine,4, 1–12. https://doi.org/10.1177/2050312116671725.

Michalak, J., Mischnat, J., & Teismann, T. (2014). Sitting posture makes a difference-embodiment effects on depressive memory bias. Clinical Psychology and Psychotherapy,21(6), 519–524. https://doi.org/10.1002/cpp.1890.

Peper, E., Booiman, A., Lin, I. M., & Harvey, R. (2016). Increase strength and mood with posture. Biofeedback,44(2), 66–72. https://doi.org/10.5298/1081-5937-44.2.04.

Radhakrishnan, R., Senthil, P., Rathnamala, D., & Gandhi, P. S. (2015). Effectiveness of global posture re-education on pain and improving quality of life in women with chronic neck pain. International Journal of Physical Education, Sports and Health,1, 7–9. https://doi.org/10.1590/S1807-59322008000600010.

Rosenbaum, P. R., & Rubin, D. B. (1983). The central role of the propensity score in observational studies for causal effects. Biometrika,70(1), 41–55. https://doi.org/10.1093/biomet/70.1.41.

Shafir, T. (2016). Using movement to regulate emotion: Neurophysiological findings and their application in psychotherapy. Frontiers in Psychology,7, 1451. https://doi.org/10.3389/fpsyg.2016.01451.

Steward, A., Sherbourne, C. D., Hayes, R. D., Wells, K. B., Nelson, E. C., Kamberg, C., …,Ware, J. E. (1992). Summary and discussion of MOS measures. In A. L. Stewart & J. E. Ware (Eds.), Measuring functioning and well-being: The medical outcome study approach (pp. 345–371). Durham, NC: Duke University Press.

Stuart, E. A. (2010). Matching methods for causal inference: A review and a look forward. Statistical Science,25(1), 1–21. https://doi.org/10.1214/09-STS313.

Thrasher, M., Van der Zwaag, M. D., Bianchi-Berthouze, N., & Westerink, J. H. D. M. (2011). Mood recognition based on upper body posture and movement features. In Paper session presented at the meeting of International conference on affective computing and intelligent interaction, Memphis, TN, USA.

Tsai, H. Y., Peper, E., & Lin, I. M. (2016). EEG patterns under positive/negative body postures and emotion recall tasks. NeuroRegulation,3(1), 23–27. https://doi.org/10.15540/nr.3.1.23.

Tsukimoto, G. R., Riberto, M., de Brito, C. A., & Battistella, L. R. (2016). Longitudinal evaluation of posture school for low back pain by the questionnaires Rolland Morris and Short Form Health Survey (SF-36). Acta Fisiátrica,13(2), 63–69.

Ware, J. E., & Sherbourne, C. D. (1992). The MOS 36-Item Short-Form Health Survey (SF-36): I. Conceptual framework and item selection. Medical Care,30, 473–483.

Wilkes, C., Kydd, R., Sagar, M., & Broadbent, E. (2017). Upright posture improves affect and fatigue in people with depressive symptoms. Journal of Behavior Therapy and Experimental Psychiatry,54, 143–149. https://doi.org/10.1016/j.jbtep.2016.07.015.

Wilson, V. E., & Peper, E. (2004). The effects of upright and slumped postures on the recall of positive and negative thoughts. Applied Psychophysiology and Biofeedback,29(3), 189–195. https://doi.org/10.1023/B:APBI.0000039057.32963.34.
Acknowledgements
The authors want to thank Professor Andrasik for his editorial feedback and direction.
Ethics declarations
Conflict of interest
Erik Peper received a donation of 15 UpRight devices for use in the classroom setting. The other authors have no conflicts of interest to disclose.
Additional information
Publisher's Note
Springer Nature remains neutral with regard to jurisdictional claims in published maps and institutional affiliations.
About this article
Cite this article
Harvey, R.H., Peper, E., Mason, L. et al. Effect of Posture Feedback Training on Health. Appl Psychophysiol Biofeedback 45, 59–65 (2020). https://doi.org/10.1007/s10484-020-09457-0
Keywords
Posture

Wearables

Biofeedback

Health

Awareness