Abstract
Cardiac vagal tone can be seen as a stable marker for the ability to sustain attention and regulate emotion, two factors associated with the quality of meditation. In this study, heart rate variability (HRV) has been monitored in different forms of Shamatha quiescence meditation: three breath meditations, Settling the Mind in its natural state, Awareness of Awareness, Loving-kindness and Tonglen. Establish and test a practical means of monitoring neurobiological effects of meditation. Over 6 weeks, two experimental groups practiced Shamatha meditation on a daily basis (n = 20). HRV patterns and cortisol tests were monitored at three measuring points during these weeks, and an attention focus test was performed at the start and after 6 weeks. Six weeks of regular practice in Shamatha meditation were associated with HRV indices suggesting improvements in the homeostatic regulation of the autonomic nervous system (ANS) in 85% of the HRV recordings (tachogram and frequency specter) of all 20 subjects. Further, a substantial decrease in cortisol levels was also noted. The attention focus test showed a significant increase of 18.7% in sustained attention, moving from medium to high attention focus, with a significant result of t(20) = − 8.764 and p < 0.001. Participants reported positive subjective changes in attention focus, sense of happiness and calmness and increased abilities in emotional regulation and attunement. Six weeks of regular practice in Shamatha meditation contributes to a substantial increase of attention focus and a decrease in stress levels evidenced in changes in diurnal cortisol measures. HRV biofeedback shows that the sympathetic nervous system is counterbalanced by increased vagal tone, and autonomic balance is enhanced by all Shamatha meditations, not only breath meditations, but also mind meditations: Settling the Mind in its natural state, Awareness of Awareness, Loving-kindness and Tonglen. Although these results are promising, further research is recommended with HRV biofeedback instruments to report statistical analysis and to understand unique HRV patterns in Shamatha mind meditation.
Access options
Buy single article
Instant access to the full article PDF.
USD 39.95
Price excludes VAT (USA)
Tax calculation will be finalised during checkout.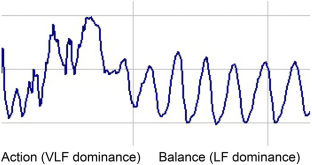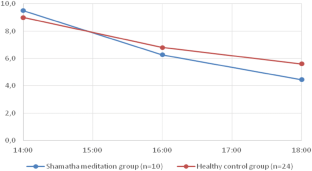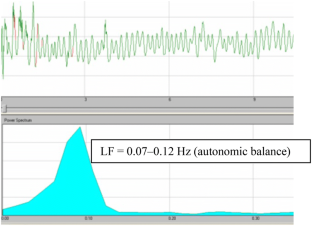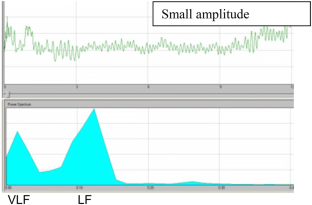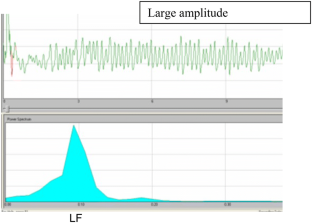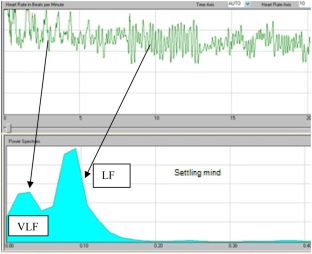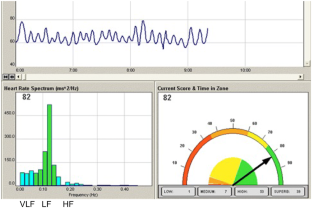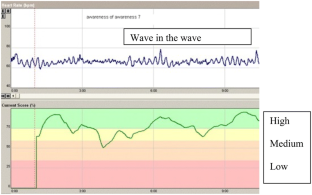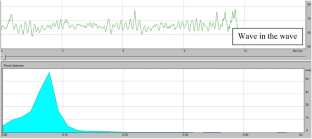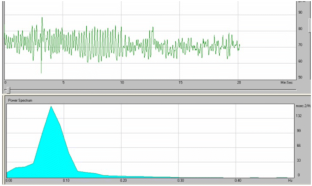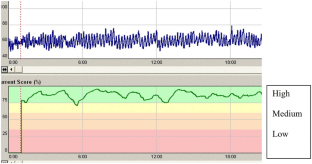 References
Adam, E., & Kumari, M. (2009). Assessing salivary cortisol in large-scale, epidemiological research. Psychoneuroendocrinology,34, 1423–1436.

Adam, E., Quinn, M., Tavernier, R., McQuillan, M., & Gilbert, K. (2017). 'Diurnal cortisol slopes and mental and physical health outcomes: A systematic review and meta-analysis. Psychoneuroendocrinology,83, 25–41.

Berntson, G., Bigger, J. T., Eckberg, D. I., & Grossman, P. (1997). HRV: Origins, methods and interpretive caveats. Journal of Psychophysiology,1997(34), 623–648.

Bhagwagar, Z., Hafizi, S., & Cowen, P. (2005). Increased salivary cortisol after waking in depression. Psychopharmacology (Berl),182, 54–57.

Blase, K. (2018). Zelf het autonome zenuwstelsel in balans brengen met je hartritme. Tijdschrift Integrale Geneeskunde,33, 2.

Blase, K., van Dijke, A., Cluitmans, P., & Vermetten, E. (2016). Effectiviteit van hartritme variabiliteit biofeedback als aanvulling bij behandeling van depressie en posttraumatische stressstoornis. Tijdschrift voor psychiatrie,2016–4, 293–300.

Chiesa, A., & Seretti, A. (2011). Mindfulness-based cognitive therapy for psychiatric disorders: a systematic review and meta-analysis. Psychiatry Research,187, 441–453.

Chiesa, A., & Seretti, A. (2015). 'Mindfulness-based cognitive therapy vs psycho-education for patients with major depression who did not achieve remission following antidepressant treatment. Psychiatry Research,30, 226.

Davidson, R., Kabat-Zinn, J., & Schumacher, J. (2003). Alterations in brain and immune function produced by mindfulness meditation. Psychosomatic Medicine,65, 564–570.

Dekker, R., & De Zeeuw, J. (2003). Differentiele Vaardigheidstests voor Midden en Hoger Niveau, Handleiding. Leiden: PITS Testuitgeverij.

Dekker, R., Dekker, P., & Mulder, J. (2007). Handleiding Cijfer Doorstreep test (CDT), PITS-Testuitgeverij.

Doane, Mineka S., Zinbarg, R., Craske, M., & Adam, E. (2013). Are flatter diurnal cortisol rhythms associated with major depression and anxiety disorders in late adolescence? The role of life stress and daily negative emotion. Development and Psychopathology,2013(25), 629–642.

Gevirtz, R. (2010). Autonomic nervous system markers for psychophysiological, anxiety and physical disorders. Integrative Neuroscience and personalized Medicine,2010, 164–180.

Gevirtz, R. (2013). The promise of heart rate variability: Evidence-based application. Biofeedback,41(3), 110–120.

Goesl, V., Curtiss, J., & Hofmann, S. (2017). The effect of HRV biofeedback training on stress and anxiety: A meta-analysis. Psychological Medicine,47(15), 2578–2586.

Gunnar, M. R., Talge, N. M., & Herrera, A. (2009). Stressor paradigms in developmental studies: What does and does not work to produce mean increases in salivary cortisol. Psychoneuroendocrinology,34, 953–967.

Kabat-Zinn, J. (2005). Coming to our senses-healing ourselves and the world through mindfulness. New York: Hyperion.

Kirschbaum, C., & Hellhammer, D. (1994). Salivary cortisol in psychoneuroendocrine research: Recent developments and applications. Psychoneuroendocrinology,19–4, 313–333.

Kloet, C., Vermetten, E., Geuze, E., Lentjes, E., & Westenberg, H. (2007). Enhanced cortisol suppression in response tp dexamethasone administration in traumatized veterans with and without posttraumatic stress disorder. Psychoneuroendocrinology,32, 215–226.

Lehrer, P., & Gevirtz, R. (2014). Heart rate variability biofeedback: How and why does it work? Frontiers in Psychology,5, 756.

Lipschitz, D., et al. (2003). Salivary cortisol responses to dexamethasone in adolescents with posttraumatic stress disorder. Journal of the American Academy of Child and Adolescent Psychiatry,42, 1310–1317.

Lutz, A., Dunne, J., & Davidson, R. (2007). Meditation and the neuroscience of consciousness (pp. 499–551). Cambridge: Cambridge University Press.

Plotsky, P., Owens, M., & Nemeroff, C. (1998). Psychoneuroendocrinology of depression, hypothalamic-pituitary-adrenal axis. Psychiatric Clinics of North America,21, 293–307.

Polk, D., Cohen, S., Doyle, W., Skoner, D., & Kirschbaum, C. (2005). Stait and trait affect as predictors of salivary cortisol in healthy adults. Psychoneuroendocrinology,30, 261–272.

Porges, S. (2011). The polyvagal theory, neurophysiological foundations of emotions, attachement, communication selfregulation. New York: Norton company.

Pruessner, J., Hellhammer, D., & Kirschbaum, C. (1999). Burnout, percieved stress and cortisol responses to awakening. Psychosomatic Medicine,61, 197–204.

Ryan, R., Booth, S., Spathis, A., Mollart, S., & Clow, A. (2016). Use of salivary diurnal cortisol as an outcome measure in randomized controlled trials: A systematic review. Annals of Behavioral Medicine,2016(50), 210–236.

Saron, C. (2013). Training the mind: The Shamatha Project. In A. Fraser (Ed.), The healing power of meditation: Leading experts on Buddhism, psychology, and medicine explore the health benefits of contemplative practice (pp. 45–65). Boston MA: Shambhala Publications.

Saron, C., See Saron-lab, Shamatha Project, with project description and research findings, including updated scientific publications. http://saronlab.ucdavis.edu/shamatha-project.html (visited June 21, 2018)

Siegel, D. (2009). Mindful awareness, mindsight, and neural integration. The Humanistic Psychologist,37, 137–158.

Stone, A., Schwartz, J., Kirschbaum, C., Cohen, S., Hellhammer, D., & Grossman, S. (2001). Individual differences in the diurnal cycle of salivary free cortisol: A replication of flattened cycles for some individuals. Psychoneuroendocrinology,26, 295–306.

Taskforce of the European Society of Cardiology and the North American Society of pacing and Electrophysiology. (1996). Heart rate variability: Standards of measurement, physiological interpretations, and clinical use. European Heart Journal,1996(17), 354–381.

Thrangu, Khenchen Rinpoche. (2004). Essentials of Mahamudra: Looking directly at the mind. Wisdom: Somerville MA.

van Waning, A. (2014). The less dust, the more trust—Participating in the shamatha project, meditation and science. Winchester: Mantra Books, John Hunt Publishing.

Vreeburg, S., Hoogendijk, W., van Pelt, J., et al. (2009). Major depressive disorder and hypothalamic-pituitary-adrenal axis activity: Results from a large cohort study. Archives of General Psychiatry,66, 617–626.

Wallace, B. Alan. (2004). The four immeasurables-cultivating a boundless heart. NY, Snow Lion: Ithaka.

Wallace, B. A. (2006). The attention revolution—unlocking the power of the focused mind. Somerville: Wisdom.

Waning, A. van, 2011. Inside the Shamatha Project. Buddhadharma—The Practitioner's Quarterly, Summer ed., pp. 38–45.

Waning, A. van, 2013. Settling the mind meditation—subjectivity and beyond. In: Special edition 'Buddhism and Depth Psychology, refining the encounter', Spring-Journal, vol. 89, pp. 25–35.

Xiong, G., & Doraiswamy, P. (2009). 2009, Does meditation enhance cognition and brain plasticity? Annals of the New York Academy of Sciences,1172, 63–69.

Zeeuw de, J. (1996). Inleiding in de psychodiagnostiek; Het psychologisch testonderzoek. Lisse: Swets & Zeitlinger.
Additional information
Publisher's Note
Springer Nature remains neutral with regard to jurisdictional claims in published maps and institutional affiliations.
About this article
Cite this article
Blase, K.L., van Waning, A. Heart Rate Variability, Cortisol and Attention Focus During Shamatha Quiescence Meditation. Appl Psychophysiol Biofeedback 44, 331–342 (2019). https://doi.org/10.1007/s10484-019-09448-w
Published:

Issue Date:

DOI: https://doi.org/10.1007/s10484-019-09448-w
Keywords
Shamatha meditation

Mindfulness

HRV

Autonomic balance

Attention

Cortisol

Vagal tone

Affect regulation

Self-regulation

Stress