Abstract
Pre-service teacher stress is an understudied research area, with the majority of research focusing on subjective reports of stress. The present study sought to examine the influence of stress-reduction techniques on both subjective and objective indicators of stress during microteaching in preservice teachers. A sample of 44 preservice teachers were randomly assigned to one of three intervention groups; biofeedback, relaxation, or control. Participants in the biofeedback group received relaxation-assisted biofeedback training designed to teach participants the physiological signs of the stress response using HeartMath monitor, along with the HeartMath Quick Coherence® technique. Those in the relaxation group were given training in the HeartMath Quick Coherence relaxation technique, with no biofeedback training. Finally, those in the control group did not receive any relaxation or biofeedback training. Using a repeated-measures design, both psychological and physiological indices of stress were measured before and after students engaged in microteaching approaches. Examination of the psychological ratings identified that feelings of calm increased across time; this showed that participants were more comfortable with the microteaching situation with repeated practice. However, none of the physiological interventions were effective in reducing stress. The present study highlights practice as a useful strategy to reduce stress in microteaching situations and points to the importance of employing evidence-based interventions when attempting to reduce stress.
Access options
Buy single article
Instant access to the full article PDF.
US$ 39.95
Tax calculation will be finalised during checkout.
Subscribe to journal
Immediate online access to all issues from 2019. Subscription will auto renew annually.
US$ 79
Tax calculation will be finalised during checkout.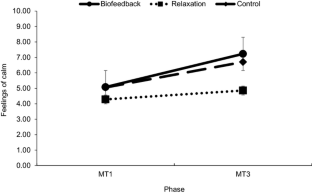 References
American Psychological Association. (2012). Stress in America: Our health at risk. Washington, DC: American Psychological Association.

Amobi, F. A. (2005). Preservice teachers' reflectivity on the sequence and consequences of teaching actions in a microteaching experience. Teacher Education Quarterly, 32, 115–130.

Amobi, F. A., & Irwin, L. (2009). Implementing on-campus microteaching to elicit preservice teachers' reflection on teaching actions: Fresh perspective on an established practice. Journal of the Scholarship of Teaching and Learning, 9, 27–34.

Bell, N. D. (2007). Microteaching: What is it that is going on here? Linguistics and Education, 18, 24–40.

Benton-Kupper, J. (2001). The microteaching experience: Student perspectives. Education, 121, 830–835.

Black-Branch, J. L., & Lamont, W. K. (1998). Duty of care and teacher wellness: A rationale for providing support services in colleges of education. Journal of Collective Negotiations in the Public Sector, 27, 175–194.

Brotman, D. J., Golden, S. H., & Wittstein, I. S. (2007). The cardiovascular toll of stress. Lancet, 370, 1089–1100.

Cahn, B. R., & Polich, J. (2006). Meditation states and traits: EEG, ERP, and neuroimaging studies. Psychological Bulletin, 132, 180.

Chan, D. W. (2002). Stress, self-efficacy, social support, and psychological distress among prospective Chinese teachers in Hong Kong. Educational Psychology, 22, 557–569.

Chandola, T., Brunner, E., & Marmot, M. (2006). Chronic stress at work and the metabolic syndrome: Prospective study. British Medical Journal, 332, 521–525.

Chaplain, R. P. (2008). Stress and psychological distress among trainee secondary teachers in England. Educational Psychology, 28, 195–209.

Dunham, J., & Varma, V. (Eds.)., (1998). Stress in teachers: Past, present and future. London: Whurr.

Esch, T., Stefano, G. B., Fricchione, G. L., & Benson, H. (2002). The role of stress in neurodegenerative diseases and mental disorders. Neuroendocrinology Letters, 23, 199–208.

Facchinetti, A. (2010). Education revolution. Education Today, 10.

Fives, H., Hamman, D., & Olivarez, A. (2007). Does burnout begin with student-teaching? Analyzing efficacy, burnout, and support during the student-teaching semester. Teaching and Teacher Education, 23, 916–934.

Gardner, S. (2010). Stress among prospective teachers: A review of the literature. Australian Journal of Teacher Education, 35, 18.

Gold, Y. (1985). Does teacher burnout begin with student teaching? Education, 105, 254

Greer, J. G., & Greer, B. B. (1992). Stopping burnout before it starts: Prevention measures at the preservice level. Teacher Education and Special Education: The Journal of the Teacher Education Division of the Council for Exceptional Children, 15, 168–174.

Higgins, A., & Nicholl, H. (2003). The experiences of lecturers and students in the use of microteaching as a teaching strategy. Nurse Education in Practice, 3, 220–227.

Howard, S., & Hughes, B. M. (2013). Type D personality is associated with a sensitized cardiovascular response to recurrent stress in men. Biological Psychology, 94, 450–455. https://doi.org/10.1016/j.biopsycho.2013.09.001.

Hughes, B. M. (2007). Social support at University scale, a brief index. Psychological Reports, 100, 76–82.

Hughes, B. M. (2007). Social support in ordinary life and laboratory measures of cardiovascular reactivity: Gender differences in habituation-sensitization. Annals of Behavioral Medicine, 34, 166–176. https://doi.org/10.1007/BF02872671.

Krisanaprakornkit, T., Krisanaprakornkit, W., Piyavhatkul, N., & Laopaiboon, M. (2006). Meditation therapy for anxiety disorders. Cochrane Database of Systematic Reviews, 1, CD004998.

Kyriacou, C. (2010). Teacher stress: Directions for future research. Educational Review, 53, 27–35.

Lehrer, P. M., Woolfolk, R. L., & Sime, W. E. (2007). Principles and practice of stress management (3rd ed.). New York: Guilford Press.

Maguire, M. (2001). Bullying and the postgraduate secondary school trainee teacher: An English case study. Journal of Education for Teaching: International Research and Pedagogy, 27, 95–109.

Metcalf, K. K. (1993). Critical factors in on-campus clinical experience. Teaching Education, 5, 164–174.

Mills, R. F. (1991). Micro-peer teaching: Organization and benefits. Education, 111, 559–562.

Moorey, S., Greer, S., Watson, M., Gorman, C., Rowden, L., Tunmore, R., et al. (1991). The factor structure and factor stability of the Hospital Anxiety and Depression Scale in patients with cancer. British Journal of Psychiatry, 158(2), 255–259.

Ni, H., Wu, C., Prineas, R., Shea, S., Liu, K., Kronmal, R., & Bild, D. (2006). Comparison of Dinamap PRO-100 and mercury sphygmomanometer blood pressure measurements in a population-based study. American Journal of Hypertension, 19, 353–360.

Orem, D. M., Petrac, D. C., & Bedwell, J. S. (2008). Chronic self-perceived stress and set-shifting performance in undergraduate students. Stress, 11, 73–78.

Prinsloo, G. E., Rauch, H. L., Karpul, D., & Derman, W. E. (2013). The effect of a single session of short duration heart rate variability biofeedback on EEG: A pilot study. Applied Psychophysiology and Biofeedback, 38, 45–56.

Ratanasiripong, P., Ratanasiripong, N., & Kathalae, D. (2012). Biofeedback intervention for stress and anxiety among nursing students: A randomized controlled trial. International Scholarly Research Network Nursing. https://doi.org/10.5402/2012/827972.

Reinders, A., Reggiori, F., & Shennan, A. H. (2006). Validation of the DINAMAP ProCare blood pressure device according to the international protocol in an adult population. Blood Pressure Monitoring, 11, 293–296.

Richardson, K. M., & Rothstein, H. R. (2008). Effects of occupational stress management intervention programs: A meta-analysis. Journal of Occupational Health Psychology, 13, 69.

Sauro, M. D., Jorgensen, R. S., & Pedlow, C. T. (2003). Stress, glucocorticoids, and memory: A meta-analytic review. Stress, 6, 235–245.

Smith, J. C. (2005). Relaxation, meditation, and mindfulness. In: A mental health practitioner's guide to new and traditional approaches. New York: Springer.

Sumison, J., & Thomas, D. (1995). Stress management for student teachers in the practicum. In annual conference of the Australian Association for Research in Education, Hobart, Australia (pp. 26–30).

Tahsini, Z. G., Hosseini, S. M., Kianersi, F., Rashn, S., & Majdara, E. (2017). Biofeedback-aided relaxation training helps emotional disturbances in undergraduates students before examination. Applied Psychophysiology Biofeedback, 42, 299–307.

Travers, C. J., & Cooper, C. L. (1996). Teachers under pressure: Stress in the teaching profession. London: Routledge.

Vandenberghe, R., & Huberman, A. M. (Eds.). (1999). Understanding and preventing teacher burnout: A sourcebook of international research and practice. Cambridge: Cambridge University Press.

Williams, K. A., Kolar, M. M., Reger, B. E., & Pearson, J. C. (2001). Evaluation of a wellness-based mindfulness stress reduction intervention: A controlled trial. American Journal of Health Promotion, 15, 422–432.

Zigmond, A. S., & Snaith, R. P. (1983). The hospital anxiety and depression scale. Acta Psychiatrica Scandinavica, 67(6), 361–370.

Zimmermann, L., Wangler, J., Unterbrink, T., Pfeifer, R., Wirsching, M., & Bauer, J. (2008). Mental health in a German teacher sample at the beginning of their occupational career. International Journal of Psychology, 43, 483–483.
Funding
This study was not funded by an external agency. Internal seed funding was provided by Mary Immaculate College in order to employ a research assistant for data collection and purchase of the HeartMath monitors.
Ethics declarations
Conflict of interest
There are no conflicts of interest. The devices were HeartMath monitors were purchased at full cost through the internal funding received from Mary Immaculate College.
Ethical Approval
All procedures performed in studies involving human participants were in accordance with the ethical standards of the institutional and/or national research committee and with the 1964 Helsinki declaration and its later amendments or comparable ethical standards.
Informed Consent
Informed consent was obtained from all individual participants included in the study.
About this article
Cite this article
Horgan, K., Howard, S. & Gardiner-Hyland, F. Pre-service Teachers and Stress During Microteaching: An Experimental Investigation of the Effectiveness of Relaxation Training with Biofeedback on Psychological and Physiological Indices of Stress. Appl Psychophysiol Biofeedback 43, 217–225 (2018). https://doi.org/10.1007/s10484-018-9401-9
Keywords
Pre-service teachers

Stress

Blood pressure

Heart rate

Biofeedback

Relaxation