Abstract
This study aimed to compare the effectiveness of neurofeedback (NFB) plus pharmacotherapy with pharmacotherapy alone, on addiction severity, mental health, and quality of life in crystal methamphetamine-dependent (CMD) patients. The study included 100 CMD patients undergoing a medical treatment who volunteered for this randomized controlled trial. After being evaluated by a battery of questionnaires that included addiction severity index questionnaire, Symptoms Check List 90 version, and World Health Organization Quality of Life, the participants were randomly assigned to an experimental or a control group. The experimental group received thirty 50-min sessions of NFB in addition to their usual medication over a 2-month period; meanwhile, the control group received only their usual medication. In accordance with this study's pre-test–post-test design, both study groups were evaluated again after completing their respective treatment regimens. Multivariate analysis of covariance showed the experimental group to have lower severity of addiction, better psychological health, and better quality of life in than the control group. The differences between the two groups were statistically significant. These finding suggest that NFB can be used to improve the effectiveness of treatment results in CMD patients.
Access options
Buy single article
Instant access to the full article PDF.
USD 39.95
Price includes VAT (USA)
Tax calculation will be finalised during checkout.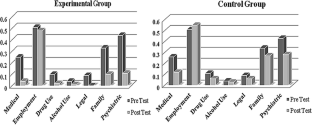 References
Alper, K. R., Prichep, L. S., Kowalik, S., Rosenthal, M. S., & Roy, J. E. (1998). Persistent QEEG abnormality in Crack Cocaine users at 6 months of drug abstinence. Journal of Neuropsychopharmacology, 19, 1–9.

Bergly, T. H., Nordfjærn, T., & Hagen, R. (2014). The dimensional structure of SCL-90-R in a sample of patients with substance use disorder. Journal of Substance Use, 19(3), 257–261.

Blum, K., Cshen, A. L. C., Giordano, J., Borsten, J., Chen, T. J. H., Hauser, M., & Barh, D. (2012). The addictive brain: All roads lead to dopamine. Journal of Psychoactive Drugs, 44(2), 134–143.

Bodehnamer, D. E., & Callaway, T. (2004). Extended follow-up of Peniston protocol results with chemical dependency. Journal of Neurotherapy, 8(2), 135–148.

Brands, B., Corea, L., Strike, C., Singh, V., Behrooz, R. C., & Rush, B. (2011). Demand for substance abuse treatment related to use of crystal methamphetamine in Ontario: An observational study. International Journal of Mental Health and Addiction, 10(5), 696–709.

Burkett, V. S., Cummins, J. M., Dickson, R. M., & Skolnick, M. (2005). An open clinical trial utilizing real-time EEG operant conditioning as an adjunctive therapy in the treatment of crack cocaine dependence. Journal of Neurotherapy, 9(2), 27–47.

Cacciola, J. S., Alterman, A. I., Habing, B., & Mclellan, A. T. (2011). Recent status scores for version 6 of the addiction severity index (ASI-6). Addiction, 106(9), 1588–1602.

Cowan, J. D. (1994). Alpha-theta brain wave biofeedback: The many possible theoretical reasons for its success. Megabrain Report: Journal of Mind Technology, 2(3), 29–35.

Dehghani-Arani, F., Rostami, R., & Nadali, H. (2013). Neurofeedback training for opiate addiction: Improvement of mental health and craving. Applied Psychophysiology and Biofeedbck, 38(2), 133–141.

Derogatis, L. R. (1994). SCL-90-R: Assessing behavioral health outcomes in outpatient programs: Reliability and validity of the BASIS-32. Journal of Behavioral Health Services and Research, 26, 5–17.

Derogatis, L. R., Lipman, R. S., & Covi, L. (1973). SCL-90: An outpatient psychiatric rating scale: Preliminary report. Psychopharmacology Bulletin, 9, 13–26.

Fahrion, S. L., Walters, E. D., Coyne, L., & Allen, T. (1992). Alteration in EEG amplitude, personality factors and brain electrical mapping after alpha-theta training: A controlled case study of an alcoholic recovery. Clinical and Experimental Research, 16(3), 547–552.

Feelemyer, J. P., Jarlais, D. C. D., Arasteh, K., Phillips, B. W., & Hagan, H. (2014). Changes in quality of life (WHOQOL-BREF) and addiction severity index (ASI) among participants in opioid substitution treatment (OST) in low and middle income countries: An international systematic review. Drug and Alcohol Dependence, 134(1), 251–258.

Goldberg, R. J., Greenwood, J. C., & Taintor, Z. (1976). Alpha conditioning as an adjust treatment for drug dependence. International Journal of Addiction, 11, 1085–1089.

Gossop, M., Stewart, D., Browne, N., & Marsden, J. (2002). Factors associated with abstinence, lapse or relapse to heroin use after residential treatment: Protective effect of coping responses. Addiction, 97(10), 1259–1267.

Hammond, D. C. (2011). What is neurofeedback: An update. Journal of Neurotherapy, 15(4), 305–336.

Hsiao, Y., Wu, C., & Yao, G. (2014). Convergent and discriminant validity of the WHOQOL-BREF using a multitrait-multimethod approach. Social Indicators Research, 116(3), 971–988.

Hunter, C., Strike, C., Barnaby, L., Busch, A., Marshall, C., Shepherd, S., & Hopkins, S. (2012). Reducing widespread pipe sharing and risky sex among crystal methamphetamine smokers in Toronto: Do safer smoking kits have a potential role to play? Harm Reduction Journal, 9(1), 1–9.

Kaiser, D. A., Othmer, S., & Scott, B. (1999). Effect of neurofeedback on chemical dependency treatment. Biofeedback & Self-Regulation, 20(3), 304–305.

Kelley, M. J. (1997). Native Americans, neurofeedback, and substance abuse theory: 3 year outcome of alpha/theta neurofeedback training in the treatment of problem drinking among Dine' (Navajo) people. Journal of Neurotherapy, 2(3), 24–60.

Kreek, M. J., Nielsen, D. A., Butelman, E. R., & LaForge, K. S. (2005). Genetic influences on impulsivity, risk taking, stress responsivity and vulnerability to drug abuse and addiction. Nature Neuroscience, 8, 1450–1457.

McLellan, A. T., Luborsky, L., Woody, G. E., & O'Brien, C. P. (1980). An improved diagnostic evaluation instrument for substance abuse patients: The addiction severity index. Journal of Nervous and Mental Disease, 168(1), 26–33.

McMahon, R. C. (2008). Substance abuse problems, psychiatric symptoms, and post-treatment status in MCMI psychopathology subgroups of cocaine dependent males. American Journal of Alcohol Abuse, 34(2), 195–202.

McPeak, J. D., Kennedy, B. P., & Gordon, S. M. (1991). Altered states of consciousness therapy: A missing component in alcohol and drug rehabilitation treatment. Journal of Substance Abuse Treatment, 8, 75–82.

Newton, T. F., Cook, I. A., Kalechstein, A. D., Duran, S., Monoroy, F., Ling, W., & Leuchter, A. F. (2003). Quantitative EEG abnormalities in recently abstinent methamphetamine dependent individuals. Clinical Neurophysiology, 114, 410–415.

Ochs, L. (1992). EEG biofeedback treatment of addictions. Applied Psychophysiology and Biofeedback, 20(1), 8–16.

Passini, F. T., Watson, C. G., Dehnel, L., Herder, J., & Watkins, B. (1977). Alpha wave biofeedback training therapy in alcoholics. Journal of Clinical Psychology, 33, 292–299.

Peniston, E. G., & Kulkosky, P. J. (1989). Alpha-theta brainwave training and beta-endorphin levels in alcoholics. Clinical and Experimental Research, 13, 271–279.

Peniston, E. G., & Saxby, E. (1995). Alpha-theta brainwave neurofeedback training: An effective treatment for male and female alcoholics with depression symptoms. The Biofeedback Center, 51(5), 685–693.

Prinz, U., Nutzinger, D. O., Schulz, H., Petermann, F., Braukhaus, C., & Andreas, S. (2013). Comparative psychometric analyses of the SCL-90-R and its short versions in patients with affective disorders. BMC Psychiatry, 13, 104–112.

Raymond, J., Varney, C., Parkinson, L. A., & Gruzelier, J. H. (2005). The effect of alpha/theta neurofeedback on personality and mood. Cognitive Brain Research, 23, 287–292.

Rosenfeld, J. P. (1992). EEG treatment of addictions: Commentary on Ochs, Peniston and Kulkosky. Applied Psychophysiology and Biofeedback, 20(2), 12–17.

Rosenzweig, M. R. (2003). Effects of differential experience on the brain and behavior. Developmental Neuropsychology, 24(2–3), 523–540.

Salansky, N., Fedotchev, A., & Bondar, A. (1998). Responses of the nervous system to low frequency stimulation and EEG rhythms: Clinical implications. Neuroscience and Biobehavioral Reviews, 22(3), 395–409.

Schindler, A. F., & Poo, M. (2000). The neurotrophin hypothesis for synaptic plasticity. Trends in Neuroscience, 23(12), 639–645.

Scott, W. C., Kaiser, D., Othmer, S., & Sideroff, S. I. (2005). Effects of an EEG biofeedback protocol on a mixed substance abusing population. The American Journal of Drug and Alcohol Abuse, 3, 1455–1469.

Simkin, D. R., Thatcher, R. W., & Lubar, J. (2014). Quantitative EEG and neurofeedback in children and adolescents anxiety disorders, depressive disorders, comorbid addiction and attention-deficit/Hyperactivity disorder, and brain injury. Child and Adolescent Psychiatric Clinics of North America, 23(3), 427–464.

Skevington, S. M., Dehner, S., Gillison, F. B., McGrath, E. J., & Lovell, C. R. (2014). How appropriate is the WHOQOL-BREF for assessing the quality of life of adolescents? Psychology and Health, 29(3), 297–317.

Skevington, S. M., Lotfy, M., & O'Connell, K. A. (2004). The World Health Organization's WHOQOLBREF quality of life assessment: Psychometric properties and results of the international field trial: A report from the WHOQOL group. Quality of Life Research, 13(2), 299–310.

Skevington, S. M., & McCrate, F. M. (2012). Expecting a good quality of life in health. Assessing people with diverse diseases, conditions and health using the WHOQOL-BREF. Health Expectations, 15(1), 49–62.

Sokhadze, T. M., Cannon, R. L., & Trudeau, D. L. (2008). EEG biofeedback as a treatment for substance use disorders: Review, rating of efficacy, and recommendations for further research. Applied Psychophysiology and Biofeedback, 33(1), 1–28.

Sokhadze, E., Stewart, C. M., Tasman, A., Daniels, R., & Trudeau, D. (2011). Review of rationale for neurofeedback application in adolescent substance abusers with comorbid disruptive behavioral disorders. Journal of Neurotherapy, 15(3), 232–261.

Taub, E., Steiner, S. S., Smith, R. B., Weingarten, E., & Walton, K. G. (1994). Effectiveness of broad spectrum approaches to relapse prevention in severe alcoholism: A long-term, randomized, controlled trial of transcendental meditation, EMG biofeedback, and electronic neurotherapy. Alcoholism Treatment Quarterly, 11, 187–220.

Tracy, E. M., Laudetb, A. B., Mina, M. O., Kima, H. S., Browna, S., Juna, M. K., & Singer, L. (2012). Prospective patterns and correlates of quality of life among women in substance abuse treatment. Drug and Alcohol Dependence, 124(3), 242–249.

Trudeau, D. L. (2000). A review of the treatment of addictive disorders by EEG biofeedback. Clinical Electroencephalogrphy, 31, 13–26.

Trudeau, D. L. (2005). Applicability of brain wave biofeedback to substance use disorder in adolescents. Child and Adolescent Psychiatric Clinics of North America, 14(1), 125–136.

Trudeau, D. L., Sokhadze, T. M., & Cannon, R. L. (2009). Neurofeedback in alcohol and drug dependency. In T. Budzynski, H. Budzynski, J. Evans, & A. Abarbanel (Eds.), Introduction to quantitative EEG and neurofeedback: Advanced theory and applications series (2nd ed.). Waltham, MA: Academic Press.

Unterrainer, H. F., Chen, M. J., & Gruzelier, J. H. (2014). EEG-neurofeedback and psychodynamic psychotherapy in a case of adolescent anhedonia with substance misuse: Mood/theta relations. International Journal of Psychophysiology, 93(1), 84–95.

Urbán, R., Kun, B., Farkas, J., Paksi, B., Kökönyei, G., Unoka, Z., & Demetrovics, Z. (2014). Bifactor structural model of symptom checklists: SCL-90-R and brief symptom inventory (BSI) in a non-clinical community sample. Psychiatry Research, 216(1), 146–154.

VanPraag, H., Kempermann, G., & Gage, F. H. (2000). Neural consequences of environmental enrichment. Nature Reviews Neuroscience, 1, 191–198.

Volkow, N. D., Fowler, J. S., & Wang, G. J. (2004). The addicted human brain viewed in the light of imaging studies: Brain circuits and treatment strategies. Neuropharmacology, 47, 3–13.

Volkow, N. D., Mullani, N., Gould, K. L., Adler, S., & Krajewski, K. (1988). Cerebral blood flow in chronic cocaine users: a study with positron emission tomography. British Journal of Psychiatry, 152, 641–648.

White, N. E., & Richards, L. M. (2009). Alpha-theta neurotherapy and the neurobehavioral treatment of addictions, mood disorders and trauma. In T. Budzynski, H. Budzynski, J. Evans, & A. Abarbanel (Eds.), Introduction to quantitative EEG and neurofeedback: Advanced theory and applications series (2nd ed.). Waltham, MA: Academic Press.

Zemore, S. E. (2012). The effect of social desirability on reported motivation, substance use severity, and treatment attendance. Journal of Substance Abuse Treatment, 42(4), 400–412.
About this article
Cite this article
Rostami, R., Dehghani-Arani, F. Neurofeedback Training as a New Method in Treatment of Crystal Methamphetamine Dependent Patients: A Preliminary Study. Appl Psychophysiol Biofeedback 40, 151–161 (2015). https://doi.org/10.1007/s10484-015-9281-1
Keywords
Crystal methamphetamine dependency

Neurofeedback

Addiction severity

Mental health

Quality of life

Effectiveness