Abstract
During dental treatment children are usually under psychological pressure. With the Sarnat Behaviour Score five different types of patients can be distinguished. There is no method that measures the impact of dental atmosphere and dentist's behaviour on the young patients' readiness to cooperate. The objective of the present study was the implementation and evaluation of a questionnaire on this subject. Eighty-eight patients participated in this study. In the first part of the new questionnaire personal information was collected. The second part consists of 43 items and investigates the relationship between dentist and patient and reflects the atmosphere of the environment. Statistical analysis was performed using the Chi-square test. There were statistically significant differences between the cooperative and non-cooperative group, as regards the perceived honesty of the dentist, the ability to explain and wish to help. Uncooperative children are significantly more often afraid of the dental environment. Sympathy alone has only a minor effect on children's cooperation. Children should be treated with empathy. Especially younger patients appreciate detailed explanations by the dentist. Children's non-cooperative behaviour results often from their aroused interest in the unknown environment, which causes an unpleasant perception of the whole setting.
This is a preview of subscription content,
to check access.
Access this article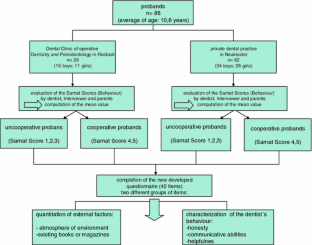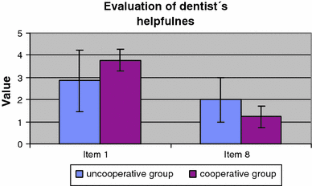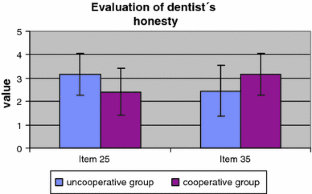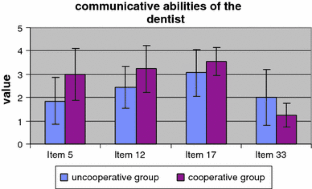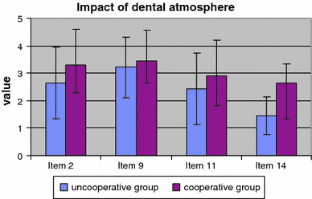 References
Abrahamsson, K. H., Berggren, U., et al. (2000). Psychosocial aspects of dental and general fears in dental phobic patients. Acta Odontologica Scandinavica, 58(1), 37–43.

Armfield, J. M., Spencer, A. J., et al. (2006). Dental fear in Australia: Who's afraid of the dentist? Australian Dental Association, 51(1), 78–85.

Aronson, E., & Akert, R. M. (2004). Sozialpsychologie. Pearson Studium: München.

Ashkenazi, M., Faibish, D., et al. (2002). Dental fear and knowledge of children treated by certified pediatric dentists and general practitioners. ASDC Journal of Dentistry for Children, 69(3), 297–305.

Baker, R. (2008). Wenn plötzlich die Angst kommt: Panikattacken verstehen und überwinden. Witten: Brockhaus Verlag.

Barrett-lennard, (1981). The empathy cycle. Journal of Counseling Psychology, 28(2), 91–100.

Boekaerts, M. (2005). Handbook of self-regulation. London: Academic Press.

Böhm, A. (2001). Der Brandenburger Sozialindex: Ein Werkzeug für die Gesundheits- und Sozialberichterstattung auf Landes- und kommunaler Ebene bei der Analyse von Einschülerdaten. From http://www.gruendungsnetz.brandenburg.de/sixcms/media.php/4055/Bbg_Sozialindex_2007.pdf.

Colares, V., & Richman, L. (2002). Factors associated with uncooperative behavior by Brazilian preschool children in the dental office. ASDC Journal of Dentistry for Children, 69(1), 87–91, 13.

Corah, N. L., Gale, E. N., & Illig, S. J. (1978). Assessment of a dental anxiety scale. Journal of the American Dental Association, 97(5), 816–819.

Cuthbert, M. I., & Melamed, B. G. (1982). A screening device: Children at risk for dental fears and management problems. ASDC Journal of Dentistry for Children, 49(6), 432–436.

Deister, A. (2002). Zum Umgang mit der Angst des Patienten. ZMK Magazin der Spitta Verlags GmbH.

de Jongh, A., Muris, P., ter Horst, G., van Zuuren, F., Schoenmakers, N., Makkes, P. (1995). One-session cognitive treatment of dental phobia: preparing dental phobics for treatment by restructuring negative cognitions. Behaviour Research and Therapy, 33(8), 947–954.

Elmore, A. M. (1988). Biofeedback therapy in the treatment of dental anxiety and dental phobia. Dental Clinics of North America, 32(4), 735–744.

Försterling, F. (1994). Attributionstheorie: Grundlagen und anwendunsbezogene Fragen. Bern: Verlag Hans Huber.

Fröhlich, P. D. S. (2005). Die Gebissgesundheit der Kinder und Jugendlichen aus Mecklenburg-Vorpommern hat sich weiter deutlich verbessert. Dens mai 14–15.

Glaros, A. G. (2008). Temporomandibular disorders and facial pain: A psychophysiological perspective. Applied Psychophysiology and Biofeedback, 33(3), 161–171.

Hellar-Euler-Rolle, M. (2006). Farben und ihre Wirkung. From http://www.wecarelife.at/urlaub-freizeit/farben-und-ihre-wirkung/farben-ihre-wirkung-auf-kinder/.

Holland, J. G. (1974). Analyse des Verhaltens. München: Urban & Schwarzenberg.

Hosey, M. T. (2002). UK National Clinical Guidelines in Paediatric Dentistry. Managing anxious children: The use of conscious sedation in paediatric dentistry. International Association of Dentistry for Children, 12(5), 359–372.

Jöhren, P. (1999). Validierung eines Fragebogens zur Erkennung von Zahnbehandlungsangst. Zahnärztl Welt, Ref 108, 104.

Kleinknecht, R. A., Klepac, R. K., et al. (1973). Origins and characteristics of fear of dentistry. Journal of the American Dental Association, 86(4), 842–848.

Lang, H., & Faller, H. (1998). Medizinische Psychologie und Soziologie. Berlin: Springer Verlag.

Lehnartz, C. A. (2003). Zahnbehandlungsangst und Zahnbehandlungsängstlichkeit unter Berücksichtigung der Angstbewältigung im zahnärztlichen Notdienst. Münster: 75.

Murray, P., Liddell, A., et al. (1989). A longitudinal study of the contribution of dental experience to dental anxiety in children between 9 and 12 years of age. Journal of Behavioral Medicine, 12(3), 309–320.

Musch, J., Brockhaus, R., & Bröder, A. (2002). Ein Inventar zur Erfassung von zwei Faktoren sozialer Erwünschtheit. Diagnostica (48), 121–129.

Neisser, U. (1990). Kognition und Wirklichkeit. Stuttgart: Klett-Cotta.

Petty, R. E. (1986). Eine umfassende Diskussion des Elaboration-Likehood-Modells der Einstellungsänderung. New York: Springer.

Portmann, R., & Augustiny, K. F. (1998). Die Dental Anxiety Scale. Psychotherapie, Psychosomatik, Medizinische Psychologie, 70–74.

Raith, E. (1986). Psychologie für die zahnärztliche Praxis. Stuttgart: Thieme Verlag.

Rief, M. (2010). Biofeedback: Grundlagen, Indikationen, Kommunikation, Vorgehen (Vol. 3). Auflage: Schattauer Verlag.

Sarnat, H., Peri, J. N., et al. (1972). Factors which influence cooperation between dentist and child. Journal of Dental Education, 36(12), 9–15.

Splieth, C. (2002). Kinderzahnheilkunde in der Praxis. Berlin: Quintessenz.

Stouthard, M. E., & Mellenbargh, G. J. (1993). Assessment of dental anxiety: A facet approach. Anxiety, Stress and Coping, 6, 89–105.

ter Horst, G., & Hoogstraten, J. (1988). Periodontal knowledge, attitude and behavior of Dutch adolescents. Ned Tijdschr Tandheelkd, 95(5), 186–189.

Varsio, S., Helsink, et al. (1999). Caries preventive treatment approaches for child and youth at two extremes of dental health in Helsinki. Helsinki: University of Helsinki, Finnland.

Wright, G. Z. (1983). Managing children's behaviour in the dental office. St.Louis: Missouri, Mosby.
About this article
Cite this article
Welly, A., Lang, H., Welly, D. et al. Impact of Dental Atmosphere and Behaviour of the Dentist on Children's Cooperation. Appl Psychophysiol Biofeedback 37, 195–204 (2012). https://doi.org/10.1007/s10484-012-9189-y
Published:

Issue Date:

DOI: https://doi.org/10.1007/s10484-012-9189-y
Keywords