Abstract
Global self-esteem was tested to predict quicker cardiovascular adaptation during stressful oral thesis presentation and faster habituation from the first to the second and third thesis presentations. Nineteen graduate students initially rated their global self-esteem and afterwards orally presented their theses proposals in 20-min presentations to their thesis supervisor and peers. A second and third presentation of the revised thesis concepts took place at 4-weeks intervals. Ambulatory blood pressure and heart rate were assessed repeatedly during the presentations. Post-talk self ratings of stressfulness indicated presentations to be a strong public speaking stressor. One hundred and thirty-eight measurements of systolic (SBP), diastolic blood pressure (DBP), and heart rate (HR) showed a significant adaptation (decrease) during presentations. There was an overall mean level decrease from the first to the second, and the second to the third presentations in HR, but not in SBP and DBP. However, habituation in SBP and DBP across three presentations was significantly faster (p < .05) in those participants who initially reported higher levels of global self-esteem. Higher global self-esteem did not foster adaptation within the presentations. Self-esteem is discussed as an important individual resource that allows successful coping with recurring evaluative threats.
Access options
Buy single article
Instant access to the full article PDF.
US$ 39.95
Tax calculation will be finalised during checkout.
Subscribe to journal
Immediate online access to all issues from 2019. Subscription will auto renew annually.
US$ 79
Tax calculation will be finalised during checkout.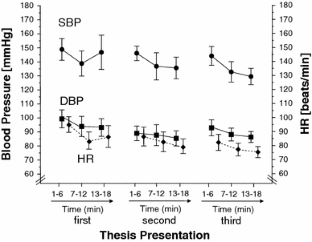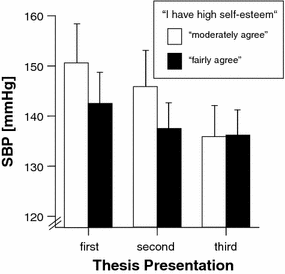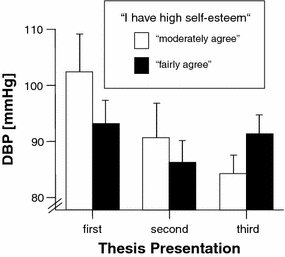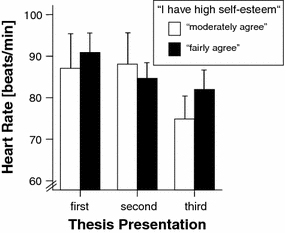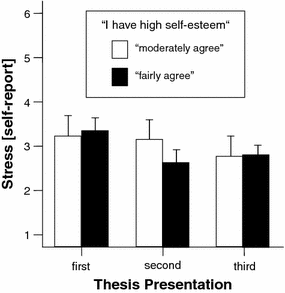 References
Blascovich, J., & Tomaka, J. (1996). The biopsychosocial model of arousal regulation. In M. P. Zanna (Ed.), Advances in experimental social psychology (Vol. 29, pp. 1–51). New York: Academic.

Boucsein, W., & Wendt-Suhl, G. (1981). An experimental investigation of elements involved in the anticipation of public speaking. Archiv für Psychologie, 133, 1–8.

Brockner, J. (1988). Self-esteem at work: Research, theory, and practice. Lexington, MA: Lexington Books.

Christian, L. M., & Stoney, C. M. (2006). Social support versus social evaluation: Unique effects on vascular and myocardial response patterns. Psychosomatic Medicine, 68, 914–921.

Creswell, J. D., Welch, W. T., Taylor, S. E., Sherman, D. K., Gruenewald, T., & Mann, T. (2005). Affirmation of personal values buffers neuroendocrine and psychological stress responses. Psychological Science, 16, 846–851.

Croft, R. J., Gonsalvez, C. J., Gander, J., Lechem, L., & Barry, R. J. (2004). Differential relations between heart rate and skin conductance, and public speaking anxiety. Journal of Behavior Therapy and Experimental Psychiatry, 35, 259–271.

Dickerson, S. S., Gruenewald, T. L., & Kemeny, M. E. (2009). Psychobiological responses to social self threat: Functional or detrimental? Self and Identity, 8, 270–285.

Elfering, A., & Grebner, S. (2011). Ambulatory assessment of skin conductivity during first thesis presentation: Lower self-confidence predicts prolonged stress response. Applied Psychophysiology and Biofeedback, 36, 93–99.

Filaire, E., Larue, J., Portier, H., Abed, A., Graziella, P.-D., Teixeira, A., et al. (2011). Lecturing to 200 students and its effects on cytokine concentration and salivary markers of adrenal activation. Stress and Health, 27, e25–e35.

Frese, M., & Zapf, D. (1994). Action as the core of work psychology: A German approach. In H. C. Triandis, M. D. Dunnette, & L. M. Hough (Eds.), Handbook of industrial and organizational psychology (2nd ed., Vol. 4, pp. 271–340). Palo Alto, CA: Consulting Psychology Press.

Furmark, T., Tilfors, M., & Everz, P. O. (1999). Social phobia in the general population: Prevalence and sociodemographic profile. Social Psychiatry and Psychiatric Epidemiology, 38, 416–424.

Gallo, L. C., Ghaed, S. G., & Bracken, W. S. (2004). Emotions and cognitions in coronary heart disease: Risk, resilience, and social context. Cognitive Therapy and Research, 28, 669–694.

Ganster, D. C. (2008). Measuring challenges for studying work-related stressors and strains. Human Resource Management Review, 18, 259–270.

Gendolla, G. H. E., & Richter, M. (2010). Effort mobilization when the self is involved: Some lessons from the cardiovascular system. Review of General Psychology, 14, 212–226.

Gerra, G., Zaimovic, A., Mascetti, G. G., Gardini, S., Zambelli, U., Timpano, M., et al. (2001). Neuroendocrine responses to experimentally-induced psychological stress in healthy humans. Psychoneuroendocrinology, 26, 91–107.

Gianaros, P. J., & Sheu, L. K. (2009). A review of neuroimaging studies of stressor-evoked blood pressure reactivity: Emerging evidence for a brain-body pathway to coronary heart disease risk. Neuroimage, 47, 922–936.

Gilkinson, H. (1942). Social fears as reported by students in college speech classes. Speech Monographs, 9, 141–160.

Gramer, M. (2006). Social anxiety and cardiovascular responses to active coping conditions. Psychology Science, 48, 39–52.

Grebner, S., Elfering, A., & Semmer, N. K. (2010). The success resource model of job stress. In P. L. Perreweé & C. D. Ganster (Eds.), Research in occupational stress and well being: New developments in theoretical and conceptual approaches to job stress (Vol. 8, pp. 61–108). Bingley, UK: Emerald.

Henderhan, R. C., & Fotheringham, W. C. (1962). Development of a measure of self-esteem in public speaking. Central States Speech Journal, 13, 179–182.

Hox, J. J. (2002). Multilevel analysis. Mahwah, NJ: Lawrence Erlbaum.

Jennings, J. R., & Zanstra, Y. (2009). Is the brain the essential in hypertension? Neuroimage, 47, 914–921.

Jex, S. M., & Elaqua, T. C. (1999). Self-esteem as a moderator: A comparison of global and organization-based measures. Journal of Occupational and Organizational Psychology, 72, 71–81.

Jönsson, P., Wallergard, M., Österberg, K., Hansen, A. M., Johansson, G., & Karlson, B. (2010). Cardiovascular and cortisol reactivity and habituation to a virtual reality version of the trier social stress test: A pilot study. Psychoneuroendocrinology, 35, 1397–1403.

Judge, T. A., Bono, J. E., & Locke, E. A. (2000). Personality and job satisfaction: The mediating role of job characteristics. Journal of Applied Psychology, 85, 237–249.

Kallus, K. (1992). Beanspruchung und Ausgangszustand [Strain and initial state]. In D. Frey, H. Keupp, E. D. Lantermann, R. K. Silbereisen & B. Weidenmann (Eds.), Fortschritte der psychologischen Forschung, Bd. 14. Weinheim: Beltz.

Kasl, S. V., & Jones, B. A. (2003). An epidemiological perspective on research design, measurement, and surveillance strategies. In J. C. Quick & L. E. Tetrick (Eds.), Handbook of occupational health psychology. Washington: APA.

Kernis, M. H., Brockner, J., & Frankel, B. S. (1989). Self-esteem and reactions to failure: The mediating role of overgeneralization. Journal of Personality and Social Psychology, 57, 707–714.

Kirschbaum, C. (2010). TSST. In I. P. Stolerman (Ed.), Encyclopedia of Psychopharmacology (pp. 1344–1346). Berlin, Heidelberg: Springer.

Kirschbaum, C., Pirke, K. M., & Hellhammer, D. H. (1993). The 'Trier Social Stress Test'—a tool for investigating psychobiology stress responses in a laboratory setting. Neuropsychobiology, 28, 76–81.

Kirschbaum, C., Pruessner, J. C., Stone, A. A., Federenko, I., Gaab, J., Lintz, D., et al. (1995). Persistent high cortisol responses to repeated psychological stress in a subpopulation of healthy men. Psychosomatic Medicine, 57, 468–474.

Klein, G. S., & Schoenfeld, W. N. (1941). The influence of ego-involvement on confidence. Journal of Abnormal and Social Psychology, 36, 249–258.

Klumb, P., Elfering, A., & Herre, C. (2009). Ambulatory assessment in I/O psychology: Fruitful examples and methodological issues. European Psychologist, 14, 120–131.

Lazarus, R. S. (1991). Emotion and adaptation. New York: Oxford University Press.

Lazarus, R. S., & Folkman, S. (1984). Stress, appraisal, and coping. New York: Springer.

Magometschnigg, D., Mair, N., & Hitzenberger, G. (2001). NAIS-284 blood pressure watch in comparison to SpaceLabs 90207—precision and reliability. Austrian Journal of Hypertension, 5, 16–22.

Martens, A., Greenberg, J., Allen, J. J. B., Hayes, J., Schirnel, J., & Johns, M. (2010). Self-esteem and autonomic physiology: Self-esteem levels predict cardiac vagal tone. Journal of Research in Personality, 44, 573–584.

McEwen, B. (1998). Protective and damaging effects of stress mediators. New England Journal of Medicine, 338, 171–179.

O'Donnell, K., Brydon, L., Wright, C. E., & Steptoe, A. (2008). Self-esteem levels and cardiovascular and inflammatory responses to acute stress. Brain, Behavior, and Immunity, 22, 1241–1247.

Obrist, P. A. (1981). Cardiovascular psychophysiology: A perspective. New York: Plenum.

Park, C. L. (1998). Stress-related growth and thriving through coping: The roles of personality and cognitive processes. Journal of Social Issues, 54, 267–277.

Pattyn, N., Migeotte, P. F., Neyt, X., van den Nest, A., & Cluydts, R. (2010). Comparing real-life and laboratory-induced stress reactivity on cardio-respiratory parameters: Differentiation of a tonic and a phasic component. Physiology & Behavior, 101, 218–223.

Rammstedt, B., Koch, K., Borg, I., & Reitz, T. (2004). Entwicklung und Validierung einer Kurzskala für die Messung der Big-Five-Persönlichkeitsdimensionen in Umfragen [Development and validation of a short scale measuring the big-five-dimensions of personality]. ZUMA Nachrichten, 55, 5–28.

Rasbash, J., Browne, W., Goldstein, H., Yang, M., Plewis, I., Healy, M., et al. (2000). A user's guide to MLwiN. London: Multilevel models project, Institute of Education, University of London.

Robins, R. W., Hendlin, H. M., & Trzesniewski, K. H. (2001). Measuring global self-esteem: Construct validation of a single-item measure and the Rosenberg self-esteem scale. Personality and Social Psychology Bulletin, 27, 151–161.

Rotenberg, V. S., & Boucsein, W. (1993). Adaptive versus maladaptive emotional tension. Genetic, Social, and General Psychology Monographs, 119, 209–232.

Schommer, N., Hellhammer, D., & Kirschbaum, C. (2003). Dissociation between reactivity of the hypothalamus-pituitary-adrenal axis and the sympathetic-adrenal-medullary system to repeated psychosocial stress. Psychosomatic Medicine, 65, 450–460.

Seeman, T. E., Berkman, L. F., Gulanski, B. I., Robbins, R. J., Greenspan, S. L., Charpentier, P. A., et al. (1995). Self-esteem and neuroendocrine response to challenge: MacArthur studies of successful aging. Journal of Psychosomatic Research, 39, 69–84.

Seery, M. D., Blascovich, J., Weisbuch, M., & Vick, S. B. (2004). The relationship between self-esteem level, self-esteem stability, and cardiovascular reactions to performance feedback. Journal of Personality and Social Psychology, 87, 133–145.

Semmer, N., Grebner, S., & Elfering, A. (2010). Psychische Kosten von Arbeit. Enzyklopädie der Psychologie. Band: Arbeitspsychologie (Bd. D-III-1, S. 325–370). [Psychological costs of work]. Göttingen: Hogrefe.

Semmer, N. K., Jacobshagen, N., Meier, L. L., & Elfering, A. (2007). Occupational stress research: The "stress-as-offence-to-self" perspective. In J. Houdmont & S. McIntyre (Eds.), Occupational health psychology: European perspectives on research, education and practice (Vol. 2, pp. 43–60). Maia, Portugal: ISMAI Publishers.

Semmer, N. K., McGrath, J. E., & Beehr, T. A. (2005). Conceptual issues in research on stress and health. In C. L. Cooper (Ed.), Handbook of stress and health (2nd ed., pp. 1–43). New York: CRC Press.

Southwick, S. M., Ozbay, F., Charney, D., & McEwen, B. S. (2008). Adaptation to stress and psychobiological mechanisms of resilience. In B. J. Lukey & V. Tepe (Eds.), Biobehavioral resilience to stress (pp. 91–116). Boca Raton: Taylor & Francis.

Taylor, S. E., Burklund, L. J., Eisenberger, N. I., Lehman, B. J., Hilmert, C. J., & Lieberman, M. D. (2008). Neural base of moderation of cortisol stress response by psychosocial resources. Journal of Personality and Social Psychology, 95, 197–211.

Taylor, S. E., Lerner, J. S., Sherman, D. K., Sage, R. M., & McDowell, N. K. (2003). Are self-enhancing cognitions associated with healthy or unhealthy biological profiles? Journal of Personality and Social Psychology, 85, 605–615.

von Känel, R., Kudielka, B. M., Preckel, D., Hanebuth, D., & Fischer, J. E. (2006). Delayed response and lack of habituation in plasma interleukin-6 to acute mental stress in men. Brain, Behavior, and Immunity, 20, 40–48.

Waugh, C. E., Panage, S., Mendes, W. B., & Gotlib, I. H. (2010). Cardiovascular and affective recovery from anticipatory threat. Biological Psychology, 84, 169–175.
About this article
Cite this article
Elfering, A., Grebner, S. Getting Used to Academic Public Speaking: Global Self-Esteem Predicts Habituation in Blood Pressure Response to Repeated Thesis Presentations. Appl Psychophysiol Biofeedback 37, 109–120 (2012). https://doi.org/10.1007/s10484-012-9184-3
Keywords
Habituation

Self-esteem

Public speaking