Abstract
Neurofeedback has been around for decades and has applications for both clinical and healthy populations yet there is no standard method for measuring learning or a way of defining successful learning. Thus the aim of this study was to focus on alpha neurofeedback and examine changes in three different measures: amplitude, percent time, and integrated alpha, across four methods: within sessions, across sessions, within sessions compared to baseline, and across sessions compared to baseline. Participants completed 10 weekly sessions of eyes open alpha (8–12 Hz) neurofeedback training (NFT) at Pz. Whilst all three measures showed changes within sessions, the inclusion of baselines revealed that such changes represented a return to baseline levels rather than an increase in alpha. Changes across sessions were only evident in amplitude and inclusion of baseline showed that NFT did not elicit any changes beyond baseline levels. Given this a case is made for incorporating baseline measures when attempting to identify evidence of learning. It is also suggested that both amplitude and percent time measures are used independently rather than incorporate them into a more conservative and less sensitive integrated measure. Finally, focusing on within sessions changes may be a more useful approach in identifying changes resulting from NFT.
Access options
Buy single article
Instant access to the full article PDF.
US$ 39.95
Tax calculation will be finalised during checkout.
Subscribe to journal
Immediate online access to all issues from 2019. Subscription will auto renew annually.
US$ 79
Tax calculation will be finalised during checkout.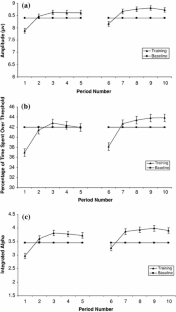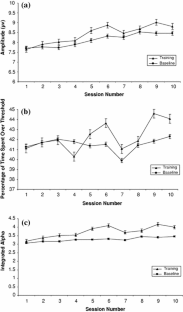 References
Aftanas, L. I., & Golocheikine, S. A. (2001). Human anterior and frontal midline theta and lower alpha reflect emotionally positive state and internalized attention: High resolution EEG investigation of meditation. Neuroscience Letters, 310, 57–60.

Angelakis, E., Stathopoulou, S., Frymiare, J. L., Green, D. L., Lubar, J. F., & Kounios, J. (2007). EEG neurofeedback: A brief overview and an example of peak alpha frequency training for cognitive enhancement in the elderly. The Clinical Neuropsychologist, 21, 110–129.

Butnik, S. M. (2005). Neurofeedback in adolescents and adults with attention deficit hyperactivity disorder. Journal of Clinical Psychology, 61, 621–625.

Cho, M. K., Jang, H. S., Jeong, S.-H., Jang, I.-S., Choi, B.-J., & Lee, M.-G. T. (2008). Alpha neurofeedback improves the maintaining ability of alpha activity. Neuroreport, 19(3), 315–317.

Cooper, N. R., Croft, R. J., Dominey, S. J. J., Burgess, A. P., & Gruzelier, J. H. (2003). Paradox lost? Exploring the role of alpha oscillations during externally vs. internally directed attention and the implications for idling and inhibition hypotheses. International Journal of Psychophysiology, 47, 65–74.

Cott, A., Pavloski, R. P., & Black, A. H. (1981a). Operant conditioning and discrimination: Some methodological limitations inherent in response discrimination experiments. Journal of Experimental Psychology: General, 110(3), 398–414.

Cott, A., Pavloski, R. P., & Goldman, J. A. (1981b). Cortical alpha rhythm, biofeedback, and the determinants of subjective state. Journal of Experimental Psychology: General, 110(3), 381–397.

DeGood, D. E., & Valle, R. S. (1978). Self-reported alcohol and nicotine use and the ability to control occipital EEG in a biofeedback situation. Addictive Behaviors, 3, 13–18.

Dempster, T., & Vernon, D. (2008). The effect of distinct training schedules on participants' ability to alter their alpha activity via neurofeedback: A preliminary study. Revista Espanola De Neuropsicologia, 10(1), 176.

Egner, T., Zech, T. F., & Gruzelier, J. H. (2004). The effects of neurofeedback training on the spectral topography of the electroencephalogram. Clinical Neurophysiology, 115, 2452–2460.

Fell, J., Elfadil, H., Klaver, P., Röschke, J., Elger, C. E., & Fernández, G. (2002). Covariation of spectral and nonlinear EEG measures with alpha biofeedback. International Journal of Neuroscience, 112, 1047–1057.

Gertz, J., & Lavie, P. (1983). Biological rhythms in arousal indices: A potential confounding effect in EEG biofeedback. Psychophysiology, 20(6), 690–695.

Hanslmayr, S., Sauseng, P., Doppelmayr, M., Schabus, M., & Klimesch, W. (2005). Increasing upper alpha power by neurofeedback improves cognitive performance in human subjects. Applied Psychophysiology and Biofeedback, 30(1), 1–10.

Hardt, J. V., & Kamiya, J. (1976). Conflicting results in EEG alpha feedback studies: Why amplitude integration should replace percent time. Biofeedback and Self-Regulation, 1(1), 63–75.

Hoedlmoser, K., Pecherstorfer, T., Gruber, G., Anderer, P., Doppelmayr, M., Klimesch, W., et al. (2008). Instrumental conditioning of human sensorimotor rhythm (12–15 Hz) and its impact on sleep as well as declarative learning. Sleep, 31(10), 1401–1408.

Knox, S. S. (1982). Alpha enhancement, autonomic activation, and extraversion. Biofeedback and Self-Regulation, 7(4), 421–433.

Kondo, C. Y., Travis, T. A., Knott, J. R., & Bean, J. A. (1979). Effects of true and inverted feedback on integrated occipital alpha. The Journal of Psychology, 102, 101–106.

Lynch, J. J., Paskewitz, D. A., & Orne, M. T. (1974). Some factors in the feedback control of human alpha rhythm. Psychosomatic Medicine, 36(5), 399–410.

Orenstein, H. B., & McWilliams, B. (1976). Variations in electroencephalographic alpha activity under conditions of differential lighting and auditory feedback. Biofeedback and Self-Regulation, 1(4), 423–432.

Paskewitz, D. A., & Orne, M. T. (1973). Visual effects on alpha feedback training. Science, 181, 360–363.

Plotkin, W. B. (1976). On the self-regulation of the occipital alpha rhythm: Control strategies, states of consciousness, and the role of physiological feedback. Journal of Experimental Psychology: General, 105(1), 66–99.

Plotkin, W. B. (1978). Long-term eyes-closed alpha-enhancement training: Effects on alpha amplitudes and on experiential state. Psychophysiology, 15(1), 40–52.

Plotkin, W. B., & Rice, K. M. (1981). Biofeedback as a placebo: Anxiety reduction facilitated by training in either suppression or enhancement of alpha brainwaves. Journal of Consulting and Clinical Psychology, 49(4), 590–596.

Putnam, J. (2000). The effects of brief, eyes-open alpha brain wave training with audio and video relaxation induction of 77 army reservists. Journal of Neurotherapy, 4(1), 17–28.

Sterman, M. B., & Egner, T. (2006). Foundation and practice of neurofeedback for the treatment of epilepsy. Applied Psychophysiology and Biofeedback, 31(1), 21–35.

Travis, T. A., Kondo, C. Y., & Knott, J. R. (1975). Alpha enhancement research: A review. Biological Psychiatry, 10(1), 69–89.

Tyson, P. D. (1987). Task-related stress and EEG alpha biofeedback. Biofeedback and Self-Regulation, 12(2), 105–119.

Vernon, D. J. (2005). Can neurofeedback training enhance performance? An evaluation of the evidence with implications for future research. Applied Psychophysiology and Biofeedback, 30(4), 347–364.

Vernon, D. (2008). Neurofeedback: Using computer technology to alter brain functioning. In F. Orsucci & N. Sala (Eds.), Reflexing interfaces: The complex coevolution of information technology ecosystems (pp. 94–108). New York: IGI.

Vernon, D., & Gruzelier, J. (2008). Electroencephalographic biofeedback as a mechanism to alter mood, creativity and artistic performance. In B. N. DeLuca (Ed.), Mind–body and relaxation research focus (pp. 149–164). Nova Science.

Yamaguchi, H. (1980). Characteristics of alpha-enhancement biofeedback training with eyes closed. Tohoku Psychologica Folia, 39(1–4), 40–50.
About this article
Cite this article
Dempster, T., Vernon, D. Identifying Indices of Learning for Alpha Neurofeedback Training. Appl Psychophysiol Biofeedback 34, 309 (2009). https://doi.org/10.1007/s10484-009-9112-3
Received:

Accepted:

Published:
Keywords
Alpha neurofeedback

Learning indices

Amplitude

Percent time

Baseline