Abstract
This study investigated the psychohysiological patterns associated with cell phone text messaging (texting). Twelve college students who were very familiar with texting were monitored with surface electromyography (SEMG) from the shoulder (upper trapezius) and thumb (abductor pollicis brevis/opponens pollicis); blood volume pulse (BVP) from the middle finger, temperature from the index finger, and skin conductance (SC) from the palm of the non-texting hand; and respiration from the thorax and abdomen. The counter-balanced procedure consisted of a 2 min pre-baseline, 1 min receiving text messages, 2 min middle baseline, 1 min sending text messages and 2 min post-baseline. The results indicated that all subjects showed significant increases in respiration rate, heart rate, SC, and shoulder and thumb SEMG as compared to baseline measures. Eighty-three percentage of the participants reported hand and neck pain during texting, and held their breath and experienced arousal when receiving text messages. Subjectively, most subjects were unaware of their physiological changes. The study suggests that frequent triggering of these physiological patterns (freezing for stability and shallow breathing) may increase muscle discomfort symptoms. Thus, participants should be trained to inhibit these responses to prevent illness and discomfort.
Access options
Buy single article
Instant access to the full article PDF.
US$ 39.95
Tax calculation will be finalised during checkout.
Subscribe to journal
Immediate online access to all issues from 2019. Subscription will auto renew annually.
US$ 79
Tax calculation will be finalised during checkout.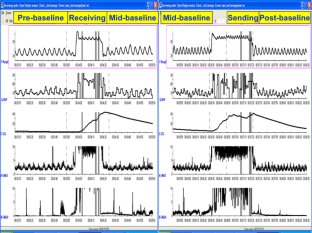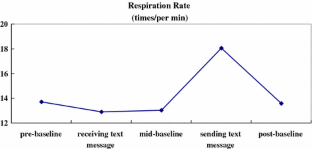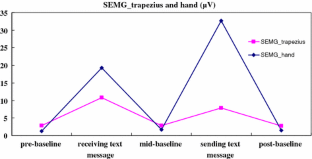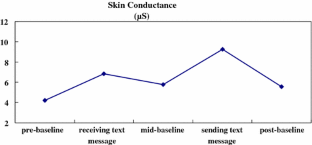 References
Balikci, K., Ozcan, I. C., Balik, D. T., & Balik, H. H. (2005). A survey study on some neurological symptoms and sensations experienced by long term users of mobile phones. Pathologie Biologie, 53, 30–34. doi:10.1016/j.patbio.2003.12.002.

Burke, A., & Peper, E. (2002). Cumulative trauma disorder risk for children using computer products: Results of a pilot investigation with a student convenience sample. Public Health Reports, 117, 350–357.

Chany, A. M., Marras, W. S., & Burr, D. L. (2007). The effect of phone design on upper extremity discomfort and muscle fiatgue. Human Factors, 49(4), 602–618. doi:10.1518/001872007X215683.

Hupert, N., Amick, B. C., Fossel, A. H., Coley, C. M., Robertson, M. M., & Katz, J. N. (2004). Upper extremity musculoskeletal symptoms and functional impairment associated with computer use among college students. Work: Journal of Prevention Assessment & Rehabilitation, 23(2), 85–93.

Jacobs, K., & Baker, N. A. (2002). The association between children's computer use and musculoskeletal discomfort. Work: Journal of Prevention Assessment & Rehabilitation, 18(3), 221–226.

Jenkins, M., Menéndez, C. C., Amick, B. C., Tullar, J., Hupert, N., Robertson, M. M., et al. (2007). Undergraduate college students' upper extremity symptoms and functional limitations related to computer use: A replication study. Work: Journal of Prevention Assessment & Rehabilitation, 28(3), 231–238.

Peper, E., & Harvey, R. (2008). From technostress to technohealth. Japanese Journal of Biofeedback Research, 35(2), 27–34.

Peper, E., Wilson, V. S., Gibney, K. H., Huber, K., Harvey, R., & Shumay, (2003). The integration of electromyography (sEMG) at the workstation: Assessment, treatment and prevention of repetitive strain injury (RSI). Applied Psychophysiology and Biofeedback, 28(2), 167–182. doi:10.1023/A:1023818810766.

Santini, R., Seigne, M., Bonhomme-Faivre, L., Bouffet, S., Defrasne, E., & Sage, M. (2001). Symptoms experienced by users of digital cellular phones. Pathologie Biologie, 49(3), 222–226. doi:10.1016/S0369-8114(01)00132-8.

Smith, A., & Williams, K. D. (2004). R U there? Ostracism by cell phone text messages. Group Dynamics: Theory, Research, and Practice, 8(4), 291–301. doi:10.1037/1089-2699.8.4.291.

Szyjkowska, A., Bortkiewicz, A., Szymczak, W., & Makowiec-Dabrowska, T. (2005). Subjective symptoms related to mobile phone use–a pilot study. Polski Merkuriusz Lekarski, 19(112), 529–532.

van den Bulck, J. (2003). Text messaging as a cause of sleep interruption in adolescents, evidence from a cross-sectional study. Journal of Sleep Research, 12(3), 263. doi:10.1046/j.1365-2869.2003.00362.x.
Acknowledgments
We thank Ms. Marisa Cortex for her significant help in doing the research.
About this article
Cite this article
Lin, IM., Peper, E. Psychophysiological Patterns During Cell Phone Text Messaging: A Preliminary Study. Appl Psychophysiol Biofeedback 34, 53–57 (2009). https://doi.org/10.1007/s10484-009-9078-1
Received:

Accepted:

Published:

Issue Date:
Keywords
Texting messages

Biofeedback

Electromyography

Respiration

Cell phones