Abstract
The effect of right, left, and alternate nostril yoga breathing (i.e., RNYB, LNYB, and ANYB, respectively) were compared with breath awareness (BAW) and normal breathing (CTL). Autonomic and respiratory variables were studied in 21 male volunteers with ages between 18 and 45 years and experience in the yoga breathing practices between 3 and 48 months. Subjects were assessed in five experimental sessions on five separate days. The sessions were in fixed possible sequences and subjects were assigned to a sequence randomly. Each session was for 40 min; 30 min for the breathing practice, preceded and followed by 5 min of quiet sitting. Assessments included heart rate variability, skin conductance, finger plethysmogram amplitude, breath rate, and blood pressure. Following RNYB there was a significant increase in systolic, diastolic and mean pressure. In contrast, the systolic and diastolic pressure decreased after ANYB and the systolic and mean pressure were lower after LNYB. Hence, unilateral nostril yoga breathing practices appear to influence the blood pressure in different ways. These effects suggest possible therapeutic applications.
This is a preview of subscription content,
to check access.
Access this article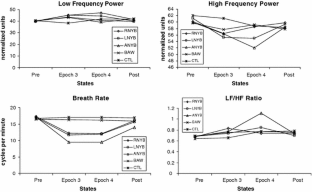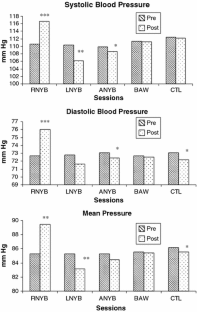 Similar content being viewed by others
References
Andreassi, J. L. (2000). Psychophysiology—Human behavior and physiological response (pp. 257–275). New Jersey: Lawrence Earl Baum Associates.

Backon, J. (1988). Changes in blood glucose levels induced by different forced uninostril breathing; a technique which affects both hemisphericity and autonomic activity. Medical Science Research, 16, 1197–1199.

Backon, J., & Kullock, S. (1989). Effect of forced unilateral nostril breathing on blink rates: relevance to hemispheric lateralization of dopamine. International Journal of Neuroscience, 46, 53–59.

Bernardi, L., Sleight, P., Bandinelli, G., Cencetti, S., Fattorini, L., Wdowczyc-Szulc, J., & Lagi, A. (2001). Effect of rosary prayer and yoga mantras on autonomic cardiovascular rhythms: comparative study. British Medical Journal, 323, 1446–1449.

Delius, W., & Kellerová, E. (1971). Reaction of arterial and venous vessels in the human forearm and hand to deep breath or mental strain. Clinical Science, 40, 271–282.

Eccles, R. (2000). Nasal airflow in health and disease. Acta Otolaryngologica, 120(5), 580–595.

Flanagan, P., & Eccles, R. (1997). Spontaneous changes of unilateral nasal airflow in man. A re-examination of the nasal cycle. Acta Otolaryngolica, 117(4), 590–595.

Fowles, D. C. (1986). The eccrine system and electrodermal activity. In M. G. H Coles, E. Donchin, & S. W. Porges (Eds.), Psychophysiology; systems, processes and applications (pp. 51–96). New York: Guilford Press.

Franklin, S. S. (2004). Systolic blood pressure: It's time to take control. American Journal of Hypertension, 17, 49S–54S.

Freidell, A. (1948). Autonomic attentive breathing in angina pectoris. Minnesota Medicine, 31, 875–881.

Ganong, W. F. (1999). Review of medical physiology. Connecticut: Prentice-Hall International Inc.

Kayser, R. (1895). Die exacte messung der luftdurchgangigkeit der nase. Archives of Laryngology and Rhinology, 3, 101–120.

Kennedy, B., Zeigler, M. G., & Shannahoff-Khalsa, D. S. (1986). Alternating lateralization of plasma catecholamines and nasal patency in humans. Life Sciences, 38, 1203–1214.

Lehrer, P. M., Vaschillo, E., & Vaschillo, B. (2000). Resonant frequency biofeedback training to increase cardiac variability: rationale and manual for training. Applied Psychophysiology and Biofeedback, 25(3), 177–191.

Malliani, A., Pagani, M., Lombardi, F., & Cerutti, S. (1991). Cardiovascular neural regulation explore in the frequency domain. Circulation, 84, 482–492.

Niskanen, J. P., Tarvainen, M. P., Ranta-aho, P. O., & Karjalainen, P. A. (2004). Software for advanced HRV analysis. Computer Methods and Programs in Biomedicine, 76, 73–81.

Ohki, M., Ogoshi, T., Yuasa, T., Kawano, K., & Kawano, M. (2005). Extended observation of the nasal cycle using a portable rhinoflowmeter. Journal of Otolaryngology, 34(5), 346–349.

Ohsuga, M., Shimono, F., & Genno, H. (2001). Assessment of phasic work stress using autonomic indices. International Journal of Psychophysiology, 40(3), 211–220.

Oldfield, R.C. (1971). The assessment and analysis of handedness: The Edinburgh Inventory. Neuropsychologia, 9, 97–114.

Parati, G., Saul, J. P., Di Rieuzo, M., & Mancia, G. (1995). Spectral analysis of blood pressure and heart rate variability in evaluating cardiovasular regulation: A critical appraisal. Hypertension, 25, 1276–1286.

Raghuraj, P., & Telles, S. (2003). Effect of yoga based and forced uni-nostril breathing on autonomic nervous system. Perceptual and Motor Skills, 96, 70–80.

Searleman, A., Hornung, D. E., Stein, E., & Brzuszkiewicz, L. (2005). Nostril dominance: Differences in nasal airflow and preferred handedness. Laterality, 10(2), 111–120.

Shannahoff-Khalsa, D. S. (1991). Lateralized rhythms of the central and autonomic nervous systems. International Journal of Psychophysiology, 11, 225–551.

Shannahoff-Khalsa, D. S., & Kennedy, B. (1993). The effects of uninostril breathing on the heart. International Journal of Neuroscience, 73, 47–60.

Shannahoff-Khalsa, D.S., & Yates, F.E. (2000). Ultradian sleep rhythms of lateral EEG, autonomic, and cardiovascular activity are coupled in humans. International Journal of Neuroscience, 101(1–4), 21–43.

Shields, S. A., MacDowell, K. A., Fairchild, S. B., & Campbell, M. L. (1987). Is meditation of sweating cholinergic, adrenergic or both? A comment on the literature. Psychophysiology, 24, 312–319.

Stevenson, I., & Ripley, N. (1952). Variations in respiration during changes in emotions. Psychosomatic Medicine, 14, 476–490.

Stoksted, P. (1953) Rhinometric measurements for determination of the nasal cycle. Acta Otolaryngologia (Stockholm), 109(Suppl), 159–175.

Swami Muktibodhananda (1999). Swara yoga. Munger: Bihar School of Yoga.

Swami Niranjanananda Saraswati (1994). Prana pranayama pranavidya. Munger: Bihar School of Yoga.

Swami Vivekananda (1973). Raja-yoga or conquering the internal nature (p. 280). Calcutta: Advaita Ashrama.

Taneja, I., Deepak, K. K., Poojary, G., Acharya, I. N., Pandey, R. M., & Sharma, M. P. (2004). Yogic versus conventional treatment in diarrhea-predominant irritable bowel syndrome: A randomized control study. Applied Psychophysiology and Biofeedback, 29(1), 19–33.

Task Force of the European Society of Cardiology, North American Society of Pacing and Electrophysiology. (1996). Heart rate variability standards of measurement, physiological interpretation and clinical use. Circulation, 93, 1043–1065.

Telles, S., Nagarathna, R., & Nagendra, H. R. (1994). Breathing through a particular nostril can alter metabolism and autonomic activities. Indian Journal of Physiology and Pharmacology, 38(2), 133–137.

Telles, S., Nagarathna, R., & Nagendra, H. R. (1996). Physiological measures during right nostril breathing. Journal of Alternative and Complementary Medicine, 2(4), 479–484.

Thakur, N. V., & Webster, J. G. (1985). Electrode studies for the long-term ambulatory ECG. Medical and Biological Engineering and Computing, 23, 1–7.

Velikonja, D., Weiss, D. S., & Corning, W. C. (1993). The relationship of cortical activation to alternating autonomic activity. Electroencephalography and Clinical Neurophysiology, 87(1), 38–45.

Visweswaraiah, N. K., & Telles, S. (2004). Randomized trial of yoga as a complementary therapy for pulmonary tuberculosis. Respirology, 9, 96–101.

Werntz D. A., Bickford, R. G., Bloom, F. E., & Shannahoff-Khalsa, D. S. (1983). Alternating cerebral hemispheric activity and the lateralization of autonomic nervous function. Human Neurobiology, 2(1), 39–43.

Yildirir, A., Kabakci, G., Akgul, E., Tokgozoglu, L., & Oto, A. (2002). Effects of menstrual cycle on cardiac autonomic innervation as assessed by heart rate variability. Annals of Noninvasive Electrocardiology, 7(1), 60–63.

Zar, J. H. (1999). Biostatistical analysis. London: Prentice-Hall.
About this article
Cite this article
Raghuraj, P., Telles, S. Immediate Effect of Specific Nostril Manipulating Yoga Breathing Practices on Autonomic and Respiratory Variables. Appl Psychophysiol Biofeedback 33, 65–75 (2008). https://doi.org/10.1007/s10484-008-9055-0
Received:

Accepted:

Published:

Issue Date:

DOI: https://doi.org/10.1007/s10484-008-9055-0
Keywords