Abstract
Listening to classical and self-selected relaxing music after exposure to a stressor should result in significant reductions in anxiety, anger, and sympathetic nervous system arousal, and increased relaxation compared to those who sit in silence or listen to heavy metal music. Fifty-six college students, 15 males and 41 females, were exposed to different types of music genres after experiencing a stressful test. Several 4 × 2 mixed design analyses of variance were conducted to determine the effects of music and silence conditions (heavy metal, classical, or self-selected music and silence) and time (pre–post music) on emotional state and physiological arousal. Results indicate listening to self-select or classical music, after exposure to a stressor, significantly reduces negative emotional states and physiological arousal compared to listening to heavy metal music or sitting in silence.
This is a preview of subscription content, log in to check access.
Access options
Buy single article
Instant access to the full article PDF.
US$ 39.95
Price includes VAT for USA
Subscribe to journal
Immediate online access to all issues from 2019. Subscription will auto renew annually.
US$ 99
This is the net price. Taxes to be calculated in checkout.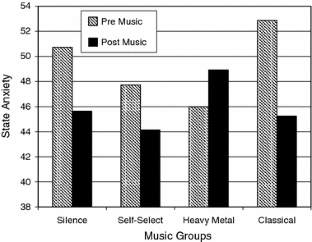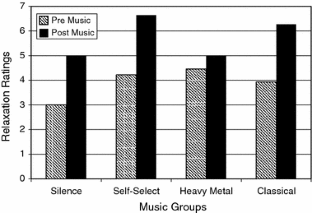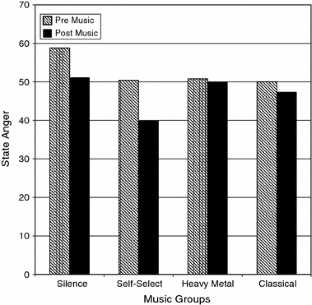 References
Anderson, C. A., Carnagey, N. L., & Eubanks, J. (2003). Exposure to violent media: the effects of songs with violent lyrics on aggressive thoughts and feelings. Journal of Personality and Social Psychology, 84, 4, 960–971.

Brannon, L., & Fiest, J. (2007). Health psychology: An introduction to behavior and health, 6th edn. Belmont: Thomson-Worth.

Burns, J. L., Labbé, E., Arke, B., Capeless, K., Cooksey, B., Steadman, A., & Gonzales, C. (2002). The effects of different types of music on perceived and physiological measures of stress. Journal of Music Therapy, 28, 104–116.

Burns, J. L., Labbé, E., Williams, K., & McCall, J. (1999). Perceived and physiological indicators of relaxation: As different as Mozart and Alice in Chains. Applied Psychophysiology and Biofeedback, 24, 197–202.

Corr, P. J., & Gray, J. A. (1996) Structure and validity of the attributional style questionnaire: A cross-sample comparison. The Journal of Psychology, 130, 645–647.

Knobloch, S., & Zillman, D. (2002) Mood management via the digital jukebox. Journal of Communication, June, 351–366.

Labbé, E., Booth, K., Jimerson, M., & Kawamura, N. (2004). The sound of music: Evaluating responses to different music genres, to be presented at the annual meeting of the Southeastern Psychological Association, Atlanta, GA, March.

Osman, A., Kopper, B. A., Barrios, F. X., Osman, J. R., & Wade, T. (1997). The Beck anxiety inventory: Reexamination of factor structure and psychometric properties. Journal of Clinical Psychology, 53, 7–14.

Sapp, M., Farrell, W. C., Johnson, J. H., & Ioannidis, G. (1997). Utilizing the PK scale of the MMPI-2 to detect ÿosttraumatic stress disorder in college students. Journal of Clinical Psychology, 53, 841–846.

Spielberger, C. D. (1999). STAXI-2 state-trait anger expression inventory-2 professional manual. Lutz: Psychological Assessment Resources, Inc.

Spielberger, C. D., Gorsuch, R. L., Lushene, R., Vagg, P. R., & Jacobs, G. A. (1983). Manual for the state-trait anxiety inventory: Form Y. Palo Alto: Consulting Psychologists Press, Inc.

Trzcinski, J. (1994) Today's music: Poetry or pornography? Corrections Today, 56(7), 148.
Acknowledgment
This project was supported by Grant # 2001-SI-FX-0006 awarded by the Office of Juvenile Justice and Delinquency Prevention, Office of Justice Programs, U.S. Department of Justice.
About this article
Cite this article
Labbé, E., Schmidt, N., Babin, J. et al. Coping with Stress: The Effectiveness of Different Types of Music. Appl Psychophysiol Biofeedback 32, 163–168 (2007). https://doi.org/10.1007/s10484-007-9043-9
Received:

Accepted:

Published:

Issue Date:
Keywords
Stress

Anger

SNS arousal

Music types