Abstract
Penicillium roqueforti is used for the production of blue-veined cheeses but is a spoilage fungus as well. It reproduces asexually by forming conidia. Germination of these spores can start the spoilage process of food. Germination is typically characterized by the processes of activation, swelling and germ tube formation. Here, we studied nutrient requirements for germination of P. roqueforti conidia. To this end, > 300 conidia per condition were monitored in time using an oCelloScope imager and an asymmetric model was used to describe the germination process. Spores were incubated for 72 h in NaNO3, Na2HPO4/NaH2PO4, MgSO4 and KCl with 10 mM glucose or 10 mM of 1 out of the 20 proteogenic amino acids. In the case of glucose, the maximum number of spores (Pmax) that had formed germ tubes was 12.7%, while time needed to reach 0.5 Pmax (τ) was about 14 h. Arginine and alanine were the most inducing amino acids with a Pmax of germ tube formation of 21% and 13%, respectively, and a τ of up to 33.5 h. Contrary to the typical stages of germination of fungal conidia, data show that P. roqueforti conidia can start forming germ tubes without a detectable swelling stage.
Access options
Buy single article
Instant access to the full article PDF.
USD 39.95
Price excludes VAT (USA)
Tax calculation will be finalised during checkout.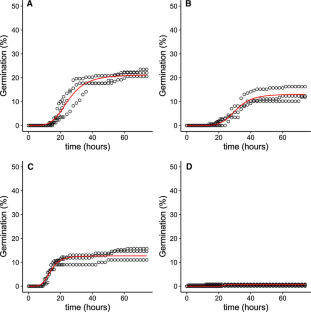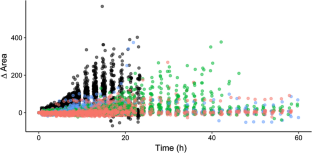 Similar content being viewed by others
References
Baltussen TJH, Coolen JPM, Zoll J, Verweij PE, Melchers WJG (2018) Gene co-expression analysis identifies gene clusters associated with isotropic and polarized growth in Aspergillus fumigatus conidia. Fungal Genet Biol. https://doi.org/10.1016/j.fgb.2018.04.013

Benito B, Garciadeblás B, Schreier P, Rodríguez-Navarro A (2004) Novel P-type ATPases mediate high-affinity potassium or sodium uptake in fungi. Eukaryot Cell. https://doi.org/10.1128/EC.3.2.359-368.2004

Beygelzimer A, Kakadet S, Langford J, Shengqiao L (2019) Package "FNN" Fast Nearest Neighbor Search Algorithms and Applications. https://cran.r-project.org/package=FNN

Coton E, Coton M, Hymery N, Mounier J, Jany JL (2020) Penicillium roqueforti: an overview of its genetics, physiology, metabolism and biotechnological applications. Fungal Biol Rev. https://doi.org/10.1016/j.fbr.2020.03.001

d'Enfert C (1997) Fungal spore germination: Insights from the molecular genetics of Aspergillus nidulans and Neurospora crassa. Fungal Genet Biol. https://doi.org/10.1006/fgbi.1997.0975

Dantigny P, Nanguy SPM, Judet-Correia D, Bensoussan M (2011) A new model for germination of fungi. Int J Food Microbiol. https://doi.org/10.1016/j.ijfoodmicro.2011.02.022

Dijksterhuis J (2017) The fungal spore and food spoilage. Curr Opin Food Sci. https://doi.org/10.1016/j.cofs.2017.10.006

Eayre CG, Jaffee BA, Zehr EI (1990) Influence of potassium on spore germination in the nematophagous fungus, Hirsutella rhossiliensis. J Nematol 22:612–613

Fredborg M, Andersen KR, Jørgensen E, Droce A, Olesen T, Jensen BB, Rosenvinge FS, Sondergaard TE (2013) Real-Time Optical Antimicrobial Susceptibility Testing. J Clin Microbiol. https://doi.org/10.1128/jcm.00440-13

Guijarro B, Melgarejo P, De Cal A (2007) Effect of stabilizers on the shelf-life of Penicillium frequentans conidia and their efficacy as a biological agent against peach brown rot. Int J Food Microbiol. https://doi.org/10.1016/j.ijfoodmicro.2006.06.024

Ijadpanahsaravi M, Punt M, Wösten HAB, Teertstra WR (2021) Minimal nutrient requirements for induction of germination of Aspergillus niger conidia. Fungal Biol. https://doi.org/10.1016/j.funbio.2020.11.004

Kalai S, Anzala L, Bensoussan M, Dantigny P (2017) Modelling the effect of temperature, pH, water activity, and organic acids on the germination time of Penicillium camemberti and Penicillium roqueforti conidia. Int J Food Microbiol. https://doi.org/10.1016/j.ijfoodmicro.2016.03.024

Mann RL, Kettlewell PS, Jenkinson P (2004) Effect of foliar-applied potassium chloride on septoria leaf blotch of winter wheat. Plant Pathol. https://doi.org/10.1111/j.1365-3059.2004.01063.x

Marchant R, White MF (1966) Spore swelling and germination in Fusarium culmorum. J Gen Microbiol. https://doi.org/10.1099/00221287-42-2-237

Nguyen Van Long N, Vasseur V, Coroller L, Dantigny P, Le Panse S, Weill A, Mounier J, Rigalma K (2017) Temperature, water activity and pH during conidia production affect the physiological state and germination time of Penicillium species. Int J Food Microbiol. https://doi.org/10.1016/j.ijfoodmicro.2016.10.022

Petzoldt, T. (2019) Package "growthrates" Estimate Growth Rates from Experimental Data. https://cran.r-project.org/package=growthrates

Punt M, van den Brule T, Teertstra WR, Dijksterhuis J, den Besten HMW, Ohm RA, Wösten HAB (2020) Impact of maturation and growth temperature on cell-size distribution, heat-resistance, compatible solute composition and transcription profiles of Penicillium roqueforti conidia. Food Res Int 136(May):109287. https://doi.org/10.1016/j.foodres.2020.109287

Samson RA, Houbraken J, Thrane U, Frisvad JC, Andersen, B (2010) Food and Indoor Fungi. C Westerdijk Laboratory Manual Series 2 (2nd ed.), Utrecht

Segers FJJ, van Laarhoven KA, Wösten HAB, Dijksterhuis J (2017) Growth of indoor fungi on gypsum. J Appl Microbiol. https://doi.org/10.1111/jam.13487

Van Leeuwen MR, van Doorn TM, Golovina EA, Stark J, Dijksterhuis J (2010) Water- and air-distributed conidia differ in sterol content and cytoplasmic microviscosity. Appl Environ Microbiol. https://doi.org/10.1128/AEM.01632-09

Wyatt TT, Wösten HAB, Dijksterhuis J (2013) Fungal spores for dispersion in space and time. Adv Appl Microbiol. https://doi.org/10.1016/B978-0-12-407672-3.00002-2
Acknowledgements
This work was financed by TiFN, a public–private partnership on precompetitive research in food and nutrition(Project AF-15507). The funding organization had no role in study design, data collection and analysis, decision to publish, or preparation of the manuscript.
Ethics declarations
Conflict of interest
The authors declare not to have any conflict of interest.
Additional information
Publisher's Note
Springer Nature remains neutral with regard to jurisdictional claims in published maps and institutional affiliations.
Supplementary Information
Below is the link to the electronic supplementary material.
About this article
Cite this article
Punt, M., Teertstra, W.R. & Wösten, H.A.B. Penicillium roqueforti conidia induced by L-amino acids can germinate without detectable swelling. Antonie van Leeuwenhoek 115, 103–110 (2022). https://doi.org/10.1007/s10482-021-01686-5
Received:

Accepted:

Published:

Issue Date:

DOI: https://doi.org/10.1007/s10482-021-01686-5
Keywords