Abstract
The bacterial strain M7D1T was isolated from samples of the rhizosphere of desert bloom plants on the Atacama region located in northern Chile as part of a study intended to isolate nitrifying bacteria in this adverse environment. It was previously identified as belonging to the Pseudomonas fluorescens group. In this study, the phylogenetic analysis of the 16s RNA, gyrA, rpoB and rpoD genes confirmed that this strain belongs to this group, especially Sub Group (SG) Koreensis, but it represents a potential new species. Additionally, the average nucleotide identity confirmed this as the highest identity value (0.92) with Pseudomonas moraviensis LMG 24280, which is lower than the 0.94 threshold established to classify two strains within the same species. The strain M7D1T shared a similar fatty acids methyl ester profile than the type strains of other Pseudomonas spp. previously described. Furthermore, it can be differentiated phenotypically from other related species of SG P. koreensis. Based on these results, the existence of a new species of Pseudomonas is demonstrated, for which the name Pseudomonas atacamensis is proposed. This strain presented a set of genes associated with plant growth-promoting rhizobacteria and it is a good candidate to be used for recovery of contaminated soils. However, more studies are required to demonstrate whether this bacterium is non-pathogenic, can survive in the presence of toxic compounds and promote growth or help to the stress management of plants.
Access options
Buy single article
Instant access to the full article PDF.
USD 39.95
Price excludes VAT (USA)
Tax calculation will be finalised during checkout.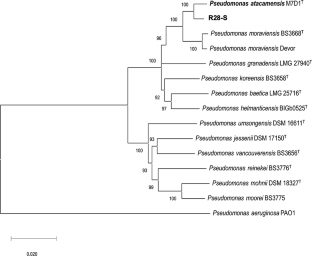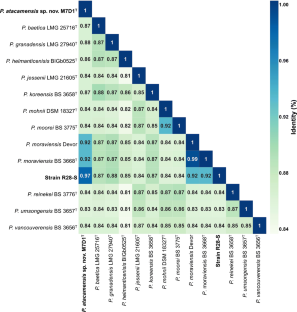 References
Chen L, Yang J, Yu J et al (2005) VFDB: a reference database for bacterial virulence factors. Nucl Acids Res. https://doi.org/10.1093/nar/gki008

CLSI (2019) Performance standards for antimi-crobial susceptibility testing, 30th edn. Clinical and Laboratory Standards Institute, Nasr City

Duveiller E, Fucikovsky L, Rudolph K (1997) The bacterial diseases of wheat: concepts and methods of disease management. CIMMYT, Mexico

Federhen S, Rossello-Mora R, Klenk H-P et al (2016) Meeting report: GenBank microbial genomic taxonomy workshop (12–13 May, 2015). Stand Genomic Sci 11:15. https://doi.org/10.1186/s40793-016-0134-1

Gomila M, Peña A, Mulet M et al (2015) Phylogenomics and systematics in pseudomonas. Front Microbiol. https://doi.org/10.3389/fmicb.2015.00214

Gordon SA, Weber RP (1951) Colorimetric estimation of indoleacetic acid. Plant Physiol 26:192–195. https://doi.org/10.1104/pp.26.1.192

Gutierrez J (2008) El Desierto Florido en la Región de Atacama. In: Squeo FA, Arancio GGJR (eds) Libro Rojo de la Flora Nativa y de los Sitios Prioritarios para su Conservación: Región de Atacama. Universidad de La Serena, La Serena

Hunter SS, Yano H, Loftie-Eaton W et al (2014) Draft genome sequence of Pseudomonas moraviensis R28-S. Genome Announc. https://doi.org/10.1128/genomeA.00035-14

Kaminski MA, Furmanczyk EM, Sobczak A et al (2018) Pseudomonas silesiensis sp. nov. strain A3 T isolated from a biological pesticide sewage treatment plant and analysis of the complete genome sequence. Syst Appl Microbiol 41:13–22. https://doi.org/10.1016/j.syapm.2017.09.002

Kumar S, Stecher G, Li M et al (2018) MEGA X: molecular evolutionary genetics analysis across computing platforms. Mol Biol Evol 35:1547–1549. https://doi.org/10.1093/molbev/msy096

Lyu D, Backer R, Robinson WG, Smith DL (2019) Plant growth-promoting rhizobacteria for cannabis production: yield, cannabinoid profile and disease resistance. Front Microbiol. https://doi.org/10.3389/fmicb.2019.01761

Mac-Faddin J (2010) Biochemical tests for identification of medical bacteria. Lippincott, London

Meier-Kolthoff JP, Auch AF, Klenk H-P, Göker M (2013) Genome sequence-based species delimitation with confidence intervals and improved distance functions. BMC Bioinformatics 14:60. https://doi.org/10.1186/1471-2105-14-60

Migula W (1984) Über ein neues System der Bakterien. Arb aus dem Bakteriol Inst der Tech Hochschule zu Karlsruhe, pp 235–238

Mulet M, Lalucat J, García-Valdés E (2010) DNA sequence-based analysis of the Pseudomonas species. Environ Microbiol. https://doi.org/10.1111/j.1462-2920.2010.02181.x

Pascual J, García-Ló Pez M, Bills GF et al (2015) Pseudomonas granadensis sp. nov., a new bacterial species isolated from the Tejeda, Almijara and Alhama Natural Park, Granada, Spain. Int J Syst Evol Microbiol 65:625–632. https://doi.org/10.1099/ijs.0.069260-0

Peix A, Ramírez-Bahena M-H, Velázquez E (2018) The current status on the taxonomy of Pseudomonas revisited: an update. Infect Genet Evol 57:106–116. https://doi.org/10.1016/j.meegid.2017.10.026

Poblete-Morales M, Plaza N, Almasia R et al (2019) Draft genome sequence of Pseudomonas sp. strain M7D1, isolated from the rhizosphere of desert bloom plants. Microbiol Resour Announc. https://doi.org/10.1128/MRA.00441-19

Richter M, Rosselló-Móra R (2009) Shifting the genomic gold standard for the prokaryotic species definition. Proc Natl Acad Sci 106:19126–19131. https://doi.org/10.1073/pnas.0906412106

Richter M, Rosselló-Móra R, Oliver Glöckner F, Peplies J (2016) JSpeciesWS: a web server for prokaryotic species circumscription based on pairwise genome comparison. Bioinformatics 32:929–931. https://doi.org/10.1093/bioinformatics/btv681

Saitou N, Nei M (1987) The neighbor-joining method: a new method for reconstructing phylogenetic trees. Mol Biol Evol. https://doi.org/10.1093/oxfordjournals.molbev.a040454

Schwyn B, Neilands JB (1987) Universal chemical assay for the detection and determination of siderophores. Anal Biochem 160:47–56. https://doi.org/10.1016/0003-2697(87)90612-9

Singh SK, Singh PP, Gupta A et al (2019) Tolerance of heavy metal toxicity using PGPR strains of pseudomonas species. In: Singh AK, Kumar A, Singh PK (eds) PGPR amelioration in sustainable agriculture. Elsevier, Amsterdam, pp 239–252

Sperber JI (1957) Solution of mineral phosphates by soil bacteria. Nature 180:994–995. https://doi.org/10.1038/180994a0

Staicu LC, Ackerson CJ, Cornelis P et al (2015) Pseudomonas moraviensis subsp. stanleyae, a bacterial endophyte of hyperaccumulator Stanleya pinnata, is capable of efficient selenite reduction to elemental selenium under aerobic conditions. J Appl Microbiol 119:400–410. https://doi.org/10.1111/jam.12842

Thompson JD, Higgins DG, Gibson TJ (1994) CLUSTAL W: improving the sensitivity of progressive multiple sequence alignment through sequence weighting, position-specific gap penalties and weight matrix choice. Nucl Acids Res 22:4673–4680. https://doi.org/10.1093/nar/22.22.4673

Tvrzova L, Schumann P, Sproer C et al (2006) Pseudomonas moraviensis sp. nov. and Pseudomonas vranovensis sp. nov., soil bacteria isolated on nitroaromatic compounds, and emended description of Pseudomonas asplenii. Int J Syst Evol Microbiol 56:2657–2663. https://doi.org/10.1099/ijs.0.63988-0

Yoon SH, Ha SM, Kwon S, Lim J, Kim Y, Seo HCJ (2017) Introducing EzBioCloud: a taxonomically united database of 16S rRNA gene sequences and whole-genome assemblies. Int J Syst Evol Microbiol 67:1613–1617. https://doi.org/10.1099/ijsem.0.001755
Acknowledgements
This work was supported by FONDEF ID17AI100007, Fondecyt iniciación 11181262 and 11170544 from National Commission for Scientific and Technological Research, (CONICYT), and a doctoral fellowship from Universidad Autónoma de Chile, Programa de Doctorado en Ciencias Biomédicas. CONICYT Proyecto Basal FB0807, CEDENNA.
Ethics declarations
Conflicts of interest
The authors declare no conflict of interest.
Additional information
Publisher's Note
Springer Nature remains neutral with regard to jurisdictional claims in published maps and institutional affiliations.
Electronic supplementary material
Below is the link to the electronic supplementary material.
About this article
Cite this article
Poblete-Morales, M., Carvajal, D., Almasia, R. et al. Pseudomonas atacamensis sp. nov., isolated from the rhizosphere of desert bloom plant in the region of Atacama, Chile. Antonie van Leeuwenhoek 113, 1201–1211 (2020). https://doi.org/10.1007/s10482-020-01427-0
Received:

Accepted:

Published:

Issue Date:

DOI: https://doi.org/10.1007/s10482-020-01427-0
Keywords
Multilocus sequence analysis

Genomic taxonomy

TccC-type

Insecticidal toxin

Hydrogen cyanide

PGPR

Pseudomonadaceae