Abstract
A red-pigmented bacterial strain, designated KIGAM108T, within the family Hymenobacteraceae was isolated from zeolite in the Gampo-41 mine of the Gyeongju, Republic of Korea. This strain was a Gram-negative, strictly aerobic, non-spore forming, rod-shaped bacterium. Phylogenetic analysis of the 16S rRNA gene sequence of strain KIGAM108T found that it was related to the genus Hymenobacter, with similarities of 96.6, 96.4, 95.5, and 95.0% to H. fastidiosus VUG-A124T, H. algoricola VUG-A23aT, H. crusticola MIMBbqt21T, and H. daecheongensis DSM 21074T, respectively. Strain KIGAM108T grew in the presence of 0–0.5% (w/v) NaCl at 4–37 °C and pH 6.0–10.0. This isolate contained MK-7 as a respiratory quinone. The polar lipids of strain KIGAM108T were identified as phosphatidylethanolamine, two unidentified aminophospholipids, one unidentified phospholipid and five unidentified lipids. The major fatty acids profile showed summed feature 3 (C16:1ω6c and/or C16:1ω7c) (22.3%), anteiso-C15:0 (17.1%), C16:1ω5c (13.3%), and iso-C15:0 (11.0%). The genomic DNA G + C content was 60.0 mol%. Based on the polyphasic taxonomic data, strain KIGAM108T is considered to represent a novel species of the genus Hymenobacter, for which the name Hymenobacter lutimineralis sp. nov. is proposed. The type strain is KIGAM108T (=KCTC 72263T =JCM 33444T).
This is a preview of subscription content,
to check access.
Access this article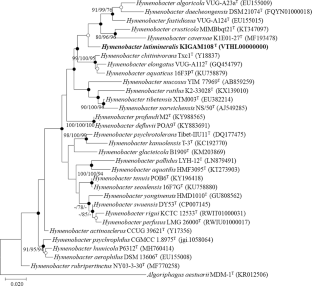 References
Al Dwairi RA, Al-Rawajfeh AE (2012) Recent patents of natural zeolites applications in environment, agriculture and pharmaceutical industry. Recent Patents Chem Eng 5:20−27

Bauer AW, Kirby MM, Sherris JC, Truck M (1966) Antibiotic susceptibility testing by a standardized single disk method. Am J Clin Pathol 45:493−496

Benson HJ (2002) Microbiological applications: a laboratory manual in general microbiology. McGraw-Hill, New York

Bowman JP (2000) Description of Cellulophaga algicola sp. nov., isolated from the surfaces of Antarctic algae, and reclassification of Cytophaga uliginosa (ZoBell and Upham 1944) Reichenbach 1989 as Cellulophaga uliginosa comb. nov. Int J Syst Evol Microbiol 50:1861−1868

Buczolits S, Denner EBM, Vybiral D, Wieser M, Kämpfer P, Busse HJ (2002) Classification of three airborne bacteria and proposal of Hymenobacter aerophilus sp. nov. Int J Syst Evol Microbiol 52:445−456

Buczolits S, Denner EB, Kaempfer P, Busse HJ (2006) Proposal of Hymenobacter norwichensis sp nov., classification of 'Taxeobacter ocellatus', 'Taxeobacter gelupurpurascens' and 'Taxeobacter chitinovorans' as Hymenobacter ocellatus sp nov., Hymenobacter gelipurpurascens sp nov and Hymenobacter chitinivorans sp nov., respectively, and emended description of the genus Hymenobacter Hirsch et al. 1998. Int J Syst Evol Microbiol 56:2071−2078

Chun J, Oren A, Ventosa A, Christensen H, Arahal DR, da Costa MS, Rooney AP, Yi H, Xu S-W, Meyer SD, Trujillo ME (2018) Proposed minimal standards for the use of genome data for the taxonomy of prokaryotes. Int J Syst Evol Microbiol 68:461−466

Collins MD, Jones D (1981) Distribution of isoprenoid quinone structural types in bacteria and their taxonomic implication. Microbiol Rev 45:316−354

Eroglu N, Emekci M, Athanassiou CG (2017) Applications of natural zeolites on agriculture and food production. J Sci Food Agric 97:3487−3499

Fautz E, Reichenbach H (1980) A simple test for flexirubin-type pigments. FEMS Microbiol Lett 8:87−91

Felsenstein J (1981) Evolutionary trees from DNA sequences: a maximum likelihood approach. J Mol Evol 17:368−376

Geng Y, Zhang Y, Tian J, Liu J, Qin K, Huang Y, Wei Z, Peng F (2019) Hymenobacter oligotrophus sp. nov., isolated from a contaminated agar plate. Antonie Van Leeuwenhoek 112:1533−1544

Gerhardt P, Murray RGE, Wood WA, Krieg NR (1994) Methods for general and molecular bacteriology. American Society for Microbiology, Washington, DC

Ha SM, Kim CK, Roh J, Byun JH, Yang SJ, Choi SB, Chun J, Yong D (2019) Application of the whole genome-based bacterial identfication system, TrueBac ID, in clinical isolates which were not identified with three MALDI-TOF M/S systems. Ann Lab Med 39:530−536

Han L, Wu SJ, Qin CY, Zhu YH, Lu ZQ, Xie B, Lv J (2014) Hymenobacter qilianensis sp. nov., isolated from a subsurface sandstone sediment in the permafrost region of Qilian Mountains, China and emended description of the genus Hymenobacter. Antonie Van Leeuwenhoek 105:971−978

Hiraishi A, Ueda Y, Ishihara J, Mori T (1996) Comparative lipoquinone analysis of influent sewage and activated sludge by high-performance liquid chromatography and photodiode array detection. J Gen Appl Microbiol 42:457−469

Hirsch P, Ludwig W, Hethke C, Sittig M, Hoffmann B, Gallikowski CA (1998) Hymenobacter roseosalivarius gen. nov., sp. nov. from continental Antarctic soils and sandstone: bacteria of the Cytophaga/Flavobacterium/Bacteroides line of phylogenetic descent. Syst Appl Microbiol 21:374−383

Huerta-Cepas J, Szklarczyk D, Forslund K, Cook H, Heller D, Walter MC, Rattei T, Mende DR, Sunagwa S, Kuhn M, Jensen LJ, Mering C, Bork P (2016) eggNOG 4.5: a hierarchical orthology framework with improved functional annotations for eukaryotic, prokaryotic and viral sequences. Nucleic Acids Res 44:286−293

Kimura M (1980) A simple method for estimating evolutionary rates of base substitutions through comparative studies of nucleotide sequences. J Mol Evol 16:111−120

Klassen JL, Foght JM (2008) Differences in carotenoid composition among Hymenobacter and related strains support a tree-like model of carotenoid evolution. Appl Environ Microbiol 74:2016−2202

Klassen JL, Foght JM (2011) Characterization of Hymenobacter isolates from Victoria Upper Glacier, Antarctica reveals five new species and substantial non-vertical evolution within this genus. Extremophiles 15:45−57

Kluge AG, Farris JS (1969) Quantitative phyletics and the evolution of anurans. Syst Biol 18:1−32

Komagata K, Suzuki KI (1987) Lipids and cell-wall analysis in bacterial systematics. Methods Microbiol 19:161–207

Kumar S, Stecher G, Tamura K (2016) MEGA7: molecular evolutionary genetics analysis version 7.0 for bigger datasets. Mol Biol Evol 33:1870−1874

Lee I, Chalita M, Ha SM, Na SI, Yoon SH, Chun J (2017a) ContEst16S: an algorithm that identifies contaminated prokaryotic genomes using 16S RNA gene sequences. Int J Syst Evol Microbiol 67:2053−2057

Lee JJ, Park SJ, Lee YH, Lee SY, Ten LN, Jung HY (2017b) Hymenobacter aquaticus sp. nov., a radiation-resistant bacterium isolated from a river. Int J Syst Evol Microbiol 67:1206−1211

Leifson E (1963) Determination of carbohydrate metabolism of marine bacteria. J Bacteriol 85:1183

Liang Y, Tang K, Wang Y, Yuan B, Tan F, Feng F, Liu H (2018) Hymenobacter crusticola sp. nov., isolated from biological soil crust. Int J Syst Evol Microbiol 69:547−551

Miller LT (1982) Single derivatization method for routine analysis of bacterial whole-cell fatty acid methyl esters, including hydroxy acids. J Clin Microbiol 16:584−586

Minnikin DE, O'Donnell AG, Goodfellow M (1984) An integrated procedure for the extraction of bacterial isoprenoid quinones and polar lipids. J Microbiol Methods 2:233−241

Pruesse E, Peplies J, Glockner FO (2012) SINA: accurate high-throughput multiple sequence alignment of ribosomal RNA genes. Bioinformatics 28:1823−1829

Reddy GS, Garcia-Pichel F (2013) Description of Hymenobacter arizonensis sp. nov. from the southwestern arid lands of the United States. Antonie Van Leeuwenhoek 103:321−330

Richter M, Rossello-Mora R (2009) Shifting the genomic gold standard for the prokaryotic species definition. Proc Natl Acad Sci USA 106:19126−19131

Roh SW, Sung Y, Nam YD, Chang HW, Kim KH, Yoon JH, Jeon CO, Oh HM, Bae JW (2008) Arthrobacter soli sp. nov., a novel bacterium isolated from wastewater reservoir sediment. J Microbiol 46:40−44

Saengmee-anupharb S, Srikhirin T, Thaweboon B, Thaweboon S, Amornsakchai T, Dechkunakorn S, Suddhasthira T (2013) Antimicrobial effects of silver zeolite, silver zirconium phosphate silicate and silver zirconium phosphate against oral microorganisms. Asian Pac J Trop Biomed 3:47−52

Saitou N, Nei M (1987) The neighbour-joining method: a new method for reconstructing phylogenetic trees. Mol Biol Evol 4:406−425

Sasser M (1990) Identification of bacteria by gas chromatography of cellular fatty acids. MIDI technical note 101. MIDI Inc, Newark, DE, USA

Schmidt K, Connor A, Britton G (1994) Analysis of pigments: carotenoids and related polyenes. In: Goodfellow M, O'Donnell AG (eds) Chemical methods in prokaryotic systematics. Wiley, Chichester, pp 403−461

Thompson JD, Higgins DG, Gibson TJ (1994) CLUSTAL W: improving the sensitivity of progressive multiple sequence alignment through sequence weighting, position-specific gap penalties and weight matrix choice. Nucl Acids Res 22:4673−4680

Widdel F, Bak F (1992) Gram-negative mesophilic sulfate-reducing bacteria. In: Balows A, Trüper HG, Dworkin M, Harder W, Schleifer K-H (eds) The prokaryotes. Springer, New York, pp 3352−3378

Yoon SH, Ha SM, Kwon S, Lim J, Kim Y, Seo H, Chun J (2017) Introducing EzBioCloud: a taxonomically united database of 16S rRNA gene sequences and whole-genome assemblies. Int J Syst Evol Microbiol 67:1613−1617
Funding
This research was supported by Collaborative Research Program of the Korea Food Research Institute (KFRI) funded by the Korea Institute of Geoscience and Mineral Resources (KIGAM). This research was supported by the Basic Research Project (20-3213) of the Korea Institute of Geoscience and Mineral Resources (KIGAM) funded by the Ministry of Science and ICT. This research was also supported by the National Research Foundation of Korea (NRF) grant funded by the Korea government (MIST) (NRF-2019R1A2C1006038).
Ethics declarations
Conflict of Interest
The authors declare that there is no conflict of interest.
Additional information
Publisher's Note
Springer Nature remains neutral with regard to jurisdictional claims in published maps and institutional affiliations.
Electronic supplementary material
Below is the link to the electronic supplementary material.
About this article
Cite this article
Cho, ES., Park, SL., Nam, YD. et al. Hymenobacter lutimineralis sp. nov., belonging to the family Hymenobacteraceae, isolated from zeolite. Antonie van Leeuwenhoek 113, 947–957 (2020). https://doi.org/10.1007/s10482-020-01402-9
Received:

Accepted:

Published:

Issue Date:

DOI: https://doi.org/10.1007/s10482-020-01402-9
Keywords