Abstract
Strain SYSU M10002T was isolated from a water sample collected from the coastal region of Pearl River estuary, Guangdong Province, southern China. The taxonomic position of the isolate was investigated by polyphasic taxonomic approaches. The isolate was found to be Gram-negative, non-motile, short rods and aerobic. The strain was able to grow at 14–37 °C, pH 6.0–10.0 and in the presence of up to 0.5% (w/v) NaCl. Phylogenetic analysis based on 16S rRNA gene sequences indicated that strain SYSU M10002T is a member of the family Sphingomonadaceae, with high sequence similarity to Sphingorhabdus buctiana T5T (95.1%). Overall genomic related indices between the genome of strain SYSU M10002T and those of related strains were low to moderate (AAI values < 64.3%; POCP values < 58%), indicating that strain SYSU M10002T represents a novel lineage within the family Sphinogomonadaceae. Strain SYSU M10002T contained homospermidine as its polyamine. The major polar lipids were diphosphatidylglycerol, phosphatidylcholine, phosphatidylethanolamine, phosphatidylglycerol, sphingoglycolipid, two unidentified phospholipids and an unidentified aminolipid. Ubiquinone Q-9 (44.9%) and Q-10 (43.2%) were the dominant respiratory quinones, along with a minor amount of Q-8 (11.9%). The predominant cellular fatty acids (> 10%) identified were summed feature 3 (C16:1ω7c and/or C16:1ω6c), summed feature 8 (C18:1ω7c) and C14:0 2-OH. The genomic DNA G+C content was 64.0%. Based on the analyses of the phenotypic, genotypic and phylogenetic characteristics, strain SYSU M10002T is determined to represent a novel species of a novel genus, for which the name Aestuariisphingobium litorale gen. nov., sp. nov. is proposed. The type strain of the species is SYSU M10002T (= KCTC 52944T = NBRC 112961T).
Access options
Buy single article
Instant access to the full article PDF.
US$ 39.95
Tax calculation will be finalised during checkout.
Subscribe to journal
Immediate online access to all issues from 2019. Subscription will auto renew annually.
US$ 119
Tax calculation will be finalised during checkout.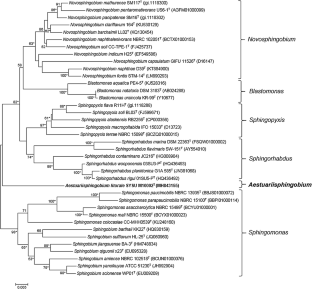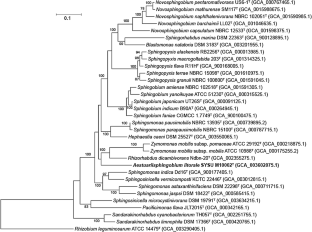 References
Altschul SF, Gish W, Miller W, Myers EW, Lipman DJ (1990) Basic local alignment search tool. J Mol Biol 215:403–410. https://doi.org/10.1016/s0022-2836(05)80360-2

Ashburner M, Ball CA, Blake JA, Botstein D, Butler H, Cherry JM, Davis AP, Dolinski K, Dwight SS, Eppiq JT, Harris MA, Hill DP, Issel-Tarver L, Kasarskis A, Lewis S, Matese JC, Richarcharson JE, Ringwald M, Rubin GM, Sherlock G (2000) Gene Ontology: tool for the unification of biology. The gene ontology consortium. Nat Genet 25:25–29. https://doi.org/10.1038/75556

Balkwill DL, Fredrickson JK, Romine MF (2006) Sphingomonas and related genera. In: Dworkin M, Falkow S, Rosenberg E, Schleifer K-H, Stackebrandt E (eds) The prokaryotes: volume 7: Proteobacteria: Delta, Epsilon Subclass. Springer, New York, pp 605–629. https://doi.org/10.1007/0-387-30747-8_23

Busse J, Auling G (1988) Polyamine pattern as a chemotaxonomic marker within the Proteobacteria. Syst Appl Microbiol 11:1–8. https://doi.org/10.1016/S0723-2020(88)80040-7

Busse H-J, Bunka S, Hensel A, Lubitz W (1997) Discrimination of members of the family Pasteurellaceae based on polyamine patterns. Int J Syst Evol Microbiol 47:698–708. https://doi.org/10.1099/00207713-47-3-698

Chen H, Piao A-L, Tan X, Nogi Y, Yeo J, Lu H, Feng Q-Q, Lv J (2018) Sphingorhabdus buctiana sp. nov., isolated from fresh water, and reclassification of Sphingopyxis contaminans as Sphingorhabdus contaminans comb. nov. Antonie Van Leeuwenhoek 111:323–331. https://doi.org/10.1007/s10482-017-0954-z

Collins MD, Pirouz T, Goodfellow M, Minnikin DE (1977) Distribution of menaquinones in actinomycetes and corynebacteria. J Gen Microbiol 100:221–230

Cui H-L, Lin Z-Y, Dong Y, Zhou P-J, Liu S-J (2007) Halorubrum litoreum sp. nov., an extremely halophilic archaeon from a solar saltern. Int J Syst Evol Microbiol 57:2204–2206. https://doi.org/10.1099/ijs.0.65268-0

Felsenstein J (1981) Evolutionary trees from DNA sequences: a maximum likelihood approach. J Mol Evol 17:368–376. https://doi.org/10.1007/bf01734359

Felsenstein J (1985) Confidence limits on phylogenies: an approach using the bootstrap. Evolution 39:783–791. https://doi.org/10.2307/2408678

Finn RD, Coggill P, Eberhardt RY, Eddy SR, Mistry J, Mitchell AL, Potter SC, Punta M, Qureshi M, Sangrador-Vegas A, Salazar GA, Tate J, Bateman A (2016) The Pfam protein families database: towards a more sustainable future. Nucleic Acids Res 44:D279–D285. https://doi.org/10.1093/nar/gkv1344

Fitch WM (1971) Toward defining the course of evolution: minimum change for a specific tree topology. Syst Zool 20:406–416. https://doi.org/10.2307/2412116

Gich F, Overmann J (2006) Sandarakinorhabdus limnophila gen. nov., sp. nov., a novel bacteriochlorophyll a-containing, obligately aerobic bacterium isolated from freshwater lakes. Int J Syst Evol Microbiol 56:847–854. https://doi.org/10.1099/ijs.0.63970-0

Glöckner FO, Zaichikov E, Belkova N, Denissova L, Pernthaler J, Pernthaler A, Amann R (2000) Comparative 16S rRNA analysis of lake bacterioplankton reveals globally distributed phylogenetic clusters including an abundant group of Actinobacteria. Appl Environ Microbiol 66:5053–5065. https://doi.org/10.1128/aem.66.11.5053-5065.2000

Gonzalez C, Gutierrez C, Ramirez C (1978) Halobacterium vallismortis sp. nov., an amylolytic and carbohydrate-metabolizing, extremely halophilic bacterium. Can J Microbiol 24:710–715

Groth I, Schumann P, Weiss N, Martin K, Rainey FA (1996) Agrococcus jenensis gen. nov., sp. nov., a new genus of actinomycetes with diaminobutyric acid in the cell wall. Int J Syst Evol Microbiol 46:234–239. https://doi.org/10.1099/00207713-46-1-234

Hall TA (1999) BioEdit: a user-friendly biological sequence alignment editor and analysis program for Windows 95/98/NT. Nucl Acids Symp Ser 41:91–98

Harrison PG, Strulo B (2000) SPADES—a process algebra for discrete event simulation. J Logic Comput 10:3–42. https://doi.org/10.1093/logcom/10.1.3

Hua Z-S, Qu Y-N, Zhu Q, Zhou E-M, Qi Y-L, Yin Y-R, Rao Y-Z, Tian Y, Li Y-X, Liu L, Castelle CJ, Hedlun BP, Shu W-S, Knight R, Li W-J (2018) Genomic inference of the metabolism and evolution of the archaeal phylum Aigarchaeota. Nat Commun 9:2832. https://doi.org/10.1038/s41467-018-05284-4

Hyatt D, Chen G-L, LoCascio PF, Land ML, Larimer FW, Hauser LJ (2010) Prodigal: prokaryotic gene recognition and translation initiation site identification. BMC Bioinformatics 11:119. https://doi.org/10.1186/1471-2105-11-119

Jogler M, Chen H, Simon J, Rohde M, Busse H-J, Klenk H-P, Tindall BJ, Overmann J (2013) Description of Sphingorhabdus planktonica gen. nov., sp. nov. and reclassification of three related members of the genus Sphingopyxis in the genus Sphingorhabdus gen. nov. Int J Syst Evol Microbiol 63:1342–1349. https://doi.org/10.1099/ijs.0.043133-0

Kalnenieks U (2006) Physiology of Zymomonas mobilis: some unanswered questions. In: Poole RK (ed) Advances in microbial physiology, vol 51. Academic Press, Cambridge, pp 73–117. https://doi.org/10.1016/s0065-2911(06)51002-1

Kanehisa M, Furumichi M, Tanabe M, Sato Y, Morishima K (2017) KEGG: new perspectives on genomes, pathways, diseases and drugs. Nucleic Acids Res 45:D353–D361. https://doi.org/10.1093/nar/gkw1092

Kim MK, Schubert K, Im W-T, Kim K-H, Lee S-T, Overmann J (2007) Sphingomonas kaistensis sp. nov., a novel alphaproteobacterium containing pufLM genes. Int J Syst Evol Microbiol 57:1527–1534. https://doi.org/10.1099/ijs.0.64579-0

Kimura M (1983) The neutral theory of molecular evolution. Cambridge University Press, Cambridge

Kosako Y, Yabuuchi E, Naka T, Fujiwara N, Kobayashi K et al (2000) Proposal of Sphingomonadaceae fam. nov., consisting of Sphingomonas Yabuuchi et al. 1990, Erythrobacter Shiba and Shimidu 1982, Erythromicrobium Yurkov et al. 1994, Porphyrobacter Fuerst et al. 1993, Zymomonas Kluyver and van Niel 1936, and Sandaracinobacter Yurkov et al. 1997, with the type genus Sphingomonas Yabuuchi et al. 1990. Microbiol Immunol 44:563–575. https://doi.org/10.1111/j.1348-0421.2000.tb02535.x

Kovacs N (1956) Identification of Pseudomonas pyocyanea by the oxidase reaction. Nature 178:703–704. https://doi.org/10.1038/178703a0

Kumar S, Stecher G, Tamura K (2016) MEGA7: molecular evolutionary genetics analysis version 7.0 for bigger datasets. Mol Biol Evol 33:1870–1874. https://doi.org/10.1093/molbev/msw054

Leifson E (1960) Atlas of bacterial flagellation. Academic Press, New York

Li W-J, Xu P, Schumann P, Zhang Y-Q, Pukall R, Xu L-H, Stackebrandt E, Jiang C-L (2007) Georgenia ruanii sp. nov., a novel actinobacterium isolated from forest soil in Yunnan (China), and emended description of the genus Georgenia. Int J Syst Evol Microbiol 57:1424–1428. https://doi.org/10.1099/ijs.0.64749-0

Mac Faddin JF (1976) Biochemical tests for identification of medical bacteria. Williams & Wilkins Co., Baltimore

Ming H, Nie G-X, Jiang H-C, Yu T-T, Zhou E-M, Feng H-G, Tang S-K, Li W-J (2012) Paenibacillus frigoriresistens sp. nov., a novel psychrotroph isolated from a peat bog in Heilongjiang, Northern China. Antonie van Leeuwenhoek 102:297–305. https://doi.org/10.1007/s10482-012-9738-7

Minnikin DE, Collins MD, Goodfellow M (1979) Fatty acid and polar lipid composition in the classification of Cellulomonas, Oerskovia and related taxa. J Appl Bacteriol 47:87–95. https://doi.org/10.1111/j.1365-2672.1979.tb01172.x

Nie G-X, Ming H, Li S, Zhou E-M, Cheng J, Tang X, Feng H-G, Tang S-K, Li W-J (2012) Amycolatopsis dongchuanensis sp. nov., an actinobacterium isolated from soil. Int J Syst Evol Microbiol 62:2650–2656. https://doi.org/10.1099/ijs.0.038125-0

Qin Q-L, Xie B-B, Zhang X-Y, Chen X-L, Zhou B-C, Zhou J, Oren A, Zhang Y-X (2014) A proposed genus boundary for the prokaryotes based on genomic insights. J Bacteriol 196:2210–2215. https://doi.org/10.1128/jb.01688-14

Saitou N, Nei M (1987) The neighbor-joining method: a new method for reconstructing phylogenetic trees. Mol Biol Evol 4:406–425

Sasser M (2001) Identification of bacteria by gas chromatography of cellular fatty acids. http://www.microbialid.com/PDF/TechNote_101.pdf

Sheu S-Y, Liu L-P, Young C-C, Chen W-M (2017) Novosphingobium fontis sp. nov., isolated from a spring. Int J Syst Evol Microbiol 67:2423–2429. https://doi.org/10.1099/ijsem.0.001973

Sly LI, Cahill MM (1997) Transfer of Blastobacter natatorius (Sly 1985) to the genus Blastomonas gen. nov. as Blastomonas natatoria comb. nov. Int J Syst Evol Microbiol 47:566–568. https://doi.org/10.1099/00207713-47-2-566

Stamatakis A (2014) RAxML version 8: a tool for phylogenetic analysis and post-analysis of large phylogenies. Bioinformatics 30:1312–1313. https://doi.org/10.1093/bioinformatics/btu033

Takeuchi M, Kawai F, Shimada Y, Yokota A (1993) Taxonomic study of polyethylene glycol-utilizing bacteria: emended description of the genus Sphingomonas and new descriptions of Sphingomonas macrogoltabidus sp. nov., Sphingomonas sanguis sp. nov. and Sphingomonas terrae sp. nov. Syst Appl Microbiol 16:227–238. https://doi.org/10.1016/S0723-2020(11)80473-X

Takeuchi M, Hamana K, Hiraishi A (2001) Proposal of the genus Sphingomonas sensu stricto and three new genera, Sphingobium, Novosphingobium and Sphingopyxis, on the basis of phylogenetic and chemotaxonomic analyses. Int J Syst Evol Microbiol 51:1405–1417. https://doi.org/10.1099/00207713-51-4-1405

Tatusov RL, Natale DA, Garkavtsev IV, Tatusova TA, Shankavaram UT, Rao BS, Kiryutin B, Galperin MY, Fedorova ND, Koonin EV (2001) The COG database: new developments in phylogenetic classification of proteins from complete genomes. Nucleic Acids Res 29:22–28. https://doi.org/10.1093/nar/29.1.22

Thompson JD, Gibson TJ, Plewniak F, Jeanmougin F, Higgins DG (1997) The CLUSTAL-X windows interface: flexible strategies for multiple sequence alignment aided by quality analysis tools. Nucleic Acids Res 25:4876–4882. https://doi.org/10.1093/nar/25.24.4876

Tindall BJ, Sikorski J, Smibert RA, Krieg NR (2007) Phenotypic characterization and the principles of comparative systematics. In: Reddy CA, Beveridge TJ, Breznak JA, Marzluf GA, Schmidt TM, Snyder LR (eds) Methods for general and molecular microbiology, 3rd edn. American Society of Microbiology, Washington DC, pp 330–393. https://doi.org/10.1128/9781555817497.ch15

Yoon S-H, Ha S-M, Kwon S, Lim J, Kim Y, Seo H, Chun J (2017) Introducing EzBioCloud: a taxonomically united database of 16S rRNA gene sequences and whole-genome assemblies. Int J Syst Evol Microbiol 67:1613–1617. https://doi.org/10.1099/ijsem.0.001755

Zwart G, Crump BC, Kamst-van Agterveld MP, Hagen F, Han S-K (2002) Typical freshwater bacteria: an analysis of available 16S rRNA gene sequences from plankton of lakes and rivers. Aquat Microb Ecol 28:141–155
Acknowledgements
This research was supported by the Natural Science Foundation of China (No. 31528001). X. Mou was supported by the Ohio Board of Regents (sub-award no. 60049296). W.-J. Li was also supported by Guangdong Province Higher Vocational Colleges & Schools Pearl River Scholar Funded Scheme (2014).
Ethics declarations
Conflict of interest
The authors declare that they have no conflict of interest.
Ethical statement
This article does not contain any studies with human participants or animals performed by any of the authors.
Additional information
Publisher's Note
Springer Nature remains neutral with regard to jurisdictional claims in published maps and institutional affiliations.
Electronic supplementary material
Below is the link to the electronic supplementary material.
About this article
Cite this article
Li, X., Li, JL., Zhang, XT. et al. Aestuariisphingobium litorale gen. nov., sp. nov., a novel proteobacterium isolated from a water sample of Pearl River estuary. Antonie van Leeuwenhoek 112, 1357–1367 (2019). https://doi.org/10.1007/s10482-019-01268-6
Received:

Accepted:

Published:

Issue Date:
Keywords
Aestuariisphingobium litorale gen. nov., sp. nov.

Polyphasic taxonomy

Pearl River estuary