Abstract
A novel halophilic, Gram-positive and aerobic actinobacterium, designated strain AFM 20147T, was isolated from a sediment sample collected from Xiaochaidan Salt Lake of Qinghai, China. Phylogenetic analysis based on 16S rRNA gene sequences indicated that strain AFM 20147T belongs to the genus Saccharopolyspora, shows high sequence similarities to Saccharopolyspora griseoalba AFM 10238T (99.41%) and Saccharopolyspora halophila YIM 90500T (98.20%), and has low similarities (below 98.0%) with other members of the genus. The DNA–DNA relatedness values of strain AFM 20147T with S. griseoalba AFM 10238T and S. halophila YIM 90500T were 40 ± 1.7% and 37 ± 2.3%, respectively. Optimal growth was found to occur at 28 °C, pH 7.5 and in the presence of 7.5% (w/v) NaCl. Strain AFM 20147T was found to contain meso-diaminopimelic acid as the cell wall diamino acid, and galactose and arabinose as the whole cell sugars. The major fatty acids were identified as iso-C15:0, iso-C16:0 and anteiso-C17:0. The major polar lipids were identified as diphosphatidylglycerol, phosphatidylethanolamine, phosphatidylglycerol, phosphatidylmethylethanolamine, phosphatidylinositol and phosphatidylcholine. MK-9(H4) was found to be the predominant menaquinone and the DNA G+C content was determined to be 67.8 mol%. DNA–DNA relatedness data, together with phenotypic and chemotaxonomic differences, clearly distinguish the isolate from its close neighbours. On the basis of the data from this polyphasic analysis, a novel species Saccharopolyspora qinghaiensis sp. nov. is proposed. The type strain is S. qinghaiensis AFM 20147T (=KCTC 49190T =CGMCC 4.7556T).
Access options
Buy single article
Instant access to the full article PDF.
US$ 39.95
Tax calculation will be finalised during checkout.
Subscribe to journal
Immediate online access to all issues from 2019. Subscription will auto renew annually.
US$ 119
Tax calculation will be finalised during checkout.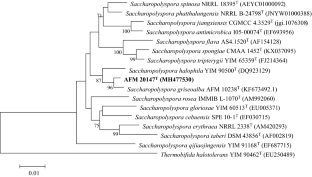 References
Collins MD (1994) Isoprenoid quinones. In chemical methods in prokaryotic systematics, pp 265-309. Edited by M. Goodfellow & AGO'Donnell. Chichester: Wiley

Embley TM, Wait R, Dobson G, Goodfellow M (1987) Fatty acid composition in the classification of Saccharopolyspora hirsuta. FEMS Microbiol Lett 41:131–135

Embley TM, Smida J, Stackebrandt E (1988) The phylogeny of mycolate-less wall chemotype IV actinomycetes and description of Pseudonocardiaceae fam. nov. Syst Appl Microbiol 11:44–52

Ezaki T, Hashimoto Y, Yabuuchi E (1989) Fluorometric deoxyribonucleic acid-deoxyribonucleic acid hybridization in microdilution wells as an alternative to membrane filter hybridization in which radioisotopes are used to determine genetic relatedness among bacterial strains. Int J Syst Bacteriol 39:224–229

Felsenstein J (1981) Evolutionary trees from DNA sequences: a maximum likelihood approach. J Mol Evol 17:368–376

Felsenstein J (1985) Confidence limits on phylogenies: an approach using the bootstrap. Evolution 39:783–791

Fitch WM (1971) Toward defining the course of evolution: minimum change for a specific tree topology. Syst Zool 20:406–416

Gonzalez C, Gutierrez C, Ramirez C (1978) Halobacterium vallismortis sp. nov. an amylolytic and carbohydrate-metabolizing, extremely halophilic bacterium. Can J Microbiol 24:710–715

Goodfellow M, Lacey J, Athalye M, Embley TM, Bowen T (1989) Saccharopolyspora gregorii and Saccharopolyspora hordei: two new actinomycete species from fodder. J Gen Microbiol 135:2125–2139

He L, Li W, Huang Y, Wang L, Liu Z, Lanoot B, Vancanneyt M, Swings J (2005) Streptomyces jietaisiensis sp. nov., isolated from soil in northern China. Int J Syst Evol Microbiol 55:1939–1944

Jiang YY, Wei XM, Chen X, Jiang Y, Xue QH, Lai HX (2016) Saccharopolyspora griseoalba sp. nov. a novel actinomycete isolated from the Dead Sea. Antonie Van Leeuwenhoek 109(12):1635–1641

Kelly KL (1964) Inter-society color council-national bureau of standards color name charts illustrated with centroid colors. US Government Printing Office, Washington, DC

Kim M, Oh HS, Park SC, Chun JS (2014) Towards a taxonomic coherence between average nucleotide identity and 16S rRNA gene sequence similarity for species demarcation of prokaryotes. Int J Syst Evol Microbiol 64:346–351

Kimura M (1980) A simple method for estimating evolutionary rates of base substitutions through comparative studies of nucleotide sequences. J Mol Evol 16:111–120

Kroppenstedt RM (1982) Separation of bacterial menaquinones by HPLC using reverse phase (RP18) and a silver loaded ion exchanger as stationary phases. J Liq Chromatogr 5:2359–2367

Lacey J, Goodfellow M (1975) A novel actinomycete from sugarcane bagasse: Saccharopolyspora hirsuta gen. et sp. nov. J Gen Microbiol 88:75–85

Li WJ, Xu P, Schumann P, Zhang YQ, Pukall R, Xu LH, Stackebrandt E, Jiang CL (2007) Georgenia ruanii sp nov., a novel actinobacterium isolated from forest soil in Yunnan (China), and emended description of the genus Georgenia. Int J Syst Evol Microbiol 57:1424–1428

MacFaddin RM (1976) Biochemical tests for identification of medical bacteria. Williams & Wilkins Co, Philadelphia

Marmur J (1961) A procedure for the isolation of deoxyribonucleic acid from microorganisms. J Mol Biol 3:208–218

Mesbah M, Premachandran U, Whitman WB (1989) Precise measurement of the G+C content of deoxyribonucleic acid by high performance liquid chromatography. Int J Syst Bacteriol 39:159–167

Minnikin DE, O'Donnell AG, Goodfellow M, Alderson G, Athalye M, Schaal A, Parlett JH (1984) An integrated procedure for the extraction of bacterial isoprenoid quinones and polar lipids. J Microbiol Methods 2:233–241

Murray RGE, Doetsch RN, Robinow CF (1994) Determinative and cytological light microscopy. Methods for general and molecular bacteriology. American Society for Microbiology, Washington, DC, pp 22–41

RossellÓ-MlÓra R, Amann R (2015) Past and future species definitions for bacteria and archaea. Syst Appl Microbiol 38:209–216

Saitou N, Nei M (1987) The neighbor-joining method: a new method for reconstructing phylogenetic trees. Mol Biol Evol 4:406–425

Sasser M (1990) Identification of bacteria by gas chromatography of cellular fatty acids. Akademial Kiado, Budapest, pp 199–204

Shirling EB, Gottlieb D (1966) Methods for characterization of streptomyces species. Int J Syst Bacteriol 16:313–340

Smibert RM (1994) Phenotypic characterization. Methods for general and molecular bacteriology. American Society for Microbiology, Washington DC, pp 607–654

Stackebrandt E, Rainey FA, Ward-Rainey NL (1997) Proposal for a new hierarchic classification system, Actinobacteria classis nov. Int J Syst Bacteriol 47:479–491

Tamura K, Peterson D, Peterson N, Stecher G, Nei M, Kumar S (2011) MEGA5: molecular evolutionary genetics analysis using maximum likelihood, evolutionary distance, and maximum parsimony methods. Mol Biol Evol 28:2731–2739

Tang SK, Wang Y, Wu JY, Cao LL, Lou K, Xu LH, Jiang CL, Li WJ (2009a) Saccharopolyspora qijiaojingensis sp nov., halophilic actinomycete isolated from a salt lake. Int J Syst Evol Microbiol 59:2166–2170

Tang SK, Wang Y, Cai M, Zhi XY, Lou K, Xu LH, Jiang CL, Li WJ (2009b) Saccharopolyspora halophila sp. nov., a novel halophilic actinomycete isolated from a saline lake in China. Int J Syst Evol Microbiol 59:555–558

Vahed SZ, Forouhandeh H, Tarhriz V, Chaparzadeh N, Hejazi MA, Jeon CO, Hejazi MS, Lee Y (2018) Halomonas tabrizica sp. nov. a novel moderately halophilic bacterium isolated from urmia lake in iran. Antonie Van Leeuwenhoek 111:1139–1148

Veyisoglu A, Saygin H, Tatar D, Bektas KI, Sahin N (2017) Saccharopolyspora hattusasensis sp. nov. isolated from soil. Antonie Van Leeuwenhoek 110(12):1719–1727

Waksman SA (1967) The actinomycetes. A summary of current knowledge. Ronald Press, New York

Warwick ST, Bowen T, McVeigh H, Embley TM (1994) A phylogenetic analysis of the family Pseudonocardiaceae and the genera Actinokineospora and Saccharothrix with 16S rRNA sequences and a proposal to combine the genera Amycolata and Pseudonocardia in an emended genus Pseudonocardia. Int J Syst Bacteriol 44:293–299

Wayne LG, Brenner DJ, Colwell RR, Grimont PAD, Kandler O, Krichevsky MI, Moore LH, Moore WEC, Murray RGE, Stackebrandt ES, Starr MP (1987) International committee on systematic bacteriology. Report of the ad hoc committee on reconciliation of approaches to bacterial systematics. Int J Syst Bacteriol 37:463–464

Xu P, Li WJ, Tang SK, Zhang YQ, Chen GZ, Chen HH, Xu LH, Jiang CL (2005) Naxibacter alkalitolerans gen. nov., sp. nov., a novel member of the family 'Oxalobacteraceae' isolated from China. Int J Syst Evol Microbiol 55:1149–1153

Yang ZW, Salam N, Asem MD, Fang BZ, Lan L, Xiao M, Wadaan MAM, Hozzein WN, Li WJ (2018) Saccharopolyspora deserti sp. nov. a novel halotolerant actinobacterium isolated from a desert. Int J Syst Evol Microbiol 68(3):860–864

Yoon SH, Ha SM, Kwon S, Lim J, Kim Y, Seo H, Chun J (2017) Introducing EzBioCloud: a taxonomically united database of 16S rRNA and whole genome assemblies. Int J Syst Evol Microbiol 67:1613–1617

Zhi XY, Li WJ, Stackebrandt E (2009) An update of the structure and 16S rRNA gene sequence-based definition of higher ranks of the class Actinobacteria, with the proposal of two new suborders and four new families and emended descriptions of the existing higher taxa. Int J Syst Evol Microbiol 59:589–608
Acknowledgements
This work was supported by the Science and Technology Research and Development Program of Shaanxi Province (2018JQ3068), the National Natural Science Fund Youth Project (31600407), Science and Technology Coordination Innovation Project of Shaanxi Province(2015KTTSNY03-06).
Ethics declarations
Conflict of interest
The authors declare that they have no direct or indirect conflict of interest.
Ethical approval
This is the original work of the authors. This article does not contain any studies with human participants or animals performed by any of the authors.
Additional information
Publisher's Note
Springer Nature remains neutral with regard to jurisdictional claims in published maps and institutional affiliations.
Electronic supplementary material
Below is the link to the electronic supplementary material.
About this article
Cite this article
Jiang, Y., Lai, H., Meng, C. et al. Saccharopolyspora qinghaiensis sp. nov., a novel actinobacterium isolated from a salt lake. Antonie van Leeuwenhoek 112, 1039–1046 (2019). https://doi.org/10.1007/s10482-019-01237-z
Received:

Accepted:

Published:

Issue Date:
Keywords
Halophilic actinobacteria

Saccharopolyspora qinghaiensis

Polyphasic taxonomy