Abstract
An elliptical to cucumber-shaped methanotroph with large cells was isolated from a rice rhizosphere in Western India. Strain Sn10-6 is one of the first methanotrophs to be isolated from Indian rice fields. Cells of Sn10-6 are Gram-negative, motile, large in size (3–6 µm × 1.5–2 µm) and contain intracellular cytoplasmic membrane stacks. Colonies of Sn10-6 and liquid cultures have a pale pink colour. Strain Sn10-6 was initially isolated under micro-oxic conditions but later adapted to grow under fully oxic conditions. The major fatty acids present were identified as C16:1ω6c, C16:1ω7c and C16:0 and ubiquinone was found to be the major quinone. The 16S rRNA gene sequence of strain Sn10-6 displays high similarity to the genes of Methylovulum psychrotolerans Sph1T (93.6%) followed by Methylosarcina fibrata AML-C10T (93.5%) and about 90–93% similarity to the genes of known species of Type I methanotrophic genera from the family Methylococcaceae. The draft genome information indicated that the G + C content of strain Sn10-6 is 43.9 mol%. Phylogenetic trees using 16S rRNA gene and the particulate methane mono-oxygenase sequences unequivocally placed Sn10-6 close to the genus Methylovulum. Based on the 16S rRNA gene differences, morphological characters and draft genome information, strain Sn10-6 (=MCC 3492 =KCTC 15683) is described here as the type strain of a novel species within a new genus, 'Candidatus Methylocucumis oryzae'.
Access options
Buy single article
Instant access to the full article PDF.
USD 39.95
Price excludes VAT (USA)
Tax calculation will be finalised during checkout.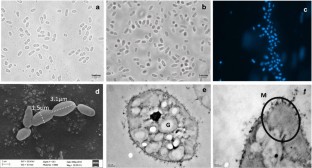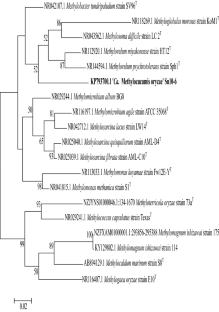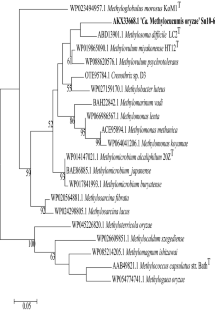 References
Aziz RK, Bartels D, Best AA, DeJongh M, Disz T, Edwards RA, Formsma K, Gerdes S, Glass EM, Kubal M, Meyer F, Olsen GJ, Olson R, Osterman AL, Overbeek RA, McNeil LK, Paarmann D, Paczian T, Parrello B, Pusch GD, Reich C, Stevens R, Vassieva O, Vonstein V, Wilke A, Zagnitko O (2008) The RAST Server: rapid annotations using subsystems technology. BMC Genom 9:75

Bowman John (2016) Methylococcaceae. In: Whitman W (ed) Bergey's manual of systematics of archaea and bacteria. Wliey, New York

Conrad R (2009) The global methane cycle: recent advances in understanding the microbial processes involved. Environ Microbiol Rep 1:285–292

Dianou Day, Ueno Chihoko, Ogiso Takuya, Kimura Makoto, Asakawa Susumu (2012) Diversity of cultivable methane-oxidizing bacteria in microsites of a rice paddy field: investigation by cultivation method and fluorescence in situ hybridization (FISH). Microbes Environ 27:278–287

Dubey SK (2005) Microbial ecology of methane emission in rice agroecosystem: a review. Appl Ecol Environ Res 3:1–27

Frindte Katharina, Maarastawi Sarah A, Lipski Andre, Hamacher Joachim, Knief Claudia (2017) Characterization of the first rice paddy cluster I isolate, Methyloterricola oryzae gen. nov., sp. nov. and amended description of Methylomagnum ishizawai. Int J Syst Evol Microbiol 67:4507–4514

Ganesan A, Rigby M, Lunt MF, Parker RJ, Boesch H, Goulding N, Umezawa T, Zahn A, Chatterjee A, Prinn RG, Tiwari YK, van der Schoot Marcel, Krummel PB (2017) Atmospheric observations show accurate reporting and little growth in India's methane emissions. Nat Commun 8:836

Geymonat E, Ferrando L, Tarlera SE (2011) Methylogaea oryzae gen. nov., sp. nov., a mesophilic methanotroph isolated from a rice paddy field. Int J Syst Evol Microbiol 61:2568–2572

Hamilton R, Kits KD, Ramonovskaya VA, Rozova ON, Yurimoto H, Iguchi H, Khmelenina VN, Sakai Y, Dunfield PF, Klotz MG, Knief C, den Camp HJMO, Jetten MSM, Bringel F, Vuilleumier S, Svenning Mette M, Shapiro N, Woyke T, Trotsenko YA, Stein LY, Kalyuzhnayaa MG (2015) Draft genomes of Gammaproteobacterial methanotrophs Isolated from Terrestrial ecosystems. Genome Announc 3:1–3

Heylen K, Vos De P, Vekeman B (2016) Draft genome sequences of eight obligate methane oxidizers occupying distinct niches based on their nitrogen metabolism. Genome Announc 4:1–2

Hoppert M, Holzenburg A (1998) Electron microscopy in microbiology. BIOS Scientific Publishers in association with the Royal Microscopical Society, Oxford

Iguchi H, Yurimoto H, Sakai Y (2011) Methylovulum miyakonense gen. nov., sp. nov., a type I methanotroph isolated from forest soil. Int J Syst Evol Microbiol 61:810–815

Kalyuzhnaya MG (2016a) Methylomicrobium. Bergey's Manual of Systematics of archaea and bacteria. Wiley

Kalyuzhnaya MG (2016b) Methylosarcina. Bergey's Manual of Systematics of archaea and bacteria. Wiley

Kalyuzhnaya Marina G, Lamb Andrew E, McTaggart Tami L, Oshkin Igor Y, Shapiro Nicole, Woyke Tanja, Chistoserdova Ludmila (2015) Draft genome sequences of Gammaproteobacterial methanotrophs isolated from lake Washington sediment. Genome Announc 3:1–3

Khalifa A, Lee CG, Ogiso T, Ueno C, Dianou D, Demachi T, Katayama A, Asakawa S (2015) Methylomagnum ishizawai gen. nov., sp. nov., a mesophilic type I methanotroph isolated from rice rhizosphere. Int J Syst Evol Microbiol 65:3527–3534

Konstantinidis K, Rosselló-Móra R, Amann R (2017) Uncultivated microbes in need of their own taxonomy. ISME J 11:2399–2406

Lee I, Kim YO, Park SC, Chun J (2016) OrthoANI: an improved algorithm and software for calculating average nucleotide identity. Int J Syst Evol Microbiol 66:1100–1103

Lüke C (2010) Molecular ecology and biogeography of methanotrophic bacteria in wetland rice fields. Max-Planck-Institut für terrestrische Mikrobiologie, Marburg

Mateos-Rivera Alejandro, Islam Tajul, Marshall Ian P G, Schreiber Lars, Øvreås Lise (2018) High-quality draft genome of the methanotroph Methylovulum psychrotolerans Str. HV10-M2 isolated from plant material at a high-altitude environment. Stand Genom Sci 13:1–8

Meier-Kolthoff JP, Auch AF, Klenk H-P, Göker M (2013) Genome sequence-based species delimitation with confidence intervals and improved distance functions. BMC Bioinform 60:1–14

Ogiso T, Ueno C, Dianou D, Huy TV, Katayama A, Kimura M, Asakawa S (2012) Methylomonas koyamae sp. nov., a type I methane-oxidizing bacterium from floodwater of a rice paddy field. Int J Syst Evol Microbiol 62:1832–1837

Oshkin IY, Belova SE, Danilova OV, Miroshnikov KK, Rijpstra WIC, Damsté JSS, Liesack W, Dedysh SN (2016) Methylovulum psychrotolerans a cold adapted methanotroph from low-temperature terrestrial environments and emended description of the genus Methylovulum. Int J Syst Evol Microbiol 66:2417–2423

Overbeek R, Olson R, Pusch GD, Olsen GJ, Davis JJ, Disz T, Edwards RA, Gerdes S, Parrello B, Shukla M, Vonstein V, Wattam AR, Xia F, Stevens R (2014) The SEED and the rapid annotation of microbial genomes using subsystems technology (RAST). Nucleic Acids Res 42:D206–D214

Pandit Pranitha S, Rahalkar Monali, Dhakephalkar Prashant, Ranade Dilip R, Pore Soham, Arora Preeti, Kapse Neelam (2016) Deciphering community structure of methanotrophs dwelling in rice rhizospheres of an Indian rice field using cultivation and cultivation independent approaches. Microb Ecol 71:634–644

Rahalkar Monali C, Bahulikar R (2018) Hemerythrins are widespread and conserved for methanotrophic guilds. Gene Rep 11:250–254

Rahalkar Monali C, Pandit Pranitha S, Dhakephalkar Prashant K, Pore Soham, Arora Preeti, Kapse Neelam (2016) Genome characteristics of a novel type I methanotroph 'Sn10-6' isolated from a flooded Indian rice field. Microb Ecol 71:519–523

Richter M, Rosselló-Móra R (2009) Shifting the genomic gold standard for the prokaryotic species definition. Proc Natl Acad Sci USA 106:19126–19131

Rossello-Mora Ramon, Trujillo Martha E, Sutcliffe Iain C (2017) Introducing a digital protologue: a timely move towards a database-driven systematics of archaea and bacteria. Antonie Van Leeuwenhoek 110:455–456

Sangal Vartul, Goodfellow Michael, Jones Amanda L, Schwalbe Edward C, Blom Jochen, Hoskisson Paul A, Sutcliffe Iain C (2016) Next-generation systematics: an innovative approach to resolve the structure of complex prokaryotic taxa. Sci Rep 6:1–12

Schink B, Rahalkar MC (2016) Genus Methylosoma Rahalkar, Bussmann and Schink 2007, 1078VP. In: Whitman W (ed) Bergey's manual of systematics of archaea and bacteria. Wliey, New York

Tamura K, Stecher G, Peterson D, Filipski A, Kumar S (2013) MEGA6: molecular evolutionary genetics analysis version 6.0. Mol Biol Evol 30:2725–2729

Whittenbury R, Phillips KC, Wilkinson JF (1970) Enrichment, isolation and some properties of methane utilising bacteria. J Gen Microbiol 61:205–218

Yan X, Akiyama H, Yagi K, Akimoto H (2009) Global estimations of the inventory and mitigation potential of methane emissions from rice cultivation conducted using the 2006 intergovernmental panel on climate change guidelines. Glob Biogeochem Cycles 23

Yarza Pablo, Yilmaz Pelin, Pruesse Elmar, Glöckner Frank Oliver, Ludwig Wolfgang, Schleifer Karl-Heinz, Whitman William B, Euzéby Jean, Amann Rudolf, Rosselló-Móra Ramon (2014) Uniting the classification of cultured and uncultured bacteria and archaea using 16S rRNA gene sequences. Nat Rev Microbiol 12:635–645

Yoon SH, Ha SM, Lim JM, Kwon SJ, Chun J (2017) A large-scale evaluation of algorithms to calculate average nucleotide identity. Antonie Van Leeuwenhoek 110:1281–1286
Acknowledgements
The work was supported by funds from DBT BioCARe, India and institutional funds received from MACS Agharkar Research Institute, India. We acknowledge the farmer, Mr. Rengde who supported the rice field sample collection. We also acknowledge Ms. Aditi Purandare, Ms. Vishakha Kulkarni and Dr. Neelima Kulkarni for their help during collection of the sample. We acknowledge Dr. Prashant K. Dhakephalkar for his support during the project.
Ethics declarations
Conflict of interest
The authors declare no conflict of interests.
Electronic supplementary material
Below is the link to the electronic supplementary material.
About this article
Cite this article
Pandit, P.S., Hoppert, M. & Rahalkar, M.C. Description of 'Candidatus Methylocucumis oryzae', a novel Type I methanotroph with large cells and pale pink colour, isolated from an Indian rice field. Antonie van Leeuwenhoek 111, 2473–2484 (2018). https://doi.org/10.1007/s10482-018-1136-3
Received:

Accepted:

Published:

Issue Date:

DOI: https://doi.org/10.1007/s10482-018-1136-3
Keywords
Methanotrophs

India

Rice fields

'Candidatus Methylocucumis oryzae'

Novel genus

Pale pink

Strain Sn10-6