Abstract
A Gram-stain positive, moderately thermophilic, aerobic, spore-forming and rod-shaped bacterium, designated YIM 73012T, was isolated from a sediment sample collected from a hot spring located in Tibet, China, and was characterized by using a polyphasic taxonomy approach. The strain is oxidase positive and catalase negative. Growth occurred at 37–65 °C (optimum, 45–50 °C), at pH 6.0–8.5 (optimum, pH 7.0–7.5) and with 0.5–3.5% NaCl (optimum, 0.5–1.0%, w/v). The major fatty acids were iso-C15:0, iso-C16:0 and C16:0. The major polar lipids comprised of diphosphatidylglycerol, phosphatidylethanolamine, phosphatidylmethylethanolamine and phosphatidylglycerol. The cell wall peptidoglycan contained meso-diaminopimelic acid. The respiratory quinone was MK-7. The G+C content of genomic DNA was 43.6 mol%. Phylogenetic analyses based on 16S rRNA gene sequences showed that the strain YIM 73012T forms a distinct lineage with respect to the genus Anoxybacillus in the family Bacillaceae. Based on 16S rRNA gene sequence identities the closely related phylogenetic neighbours are Anoxybacillus caldiproteolyticus DSM 15730T (96.7%) and Saccharococcus thermophilus DSM 4749T (96.6%). Strain YIM 73012T was distinguishable from the closely related reference strains by the differences in phenotypic, chemotaxonomic and genotypic characteristics, and represents a novel species of the genus Anoxybacillus, for which the name Anoxybacillus sp. nov. is proposed. The type species is Anoxybacillus sediminis sp. nov., with the type strain YIM 73012T (= KCTC 33884T = DSM 103835T).
Access options
Buy single article
Instant access to the full article PDF.
US$ 39.95
Tax calculation will be finalised during checkout.
Subscribe to journal
Immediate online access to all issues from 2019. Subscription will auto renew annually.
US$ 119
Tax calculation will be finalised during checkout.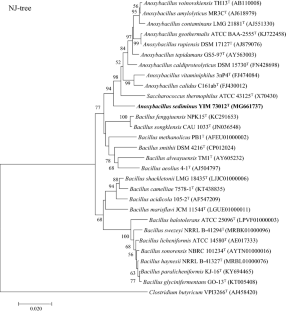 References
Atanassova M, Derekova A, Mandeva R, Sjøholm C, Kambourova M (2008) Anoxybacillus bogrovensis sp. nov., a novel thermophilic bacterium isolated from a hot spring in Dolni Bogrov, Bulgaria. Int J Syst Evol Microbiol 58:2359–2362

Belduz AO, Dulger S, Demirbag Z (2003) Anoxybacillus gonensis sp. nov., a moderately thermophilic, xylose-utilizing, endospore-forming bacterium. Int J Syst Evol Microbiol 53:1315–1320

Cihan AC, Ozcan B, Cokmus C (2011) Anoxybacillus salavatliensis sp. nov., an a-glucosidase producing, thermophilic bacterium isolated from Salavatli, Turkey. J Basic Microbiol 51:136–146

Cihan AC, Cokmus C, Koc M, Ozcan B (2014) Anoxybacillus calidus sp. nov., a thermophilic bacterium isolated from soil near a thermal power plant. Int J Syst Evol Microbiol 64:211–219

Collins MD, Jones D (1980) Lipids in the classification and identification of coryneform bacteria containing peptidoglycans based on 2, 4-diaminobutyric acid. J Appl Bacteriol 48:459–470

Collins MD, Pirouz T, Goodfellow M, Minnikin DE (1977) Distribution of menaquinones in actinomycetes and corynebacteria. J Gen Microbiol 100:221–230

Coorevits A, Dinsdale AE, Halket G, Lebbe L, De Vos P, Van Landschoot A, Logan NA (2012) Taxonomic revision of the genus Geobacillus: emendation of Geobacillus, G. stearothermophilus, G. jurassicus, G. toebii, G. thermodenitrificans and G. thermoglucosidans (nom. corrig., formerly'thermoglucosidasius'); transfer of Bacillus thermantarcticus to the genus as G. thermantarcticus comb. nov.; proposal of Caldibacillus debilis gen. nov., comb. nov.; transfer of G. tepidamans to Anoxybacillus as A. tepidamans comb. nov.; and proposal of Anoxybacillus caldiproteolyticus sp. nov. Int J Syst Evol Microbiol 62:1470–1485

Cui XL, Mao PH, Zeng M, Li WJ, Zhang LP, Xu LH, Jiang CL (2001) Streptimonospora salina gen. nov., sp. nov., a new member of the family Nocardiopsaceae. Int J Syst Evol Microbiol 51:357–363

Dai J, Liu Y, Lei Y, Gao Y, Han F (2011) A new subspecies of Anoxybacillus flavithermus ssp. yunnanensis ssp. nov. with very high ethanol tolerance. FEMS Microbiol Lett 320:72–78

De Clerck E, Rodríguez-Díaz M, Vanhoutte T, Heyrman J, Logan NA, De Vos P (2004) Anoxybacillus contaminans sp. nov. and Bacillus gelatini sp. nov., isolated from contaminated gelatin batches. Int J Syst Evol Microbiol 54:941–946

Degryse E, Glansdorff N, Piérard A (1978) A comparative analysis of extreme thermophilic bacteria belonging to the genus Thermus. Arch Microbiol 117:189–196

Derekova A, Sjøholm C, Mandeva R, Kambourova M (2007) Anoxybacillus rupiensis sp. Nov., a novel thermophilic bacterium isolated from Rupi basin (Bulgaria). Extremophiles 11:577–583

Dulger S, Demirbag Z, Belduz AO (2004) Anoxybacillus ayderensis sp. nov. and Anoxybacillus kestanbolensis sp. nov. Int J Syst Evol Microbiol 54:1499–1503

Felsenstein J (1981) Evolutionary trees from DNA sequences: a maximum likelihood approach. J Mol Evol 17:368–376

Felsenstein J (1985) Confidence limits on phylogenies: an approach using the bootstrap. Evolution 39:783–791

Fitch WM (1971) Toward defining the course of evolution: minimum change for a specific tree topology. Syst Zool 20:406–416

Gonzalez C, Gutierrez C, Ramirez C (1978) Halobacterium vallismortis sp. nov. an amylolytic and carbohydrate-metabolizing, extremely halophilicbacterium. Can J Microbiol 24:710–715

Gregersen T (1978) Rapid method for distinction of Gram-negative from Gram-positive bacteria. Eur J Appl Microbiol Biotechnol 5:123–127

Inan K, Belduz AO, Canakci S (2013) Anoxybacillus kaynarcensis sp. nov., a moderately thermophilic, xylanase producing bacterium. J Basic Microbiol 53:410–419

Kevbrin VV, Zengler K, Lysenko AM, Wiegel J (2005) Anoxybacillus kamchatkensis sp. nov., a novel thermophilic facultative aerobic bacterium with a broad pH optimum from the Geyser valley, Kamchatka. Extremophiles 9:39–98

Kimura M (1980) A simple method for estimating evolutionary rates of base substitutions through comparative studies of nucleotide sequences. J Mol Evol 16:111–120

Komagata K, Suzuki KI (1988) 4 Lipid and cell-wall analysis inbacterial systematics. Methods Microbiol 19:161–207

Kovacs N (1956) Identification of Pseudomonas pyocyaneaby the oxidase reaction. Nature 178:703

Kroppenstedt RM (1982) Separation of bacterial menaquinones by HPLC using reverse phase (RP18) and a silver loaded ion exchanger as stationary phases. J Liq Chromatogr 5:2359–2367

Kumar S, Stecher G, Tamura K (2016) MEGA7: molecular evolutionary genetics analysis version 7.0 for bigger datasets. Mol Biol Evol 33:1870–1874

Li WJ, Xu P, Schuman P, Zhang YQ, Pukall R, Xu LH, Stackebrandt E, Jiang CL (2007) Georgenia ruanii sp. nov., a novel actinobacterium isolated from forest soil in Yunnan (China) and emended description of the genus Georgenia. Int J Syst Evol Microbiol 57:1424–1428

Macfaddin JF (1976) Biochemical tests for identification of medical bacteria. Williams & Wilkins Co, Philadelphia

Mesbah M, Premachandran U, Whitman WB (1989) Precise measurement of the G+C content of deoxyribonucleic acid by high performance liquid chromatography. Int J Syst Bacteriol 39:159–167

Minnikin D, Collins M, Goodfellow M (1979) Fatty acid and polar lipid composition in the classification of Cellulomonas, Oerskovia and related taxa. J Appl Bacteriol 47:87–95

Namsaraev ZB, Babasanova OB, Dunaevsky YE, Akimov VN, Barkhutova DD, Gorlenko VM, Namsaraev BB (2010) Anoxybacillus mongoliensis sp. nov., a novel thermophilic proteinase producing bacterium isolated from alkaline hot spring, central Mongolia. Mikrobiologiia 79:516–523

Nie GX, Ming H, Li S, Zhou EM, Cheng J, Yu TT, Zhang J, Feng HG, Tang SK, Li WJ (2012) Geodermatophilus nigrescens sp. nov., isolated from a dry-hot valley. Antonie Van Leeuwenhoek 101:811–817

Pikuta E, Lysenko A, Chuvilskaya N, Mendrock U, Hippe H, Suzina N, Nikitin D, Osipov G, Laurinavichius K (2000) Anoxybacillus pushchinensis gen. nov., sp. nov., a novel anaerobic, alkaliphilic, moderately thermophilic bacterium from manure, and description of Anoxybacillus flavitherms comb. nov. Int J Syst Evol Microbiol 50:2109–2117

Poli A, Esposito E, Lama L, Orlando P, Nicolaus G, de Appolonia F, Gambacorta A, Nicolaus B (2006) Anoxybacillus amylolyticus sp. nov., a thermophilic amylase producing bacterium isolated from Mount Rittmann (Antarctica). Syst Appl Microbiol 29:300–307

Poli A, Romano I, Cordella P, Orlando P, Nicolaus B, Ceschi Berrini C (2009) Anoxybacillus thermarum sp. nov., a novel thermophilic bacterium isolated from thermal mud in Euganean hot springs, Abano Terme, Italy. Extrem Life Extrem Cond 13:867–874

Rolf N (1984) Saccharococcus thermophilus gen. nov., sp. nov. isolated from beet sugar extraction. Syst Appl Microbiol 5:204–219

Rossello´-Mo´ra R, Trujillo ME, Sutcliffe IC (2017) Introducing a digital protologue: a timely move towards a database-driven systematics of archaea and bacteria. Antonie Van Leeuwenhoek 110:455–456

Saitou N, Nei M (1987) The neighbor-joining method: a new method for reconstructing phylogenetic trees. Mol Biol Evol 4:406–425

Sasser M (1990) Identification of bacteria by gas chromatography of cellular fatty acids. USFCC Newslett 20:16

Schäffer C, Franck WL, Scheberl A, Kosma P, McDermott TR, Messner P (2004) Classification of isolates from locations in Austria and yellowstone national park as Geobacillus tepidamans sp. nov. Int J Syst Evol Microbiol 54:2361–2368

Smibert RM, Krieg NR (1994) Phenotypic characterization. In: Gerhardt P, Murray RGE, Wood WA, Krieg NR (eds) Methods for general and molecular bacteriology. American Society for Microbiology, Washington, DC, pp 607–654

Xu P, Li WJ, Tang SK, Zhang YQ, Chen GZ, Chen HH, Xu H, Jiang CL (2005) Naxibacter alkalitolerans gen. nov., sp. nov., a novel member of the family Oxalobacteraceae isolated from China. Int J Syst Evol Microbiol 55:1149–1153

Yoon SH, Ha SM, Kwon S, Lim J, Kim Y, Seo H, Chun J (2017) Introducing EzBioCloud: a taxonomically united database of 16S rRNA and whole genome assemblies. Int J Syst Evol Microbiol 67:1613–1617

Yumoto I, Hirota K, Kawahara T, Nodasaka Y, Okuyama H, Matsuyama H, Yokota Y, Nakajima K, Hoshino T (2004) Anoxybacillus voinovskiensis sp. nov., a moderately thermophilic bacterium from a hot spring in Kamchatka. Int J Syst Evol Microbiol 54:1239–1242

Zhang CM, Huang XW, Pan WZ, Zhang J, Wei KB, Klenk HP, Tang SK, Li WJ, Zhang KQ (2011) Anoxybacillus tengchongensis sp. nov. and Anoxybacillus eryuanensis sp. nov., facultatively anaerobic, alkalitolerant bacteria from hot springs. Int J Syst Evol Microbiol 61:118–122

Zhang XQ, Zhang ZL, Wu N, Zhu XF, Wu M (2013) Anoxybacillus vitaminiphilus sp. nov., a strictly aerobic and moderately thermophilic bacterium isolated from a hot spring. Int J Syst Evol Microbiol 63:4064–4071
Acknowledgements
The authors are grateful to Dr. Rüdiger Pukall (DSMZ, Germany) for providing the reference type strains. This work was supported by the Key Project of International Cooperation of Ministry of Science and Technology (MOST, China) (No. 2013DFA31980), Science and Technology Infrastructure work project (No. 2015FY110100), National Natural Science Foundation of China (No. 31470139) and Basic Scientific Research Service Fee Project in Colleges and Universities (No. 17lgjc19). W.-J. Li was also supported by Guangdong Province Higher Vocational Colleges and Schools Pearl River Scholar Funded Scheme (2014).
Ethics declarations
Conflict of interest
The authors declare that they have no indirect or direct conflict of interest.
Ethical approval
This article does not contain any studies related to human participants or animals.
Electronic supplementary material
Below is the link to the electronic supplementary material.
About this article
Cite this article
Khan, I.U., Habib, N., Xiao, M. et al. Anoxybacillus sediminis sp. nov., a novel moderately thermophilic bacterium isolated from a hot spring. Antonie van Leeuwenhoek 111, 2275–2282 (2018). https://doi.org/10.1007/s10482-018-1118-5
Received:

Accepted:

Published:

Issue Date:
Keywords
Anoxybacillus sediminis sp. nov.

Polyphasic taxonomy

Hot spring in Tibet

China