Abstract
Strain ZZ-8T, a Gram-negative, aerobic, non-spore-forming, non-motile, yellow-pigmented, rod-shaped bacterium, was isolated from metolachlor-contaminated soil in China. The taxonomic position was investigated using a polyphasic approach. Phylogenetic analysis based on 16S rRNA gene sequences revealed that strain ZZ-8T is a member of the genus Flavobacterium and shows high sequence similarity to Flavobacterium humicola UCM-46T (97.2%) and Flavobacterium pedocola UCM-R36T (97.1%), and lower (< 97%) sequence similarity to other known Flavobacterium species. Chemotaxonomic analysis revealed that strain ZZ-8T possessed MK-6 as the major respiratory quinone; and iso-C15:0 (28.5%), summed feature 9 (iso-C17:1 w9c/C16:0 10-methyl, 22.9%), iso-C17:0 3-OH (17.0%), iso-C15:0 3-OH (8.9%), iso-C15:1 G (8.6%) and summed feature 3 (C16:1 w7c/C16:1 w6c, 5.7%) as the predominant fatty acids. The polar lipids of strain ZZ-8T were determined to be lipids, a glycolipid, aminolipids and phosphatidylethanolamine. Strain ZZ-8T showed low DNA–DNA relatedness with F. pedocola UCM-R36T (43.23 ± 4.1%) and F. humicola UCM-46T (29.17 ± 3.8%). The DNA G+C content was 43.3 mol%. Based on the phylogenetic and phenotypic characteristics, chemotaxonomic data and DNA–DNA hybridization, strain ZZ-8T is considered a novel species of the genus Flavobacterium, for which the name Flavobacterium zaozhuangense sp. nov. (type strain ZZ-8T = KCTC 62315 T = CCTCC AB 2017243T) is proposed.
This is a preview of subscription content,
to check access.
Access this article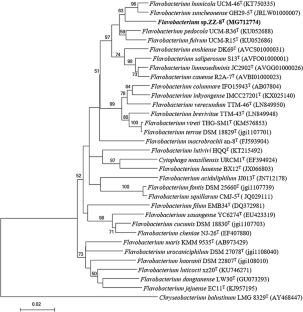 Similar content being viewed by others
Abbreviations
KCTC:

Korean collection for type cultures

CCTCC:

China Center for type culture collection
References
Ao L, Zeng XC, Nie Y, MuY Zhou L, Luo X (2014) Flavobacterium arsenatis sp. nov., a novel arsenic-resistant bacterium from high-arsenic sediment. Int J Syst Evol Microbiol 64:3369–3374

Bergey DH, Harrison FC, Breed RS, Hammer BW, Huntoon FM (1923) Bergey's manual of determinative bacteriology. Williams & Wilkins, Baltimore

Bernardet JF, Bowman JP (2011) Genus I. Flavobacterium Bergey et al. 1923. In: Krieg NR, Staley JT, Brown, Hedlund BP, Paster BJ (eds) Bergey's Manual of Systematic Bacteriology. Oxford, New York, pp 112–154

Bernardet JF, Segers P, Vancanneyt M, Berthe F, Kersters K, Vandamme P (1996) Cutting a Gordian knot: emended classification and description of the genus Flavobacterium, emended description of the family Flavobacteriaceae, and proposal of Flavobacterium hydatis nom. nov. (basonym, Cytophaga aquatilis Strohl and Tait 1978). Int J Syst Bacteriol 46:128–148

Bernardet JF, Nakagawa Y, Holmes B (2002) Proposed minimal standards for describing new taxa of the family Flavobacteriaceae and emended description of the family. Int J Syst Evol Microbiol 52:1049–1070

Buck JD (1982) Nonstaining (KOH) method for determination of gram reactions of marine bacteria. Appl Environ Microbiol 44:992–993

Collins MD, Pirouz T, Goodfellow M, Minnikin DE (1977) Distribution of menaquinones in Actinomycetes and Corynebacteria. J Gen Microbiol 100:221–230

Ezaki T, Hashimoto Y, Yabuuchi E (1989) Fluorometric deoxyribonucleic acid-deoxyribonucleic acid hybridization in microdilution wells as an alternative to membrane filter hybridization in which radioisotopes are used to determine genetic relatedness among bacterial strains. Int J Syst Evol Microbiol 39:224–229

Felsenstein J (1981) Evolutionary trees from DNA sequences: a maximum likelihood approach. J Mol Evol 17:368–376

Felsenstein J (1985) Confidence limits on phylogenies: an approach using the bootstrap. Evolution 39:783–791

Feng Q, Gao Y, Nogi Y, Tan X, Han L, Zhang Y, Lv J (2015) Flavobacterium maotaiense sp. nov., isolated from freshwater. Int J Syst Evol Microbiol 65:171–176

Fu YY, Tang XX, Lai QL, Zhang H, Zhong HZ, Li WW, Liu HY, Chen L, Sun FQ, Shao ZZ (2011) Flavobacterium beibuense sp. nov., isolated from marine sediment. Int J Syst Evol Microbiol 61:205–209

Hall TA (1999) BioEdit: a user-friendly biological sequence alignment editor and analysis program for Windows 95/98/NT. Nucleic Acids Symp Ser 41:95–98

Jit S, Dadhwal M, Prakash O, Lal R (2008) Flavobacterium lindanitolerans sp. nov., isolated from hexachlorocyclohexane-contaminated soil. Int J Syst Evol Microbiol 58:1665–1669

Joung Y, Kim H, Joh K (2013) Flavobacterium jumunjinense sp. nov., isolated from a lagoon, and emended descriptions of Flavobacterium cheniae, Flavobacterium dongtanense and Flavobacterium gelidilacus. Int J Syst Evol Microbiol 63:3937–3943

Kang JY, Chun J, Jahng KY (2013) Flavobacterium aciduliphilum sp. nov., isolated from freshwater, and emended description of the genus Flavobacterium. Int J Syst Evol Microbiol 63:1633–1638

Kim OS, Cho YJ, Lee K, Yoon SH, Kim M, Na H, Park SC, Jeon YS, Lee JH, Yi H, Won S, Chun J (2012) Introducing EzTaxon-e: a prokaryotic 16S rRNA gene sequence database with phylotypes that represent uncultured species. Int J Syst Evol Microbiol 62:716–721

Kuo I, Saw J, Kapan DD, Christensen S, Kaneshiro KY, Donachie SP (2013) Flavobacterium akiainvivens sp. nov., from decaying wood of Wikstroemia oahuensis, Hawai'i, and emended description of the genus Flavobacterium. Int J Syst Evol Microbiol 63:3280–3286

Lane DL (1991) 16S/23S rRNA sequencing. In: Stackebrandt ER, Goodfellow M (eds) Nucleic Acid Techniques in Bacterial Systematics. Wiley, Chichester, pp 115–175

Lata P, Lal D, Lal R (2012) Flavobacterium ummariense sp. nov., isolated from hexachlorocyclohexane-contaminated soil, and emended description of Flavobacterium ceti Vela et al. 2007. Int J Syst Evol Microbiol 62:2674–2679

Li R, Zheng JW, Wang R, Song Y, Chen Q, Yang X, Li SP, Jiang JD (2010) Biochemical degradation pathway of dimethoate by Paracoccus sp. Lgjj-3 isolated from treatment wastewater. In Biodeter Biode 64:51–57

Mandel M, Marmur J (1968) Use of ultraviolet absorbance-temperature profile for determining the guanine plus cytosine content of DNA. Methods Enzymol 12B:195–206

Mccarthy AJ, Cross T (1984) A taxonomic study of Thermomonospora and other monosporic Actinomycetes. Microbiol-SGM 130:5–25

Nedashkovskaya OI, Balabanova LA, Zhukova NV, Kim SJ, Bakunina IY, Rhee SK (2014) Flavobacterium ahnfeltiae sp. nov., a new marine polysaccharide-degrading bacterium isolated from a Pacific red alga. Arch Microbiol 196:745–752

Park M, Joung Y, Nam GG, Kim S, Cho JC (2017) Flavobacterium inkyongense sp. nov., isolated from an artificial freshwater pond. Int J Syst Evol Microbiol 67:82–86

Saitou N, Nei M (1987) The neighbor-joining method: a new method for reconstructing phylogenetic trees. Mol Biol Evol 4:406–425

Sambrook J, Russell DW (2001) Molecular cloning: a Laboratory Manual, 3rd edn. Cold Spring Harbor Laboratory, New York

Sasser M (1990) Identification of bacteria by gas chromatography of cellular fatty acids. MIDI Technical Note 101. Newark, DE: MIDI

Singh H, Du J, Won K, Yang JE, Akter S, Kim KY, Yi TH (2015) Flavobacterium vireti sp. nov., isolated from soil. Antonie Van Leeuwenhoek 107:1421–1428

Tamaki H, Hanada S, Kamagata Y, Nakamura K, Nomura N, Nakano K, Matsumura M (2003) Flavobacterium limicola sp. nov., a psychrophilic, organic-polymerdegrading bacterium isolated from freshwater sediments. Int J Syst Evol Microbiol 53:519–526

Tamaoka J, Katayama-Fujimura Y, Kuraishi H (1983) Analysis of bacterial menaquinone mixtures by high performance liquid chromatography. J Appl Bacteriol 54:31–36

Tamura K, Peterson D, Peterson N, Stecher G, Nei M, Kumar S (2011) MEGA5: molecular evolutionary genetics analysis using Maximum Likelihood, evolutionary distance, and maximum parsimony methods. Mol Biol Evo 28:2731–2739

Thompson JD, Gibson TJ, Plewniak F, Jeanmougin F, Higgins DG (1997) The CLUSTAL-X windows interface: flexible strategies for multiple sequence alignment aided by quality analysis tools. Nucleic Acids Res 25:4876–4882

Tindall BJ (1990a) A comparative study of the lipid composition of Halobacterium saccharovorum from various sources. Syst Appl Microbiol 13:128–130

Tindall BJ (1990b) Lipid composition of Halobacterium lacusprofundi. FEMS Microbiol Lett 66:199–202

Wang ZW, Liu YH, Dai X, Wang BJ, Jiang CY, Liu SJ (2006) Flavobacterium saliperosum sp. nov., isolated from freshwater lake sediment. Int J Syst Evol Microbiol 56:439–442

Wayne LG, Brenner DJ, Colwell RR, Grimont PAD, kandler O, Krichevsky MI, Moore LH, Moore WEC, Murray RGE (1987) International committee on systematic bacteriology: report of the ad hoc committee on reconciliation of approaches to bacterial systematics. Int J Syst Bacteriol 37:463–464

Zhang J, Jiang RB, Zhang XX, Hang BJ, He J, Li SP (2010) Flavobacterium haoranii sp. nov., a cypermethrin-degrading bacterium isolated from a wastewater treatment system. Int J Syst Evol Microbiol 60:2882–2886
Acknowledgements
This work was financially supported through grants from the National Natural Science Foundation of China (31600080) and the Natural Science Foundation of Shandong Province, China (ZR2016CB29 and ZR2017QD012).
Ethics declarations
Conflict of interest
The authors declare that there is no conflict of interest in this paper.
Additional information
The GenBank/EMBL/DDBJ accession number for the 16S rRNA gene sequence of strain ZZ-8T is MG712774.
Electronic supplementary material
Below is the link to the electronic supplementary material.
About this article
Cite this article
Chen, Q., Wang, HM., Zhuang, W. et al. Flavobacterium zaozhuangense sp. nov., a new member of the family Flavobacteriaceae, isolated from metolachlor-contaminated soil. Antonie van Leeuwenhoek 111, 1977–1984 (2018). https://doi.org/10.1007/s10482-018-1090-0
Received:

Accepted:

Published:

Issue Date:

DOI: https://doi.org/10.1007/s10482-018-1090-0
Keywords