Abstract
Rat bite fever is an under-reported, under-diagnosed emerging zoonosis with worldwide distribution. Besides Spirillum minus, Streptobacillus moniliformis is the major causative microorganism although it usually colonises rats without any clinical signs. A group of house rats (Rattus rattus) kept in a zoo exhibition for educational purposes suffered from neurological signs including disorientation, torticollis, stall walking, ataxia and death. Gross pathological and histo-pathological examinations of the investigated rats revealed high-grade otitis interna et media, from which Streptobacillus notomytis was isolated in pure culture or as the predominant microorganism. This case series underlines a previously expressed hypothesis that R. rattus might be naturally colonised with S. notomytis, whereas the traditional rat bite fever organism, S. moniliformis, might be restricted to the Norway rat (Rattus norvegicus). However, the general paucity of Streptobacillus isolates, especially from their respective animal hosts, precludes definitive proof of these host tropisms. This is the first report of S. notomytis detection outside Asia and Australia and the first evidence for its role as a facultative pathogen in house rats.
Access options
Buy single article
Instant access to the full article PDF.
US$ 39.95
Tax calculation will be finalised during checkout.
Subscribe to journal
Immediate online access to all issues from 2019. Subscription will auto renew annually.
US$ 119
Tax calculation will be finalised during checkout.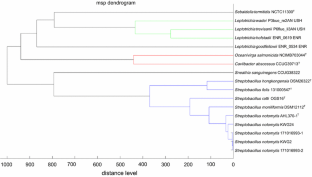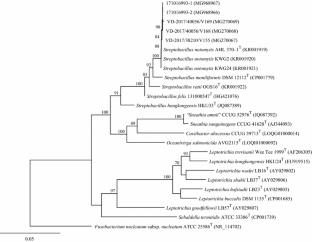 Abbreviations
S. :

Streptobacillus

R. :

Rattus

RBF:

Rat bite fever

T :

Type strain

no/s.:

Number/s

m2 :

Square meter

m3 :

Cubic meter

ELISA:

Enzyme linked immunosorbent assay

Ig:

Immune globulin

µm:

Micrometer

SBA:

Columbia agar with 5% sheep blood

MALDI-TOF MS:

Matrix-assisted laser desorption/ionization-time of flight mass spectrometry

MSP:

Main spectra peak lists

MLVA:

Multi locus variable number tandem repeat analysis

groEL :

Chaperonine gene

gyrB :

Gyrase subunit B gene

recA :

Recombinase subunit A gene

mg/kg:

Milligram per kilogram

bp:

Base pair/s

SNP:

Single nucleotide polymorphism

T:

Thymine

A:

Adenine

CNS:

Central nervous system

1.0:

Male

0.1:

Female

0.0.1:

Undetermined sex

LUA:

Landesuntersuchungsanstalt für das Gesundheits- und Veterinärwesen Sachsen

LHL:

Landesbetrieb Hessisches Landeslabor

IBML:

Institut für Bakteriologie und Mykologie Leipzig

N/A:

Not applicable

EFRE:

European Funds of Regional Development
References
Atala A, Correa CN, Correa WM, Carrijo LN, Perfeito JB (1973) Meningitis caused by Streptobacillus moniliformis. Rev Paul Med 82:175–178

Beeuwkes H, De Jong JG, Der Van, Zalm HO (1954) Cranial base fracture with purulent meningitis due to Streptobacillus moniliformis. Ned Tijdschr Geneeskd 98:906–912

Blom J, Kreis J, Spanig S, Juhre T, Bertelli C, Ernst C, Goesmann A (2016) EDGAR 2.0: an enhanced software platform for comparative gene content analyses. Nucleic Acids Res 44:W22–W28. https://doi.org/10.1093/nar/gkw255

Boot R, Bakker RH, Thuis H, Veenema JL, De Hoog H (1993) An enzyme-linked immunosorbent assay (ELISA) for monitoring rodent colonies for Streptobacillus moniliformis antibodies. Lab Anim 27:350–357

Chun J, Lee JH, Jung Y, Kim M, Kim S, Kim BK, Lim YW (2007) EzTaxon: a web-based tool for the identification of prokaryotes based on 16S ribosomal RNA gene sequences. Int J Syst Evol Microbiol 57:2259–2261. https://doi.org/10.1099/ijs.0.64915-0

Dijkmans BA, Thomeer RT, Vielvoye GJ, Lampe AS, Mattie H (1984) Brain abscess due to Streptobacillus moniliformis and Actinobacterium meyerii. Infection 12:262–264

Eisenberg T (2017) Phylogenetic investigations and comparative genome analyses within the family Leptotrichiaceae with special consideration of Streptobacillus moniliformis, the causative organism of rat bite fever. Habilitation Thesis, Justus-Liebig-University, Giessen

Eisenberg T, Glaeser S, Nicklas W, Mauder N, Contzen M, Aledelbi K, Kämpfer P (2015a) Streptobacillus felis sp. nov. isolated from a cat with pneumonia. Int J Syst Evol Microbiol 65:2172–2178. https://doi.org/10.1099/ijs.0.000238

Eisenberg T et al (2015b) Streptobacillus notomytis sp. nov. isolated from a spinifex hopping mouse (Notomys alexis THOMAS, 1922), and emended description of Streptobacillus Levaditi et al. 1925, Eisenberg et al. 2015 emend. Int J Syst Evol Microbiol 65:4823–4829. https://doi.org/10.1099/ijsem.0.000654

Eisenberg T et al (2015c) Phenotypic and genotypic characteristics of members of the genus Streptobacillus. PLoS ONE 10:e0134312. https://doi.org/10.1371/journal.pone.0134312

Eisenberg T, Ewers C, Rau J, Akimkin V, Nicklas W (2016a) Approved and novel strategies in diagnostics of rat bite fever and other Streptobacillus infections in humans and animals Virulence 7:630–648. https://doi.org/10.1080/21505594.2016.1177694

Eisenberg T, Fawzy A, Nicklas W, Semmler T, Ewers C (2016b) Phylogenetic and comparative genomics of the family Leptotrichiaceae and introduction of a novel fingerprinting MLVA for Streptobacillus moniliformis. BMC Genomics 17:864

Eisenberg T, Glaeser SP, Ewers C, Semmler T, Drescher B, Kämpfer P (2016c) Caviibacter abscessus gen. nov., sp. nov., a member from the family Leptotrichiaceae isolated from guinea pigs (Cavia porcellus). Int J Syst Evol Microbiol 66:1652–1659. https://doi.org/10.1099/ijsem.0.000922

Eisenberg T et al (2016d) Streptobacillus ratti sp. nov., isolated from a black rat (Rattus rattus). Int J Syst Evol Microbiol 66:1620–1626. https://doi.org/10.1099/ijsem.0.000869

Eisenberg T et al (2017) Acute tetraplegia caused by rat bite fever in snake keeper and transmission of Streptobacillus moniliformis. Emerg Infect Dis 23:719–721. https://doi.org/10.3201/eid2304.161987

Eisenberg T, Glaeser SP, Blom J, Kämpfer P (2018a) Family Leptotrichiaceae. In: Whitman WB (ed) Bergeys Manual of Systematics of Archaea and Bacteria. Wiley, New Jersey

Eisenberg T, Glaeser SP, Blom J, Rau J, Kämpfer P (2018b) Genus Streptobacillus. In: Whitman WB (ed) Bergey's Manual of Systematics of Archaea and Bacteria. Wiley, New Jersey

Elliott SP (2007) Rat bite fever and Streptobacillus moniliformis. Clin Microbiol Rev 20:13–22. https://doi.org/10.1128/cmr.00016-06

Fornefett J et al (2017) Comparative analysis of clinics, pathologies and immune responses in BALB/c and C57BL/6J mice infected with Streptobacillus moniliformis. Microbes Infect. https://doi.org/10.1016/j.micinf.2017.10.001

Fukushima K, Yanagisawa N, Imaoka K, Kimura M, Imamura A (2017) Rat-bite fever due to Streptobacillus notomytis isolated from a human specimen. J Infect Chemother. https://doi.org/10.1016/j.jiac.2017.10.018

Gaastra W, Boot R, Ho HT, Lipman LJ (2009) Rat bite fever. Vet Microbiol 133:211–228. https://doi.org/10.1016/j.vetmic.2008.09.079

Graves MH, Janda JM (2001) Rat-bite fever (Streptobacillus moniliformis): a potential emerging disease. Int J Infect Dis 5:151–155

Hill A (1974) Experimental and natural infection of the conjunctiva of rats. Lab Anim 8:305–310

Hopkinson WI, Lloyd JM (1981) Streptobacillus moniliformis septicaemia in spinifex hopping mice (Notomys alexis). Aust Vet J 57:533–534

Kearse M et al (2012) Geneious basic: an integrated and extendable desktop software platform for the organization and analysis of sequence data. Bioinformatics 28:1647–1649. https://doi.org/10.1093/bioinformatics/bts199

Kimura M, Tanikawa T, Suzuki M, Koizumi N, Kamiyama T, Imaoka K, Yamada A (2008) Detection of Streptobacillus spp. in feral rats by specific polymerase chain reaction. Microbiol Immunol 52:9–15. https://doi.org/10.1111/j.1348-0421.2008.00005.x

Koopman JP, Van den Brink ME, Vennix PP, Kuypers W, Boot R, Bakker RH (1991) Isolation of Streptobacillus moniliformis from the middle ear of rats. Lab Anim 25:35–39

Lane DJ (1991) 16S/23S rRNA sequencing. In: Stackebrandt E, Goodfellow M (eds) Nucleic acid techniques in bacterial systematics. Wiley, Chichester

Leng-Levy J, Aubertin J, Leng B, Lacut JY, LeGall F, Emeriau J (1971) Neurologic complications of septicemias caused by Haverhillia multiformis. Lyon Med 225(Suppl):131–135

Levaditi C, Nicolau S, Poincloux P (1925) Über die ätiologische Rolle von Streptobacillus moniliformis (nov. spec) bei der akuten multifokalen erythematösen Septikämie. C R Acad Sci 180:1188–1190 in Französisch

Nakagomi D et al (2008) Rat-bite fever identified by polymerase chain reaction detection of Streptobacillus moniliformis DNA. J Dermatol 35:667–670. https://doi.org/10.1111/j.1346-8138.2008.00541.x

Oeding P, Pedersen H (1950) Streptothrix muris ratti (Streptobacillus moniliformis) isolated from a brain abscess. Acta Pathol Microbiol Scand 27:436–442

Olson LD, McCune EL (1968) Histopathology of chronic otitis media in the rat. Lab Anim Care 18:478–485

Papanicolas LE, Holds JM, Bak N (2012) Meningitis and pneumonitis caused by pet rodents. Med J Aust 196:202–203

Pirodda E (1965) Atypical otomastoiditis due to Haverhillia multiformis (Streptobacillus moniliformis). Otorinolaringol Ital 34:23–32

Rau J, Eisenberg T, Männig A, Wind C, Lasch P, Sting R (2016) MALDI-UP—An internet platform for the exchange of MALDI-TOF mass spectra. User guide for http://maldi-up.ua-bw.de/. Aspects of food control and animal health (eJournal) 2016:1–17

Schuurman T, de Boer RF, Kooistra-Smid AM, van Zwet AA (2004) Prospective study of use of PCR amplification and sequencing of 16S ribosomal DNA from cerebrospinal fluid for diagnosis of bacterial meningitis in a clinical setting. J Clin Microbiol 42:734–740

Sens MA, Brown EW, Wilson LR, Crocker TP (1989) Fatal Streptobacillus moniliformis infection in a two-month-old infant. Am J Clin Pathol 91:612–616

Weisbroth SH (1979) Bacterial and mycotic diseases. In: Baker HJ, Lindsey JR, Weisbroth SH (eds) The laboratory rat—biology and diseases, vol 1. Academic Press, New York, pp 193–241

Woo PC et al (2014) Streptobacillus hongkongensis sp. nov., isolated from patients with quinsy and septic arthritis, and emended descriptions of the genus Streptobacillus and the species Streptobacillus moniliformis. Int J Syst Evol Microbiol 64:3034–3039. https://doi.org/10.1099/ijs.0.061242-0

Wullenweber M (1995) Streptobacillus moniliformis—a zoonotic pathogen. Taxonomic considerations, host species, diagnosis, therapy, geographical distribution. Lab Anim 29:1–15

Wullenweber M, Kaspareit-Rittinghausen J, Farouq M (1990) Streptobacillus moniliformis epizootic in barrier-maintained C57BL/6J mice and susceptibility to infection of different strains of mice. Lab Anim Sci 40:608–612

Wullenweber M, Jonas C, Kunstyr I (1992) Streptobacillus moniliformis isolated from otitis media of conventionally kept laboratory rats. J Exp Anim Sci 35:49–57
Acknowledgements
The authors like to thank Anna Mohr, Marie-Luise Sonneborn, Walter Lang and Sassan Schwarz for excellent technical assistance and Ekkehard Hiller, Peter Lasch and Marcel Erhard for a helpful discussion on MALDI spectra harmonisation from different platforms. The LHL is supported by the Hessian Ministry for the Environment, Climate Change, Agriculture and Consumer Protection. The work of Juliane Fornefett, Sophie Funk and Christoph Georg Baums was financially supported by the European Funds of Regional Development (EFRE) and is registered at the "Sächsische AufbauBank" under the Proposal Number 100211188.
Ethics declarations
Conflict of interest
The authors declare that they have no conflict of interest.
Ethical approval
All applicable international, national, and/or institutional guidelines for the care and use of animals were followed as described in Materials and Methods.
Electronic supplementary material
Below is the link to the electronic supplementary material.
About this article
Cite this article
Michel, V., Ulber, C., Pöhle, D. et al. Clinical infection in house rats (Rattus rattus) caused by Streptobacillus notomytis. Antonie van Leeuwenhoek 111, 1955–1966 (2018). https://doi.org/10.1007/s10482-018-1085-x
Received:

Accepted:

Published:

Issue Date:
Keywords
Disease

House rat

Otitis

Rat bite fever

Rattus rattus
Streptobacillus notomytis