Abstract
A novel aerobic, Gram-positive, non-motile halotolerant actinobacterium, designated strain YIM 96448T, was isolated from a saline soil sample collected from the south bank of Aiding Lake in Xinjiang Province, northwest China. Phylogenetic analysis based on 16S rRNA gene sequences revealed that strain YIM 96448T is closely related to Phytoactinopolyspora endophytica EGI 60009T (98.0%) and Phytoactinopolyspora alkaliphila EGI 80629T (97.0%). Optimum growth of the strain was observed at 28-37 °C, pH 7–9 and in the presence of 5–8% NaCl (w/v). The respiratory quinone of strain YIM 96448T was determined to be MK-9(H4). The major fatty acids (>10%) were identified as anteiso-C15:0, iso-C16:0, anteiso-C17:0 and summed feature 4 (iso-C17:1 I and/or anteiso-C17:1B). The polar lipid profile was found to consist of diphosphatidylglycerol, an unidentified aminophospholipid, phosphatidylglycerol, two phosphatidylinositol mannosides, three unidentified phosphoglycolipids and four unidentified phospholipids. The DNA G+C content was determined to be 68.7 mol%. On the basis of phenotypic, chemotaxonomic and phylogenetic analysis, strain YIM 96448T should be classified as a novel species in the genus Phytoactinopolyspora, for which the name Phytoactinopolyspora halotolerans sp. nov. is proposed. The type strain is YIM 96448T (=CCTCC AB 2017055T = KCTC 39924T).
Access options
Buy single article
Instant access to the full article PDF.
US$ 39.95
Tax calculation will be finalised during checkout.
Subscribe to journal
Immediate online access to all issues from 2019. Subscription will auto renew annually.
US$ 119
Tax calculation will be finalised during checkout.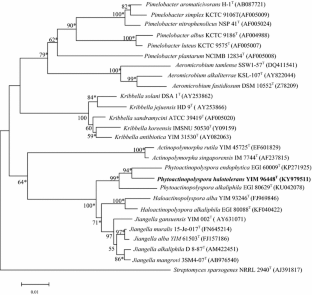 References
Collins MD, Pirouz T, Goodfellow M, Minnikin DE (1977) Distribution of menaquinones in actinomycetes and corynebacteria. J Gen Microbiol 100:221–230

Felsenstein J (1981) Evolutionary trees from DNA sequences: a maximum likelihood approach. J Mol Evol 17:368–376

Felsenstein J (1985) Confidence limits on phylogenies: an approach using the bootstrap. Evolution 39:783–791

Fitch WM (1971) Toward defining the course of evolution: minimum change for a specific tree topology. Syst Biol 20:406–416

Gonzalea C, Gutierrez C, Ramirez C (1978) Halobacterium vallismortis sp. nov., an amylolytic and carbohydrate-metabolizing, extremely halophilic bacterium. Can J Microbial 24:710–715

Groth I, Schumann P, Weiss N, Martin K, Rainey FA (1996) Agrococcus jenensis gen. nov., sp. nov., a new genus of actinomycetes with diaminobutyric acid in the cell wall. Int J Syst Bacteriol 46:234–239

Kelly KL (1964) Color-name charts illustrated with centroid colors. Inter-Society Color Council-National Bureau of Standards, Chicago (Published in US)

Leifson E (1960) Atlas of bacterial flagellation. Academic Press, London

Li WJ, Xu P, Schuman P, Zhang YQ, Pukall R, Xu LH, Stackebrandt E, Jiang CL (2007) Georgenia ruanii sp. nov., a novel actinobacterium isolated from forest soil in Yunnan (China) and emended description of the genus Georgenia. Int J Syst Evol Microbiol 57:1424–1428

Li L, Ma JB, Abdalla MO, Li SH, Osman G, Li YQ, Guo JW, Hozzein WN, Li WJ (2015) Phytoactinopolyspora endophytica gen. nov., sp. nov., a halotolerant filamentous actinomycete isolated from the roots of Glycyrrhiza uralensis F. Int J Syst Evol Microbiol 65:2671–2677

Marmur J (1961) A procedure for the isolation of deoxyribonucleic acid from micro-organisms. J Mol Biol 3:208–218

Mesbah M, Premachandran U, Whitman WB (1989) Precise measurement of the G + C content of deoxyribonucleic acid by high-performance liquid chromatography. Int J Syst Bacteriol 39:159–167

Minnikin DE, Alshamaony L, Goodfellow M (1975) Differentiation of Mycobacterium, Nocardia, and related taxa by thin-layer chromatographic analysis of whole-organism methanolysates. J Gen Microbiol 88:200–204

Minnikin DE, O'Donnell AG, Goodfellow M, Alderson G, Athalye M, Schaal A, Parlett JH (1984) An integrated procedure for the extraction of bacterial isoprenoid quinines and polar lipids. J Microbiol Methods 2:233–241

Roberts JL, Staneck GD (1974) Simplified approach to identification of aerobic actinomycetes by thin-layer chromatography. Appl Microbiol 28:226–231

Saitou N, Nei M (1987) The neighbor-joining method: a new method for reconstructing phylogenetic trees. Mol Biol Evol 4:406–425

Sasser M (1990) Identification of bacteria by gas chromatography of cellular fatty acids. USFCC News1 20:16

Shirling EB, Gottlieb D (1966) Methods for characterization of streptomyces species. Int J Syst Bacteriol 16:313–340

Smibert RM, Krieg NR (1994) Phenotypic characterization. In: Gerhardt P, Murray RGE, Wood WA, Krieg NR (eds) Methods for general and molecular bacteriology. American Society for Microbiology, Washington, pp 607–654

Song L, Li WJ, Wang QL, Chen GZ, Zhang YS, Xu LH (2005) Jiangella gansuensis gen. nov., sp. nov., a novel actinomycete from a desert soil in north-west China. Int J Syst Evol Microbiol 55:881–884

Tamura K, Stecher G, Peterson D, Filipski A, Kumar S (2013) MEGA6: molecular evolutionary genetics analysis version 6.0. Mol Biol Evol 30:2725–2729

Tang SK, Tian XP, Zhi XY, Cai M, Wu JY, Yang LL, Xu LH, Li WJ (2008) Haloactinospora alba gen. nov., sp. nov., a halophilic filamentous actinomycete of the family Nocardiopsaceae. Int J Syst Evol Microbiol 58:2075–2080

Tang SK, Wang Y, Chen Y, Lou K, Cao LL, Xu LH, Li WJ (2009) Zhihengliuella alba sp. nov., and emended description of the genus Zhihengliuella. Int J Syst Evol Microbiol 59:2025–2031

Tang SK, Zhi XY, Wang Y, Shi R, Lou K, Xu LH, Li WJ (2011) Haloactinopolyspora alba gen. nov., sp. nov., a halophilic filamentous actinomycete isolated from a salt lake, with proposal of Jiangellaceae fam. nov. and Jiangellineae subord. nov. Int J Syst Evol Microbiol 61:194–200

Thompson JD, Gibson TJ, Plewniak F, Jeanmougin F, Higgins DG (1997) The CLUSTAL X windows interface: flexible strategies for multiple sequence alignment aided by quality analysis tools. Nucleic Acids Res 25:4876–4882

Williams ST, Goodfellow M, Alderson G (1989) Genus Streptomyces Waksman and Henrici 1943, 339AL. In: Williams ST, Sharpe ME, Holt JG (eds) Bergey's manual of systematic bacteriology, vol 4. Williams and Wilkins, Baltimore, pp 2453–2492

Xu P, Li WJ, Tang SK, Zhang YQ, Chen GZ, Chen HH, Xu LH, Jiang CL (2005) Naxibacter alkalitolerans gen. nov., sp. nov., a novel member of the family 'Oxalobacteraceae' isolated from China. Int J Syst Evol Microbiol 55:1149–1153

Yoon SH, Ha SM, Kwon S, Lim J, Kim Y, Seo H, Chun J (2017) Introducing EzBioCloud: a taxonomically united database of 16S rRNA and whole genome assemblies. Int J Syst Evol Microbiol 67:1613

Zhang YG, Lu XH, Ding YB, Zhou XK, Li L, Guo JW, Wang HF, Duan YQ, Li WJ (2016) Phytoactinopolyspora alkaliphila sp. nov., an alkaliphilic actinomycete isolated from a saline-alkaline soil. Int J Syst Evol Microbiol 66:2058–2063
Acknowledgement
This research was supported by the National Natural Science Foundation of China (Grant Numbers 31270055, 31560026, 31400438).
Ethics declarations
Conflict of interest
The authors declare that they have no conflict of interest.
Electronic supplementary material
Below is the link to the electronic supplementary material.
About this article
Cite this article
Ji, Y., Chunyu, WX., Li, EY. et al. Phytoactinopolyspora halotolerans sp. nov., a halotolerant actinobacterium isolated from a saline soil in Xinjiang, northwest of China. Antonie van Leeuwenhoek 111, 27–34 (2018). https://doi.org/10.1007/s10482-017-0923-6
Received:

Accepted:

Published:

Issue Date:
Keywords
Phytoactinopolyspora halotolerans sp. nov

Polyphasic taxonomy

16S rRNA gene