Abstract
A Saccharopolyspora strain, designated CR3506T, isolated from a soil sample collected from Sungurlu, Corum, Turkey, was examinated using a polyphasic approach. Phylogenetic analysis based on an almost-complete 16S rRNA gene sequence analysis showed that the strain is closely related to the type strains of Saccharopolyspora spinosa NRRL 18395T (99.1%), Saccharopolyspora phatthalungensis NRRL B-24798T (98.4%) and Saccharopolyspora shandongensis 88T (98.1%); low levels of DNA–DNA relatedness were found between the isolate and S. spinosa and S. phatthalungensis (<50%). Strain CR3506T was found to have chemotaxonomic and phylogenetic properties consistent with its classification in the genus Saccharopolyspora. The strain contained meso-diaminopimelic acid as the diagnostic diamino acid. Whole-cell hydrolysates contained arabinose and galactose. The polar lipids were identified as phosphatidylmethylethanolamine, phosphatidylethanolamine, diphosphatidylglycerol, phosphatidylcholine, phosphatidylglycerol and phosphatidylinositol. The predominant menaquinones (>10%) were MK-9(H4) and MK-8(H4). Major fatty acids were (>10%) iso-C16:0, C15:03OH, C18:0 and iso-C15:0. Further, the morphological, physiological and biochemical characteristics of strain CR3506T are distinct from S. spinosa and other species of the genus Saccharopolyspora with which this strain has high 16S rRNA gene sequence similarity (98.0–98.5%). Strain CR3506T has antimicrobial activity against Bacillus subtilis NRRL B-209, Citrobacter freundi NRRL B-2643 and Staphylococcus aureus ATCC 29213. Consequently, it is proposed that strain CR3506T represents a novel Saccharopolyspora species for which the name Saccharopolyspora hattusasensis sp. nov. is proposed. The type strain is CR3506T (=KCTC 29104T = DSM 45715T).
Access options
Buy single article
Instant access to the full article PDF.
US$ 39.95
Tax calculation will be finalised during checkout.
Subscribe to journal
Immediate online access to all issues from 2019. Subscription will auto renew annually.
US$ 119
Tax calculation will be finalised during checkout.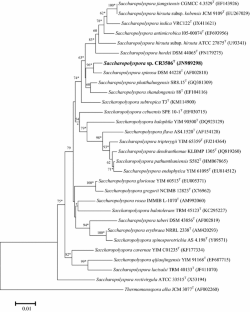 References
Cheng J, Zhang YG, Chen W, Li L, Zhang DF, Wang HF, Lu XH, Duan YQ, Li WJ (2013) Saccharopolyspora cavernae sp. nov., a novel actinomycete isolated from the Swallow Cave in Yunnan, south-west China. Antonie Van Leeuwenhoek 104(5):837–843

Chun J, Goodfellow M (1995) A phylogenetic analysis of the genus Nocardia with 16S rRNA gene sequences. Int J Syst Bacteriol 45:240–245

Collins MD, Pirouz T, Goodfellow M, Minnikin DE (1977) Distribution of menaquinones in actinomycetes and corynebacteria. J Gen Microbiol 100:221–230

De Ley J, Cattoir H, Reynaerts A (1970) The quantitative measurement of DNA hybridization from renaturation rates. Eur J Biochem 12:143–153

Duangmal K, Mingma R, Thamchaipenet A, Matsumoto A, Takahashi Y (2010) Saccharopolyspora phatthalungensis sp. nov., isolated from rhizosphere soil of Hevea brasiliensis. Int J Syst Evol Microbiol 60(8):1904–1908

Embley TM, Wait R, Dobson G, Goodfellow M (1987) Fatty acid composition in the classification of Saccharopolyspora hirsuta. FEMS Microbiol Lett 41:131–135

Embley TM, Smida J, Stackebrandt E (1988) The phylogeny of mycolate-less wall chemotype IV actinomycetes and description of Pseudonocardiaceae fam. nov. Syst Appl Microbiol 11:44–52

Fabre B, Velours J, Etienne G, Legendre F, Tiraby G (1993) CL307-24, a new antibiotic complex from Saccharopolyspora aurantiaca sp. nov. II. Physico-chemical and biological properties. J Antibiot 46(9):1421–1427

Felsenstein J (1981) Evolutionary trees from DNA sequences: a maximum likelihood approach. J Mol Evol 17:368–376

Felsenstein J (1985) Confidence limits on phylogeny: an approach using the bootstrap. Evolution 39:783–791

Goodfellow M, Lacey J, Athalye M, Embley TM, Bowen T (1989) Saccharopolyspora gregorii and Saccharopolyspora hordei: two new actinomycete species from fodder. J Gen Microbiol 135:2125–2139

Huss VAR, Festl H, Schleifer KH (1983) Studies on the spectrophotometric determination of DNA hybridisation from renaturation rates. Syst Appl Microbiol 4:184–192

Jiang Y, Wei X, Chen X, Jiang Y, Xue Q, Lai H, Jiang C (2016) Saccharopolyspora griseoalba sp. nov., a novel actinomycete isolated from the Dead Sea. Antonie Van Leeuwenhoek 109(12):1635–1641

Jones KL (1949) Fresh isolates of actinomycetes in which the presence of sporogenous aerial mycelia is a fluctuating characteristic. J Bacteriol 57:141–145

Kämpfer P, Kroppenstedt RM (1996) Numerical analysis of fatty acid patterns of coryneform bacteria and related taxa. Can J Microbiol 42:989–1005

Kelly KL (1964) Inter-society color council-national bureau of standards color-name charts illustrated with centroid colors. US Government Printing Office, Washington, DC

Kim HJ, White-Phillip JA, Ogasawara Y, Shin N, Isiorho EA, Liu HW (2010) Biosynthesis of spinosyn in Saccharopolyspora spinosa: synthesis of permethylated rhamnose and characterization of the functions of SpnH, SpnI, and SpnK. J Am Chem Soc 132:2901–2903

Kimura M (1980) A simple method for estimating evolutionary rates of base substitutions through comparative studies of nucleotide sequences. J Mol Evol 16:111–120

Kluge AG, Farris FS (1969) Quantitative phyletics and the evolution of anurans. Syst Zool 18:1–32

Korn-Wendisch F, Kempf A, Grund E, Kroppenstedt RM, Kutzner HJ (1989) Transfer of Faenia rectivirgula (Kurup and Agre 1983) to the genus Saccharopolyspora as Saccharopolyspora rectivirgula comb. nov. and emended genus description of Saccharopolyspora. Int J Syst Bacteriol 39:430–441

Kroppenstedt RM (1982) Separation of bacterial menaquinones by HPLC using reverse phase (RP18) and a silver loaded ion exchanger. J Liquid Chromatogr 5:2359–2387

Kroppenstedt RM, Goodfellow M (2006) The family Thermomonosporaceae: Actinocorallia, Actinomadura, Spirillispora and Thermomonospora. In: Dworkin M, Falkow S, Schleifer KH, Stackebrandt E (eds) The prokaryotes. Archaea and Bacteria: Firmicutes, Actinomycetes, vol 3, 3rd edn. Springer, New York, pp 682–724

Lacey J, Goodfellow M (1975) A novel actinomycete from sugarcane bagasse: saccharopolyspora hirsuta gen. et sp. nov. J Gen Microbiol 88:75–85

Lechevalier MP, Lechevalier HA (1970) Chemical composition as a criterion in the classification of aerobic actinomycetes. Int J Syst Bacteriol 20:435–443

Lu Z, Liu Z, Wang L, Zhang Y, Qi W, Goodfellow M (2001) Saccharopolyspora flava sp. nov. and Saccharopolyspora thermophila sp. nov., novel actinomycetes from soil. Int J Syst Evol Microbiol 51:319–325

Lv L-L, Zhang Y-F, Xia Z-F, Zhang J-J, Zhang L-L (2014) Saccharopolyspora halotolerans sp. nov., a halophilic actinomycete isolated from a hypersaline lake. Int J Syst Evol Microbiol 64:3532–3537

Mandel M, Marmur J (1968) Use of ultraviolet absorbance-temperature profiles for determining the guanine plus cytosine content of DNA. Methods Enzymol 12B:195

Marmur J (1961) A procedure for the isolation of desoxyribonucleic acid from microorganisms. J Mol Biol 3:208

Mertz FP, Yao RC (1990) Saccharopolyspora spinosa sp. nov. isolated from soil collected in a sugar mill rum still. Int J Syst Bacteriol 40(1):34–39

Minnikin DE, O'Donnell AG, Goodfellow M, Alderson G, Athalye M, Schaal K, Parlett JH (1984) An integrated procedure for the extraction of bacterial isoprenoid quinones and polar lipids. J Microbiol Methods 2:233–241

Nash P, Krent MM (1991) Culture media. In: Balows A, Hauser WJ, Herrmann KL, Isenberg HD, Shadomy HJ (eds) Manual of clinical microbiology, 3rd edn. American Society for Microbiology, Washington DC, pp 1268–1270

Saitou N, Nei M (1987) The neighbor-joining method. A new method for reconstructing phylogenetic trees. Mol Biol Evol 4:406–425

Sasser M (1990) Identification of bacteria by gas chromatography of cellular fatty acids. Technical Note 101. MIDI Inc, Newark, DE

Shirling EB, Gottlieb D (1966) Methods for characterization of Streptomyces species. Int J Syst Bacteriol 16:313–340

Stackebrandt E, Rainey FA, Ward-Rainey NL (1997) Proposal for a new hierarchic classification system, Actinobacteria classis nov. Int J Syst Bacteriol 47:479–491

Staneck JL, Roberts GD (1974) Simplified approach to identification of aerobic actinomycetes by thin-layer chromatography. Appl Microbiol 28:226–231

Sun M, Ou J, Li W, Lu C (2017) Quinoline and naphthalene derivatives from Saccharopolyspora sp. YIM M13568. J Antibiot 70:320–322

Tamura K, Stecher G, Peterson D, Filipski A, Kumar S (2013) MEGA6: molecular evolutionary genetics analysis version 6.0. Mol Biol Evol 30:2725–2729

Tan GYA, Ward AC, Goodfellow M (2006) Exploration of Amycolatopsis diversity in soil using genus-specific primers and novel selective media. Syst Appl Microbiol 29:557–569

Tittsler RP, Sandholzer LA (1936) The use of semi-solid agar for the detection of bacterial motility. J Bacteriol 31:575–580

Waksman SA (1961) The actinomycetes, classification, identification and description of genera and species, vol 2. Williams & Wilkins, Baltimore

Waksman SA (1967) The actinomycetes. a summary of current knowledge. Ronald Press, New York

Warwick S, Bowen T, McVeigh H, Embley TM (1994) A phylogenetic analysis of the family Pseudonocardiaceae and the genera Actinokineospora and Saccharothrix with 16S rRNA sequences and a proposal to combine the genera Amycolata and Pseudonocardia in an emended genus Pseudonocardia. Int J Syst Bacteriol 44:293–299

Wayne LG, Brenner DJ, Colwell RR, Grimont PAD, Kandler O, Krichevsky MI, Moore LH, Moore WEC, Murray RGE, Stackebrandt E, Starr MP, Trüper HG (1987) Report of the ad hoc committee on reconciliation of approaches to bacterial systematics. Int J Syst Bacteriol 37:463–464

Williams ST, Goodfellow M, Alderson G, Wellington EMH, Sneath PHA, Sackin MJ (1983) Numerical classification of Streptomyces and related genera. J Gen Microbiol 129:1743–1813

Wu H, Liu B, Pan S (2016) Saccharopolyspora subtropica sp. nov., a thermophilic actinomycete isolated from soil of a sugar cane field. Int J Syst Evol Microbiol 66(5):1990–1995

Yassin AF (2009) Saccharopolyspora rosea sp. nov., isolated from a patient with bronchial carcinoma. Int J Syst Evol Microbiol 59:1148–1152

Yoon S-H, Ha S-M, Kwon S, Lim J, Kim Y, Seo H, Chun J (2016) Introducing EzBioCloud: a taxonomically united database of 16S rRNA and whole genome assemblies. Int J Syst Evol Microbiol. doi:10.1099/ijsem.0.001755

Yuan L-J, Zhang Y-Q, Guan Y, Wei Y-Z, Li Q-P, Yu L-Y, Li W-J, Zhang Y-Q (2008) Saccharopolyspora antimicrobica sp. nov., an actinomycete from soil. Int J Syst Evol Microbiol 58:1180–1185

Zhang J, Wu D, Zhang J, Liu Z, Song F (2008) Saccharopolyspora shandongensis sp. nov., isolated from wheat-field soil. Int J Syst Evol Microbiol 58(5):1094–1099

Zhang YJ, Zhang WD, Qin S, Bian GK, Xing K, Li YF, Cao CL, Jiang JH (2013) Saccharopolyspora dendranthemae sp. nov. a halotolerant endophytic actinomycete isolated from a coastal salt marsh plant in Jiangsu, China. Antonie Van Leeuwenhoek 103(6):1369–1376

Zhi XY, Li WJ, Stackebrandt E (2009) An update of the structure and 16S rRNA gene sequence-based definition of higher ranks of the class Actinobacteria, with the proposal of two new suborders and four new families and emended descriptions of the existing higher taxa. Int J Syst Evol Microbiol 59:589–608

Zhou ZH, Liu ZH, Qian YD, Kim SB, Goodfellow M (1998) Saccharopolyspora spinosporotrichia sp. nov., a novel actinomycete from soil. Int J Syst Bacteriol 48:53–58
Acknowledgements
This research was supported by Ondokuz Mayis University (OMU), Project No. PYO. FEN. 1901.12.014 and Ondokuz Mayis University (OMU), Project No. PYO. FEN. 1901.09.003.
Ethics declarations
Conflict of interest
The authors declare that they have no conflict of interest.
Additional information
The GenBank accession number for the 16S rRNA gene sequence of Saccharopolyspora hattusasensis CR3506T (=KCTC 29104T = DSM 45715T) is JN989298.
Electronic supplementary material
Below is the link to the electronic supplementary material.
About this article
Cite this article
Veyisoglu, A., Saygin, H., Tatar, D. et al. Saccharopolyspora hattusasensis sp. nov., isolated from soil. Antonie van Leeuwenhoek 110, 1719–1727 (2017). https://doi.org/10.1007/s10482-017-0921-8
Received:

Accepted:

Published:

Issue Date:
Keywords
Actinobacteria
Saccharopolyspora hattusasensis sp. nov.

Polyphasic taxonomy

16S rRNA gene