Abstract
Streptococcus pneumoniae (the pneumococcus) is an opportunistic pathogen responsible for several human diseases, including acute otitis media, pneumonia, sepsis and bacterial meningitis, and possesses numerous virulence factors associated with pneumococcal infection and pathogenesis. With the capacity to form pores in cholesterol-rich membranes, pneumolysin (PLY) is a key virulence factor of S. pneumoniae and causes severe tissue damage during pneumococcal infection. Juglone (JG), a natural 1,4-naphthoquinone widely found in the roots, leaves, woods and fruits of Juglandaceae walnut trees, inhibits PLY-induced hemolysis via inhibition of the oligomerization of PLY and exhibits minimal anti-S. pneumoniae activity. In addition, when human alveolar epithelial (A549) cells were co-cultured with PLY and JG, PLY-mediated cell injury was significantly alleviated. These results indicate that JG directly interacts with PLY to reduce the cytotoxicity of the toxin in human alveolar epithelial cells. Hence, JG is an effective inhibitor of PLY and protects lung cells from PLY-mediated cell injury. This study also provides the basis for the development of anti-virulence drugs for the treatment of S. pneumoniae infections.
This is a preview of subscription content, log in to check access.
Access options
Buy single article
Instant access to the full article PDF.
US$ 39.95
Price includes VAT for USA
Subscribe to journal
Immediate online access to all issues from 2019. Subscription will auto renew annually.
US$ 199
This is the net price. Taxes to be calculated in checkout.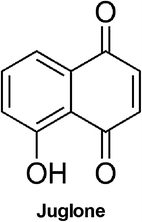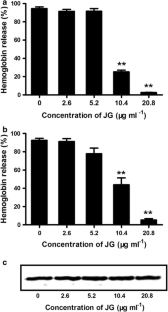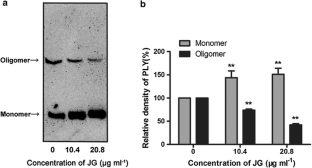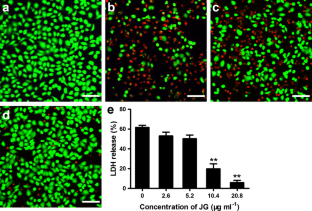 References
Alhamdi Y et al (2015) Circulating pneumolysin is a potent inducer of cardiac injury DURING pneumococcal infection. PLoS Pathog 11:e1004836. doi:10.1371/journal.ppat.1004836

Avci E, Arikoglu H, Erkoc Kaya D (2016) Investigation of juglone effects on metastasis and angiogenesis in pancreatic cancer cells. Gene 588:74–78. doi:10.1016/j.gene.2016.05.001

Bogaert D et al (2004) Colonisation by Streptococcus pneumoniae and Staphylococcus aureus in healthy children. Lancet 363:1871–1872. doi:10.1016/S0140-6736(04)16357-5

Feldman C et al (1991) Pneumolysin induces the salient histologic features of pneumococcal infection in the rat lung in vivo. Am J Respir Cell Mol Biol 5:416–423. doi:10.1165/ajrcmb/5.5.416

Gilbert RJ et al (1998) Self-interaction of pneumolysin, the pore-forming protein toxin of Streptococcus pneumoniae. J Mol Biol 284:1223–1237. doi:10.1006/jmbi.1998.2258

Harvey RM, Hughes CE, Paton AW, Trappetti C, Tweten RK, Paton JC (2014) The impact of pneumolysin on the macrophage response to Streptococcus pneumoniae is strain-dependent. PloS One 9:e103625. doi:10.1371/journal.pone.0103625

Hotomi M, Yuasa J, Briles DE, Yamanaka N (2016) Pneumolysin plays a key role at the initial step of establishing pneumococcal nasal colonization. Folia Microbiol 61(5):375–383

Kaur R, Surendran N, Ochs M, Pichichero ME (2014) Human antibodies to PhtD, PcpA, and Ply reduce adherence to human lung epithelial cells and murine nasopharyngeal colonization by Streptococcus pneumoniae. Infect Immun 82:5069–5075. doi:10.1128/IAI.02124-14

Knippenberg S et al (2015) Streptococcus pneumoniae triggers progression of pulmonary fibrosis through pneumolysin. Thorax 70:636–646. doi:10.1136/thoraxjnl-2014-206420

Lawrence SL et al (2015) Crystal structure of Streptococcus pneumoniae pneumolysin provides key insights into early steps of pore formation. Sci Rep 5:14352. doi:10.1038/srep14352

Lemon JK, Weiser JN (2015) Degradation products of the extracellular pathogen Streptococcus pneumoniae access the cytosol via its pore-forming toxin. Mbio. doi:10.1128/mBio.02110-14

Li H et al (2015) β-sitosterol interacts with pneumolysin to prevent Streptococcus pneumoniae infection. Sci Rep. doi:10.1038/srep17668

Murrah KA et al (2015) Nonencapsulated Streptococcus pneumoniae causes otitis media during single-species infection and during polymicrobial infection with nontypeable Haemophilus influenzae. Pathogens and disease. doi:10.1093/femspd/ftu011

Qiu J et al (2012) Baicalin protects mice from Staphylococcus aureus pneumonia via inhibition of the cytolytic activity of alpha-hemolysin. J Infect Dis 206:292–301. doi:10.1093/infdis/jis336

Shewell LK et al (2014) The cholesterol-dependent cytolysins pneumolysin and streptolysin O require binding to red blood cell glycans for hemolytic activity. Proc Natl Acad Sci 111:E5312–E5320. doi:10.1073/pnas.1412703111

Song M, Li L, Li M, Cha Y, Deng X, Wang J (2016) Apigenin protects mice from pneumococcal pneumonia by inhibiting the cytolytic activity of pneumolysin. Fitoterapia 115:31–36. doi:10.1016/j.fitote.2016.09.017

Wang J et al (2011) Chrysin protects mice from Staphylococcus aureus pneumonia. J Appl Microbiol 111:1551–1558. doi:10.1111/j.1365-2672.2011.05170.x

Wang J et al (2015) Fisetin inhibits Listeria monocytogenes virulence by interfering with the oligomerization of listeriolysin O. J Infect Dis 211:1376–1387. doi:10.1093/infdis/jiu520

Wang J et al (2016) Antibacterial activity of juglone against Staphylococcus aureus: from apparent to proteomic. Int J Mol Sci. doi:10.3390/ijms17060965

Wianowska D, Garbaczewska S, Cieniecka-Roslonkiewicz A, Dawidowicz AL, Jankowska A (2016) Comparison of antifungal activity of extracts from different Juglans regia cultivars and juglone. Microb Pathog 100:263–267. doi:10.1016/j.micpath.2016.10.009

Zhao X, Li H, Wang J, Guo Y, Liu B, Deng X, Niu X (2016) Verbascoside alleviates pneumococcal pneumonia by reducing pneumolysin oligomers. Mol Pharmacol 89:376–387. doi:10.1124/mol.115.100610
Acknowledgements
This work was supported by the National Nature Science Foundation of China (Grant 31602109) and the Project Funded by China Postdoctoral Science Foundation (Project No. 2016M591486).
Ethics declarations
Conflict of interest
The authors declare that they have no conflict of interest.
About this article
Cite this article
Song, M., Lu, G., Li, M. et al. Juglone alleviates pneumolysin-induced human alveolar epithelial cell injury via inhibiting the hemolytic activity of pneumolysin. Antonie van Leeuwenhoek 110, 1069–1075 (2017). https://doi.org/10.1007/s10482-017-0880-0
Received:

Accepted:

Published:

Issue Date:
Keywords
Anti-virulence

Juglone

Pneumolysin

Streptococcus pneumoniae