Abstract
It is believed that sphingomonads are ubiquitously distributed in environments. However detailed information about their community structure and their co-relationship with environmental parameters remain unclear. In this study, novel sphingomonads-specific primers based on the 16S rRNA gene were designed to investigate the distribution of sphingomonads in 10 different niches. Both in silico and in-practice tests on pure cultures and environmental samples showed that Sph384f/Sph701r was an efficient primer set. Illumina MiSeq sequencing revealed that community structures of sphingomonads were significantly different among the 10 samples, although 12 sphingomonad genera were present in all samples. Based on RDA analysis and Monte Carlo permutation test, sphingomonad community structure was significantly correlated with limnetic and marine habitat types. Among these niches, the genus Sphingomicrobium showed strong positive correlation with marine habitats, whereas genera Sphingobium, Novosphingobium, Sphingopyxis, and Sphingorhabdus showed strong positive correlation with limnetic habitats. Our study provided direct evidence that sphingomonads are ubiquitously distributed in environments, and revealed for the first time that their community structure can be correlated with habitats.
Access options
Buy single article
Instant access to the full article PDF.
USD 39.95
Price excludes VAT (USA)
Tax calculation will be finalised during checkout.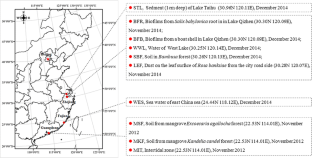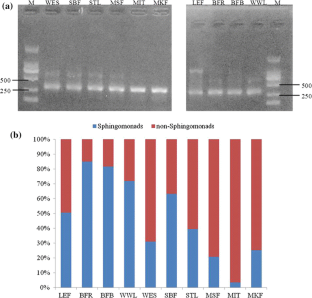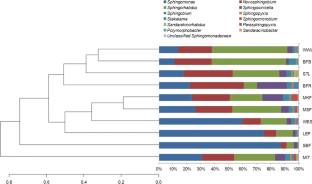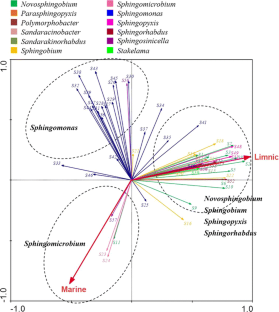 References
Boersma FGH, Warmink JA, Andreote FA, van Elsas JD (2009) Selection of Sphingomonadaceae at the base of Laccaria Proxima and Russula Exalbicans fruiting bodies. Appl Environ Microbiol 75:1979–1989

Caporaso JG, Kuczynski J, Stombaugh J, Bittinger K, Bushman FD, Costello EK, Fierer N, Pena AG, Goodrich JK, Gordon JI (2010) QIIME allows analysis of high-throughput community sequencing data. Nat Methods 7:335–336

Chung EJ, Jo EJ, Yoon HS, Song GC, Jeon CO, Chung YR (2011) Sphingomonas oryziterrae sp. nov. and Sphingomonas jinjuensis sp. nov. isolated from rhizosphere soil of rice (Oryza sativa L.). Int J Syst Evol Microbiol 61:2389–2394

Delmotte N, Knief C, Chaffron S, Innerebner G, Roschitzki B, Schlapbach R, von Mering C, Vorholt JA (2009) Community proteogenomics reveals insights into the physiology of phyllosphere bacteria. PNAS 106:16428–16433

Edgar RC (2013) UPARSE: highly accurate OTU sequences from microbial amplicon reads. Nat Methods 10:996–998

Edgar RC, Haas BJ, Clemente JC, Quince C, Knight R (2011) UCHIME improves sensitivity and speed of chimera detection. Bioinformatics 27:2194–2200

Enya J, Shinohara H, Yoshida S, Tsukiboshi T, Negishi H, Suyama K, Tsushima S (2007) Culturable leaf-associated bacteria on tomato plants and their potential as biological control agents. Microbiol Ecol 53:524–536

Glaeser SP, Kampfer P (2014) The family Sphingomonadaceae. In: Rosenberg E et al (eds) The prokaryotes—Alphaproteobacteria and Betaproteobacteria. Springer, Berlin, pp 641–707

Haas BJ, Gevers D, Earl AM, Feldgarden M, Ward DV, Giannoukos G, Ciulla D, Tabbaa D, Highlander SK, Sodergren E (2011) Chimeric 16S rRNA sequence formation and detection in Sanger and 454-pyrosequenced PCR amplicons. Genome Res 21:494–504

Jogler M, Siemens H, Chen H, Bunk B, Sikorski J, Overmann J (2011) Identification and targeted cultivation of abundant novel freshwater sphingomonads and analysis of their population substructure. Appl Environ Microbiol 77:7355–7364

Kosako Y, Yabuuchi E, Naka T, Fujiwara N, Kobayashi K et al (2000) Proposal of Sphingomonadaceae fam. nov., consisting of Sphingomonas Yabuuchi et al. 1990, Erythrobacter Shiba and Shimidu 1982, Erythromicrobium Yurkov et al. 1994, Porphyrobacter Fuerst et al. 1993, Zymomonas Kluyver and van Niel 1936, and Sandaracinobacter Yurkov et al. 1997, with the type genus Sphingomonas Yabuuchi et al. 1990. Microbiol Immunol 44:563–575

Leung KT, Chang YJ, Gan YD, Peacock A, Macnaughton SJ, Stephen JR, Burkhalter RS, Flemming CA, White DC (1999) Detection of Sphingomonas spp. in soil by PCR and sphingolipid biomarker analysis. J Ind Microbiol Biotechnol 23:252–260

Leys NMEJ, Ryngaert A, Bastiaens L, Verstraete W, Top EM, Springael D (2004) Occurrence and phylogenetic diversity of Sphingomonas strains in soils contaminated with polycyclic aromatic hydrocarbons. Appl Environ Microbiol 70:1944–1955

Magoc T, Salzberg SL (2011) FLASH: fast length adjustment of short reads to improve genome assemblies. Bioinformatics 27:2957–2963

Murakami Y, Otsuka S, Senoo K (2010) Abundance and community structure of sphingomonads in leaf residues and nearby bulk soil. Microbes Environ 25:183–189

Newton RJ, Jones SE, Eiler A, McMahon KD, Bertilsson S (2011) A guide to the natural history of freshwater lake bacteria. Microbiol Mol Biol Rev 75:14–49

Rychlik W (2007) OLIGO 7 primer analysis software. Methods Mol Biol 402:35–59

Stolz A (2009) Molecular characteristics of xenobiotic-degrading sphingomonads. Appl Microbiol Biotechnol 81:793–811

Stolz A (2014) Degradative plasmids from sphingomonads. FEMS Microbiol Lett 350:9–19

Sun DL, Jiang X, Wu QLL, Zhou NY (2013) Intragenomic heterogeneity of 16S rRNA genes causes overestimation of prokaryotic diversity. Appl Environ Microbiol 79:5962–5969

Ter Braak CJ, Smilauer P (2002) CANOCO reference manual and CanoDraw for Windows user's guide: software for canonical community ordination (version4.5). www.canoco.com

Tippmann HF (2004) Analysis for free: comparing programs for sequence analysis. Brief Bioinform 5:82–87

Vaz-Moreira I, Nunes OC, Manaia CM (2011) Diversity and antibiotic resistance patterns of Sphingomonadaceae isolates from drinking water. Appl Environ Micro 77:5697–5706

Videira SS, de Araujo JLS, Rodrigues LD, Baldani VLD, Baldani JI (2009) Occurrence and diversity of nitrogen-fixing Sphingomonas bacteria associated with rice plants grown in Brazil. FEMS Microbiol Lett 293:11–19

Zhou LS, Li H, Zhang Y, Wang YF, Han SQ, Xu H (2012) Abundance and diversity of Sphingomonas in Shenfu petroleum-wastewater irrigation zone, China. Environ Sci Pollut 19:282–294
Acknowledgements
This work was supported financially by the National Natural Science Foundation of China (21577121), the 973 Program (2014CB441103) and ZJNSF LY14B070010.
Electronic supplementary material
Below is the link to the electronic supplementary material.
About this article
Cite this article
Huang, Y., Feng, H., Lu, H. et al. Novel 16S rDNA primers revealed the diversity and habitats-related community structure of sphingomonads in 10 different niches. Antonie van Leeuwenhoek 110, 877–889 (2017). https://doi.org/10.1007/s10482-017-0860-4
Received:

Accepted:

Published:

Issue Date:

DOI: https://doi.org/10.1007/s10482-017-0860-4
Keywords
Primer design

Sphingomonads

Illumina sequencing

Bacterial diversity

Species-habitats correlation