Abstract
A Gram-positive, non-motile and coccoid strain, designated XY-FW106T, was isolated from a marine flatworm identified to be Planocera sp. The 16S rRNA gene sequence of this pink organism was consistent with membership of the genus Deinococcus, with high sequence similarity to Deinococcus aetherius ST0316T (94.7%). The optimum growth temperature range of the strain XY-FW106T was found to be 25–30 °C and optimum growth occurs at pH 7.2–7.4 without NaCl. The strain XY-FW106T was found to contain unidentified glycolipids, unidentified phosphoglycolipids, unidentified phospholipids and unidentified lipids, which differed from those of closely related species. Menaquinone MK-8 was identified as the major respiratory quinone and the predominant cellular fatty acids were found to be Summed Feature 3 (C16:1 ω7c/C16:1 ω6c), C16:0, iso-C15:0, and Summed Feature 8 (C18:1 ω7c/C18:1 ω6c). The DNA G+C content was determined to be 70.2 mol%. The biochemical and chemotaxonomic data together suggest that the strain represents a new species for which the name Deinococcus planocerae sp. nov. is proposed. The type strain is XY-FW106T (=MCCC 1K01499T=KCTC 33809T).
Access options
Buy single article
Instant access to the full article PDF.
US$ 39.95
Tax calculation will be finalised during checkout.
Subscribe to journal
Immediate online access to all issues from 2019. Subscription will auto renew annually.
US$ 119
Tax calculation will be finalised during checkout.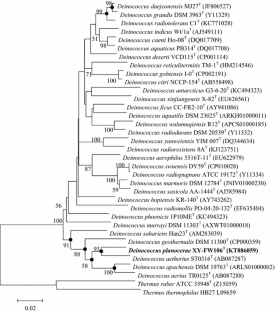 Abbreviations
KCTC:

Korean Collection for Type Cultures

MCCC:

Marine Culture Collection of China
References
Brooks BW, Murray RGE (1981) Nomenclature for "Micrococcus radiodurans" and other radiation-resistant cocci: Deinococcaceae fam. nov. and Deinococcus gen. nov., including five species. Int J Syst Bacteriol 31:353–360

Chen W, Wang B, Hong H, Yang H, Liu SJ (2012) Deinococcus reticulitermitis sp. nov., isolated from a termite gut. Int J Syst Evol Microbiol 62:78–83

Collins MD, Jones D (1981) Distribution of isoprenoid quinone structural types in bacteria and their taxonomic implication. Microbiol Rev 45:316–354

de Groot A, Chapon V, Servant P, Christen R, Fischer-Le Saux M, Sommer S, Heulin T (2005) Deinococcus deserti sp. nov., a gammaradiation-tolerant bacterium isolated from the Sahara Desert. Int J Syst Evol Microbiol 55:2441–2446

Dong X, Cai M (2001) Determinative manual for routine bacteriology. Scientific Press, Beijing

Felsenstein J (1981) Evolutionary trees from DNA sequences: a maximum likelihood approach. J Mol Evol 17:368–376

Ferreira AC, Nobre MF, Rainey FA, Silva MT, Wait R, Burghardt J, Chung AP, da Costa MS (1997) Deinococcus geothermalis sp. nov. and Deinococcus murrayi sp. nov., two extremely radiation-resistant and slightly thermophilic species from hot springs. Int J Syst Bacteriol 47:939–947

Gerhardt P, Murray RGE, Wood WA, Krieg NR (eds) (1994) Methods for general and molecular bacteriology. Washington, DC, American Society for Microbiology

Hirsch P, Gallikowski CA, Siebert J, Peissl K, Kroppenstedt R, Schumann P, Stackebrandt E, Anderson R (2004) Deinococcus frigens sp. nov., Deinococcus saxicola sp. nov., and Deinococcus marmoris sp. nov., low temperature and draught-tolerating, UV-resistant bacteria from continental Antarctica. Syst Appl Microbiol 27:636–645

Kates M (1986) Techniques of lipidology, 2nd ed. rev. Elsevier, Amsterdam, pp 106–107, 241–246

Kim OS, Cho YJ, Lee K, Yoon SH, Kim M, Na H, Park SC, Jeon YS, Lee JH et al (2012) Introducing EzTaxon-e: a prokaryotic 16S rRNA gene sequence database with phylotypes that represent uncultured species. Int J Syst Evol Microbiol 62:716–721

Lai W-A, Kämpfer P, Arun AB, Shen F-T, Huber B, Rekha PD, Young C-C (2006) Deinococcus ficus sp. nov., isolated from the rhizosphere of Ficus religiosa L. Int J Syst Evol Microbiol 56:787–791

Lane DJ (1991) 16S/23S rRNA sequencing. In: Stackebrandt E, Goodfellow M (eds) Nucleic acids techniques in bacterial systematics. Wiley, Chichester, pp 115–175

Mesbah M, Whitman WB (1989) Measurement of deoxyguanosine/thymidine ratios in complex mixtures by high-performance liquid chromatography for determination of the mole percentage guanine + cytosine of DNA. J Chromatogr A 479: 297–306

Rainey FA, Ray K, Ferreira M, Gatz BZ, Nobre MF, Bagaley D, Rash BA, Park MJ, Earl AM et al (2005) Extensive diversity of ionizing-radiation-resistant bacteria recovered from Sonoran Desert soil and description of nine new species of the genus Deinococcus obtained from a single soil sample. Appl Environ Microbiol 71:5225–5235

Rzhetsky A, Nei M (1992) Statistical properties of the ordinary least-squares, generalized least-squares, and minimum-evolution methods of phylogenetic inference. J Mol Evol 35:367–375

Saitou N, Nei M (1987) The neighbor-joining method: a new method for reconstructing phylogenetic trees. Mol Biol Evol 4:406–425

Sasser M (1990) Identification of bacteria by gas chromatography of cellular fatty acids. MIDI Technical Note 101. MIDI Inc., Newark

Srinivasan S, Lee J-J, Lim S, Joe M, Kim MK (2012) Deinococcus humi sp. nov., isolated from soil. Int J Syst Evol Microbiol 62:2844–2850

Tamura K, Peterson D, Peterson N, Stecher G, Nei M, Kumar S (2011) MEGA5: molecular evolutionary genetics analysis using maximum likelihood, evolutionary distance, and maximum parsimony methods. Mol Biol Evol 28:2731–2739

Thompson JD, Higgins DG, Gibson TJ (1994) CLUSTAL W: improving the sensitivity of progressive multiple sequence alignment through sequence weighting, position-specific gap penalties and weight matrix choice. Nucleic Acids Res 22:4673–4680

Wang W, Mao J, Zhang Z-D, Tang Q-Y, Xie Y-Q, Zhu J, Zhang L-X, Liu Z-H, Shi Y-H, Goodfellow M (2010) Deinococcus wulumuqiensis sp. nov., and Deinococcus xibeiensis sp. nov., isolated from radiation-polluted soil. Int J Syst Evol Microbiol 60:2006–2010

Xu Y, Li Q, Tian R, Lai Q, Zhang Y (2015) Pseudovibrio hongkongensis sp. nov., isolated from a marine flatworm. Antonie Van Leeuwenhoek 108:127–132

Yang Y, Itoh T, Yokobori S, Itahashi S, Shimada H, Satoh K, Ohba H, Narumi I, Yamagishi A (2009) Deinococcus aerius sp. nov., isolated from the high atmosphere. Int J Syst Evol Microbiol 59:1862–1866

Yang Y, Itoh T, Yokobori S-I, Shimada H, Itahashi S, Satoh K, Ohba H, Narumi I, Yamagishi A (2010) Deinococcus aethrius sp. nov., isolated from the stratosphere. Int J Syst Evol Microbiol 60:776–779

Zhang Y-Q, Sun C-H, Li W-J, Yu L-Y, Zhou J-Q, Zhang Y-Q, Xu L-H, Jiang C-L (2007) Deinococcus yunweiensis sp. nov., a gamma- and UV-radiation-resistant bacterium from China. Int J Syst Evol Microbiol 57:370–375
Acknowledgements
This work was financially supported by grants from the National Natural Science Foundation of China (No. 41576146) and Seed Funding from Scientific and Technical Innovation Council of Shenzhen Government (Nos. 827000041; 827000012).
Electronic supplementary material
Below is the link to the electronic supplementary material.
About this article
Cite this article
Lin, H., Wang, Y., Huang, J. et al. Deinococcus planocerae sp. nov., isolated from a marine flatworm. Antonie van Leeuwenhoek 110, 811–817 (2017). https://doi.org/10.1007/s10482-017-0854-2
Received:

Accepted:

Published:

Issue Date:
Keywords
Deinococcus

Novel species

16S rRNA gene sequences