Abstract
"Masseiras" is an ancient Portuguese agriculture system, where soil was developed from sand dunes enriched with seaweeds over more than a century. Due to the importance for the local economy, this system evolved for greenhouse structures. In this study we compared the bacterial community composition and structure of "Masseiras" soil, aiming at assessing the potential impact of different agricultural practices. The bulk soil of two greenhouses (following or not the recommended agriculture good practices, FGP and NFGP, respectively) was compared based on their physicochemical properties and bacterial community. In both FGP and NFGP, Proteobacteria, Acidobacteria, Actinobacteria, Bacteroidetes, Firmicutes, and Gemmatimonadetes were in a proportion of 5:1:1:1:1:1. However, the bacterial community of soil FGP was richer and more diverse than that of soil NFGP. Members of the classes Bacilli and Gemm-1, with higher relative abundance in NFGP and FGP, respectively, were those contributing most for distinguishing the bacterial communities of both soils. The differences in the structure of the bacterial communities correlated (Mantel test) with some soil physicochemical properties, such as electrical conductivity and nitrate and Zn contents, which were significantly higher in soil NFGP than in soil FGP.
Access options
Buy single article
Instant access to the full article PDF.
USD 39.95
Price excludes VAT (USA)
Tax calculation will be finalised during checkout.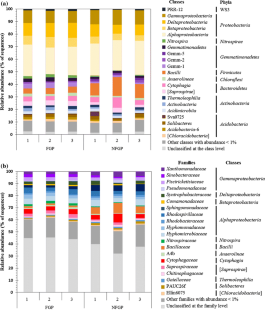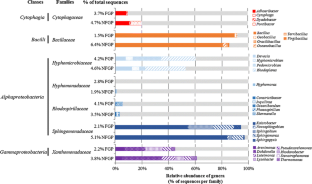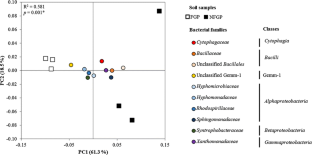 References
Acosta-Martínez V, Dowd SE, Sun Y, Wester D, Allen V (2010) Pyrosequencing analysis for characterization of soil bacterial populations as affected by an integrated livestock-cotton production system. Appl Soil Ecol 45:13–25. doi:10.1016/j.apsoil.2010.01.005

Allison SD, Martiny JBH (2008) Resistance, resilience, and redundancy in microbial communities. Proc Natl Acad Sci USA 105:11512–11519. doi:10.1073/pnas.0801925105

Anderson MJ (2001) A new method for non-parametric multivariate analysis of variance. Aust J Ecol 26:32–46. doi:10.1111/j.1442-9993.2001.01070.pp.x

Battistuzzi FU, Hedges SB (2009) A major clade of prokaryotes with ancient adaptations to life on land. Mol Biol Evol 26:335–343. doi:10.1093/molbev/msn247

Bronick CJ, Lal R (2005) Soil structure and management: a review. Geoderma 124:3–22. doi:10.1016/j.geoderma.2004.03.005

Buckley D, Schmidt T (2003) Diversity and dynamics of microbial communities in soils from agro-ecosystems. Environ Microbiol 5:441–452. doi:10.1046/j.1462-2920.2003.00404.x

Caporaso JG, Bittinger K, Bushman FD, DeSantis T, Andersen GL, Knight R (2010a) PyNAST: a flexible tool for aligning sequences to a template alignment. Bioinformatics 26:266–267. doi:10.1093/bioinformatics/btp636

Caporaso JG, Kuczynski J, Stombaugh J, Bittinger K, Dushman FD, Costello EK, Fierer N, González Peña A, Goodrich JK, Gordon JK, Huttley GA, Kelley ST, Knights D, Koening JE, Ley RE, Lozupone C, McDonald D, Muegge BD, Pirrung M, Reeder J, Sevinsky JR, Turnbaugh PJ, Walters WA, Widmann J, Yatsunenko T, Zaneveld J, Knight R (2010b) QIIME allow analysis of high-thoughput community sequencing data. Nat Methods 7:335–336. doi:10.1038/Nmeth.F.303

Chan OC, Casper P, Sha LQ, Feng ZL, Fu Y, Yang XD, Ulrich A, Zou XM (2008) Vegetation cover of forest shrub and pasture strongly influences soil bacterial community structure as revealed by 16S rRNA gene T-RFLP analysis. FEMS Microbiol Ecol 64:449–458. doi:10.1111/j.1574-6941.2008.00488.x

Davis KE, Sangwan P, Janssen PH (2011) Acidobacteria Rubrobacteridae and Chloroflexi are abundant among very slow-growing and mini-colony-forming soil bacteria. Environ Microbiol 13:798–805. doi:10.1111/j.1462-2920.2010.02384.x

DeBruyn JM, Nixon LT, Fawaz MN, Johnson AM, Radosevich M (2011) Global biogeography and quantitative seasonal dynamics of Gemmatimonadetes in soil. Appl Environ Microb 77:6295–6300. doi:10.1128/aem.05005-11

DeSantis T, Hugenholtz P, Larsen N, Rojas M, Brodie E, Keller K, Huber T, Dalevi D, Hu P, Andersen G (2006) Greengenes, a chimera-checked 16S rRNA gene database and workbench compatible with ARB. Appl Environ Microbiol 72:5069–5072. doi:10.1128/Aem.03006-05

Edgar R (2010) Search and clustering orders of magnitude faster than BLAST. Bioinformatics 26:2460–2461. doi:10.1093/bioinformatics/btq461

Edgar R, Haas B, Clemente JC, Quince C, Knight R (2011) UCHIME improves sensitivity and speed of chimera detection. Bioinformatics 27:2194–2200. doi:10.1093/bioinformatics/btr381

Ellis PD (2010) The essential guide to effect sizes. Statistical power meta-analysis and the interpretation of research results. Cambridge University Press, New York

Faisal M, Hasnain S (2004) Comparative study of Cr(VI) uptake and reduction in industrial effluent by Ochrobactrum intermedium and Brevibacterium sp. Biotechnol Lett 26:1623–1628. doi:10.1007/s10529-004-3184-1

Faith D (1992) Conservation evualuation and phylogenetic diversity. Biol Conserv 61:1–10. doi:10.1016/0006-3207(92)91201-3

Fay BJ, Corrigan A, Murphy RA (2016) Short-term effects of mechanical drainage on fungal and bacterial community structure in a managed grassland soil. Appl Soil Ecol 101:93–100. doi:10.1016/j.apsoil.2016.01.014

Fierer N, Jackson RB (2006) The diversity and biogeography of soil bacterial communities. Proc Natl Acad Sci USA 103:626–631. doi:10.1073/pnas.0507535103

Fierer N, Bradford MA, Jackson RB (2007) Toward and ecological classification of soil bacteria. Ecology 88:1354–1364. doi:10.1890/05-1839

Fierer N, Leff JW, Adams BJ, Nielsen UN, Bates ST, Lauber CL, Owens S, Gilbert JA, Wall DH, Caporaso JG (2012) Cross-biome mtagenomic analyses of soil microbial communities and their functional attributes. PNAS 109:21390–21395. doi:10.1073/pnas.1215210110

Figuerola EL, Guerrero LD, Rosa SM, Simonetti L, Duval ME, Galantini JA, Bedano JC, Wall LG, Erijman L (2012) Bacterial indicator of agricultural management for soil under no-till crop production. PLoS ONE 7:e51075. doi:10.1371/journal.pone.0051075

Fonseca P (2010) Qualidade das águas subterráneas do aquífero livre de Esposende—Vila do Conde (NW de Portugal). Universidade do Minho p, Ordenamento e Valorização de Recursos Geológicos, p 86

Gadd GM (2010) Metals, minerals and microbes: geomicrobiology and bioremediation. Microbiology 156:609–643. doi:10.1099/mic.0.037143-0

Guitián Ojea F, Carballas T (1976) Técnicas de análisis de suelos. Pico Sacro Editorial Santiago de Compostela

Huang J, Sheng XF, Xi J, He LY, Huang Z, Wang Q, Zhang ZD (2014) Depth-related changes in community structure of culturable mineral weathering bacteria and in weathering patterns caused by them along two contrasting soil profiles. Appl Environ Microbiol 80:29–42. doi:10.1128/AEM.02335-13

Janssen PH (2006) Identifying the dominant soil bacterial taxa in libraries of 16S rRNA and 16S rRNA genes. Appl Environ Microbiol 72:1719–1728. doi:10.1128/aem.72.3.1719-1728.2006

Knops JMH, Tilman D (2000) Dynamics of soil nitrogen and carbon accumulation for 61 years after agricultural abandonment. Ecology 81:88–98. doi:10.1890/0012-9658(2000)081

Lauber CL, Hamady M, Knight R, Fierer N (2009) Pyrosequencing-based assessment of soil pH as a predictor of soil bacterial community structure at the continental scale. Appl Environ Microbiol 75:5111–5120. doi:10.1128/aem.00335-09

Li H, Ye D, Wang X, Settles ML, Wang J, Hao Z, Zhou L, Dong P, Jiang Y, Ma Z (2014) Soil bacterial communities of different natural forest types in Northeast China. Plant Soil 383:203–216. doi:10.1007/s11104-014-2165-y

Logan NA, De Vos P (2009) Family I. Bacillaceae. In: Vos P, Garrity G, Jones D, Krieg NR, Ludwig W, Rainey FA, Schleifer KH, Whitman W (eds) The Firmicutes. Bergey´s manual of systematic bacteriology, vol 3, 2nd edn., Bergey's manual trustSpringer, New York

Lopes AR, Faria C, Prieto-Fernández Á, Trasar-Cepeda C, Manaia CM, Nunes OC (2011) Comparative study of the microbial diversity of bulk paddy soil of two rice fields subjected to organic and conventional farming. Soil Biol Biochem 43:115–125. doi:10.1016/j.soilbio.2010.09.021

Lopes AR, Manaia CM, Nunes OC (2014) Bacterial community variations in an alfalfa-rice rotation system revealed by 16S rRNA gene 454-pyrosequencing. FEMS Microbiol Ecol 87:650–663. doi:10.1111/1574-6941.12253

Lopes AR, Bello D, Prieto-Fernández Á, Trasar-Cepeda C, Manaia CM, Nunes OC (2015) Relationships among bulk soil physicochemical biochemical and microbiological parameters in an organic alfalfa-rice rotation system. Environ Sci Pollut Res 22:11690–11699. doi:10.1007/s11356-015-4410-1

Lozupone C, Knight R (2005) UniFrac: a new phylogenetic method for comparing microbial communities. Appl Environ Microbiol 71:8228–8235. doi:10.1128/Aem.71.12.8228-8235.2005

Mager DM, Thomas AD (2011) Extracellular polysaccharides from cyanobacterial soil crusts: a review of their role in dryland soil processes. J Arid Environ 75:91–97. doi:10.1016/j.jaridenv.2010.10.001

Melo A, Pinto E, Aguiar A, Mansilha C, Pinho O, Ferreira IM (2012) Impact of intensive horticulture practices on groundwater content of nitrates, sodium, potassium, and pesticides. Environ Monit Assess 184:4539–4551. doi:10.1007/s10661-011-2283-4

Monitoring Agriculture ResourceS (MARS) 2015. Joint research centre Institute for Environment and Sustainability (IES). https://marswiki.jrc.ec.europa.eu/wikicap/index.php/Main_Page. Accessed 26 May, 2016

Montecchia MS, Tosi M, Soria MA, Vogrig JA, Sydorenko O, Correa OS (2015) Pyrosequencing reveals changes in soil bacterial communities after conversion of Yungas forests to agriculture. PLoS ONE 10:e0119426. doi:10.1371/journal.pone.0119426

Oehl F, Oberson A, Probst M, Fliessbach A, Roth HR, Frossard E (2001) Kinetics of microbial phosphorus uptake in cultivated soils. Biol Fert Soils 34:31–41. doi:10.1007/s003740100362

Park CS, Tyson G, Hugenholtz P, Beiko RG (2014) STAMP: Statistical analysis of taxonomic and functional profiles. Bioinformatics 30:3123–3124. doi:10.1093/bioinformatics/btu494

Rauret G, Lopez-Sanchez JF, Sahuquillo A, Barahona E, Lachica M, Ure AM, Davidson CM, Gomez A, Luck D, Bacon J, Yli-Halla M, Muntau H, Quevauviller P (2000) Application of a modified BCR sequential extraction (three-step) procedure for the determination of extractable trace metal contents in a sewage sludge amended soil reference material (CRM 483), complemented by a three-year stability study of acetic acid and EDTA extractable metal content. J Environ Monit 2:228–233. doi:10.1039/B001496F

Rodrigues JL, Pellizari VH, Mueller R, Baek K, Jesus EDC, Paula FS, Mirza B, Hamaoui GS, Tsai SM, Feigl B (2013) Conversion of the Amazon rainforest to agriculture results in biotic homogenization of soil bacterial communities. P Natl Acad Sci USA 110:988–993. doi:10.1073/pnas.1220608110

Ruppel S, Torsvik V, Daae FL, Øvreås L, Rühlmann J (2007) Nitrogen availability decreases prokaryotic diversity in sandy soils. Biol Fertil Soils 43:449–459. doi:10.1007/s00374-006-0122-5

Russo SE, Legge R, Weber KA, Brodie EL, Goldfarb KC, Benson AK, Tan S (2012) Bacterial community structure of contrasting soils underlying Bornean rain forests: inferences from microarray and next-generation sequencing methods. Soil Biol Biochem 55:48–59. doi:10.1016/j.soilbio.2012.05.021

Shannon C, Weaver W (1963) The mathematical theory of communication. University of Illinois Press, Urbana

Silva ME, Lopes AR, Cunha-Queda AC, Nunes OC (2016) Comparison of the bacterial composition of two commercial composts with different physicochemical stability and maturity properties. Waste Manag 50:20–30. doi:10.1016/j.wasman.2016.02.023

Simpson EH (1949) Measurment of diversity. Nature 168:688

Sousa JM, Macedo G, Pedrosa M, Becerra-Castro C, Castro-Silva S, Fernando M, Pereira R, Silva AMT, Nunes OC, Manaia CM (2016) Ozonation and UV254 nm radiation for the removal of microorganisms and antibiotic resistance genes from urban wastewater. J Hazard Mater. doi:10.1016/j.jhazmat.2016.03.096

Sun LN, Zhang YF, He LY, Chen ZJ, Wang QY, Qian M, Sheng XF (2010) Genetic diversity and characterization of heavy metal-resistant-endophytic bacteria from two copper-tolerant plant species on copper mine wasteland. Bioresour Technol 101:501–509. doi:10.1016/j.biortech.2009.08.011

Sun L, Gao J, Huang T, Kendall JR, Shen Q, Zhang R (2015) Parental material and cultivation determine soil bacterial community structure and fertility. FEMS Microbiol Ecol 91:1–10. doi:10.1093/femsec/fiu010

Taniguchi J, Hemmi H, Tanahashi K, Amano N, Nakayama T, Nishino T (2000) Zinc biosorption by a zinc-resistant bacterium, Brevibacterium sp. strain HZM-1. Appl Microbiol Biot 54:581–588. doi:10.1007/s002530000415

Ulrich A, Becker R (2006) Soil parent material is a key determinant of the bacterial community structure in arable soils. FEMS Microbiol Ecol 56:430–443. doi:10.1111/j.1574-6941.2006.00085.x

van Diepeningen AD, de Vos OJ, Korthals GW, van Bruggen AHC (2006) Effects of organic versus conventional management on chemical and biological parameters in agricultural soils. Appl Soil Ecol 31:120–135. doi:10.1016/j.apsoil.2005.03.003

Wang Y, Qian PY (2009) Conservative fragments in bacterial 16S rRNA gene and primer design for 16S ribosomal DNA amplicons in metagenomic studies. PLoS ONE 4:e7401. doi:10.1371/journal.pone.0007401.t001

Wang Q, Garrity GM, Tiedje JM, Cole JR (2007) Naïve Bayesian classifier for rapid assignment of rRNA sequences into the new bacterial taxonomy. Appl Environ Microbiol 73:5261–5267. doi:10.1128/Aem.00062-07
Acknowledgements
Authors gratefully acknowledge Mr. Manuel Flores and Ms. Maria Lopes, owners of the studied greenhouses, for valuable help in soil sampling and for giving all the information concerning the farming management.
Funding
This work was financially supported by Project POCI-01-0145-FEDER-006939 (Laboratory for Process Engineering, Environment, Biotechnology and Energy—LEPABE funded by FEDER funds through COMPETE2020—Programa Operacional Competitividade e Internacionalização (POCI)—and by national funds through FCT—Fundação para a Ciência e a Tecnologia. This work was also supported by National Funds from FCT through the project UID/Multi/50016/2013-CBQF and the Grants SFRH/BPD/87152/2012 (CBC) and SFRH/BPD/92894/2013 (ARL).
Ethics declarations
Conflict of interest
The authors declare that they have no conflict of interest.
Additional information
This is a posthumous publication of our dear colleague Dr. Cristina Becerra-Castro.
About this article
Cite this article
Becerra-Castro, C., Lopes, A.R., Teixeira, S. et al. Characterization of bacterial communities from Masseiras, a unique Portuguese greenhouse agricultural system. Antonie van Leeuwenhoek 110, 665–676 (2017). https://doi.org/10.1007/s10482-017-0833-7
Received:

Accepted:

Published:

Issue Date:

DOI: https://doi.org/10.1007/s10482-017-0833-7
Keywords
Agriculture

Pyrosequencing

Sand

Horticultural crops

PCoA

Bacterial community analysis