Abstract
An actinomycete strain, designated strain LUSFXJT, was isolated from a soil sample obtained near the Xiangtan Manganese Mine, Central-South China and characterised using a polyphasic taxonomic approach. The 16S rRNA gene sequence-based phylogenetic analysis indicated that this strain belongs to the genus Streptomyces. The DNA–DNA relatedness between this strain and two closely related type strains, Streptomyces echinatus CGMCC 4.1642T and Streptomyces lanatus CGMCC 4.137T, were 28.7 ± 0.4 and 19.9 ± 2.0%, respectively, values which are far lower than the 70% threshold for the delineation of a novel prokaryotic species. The DNA G+C content of strain LUSFXJT is 75.0 mol%. Chemotaxonomic analysis revealed that the menaquinones of strain LUSFXJT are MK-9(H6), MK-9(H8), MK-9(H2) and MK-8(H8). The polar lipid profile of strain LUSFXJT was found to contain diphosphatidylglycerol and an unidentified polar lipid. The major cellular fatty acids were identified as iso-C15:0, anteiso-C15:0, iso-C16:0, C16:0 and Summed feature 3. Strain LUSFXJT was found to contain meso-diaminopimelic acid as the diagnostic cell wall diamino acid and the whole cell hydrolysates were found to be rich in ribose, mannose and glucose. Based on phenotypic, phylogenetic and chemotaxonomic characteristics, it is concluded that strain LUSFXJT represents a novel species of the genus Streptomyces, for which the name S. xiangtanensis sp. nov. is proposed. The type strain is LUSFXJT (=GDMCC 4.133T = KCTC 39829T).
Access options
Buy single article
Instant access to the full article PDF.
US$ 39.95
Tax calculation will be finalised during checkout.
Subscribe to journal
Immediate online access to all issues from 2019. Subscription will auto renew annually.
US$ 119
Tax calculation will be finalised during checkout.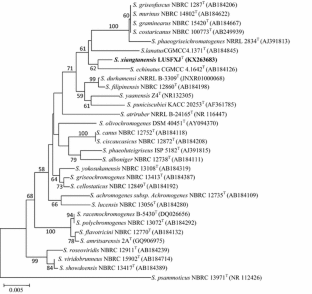 References
Atlas RM (1993) In: Parks LC (ed) Handbook of microbiological media. Boca Raton, CRC Press

Collins MD, Pirouz T, Goodfellow M, Minnikin DE (1977) Distribution of menaquinones in actinomycetes and corynebacteria. J Gen Microbiol 100:221–230

Corbaz R, Ettlinger L, Gäumann E, Keller-Schierlein W, Kradolfer F, Neipp L, Prelog V, Reusser P, Zähner H (1957) Stoffwechselprodukte von actinomyceten. 7. mitteilung. echinomyccin. Helv Chim Acta 40:199–204

Dastager SG, Li WJ, Agasar D, Sulochana MB, Tang SK, Tian XP, Zhi XY (2007) Streptomyces gulbargensis sp. nov. isolated from soil in Karnataka, India. Antonie Van Leeuwenhoek 91:99–104

De Ley J, Cattoir H, Reynaerts A (1970) The quantitative measurement of DNA hybridization from renaturation rates. Eur J Biochem 12:133–142

Felsenstein J (1981) Evolutionary trees from DNA sequences: a maximum likelihood approach. J Mol Evol 17:368–376

Gallagher KA, Fenical W, Jensen PR (2010) Hybrid isoprenoid secondary metabolite production in terrestrial and marine actinomycetes. Curr Opin Biotechnol 6:794–800

Hasegawa T, Takizawa M, Tanida S (1983) A rapid analysis for chemical grouping of aerobic actinomycetes. J Gen Appl Microbiol 29:319–322

He HR, Liu CX, Zhao JW, Li WJ, Pan T, Yang LY, Wang XJ, Xiang WS (2014) Streptomyces zhaozhouensis sp. nov. a novel actinomycete isolated from candelabraaloe (Aloearborescens Mill). Int J Syst Evol Microbiol 64:1096–1101

Hu H, Lin HP, Xie QY, Li L, Xie XQ, Sun M, Hong K (2011) Streptomyces shenzhenensis sp. nov. a novel actinomycete isolated from mangrove sediment. Antonie Van Leeuwenhoek 100:631–637

Jia FY, Liu CX, Zhao JW, Zhang YJ, Li LJ, Zhou SY, Shen Y, Wang XJ, Xiang WS (2015) Streptomyces vulcanius sp. nov. a novel actinomycete isolated from volcanic sediment. Antonie Van Leeuwenhoek 107:15–21

Jiang CR, Ruan JS (1982) Two new species and a new variety of Ampullarella. Acta Microbiol Sin 22:207–211

Jones KL (1949) Fresh isolates of actinomycetes in which the presence of sporogenous aerial mycelia is a fluctuating characteristic. J Bacteriol 57:141–145

Kates M (1986) Techniques of lipidology, 2nd edn. Elsevier, Amsterdam

Kim OS, Cho YJ, Lee K, Yoon SH, Kim M, Na H, Park SC, Jeon YS, Lee JH, Yi H, Won S, Chun J (2012) Introducing EzTaxon-e: a prokaryotic 16S rRNA gene sequence database with phylotypes that represent uncultured species. Int J Syst Evol Microbiol 62:716–721

Koshy A, Dhevendaran K, Georgekutty MI, Matarajan P (1997) l-Asparaginase activity in Streptomyces plicatus isolated from the alimentary canal of the fish, Gerres filamentous (Cuvier). J Mar Biotechnol 5:181–185

Labeda DP, Goodfellow M, Brown R, Ward AC, Lanoot B, Vanncanneyt M, Swings J, Kim SB, Liu Z, Chun J, Tamura T, Oguchi A, Kikuchi T, Kikuchi H, Nishii T, Tsuji K, Yamaguchi Y, Tase A, Takahashi M, Sakane T (2012) Phylogenetic study of the species within the family Streptomycetaceae. Antonie Van Leeuwenhoek 101:73–104

Lane DJ (1991) 16S/23S rRNA sequencing. In: Stackebrandt E, Goodfellow M (eds) Nucleic acid techniques in bacterial systematics. Wiley, New York, pp 115–175

Lechevalier MP, Lechevalier H (1970) Chemical composition as a criterion in the classification of aerobic actinomycetes. Int J Syst Bacteriol 20:433–435

Lin YB, Wang XY, Fang H, Ma YN, Tang J, Tang M, Wei GH (2012) Streptomyces shaanxiensis sp. nov. a blue pigment-producing streptomycete from sewage irrigation soil. Int J Syst Evol Microbiol 62:1725–1730

Marmur J, Doty P (1962) Determination of the base composition of deoxyribonucleic acid from its thermal denaturation temperature. J Mol Biol 5:109–118

MIDI (2005) Sherlock microbial identification system Sherlock microbial identification system. MIDI Inc, Newark

Peng YX, Jiang Y, Duan SR, Li WJ, Xu LH (2007) Selective isolation methods of rare actinomycetes (in Chinese). J Yunnan Univ 29:86–89

Promnuan Y, Kudo T, Ohkuma M, Chantawannakul P (2013) Streptomyces chiangmaiensis sp. nov. and Streptomyces lannensis sp. nov. isolated from the South-East Asian stingless bee (Tetragonillacollina). Int J Syst Evol Microbiol 63:1896–1901

Ridgway R (1912) Color standards and color nomenclature. The Author, Washington, DC

Ruan JS, Huang Y (2011) Rapid identification and systematics of actinobacteria. Science Press, Beijing

Saitou N, Nei M (1987) The neighbor-joining method: a new method for reconstructing phylogenetic trees. Mol Biol Evol 4:406–425

Santhanam R, Okoro CK, Rong XY, Huang Y, Bull AT, Andrews BA, Asenjo JA, Weon YH, Goodfellow M (2011) Streptomyces deserti sp. nov. isolated from hyper-arid Atacama Desert soil. Antonie Van Leeuwenhoek 101:575–581

Shibazaki A, Omoto Y, Kudo T, Yaguchi T, Saito A, Ando A, Mikami Y, Gonoi T (2011) Streptomyces coacervatussp. nov. isolated from the intestinal tract of Armadillidium vulgare. Int J Syst Evol Microbiol 61:1073–1077

Shirling EB, Gottlieb D (1966) Methods for characterization of Streptomyces species. Int J Syst Bacteriol 16:313–340

Syed DG, Agasar D, Kim CJ, Li WJ, Lee JC, Park DJ, Xu LH, Tian XP, Jiang CL (2007) Streptomyces tritolerans sp. nov. a novel actinomycete isolated from soil in Karnataka, India. Antonie Van Leeuwenhoek 92:391–397

Také A, Matsumoto A, Omura S, Takahashi Y (2015) Streptomyces lactacystinicus sp. nov. and Streptomyces cyslabdanicus sp. nov. producing glactacystin and cyslabdan, respectively. J Antibiot 68:1–6

Tamura K, Peterson D, Peterson N, Stecher G, Nei M, Kumar S (2011) MEGA5: molecular evolutionary genetics analysis using maximum likelihood, evolutionary distance, and maximum parsimony methods. Mol Biol Evol 28:2731–2739

Tanasupawat S, Phongsopitanun W, Suwanborirux K, Ohkuma M, Kudo T (2015) Streptomyces actinomycinicus sp. nov. isolated from Thai peat swamp forest soil. Int J Syst Evol Microbiol 1:124–125

Thompson JD, Higgins DG, Gibson TJ (1994) CLUSTAL W: improving the sensitivity of progressive multiple sequence alignment through sequence weighting, position-specific gap penalties and weight matrix choice. Nucleic Acids Res 22:4673–4680

Veyisoglu A, Sahin N (2013) Streptomyces hoynatensis sp. nov. isolated from Black Sea deep sediment. Int J Syst Evol Microbiol 64:273–279

Veyisoglu A, Sahin N (2015) Streptomyces klenkiisp. nov. isolated from deep marine sediment. Antonie Van Leeuwenhoek 107:273–279

Waksman SA (1961) The actinomycetes: classification, identification and descriptions of genera and species, vol II. Science Press, Beijing

Wawrik B, Kutliev D, Abdivasievna UA, Kukor JJ, Zylstra GJ (2007) Kerkhof L (2007) biogeography of actinomycete communities and type ii polyketide synthase genes in soils collected in New Jersey and Central Asia. Appl Environ Microbiol 73(9):2982–2989

Wayne LG, Brenner DJ, Colwell RR, Grimont PAD, Kandler O, Krichevsky MI, Moore LH, Moore WEC, Murray RGE (1987) International committee on systematic bacteriology. Report of the ad hoc committee on the reconciliation of approaches to bacterial systematics. Int J Syst Bacteriol 37:463–464

Weisburg WG, Barns SM, Pelletier DA, Lane DJ (1991) 16S ribosomal DNA amplification for phylogenetic study. J Bacteriol 173:697–703

Wright F, Bibb MJ (1992) Codon usage in the G+C-rich Streptomyces genome. Gene 113:55–65

Xu LH, Li WJ, Liu ZH, Jiang CL (2007) Actinomycete systematic-principle, methods and practice. Science Press, Beijing

Yamamura H, Ashizawa H, Hamada M, Hosoyama A, Komaki H, Otoguro M, Tamura T, Hayashi Y, Nakagawa Y, Ohtsuki T, Fujita N, Ui S, Hayakawa M (2014) Streptomyces hokutonensis sp. nov. a novel actinomycete isolated from the strawberry root rhizosphere. J Antibiot 67:465–470

Zhou DQ, Xu DQ (2014) Microbiology experiment course, vol 3. Higher Education, Beijing

Zhu HH, Jiang SM, Yao Q, Wang YH, Chen MB, Chen YL, Guo J (2011) Streptomyces fenghuangensis sp. nov. isolated from seawater. Int J Syst Evol Microbiol 61:2811–2815
Acknowledgements
The authors thank Ms. Song-Zhen Yang and Ms. Yong-Hong Wang (Guangdong Institute of Microbiology, Guangzhou, China) for providing excellent technical assistance. This work was supported by Scientific Research Project of Hunan Province Department of Education (16K032) and Chinese National Natural Sciences Foundation (31260556).
Electronic supplementary material
Below is the link to the electronic supplementary material.
About this article
Cite this article
Mo, P., Yu, YZ., Zhao, JR. et al. Streptomyces xiangtanensis sp. nov., isolated from a manganese-contaminated soil. Antonie van Leeuwenhoek 110, 297–304 (2017). https://doi.org/10.1007/s10482-016-0797-z
Received:

Accepted:

Published:

Issue Date:
Keywords
Streptomyces xiangtanensis sp. nov.

Phylogeny

Polyphasic taxonomy